Kids Delight Event Announcement-Bite Size Appetizers
Hey all, It's October, fall season and of course, all the auspicious Indian festivals are almost here. I am sure you all must be busy cooking for Diwali and trying all those new recipes for your family and friends. If yes, then bring on the appetizers or snacks, sweets or savory that you are making for your kids and link them here.
Kids are always a fussy eater, well if not always, they sure are picky sometimes. We mums, try to find dishes that they would be eating without any fuss. Today I am hosting this wonderful event known as Kids Delight a creation of Srivalli Jetti. Hop onto her
space
to know how it started and more about this event.
So don't think and just bring your amazing bite-size appetizers, either sweet or savoury recipes to make this event a wonderful compilation of kids favourite recipes.
Rules:
* The event runs from October 15th, 2017 to November 15th, 2017.
* All entries should be vegetarian/vegan and egg-free (no eggs, poultry please)
* Multiple recipes are permitted, as long as linked back to the event page.
* Recipes submitted to other events are also permitted.
* Recipes from archives can be accepted ONLY if updated as current posts.
* Recipes from those who do not blog can be accepted. Those can send the recipe on my     email 
sapana.behl@gmail.com
* Ensure Links to my
announcement
as well as to Srivalli's 
Kid's Delight post.
* Use of logo is optional but recommended.
Add all your entries to the linky tool below.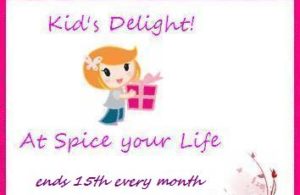 Looking forward to seeing your amazing bite-size snacks or appetizers.