Mini Veg Pizzas
Super easy and delicious mini versions of pizzas topped with your favourite vegetable toppings and homemade pizza sauce. These mini veg pizzas are so addictive and kids friendly that your kids would definitely love enjoying them.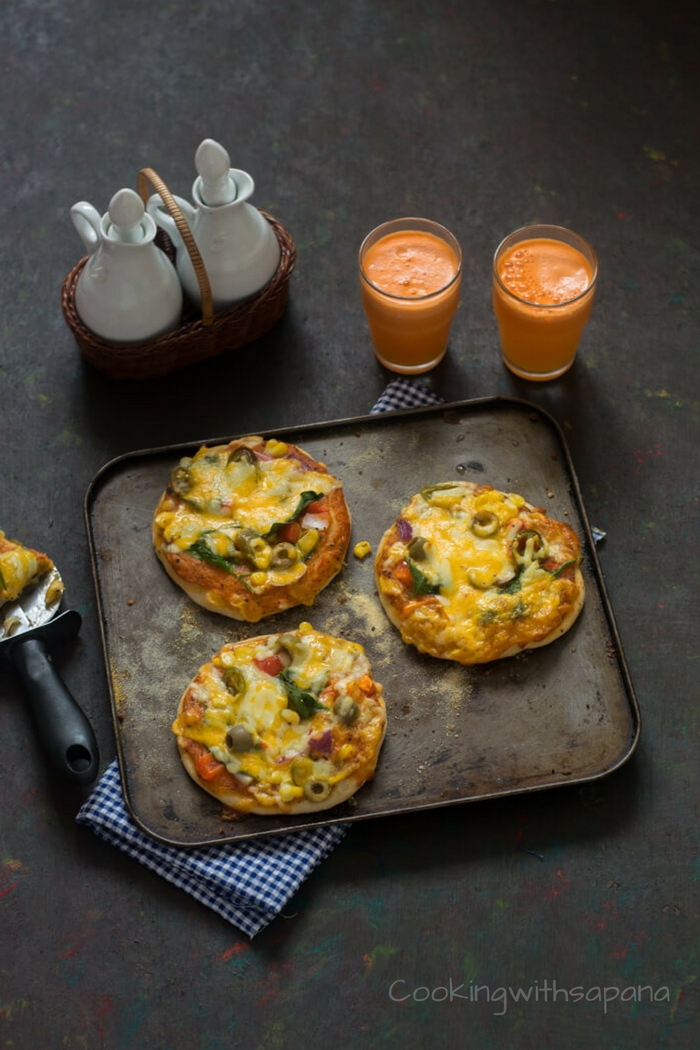 Pizza is everyone's favourite and is getting more popular every day. My girls are crazy for pizzas and can eat with all kinds of vegetables which they won't eat otherwise. But still, I only make it maybe once in a month like that, as I don't want to overload them with refined flour and cheese and all. So as it's been a couple of months I did not make any pizza, when I saw the theme pizzas I knew I had to pick it.
For the topping, I wanted to make spinach and corn pizza only but my elder one loves bell pepper and onions and asked me to add those too. So I added everything they love on the pizzas.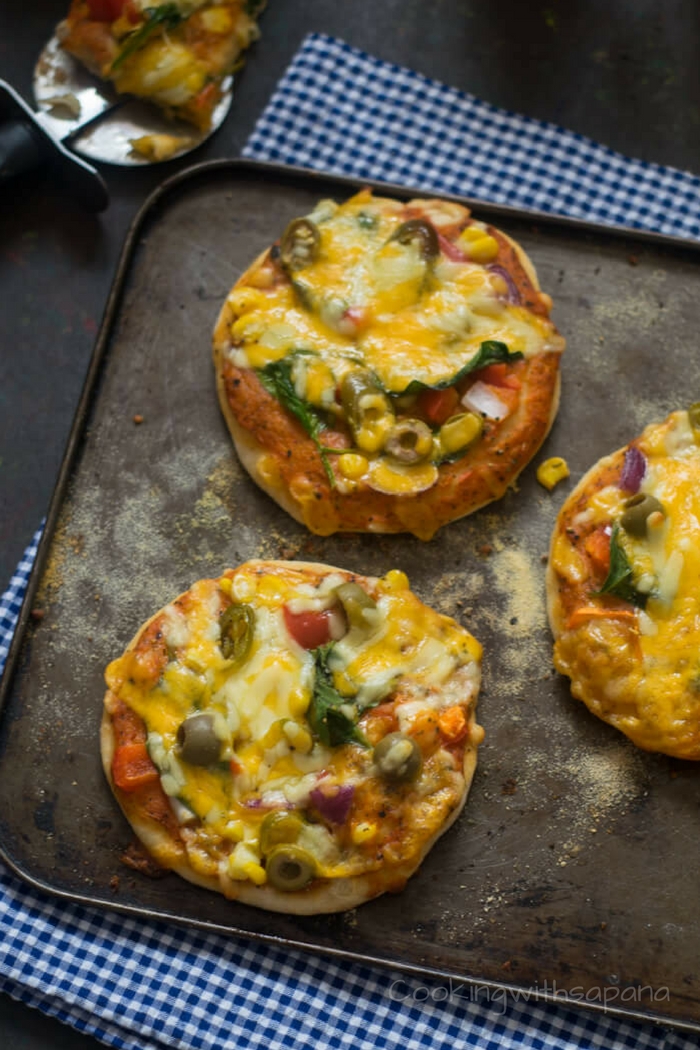 Anyways that was about girls, coming to us adults we can't have pizzas without olives and jalapenos, so there is that. That is the story of our kind of pizzas, the favourite toppings, and all. And the one thing that remains same with each pizza has freshly pressed fruits juice to gulp down the totally guilted pizzas.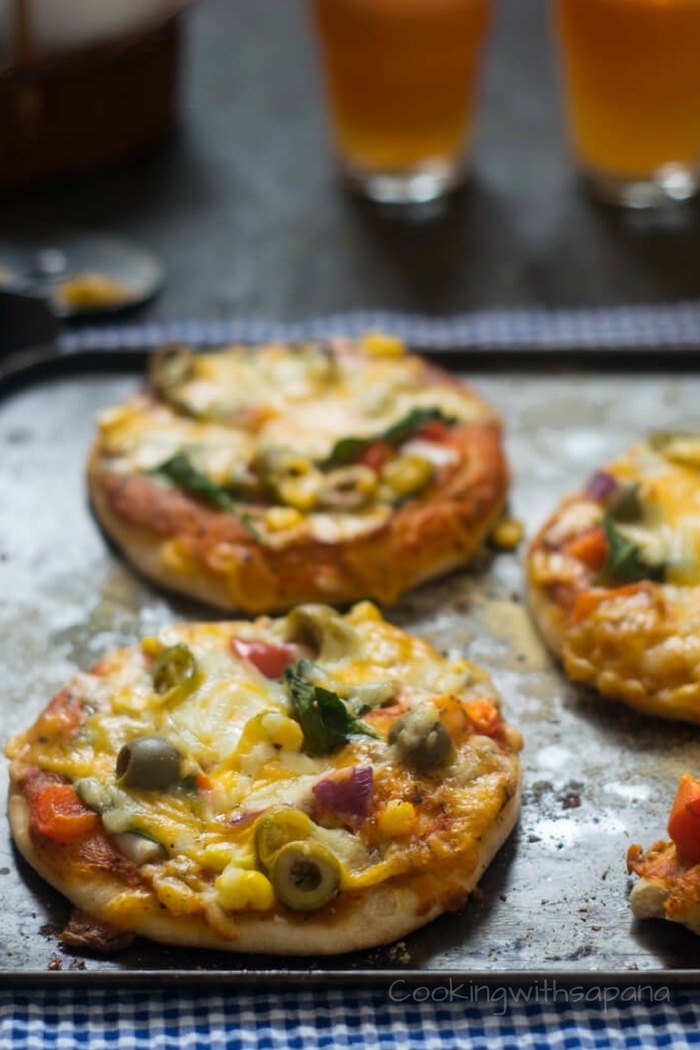 We have Pizza Margherita, Neapolitan style Pizza, Pizza Pockets, Bread Pizza and Pizza cupcakes recipes if you would like to try. There is Srivalli's Paneer Tikka Pizza, Pavani's Italian Pizza Dough recipe to make over the weekend.
Blogging Marathon#82 Week 1/Day 1
Theme– Pizzas
Dish-Mini Veg Pizzas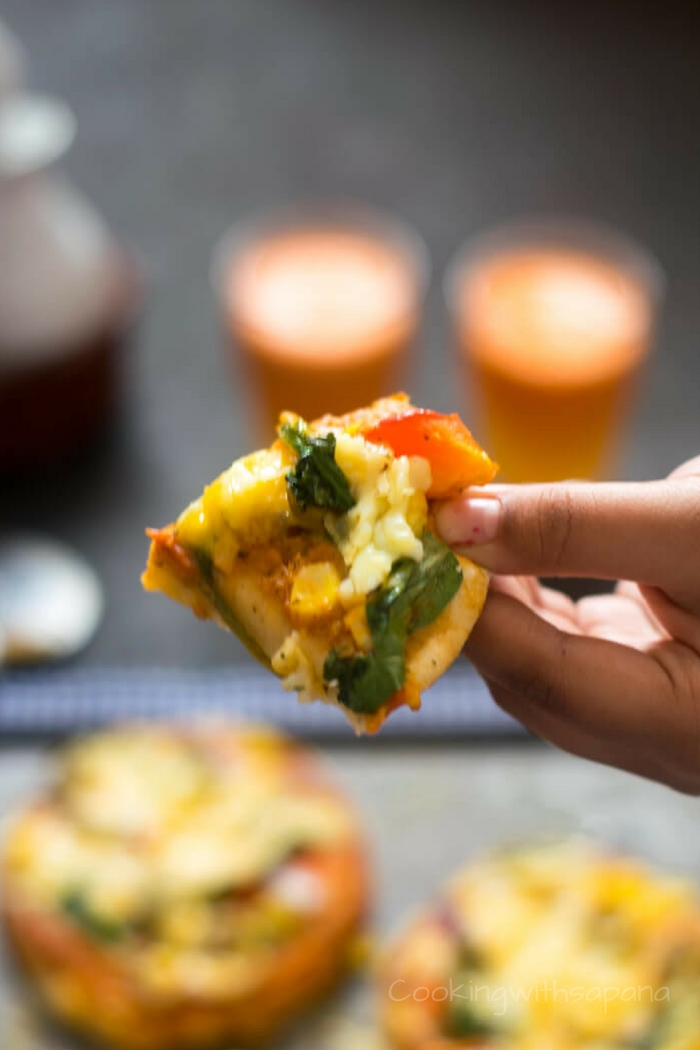 Mini Pizzas
Super easy and delicious mini versions of pizzas topped with your favourite vegetable toppings and homemade pizza sauce.
Ingredients
For Dough
2

cups

all-purpose flour

1

teaspoon

active dry yeast

1

teaspoon

sugar

1

tablespoon

olive oil

1/4

teaspoon

salt

3/4

cup

or as required warm water
For Toppings
1

cup

pizza sauce

1

cup

mixed vegetables,

I used onions, bell pepper, spinach and corn

2

tablespoon

olives,

sliced

1

tablespoon

jalapeneos,

chopped

1

tablespoon

olive oil

1

cup

mozzarella cheese,

I used cheddar and mozarerlla

salt and pepper to taste

1

teaspoon

oregano,

ground

1

teaspoon

basil,

ground

cornmeal for dusting
Instructions
Prepare the Dough
Into the warm water add sugar and dry yeast, stir and let it sit for 5 minutes or until bubbly.

In a mixing bowl add all purpose flour and salt, stir to combine and add olive oil.

Start adding the yeast water a little at a time and knead a dough. Let the dough rest in an oiled bowl covered with cling wrap and placed in a warm place for 2 hours.

Once the dough is doubled in size, start working on with it on a floured surface.

Knock down the air from the dough by pressing with knuckles and divide it into 6 equal sized parts.

Preheat the oven to 200° F and dust pizza trays with yellow cornmeal flour.

Roll or spread with hands each ball into small rounds and place them into the prepared pizza baking trays.
Assembling
Brush the mini pizzas with olive oil and spread even layers of pizza sauce on top of each base.

Arrange vegetables olives and jalapenos, sprinkle cheese and seasonings.

Bake in preheated oven for 15 to 20 minutes or until lightly golden.

Remove from oven, serve and enjoy.
Recipe Notes
Add your favourite toppings and make your desired shape and size pizzas.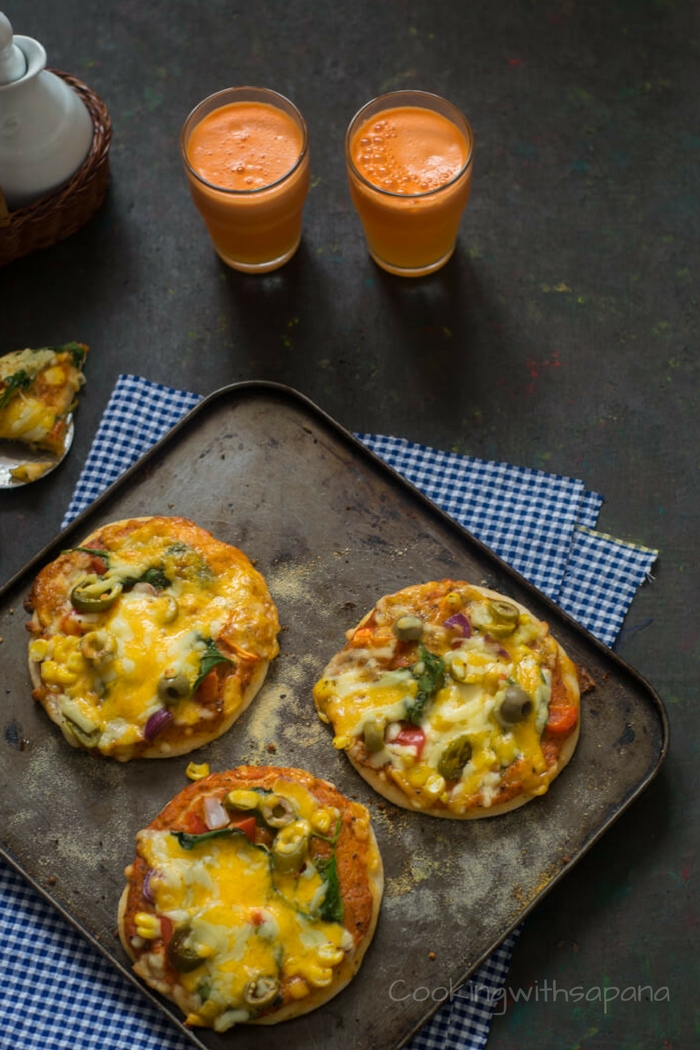 Enjoy!!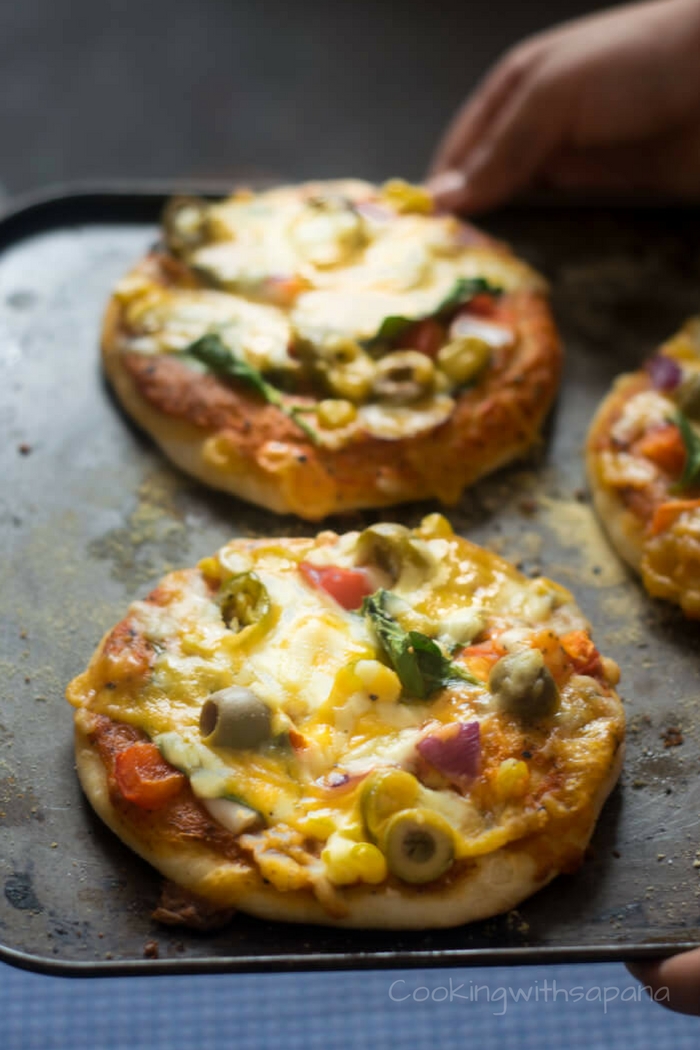 Sore the leftovers, if any, in the freezer for later use.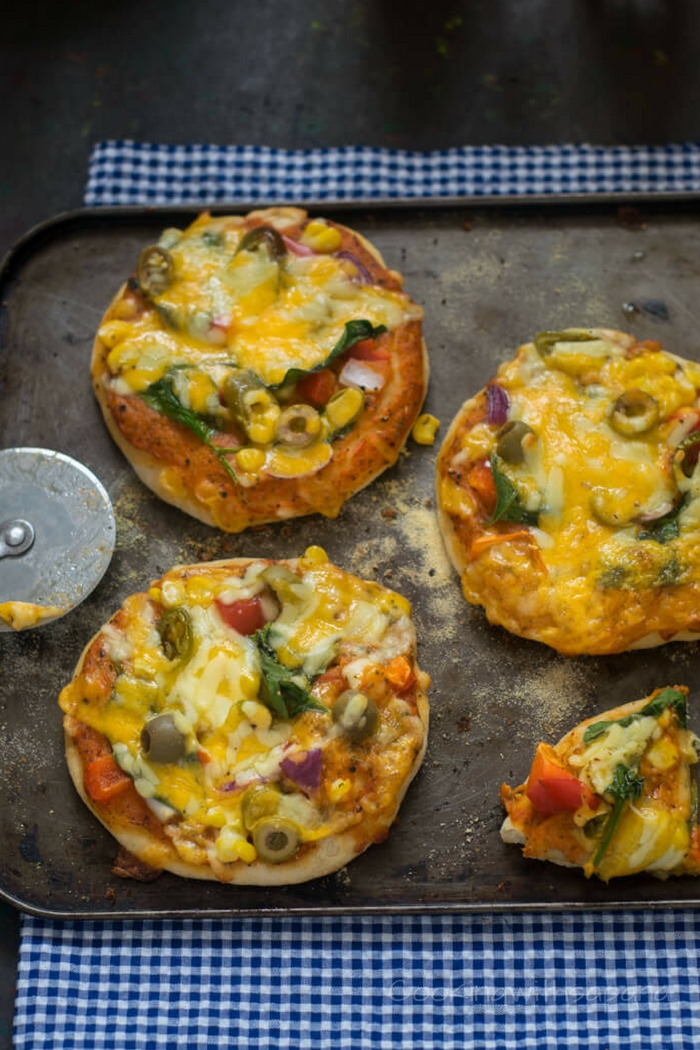 Check out the Blogging Marathon page for the other Blogging Marathoners doing this BM#82
Best Regards,
Sapana Behl