Lemon Buttermilk Cake
Lemony and zest buttermilk and corn flour cake which makes a wonderful breakfast or go to grab sack for any day. This lemon buttermilk cake is damn delicious and totally irresistible.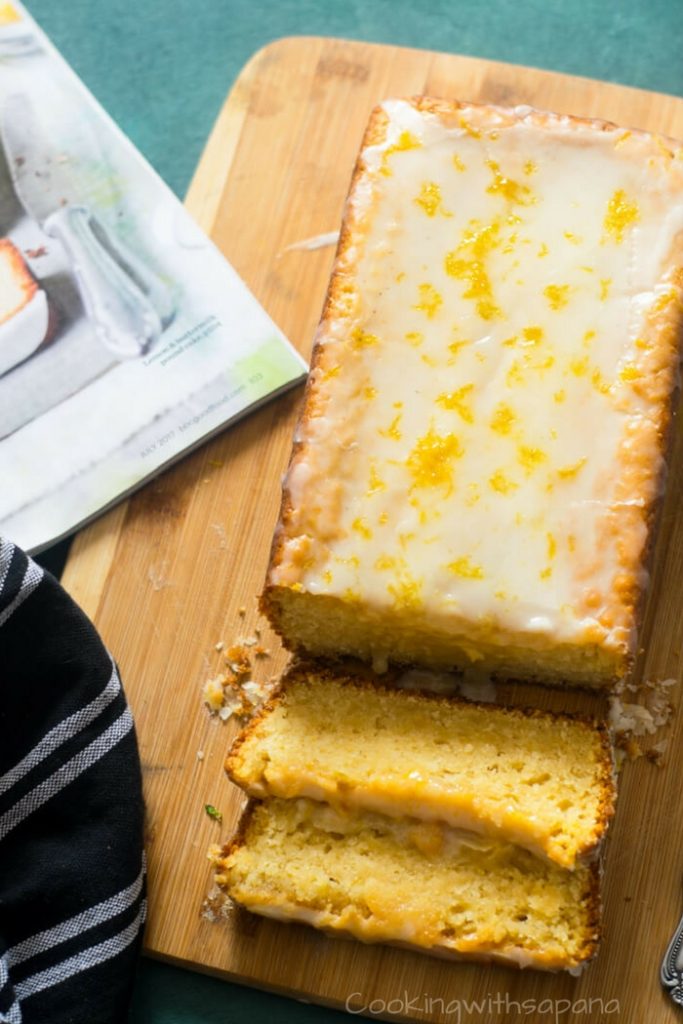 So did I mentioned to you all that we have stopped consuming sugar since last six months. I mean even for the girls, in their breakfast oatmeal or plain milk, I am giving them without sugar. It wasn't good in the starting, I mean not only for kids but for us big guys too but with time everything becomes smooth.
We have stopped buying sugary sweets, chocolates or anything with sweet products. It was like a torture to the girls at first but as I told above with time they won't crave sugar anymore. It's not a total banishment of sugar I mean now I would just use it as a fun food and make some home made baked goodies or traditional Indian sweet only twice in a month or for festival or birthdays only. When my mother in law learned about us not eating sugar she was like at least give it to kids or else their bones will be weak. I had to convince her a big time and oh boy it was a difficult task.
It all started when my mother got terminally sick, I was devastated and couldn't tolerate the idea of being her so sick. I was researching online all day the causes of her being ill and how it can be avoided. I know how difficult it is to see your loved ones going through such a hard time. All the chemo and radiation has made her health worse and I just couldn't see her going through this pain. Every day I pray for her good health and to give her strength to go through this difficult time. That's when I decided to eat healthily and avoid as much processed food as I can.
I am now not buying any sauces, ready made food or refined sugar in any form, trying to buy only organic food, stopped using MW, ditched all the nonstick cookwares, binned all chemical cleaning sprays, cosmetics and what not. Husband thinks I have gone mad for throwing every other thing and I know in this world it is extremely difficult to avoid chemicals and toxins but I am doing all I can for my family to protect them from the deadly life threatening diseases.
Coming to the bread, this was a part of my fortnight sweet treat for the family and they totally loved it. At first, I was skeptical about too much lemon but let me tell you it was all worth it. If you'd try this cake do not reduce the number of lemons. The recipe is adapted from BBCGoodFood Magazine and is totally a keeper. The original recipe did not use any cornmeal but I tweaked the recipe a little to make it protein rich.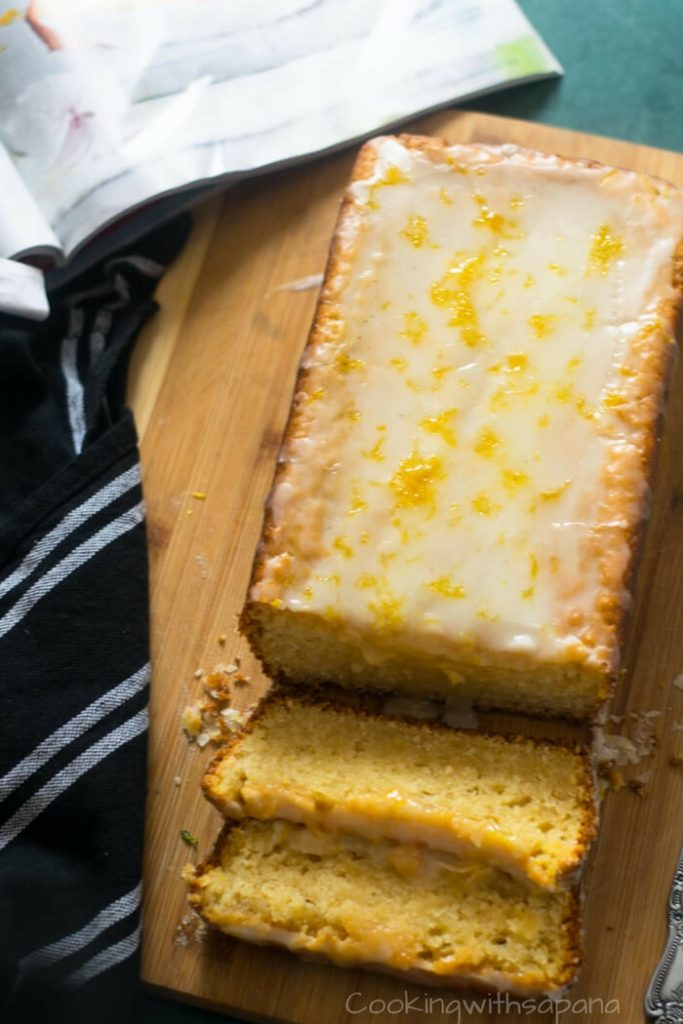 Blogging Marathon#80 Week 2/Day 8
Theme– Protein Rich Dishes
Dish– Lemon Buttermilk Cake
Protein Source– Corn Flour, Buttermilk
Lemon Buttermilk Cake
Lemony and zest buttermilk cor ad flour cake which makes a wonderful breakfast or go to grab sack for any day.
Course:
Breakfast, Dessert, Snack
Cuisine:
American, Fusion
Ingredients
1

cup

plain flour

1

cup

fine yellow corn flour

1

cup

butter

1/4

teaspoon

baking powder

1/4

teaspoon

baking soda

2

cups

buttermilk

1/4

cup

castor sugar

zest from 4 lemons
For syrup
2

lemons,

juiced

1/2

cup

granulated sugar
For Icing
1 1/2

cups

icing sugar

2

tablespoon

lemon juice
Instructions
Preheat oven to 180C and grease a loaf tin with butter and dust with flour.

Sift the corn and plain flour into a mixing bowl along with baking powder and baking soda.

In another mixing bowl beat sugar with butter until light and fluffy. Stir in lemon zest and set aside.

Add a half teaspoon of lemon juice into buttermilk and mix well.

Now add the flour mixture into the sugar butter mixture alternating with buttermilk and mix well until combined.

Transfer the batter into the prepared pan and bake in preheated oven for about 40 to 50 minutes or until a skewer inserted into the centre comes out clean.

Cool the cake o n a wire rack with a baking tray underneath it.

To make the syrup put all ingredients in a saucepan and cook until sugar is dissolved.

Pierce the cake with a skewer and pour the syrup all over the cake while it is still warm.

To make the icing add the lemon juice gradually into the icing sugar until desired consistency.

Pour the icing over the cake and let the extra drizzle down into the tray.

Sprinkle some lemon zest if desired, slice and serve the cake.
Recipe Notes
The icing won't be too hard but let it set a little before serving. The leftovers can be stored in the refrigerator but I bet it won't last to store.
Nutrition Facts
Serving Size 2 slice
Servings Per Container 4
---
Amount Per Serving
Calories 1075
Calories from Fat 432.9
% Daily Value*
Total Carbohydrate 157.7g
53%
---
*Percent Daily Values are based on a 2,000 calorie diet. Your daily values may be higher or lower depending on your calorie needs.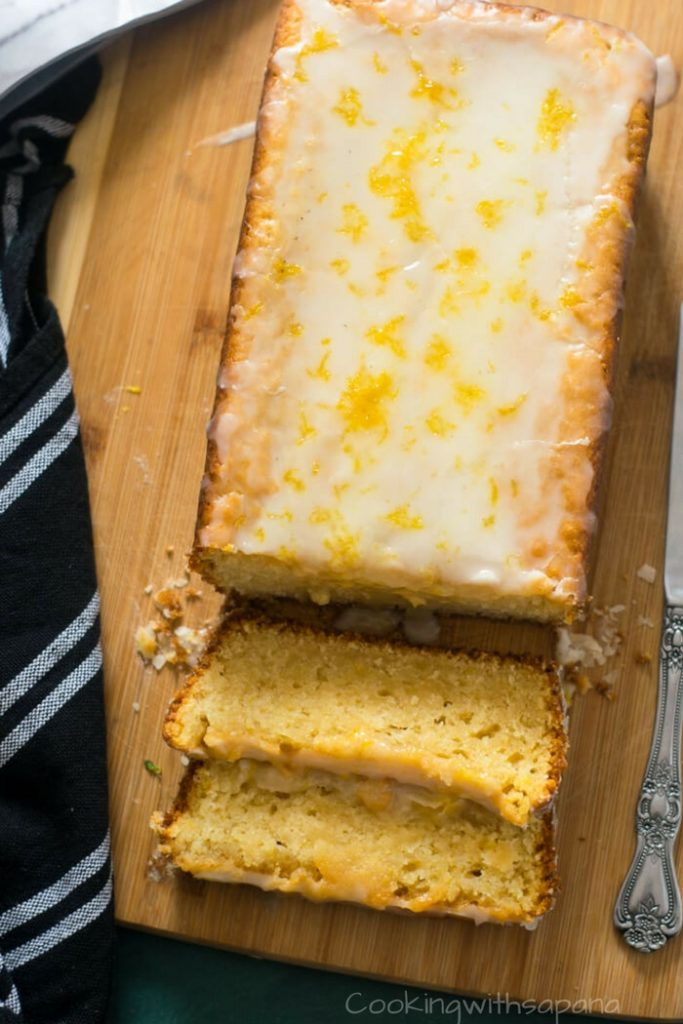 Enjoy!!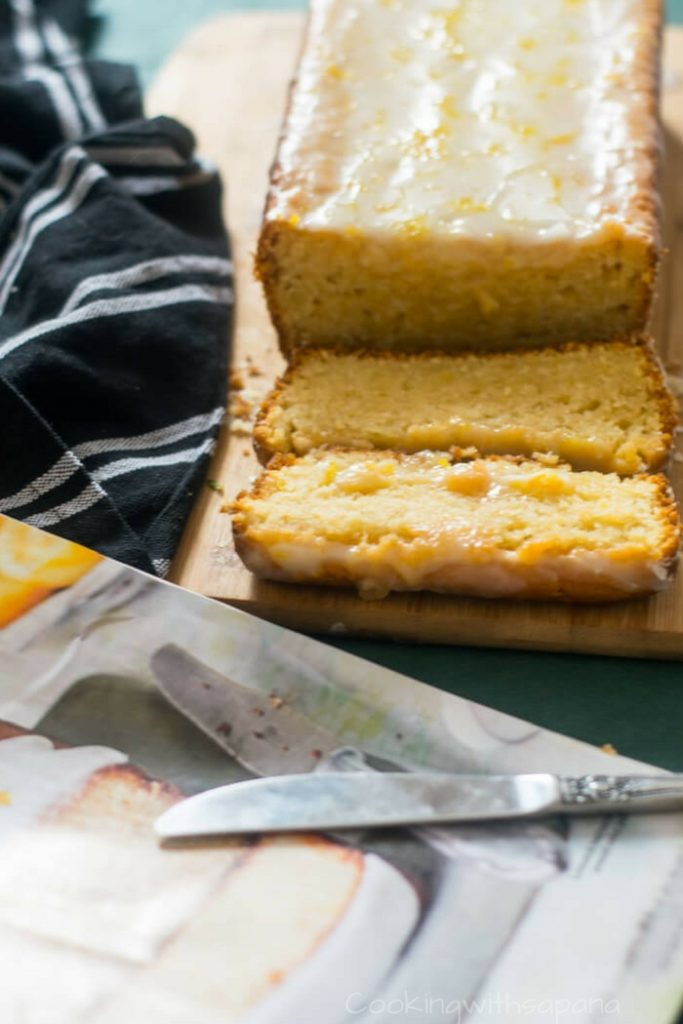 Check out the Blogging Marathon page for the other Blogging Marathoners doing BM# 80
Loading InLinkz ...
Best Regards,
Sapana Behl