Mustard and Leek Quiche
Mustard and Leek Quiche filled with creamy tofu and seasonings make it a filling and delicious treat to serve as a meal or snack. Quiche is a traditional French savoury open faced pastry stuffed with eggs and vegetables. Apart from being popular in French cuisine, it is usually served in most countries as a party food.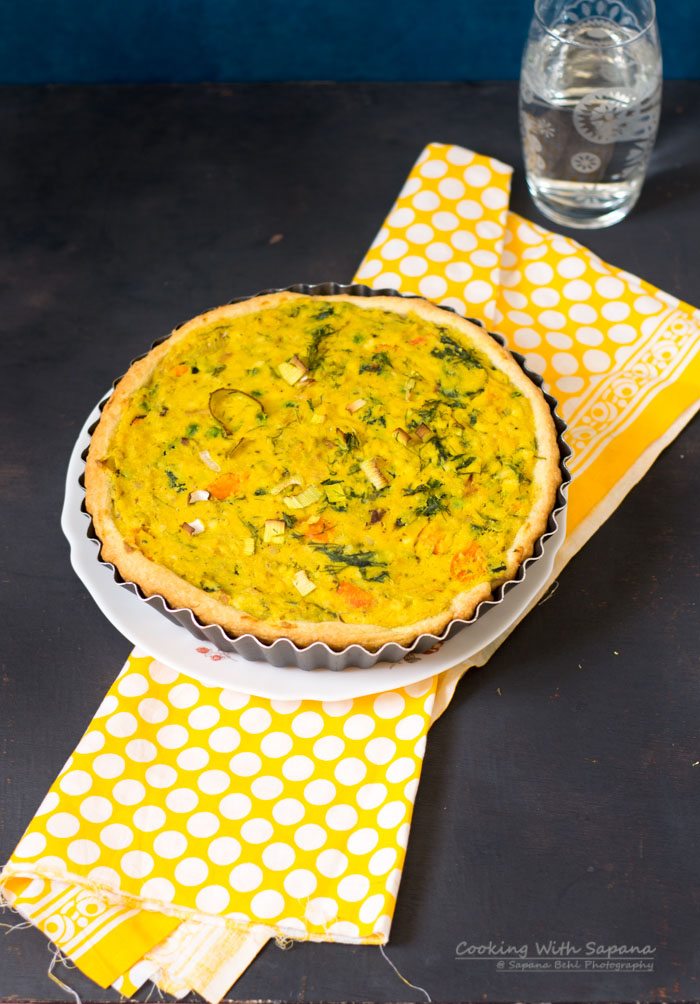 As we are still having Easter break so this weekend we a group of Indians went to a beach for a picnic. The idea was to have picnic o beach and everyone would bring some snacks or party food to share. That's how I made my letter M dish early in the morning for the picnic.
When I sliced the quiche it was still hot and that's why I couldn't take out a nice slice for the clicks. Along with quiche, I made Anzac cookies and aloo kurkure as a finger food snack. It was a fun filled day ad we all had a great time at the beach. However as expected the day wasn't sunny and it was really cold but still, we enjoyed eatiNg, chatting and spending time together.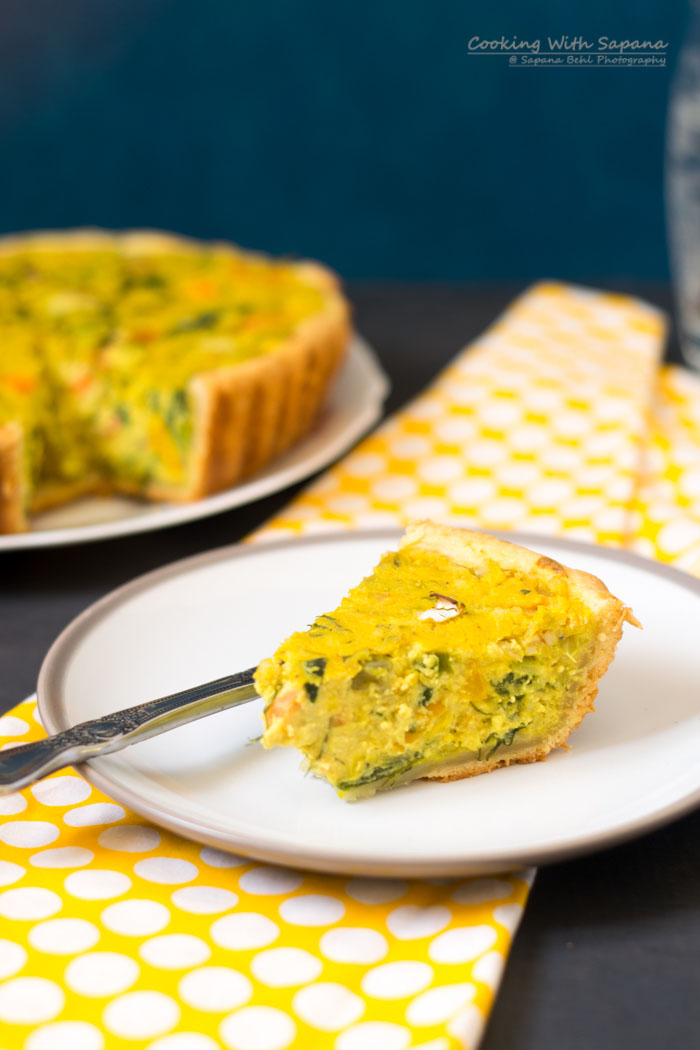 Blogging Marathon#75 Week 2/Day 13
Sub Theme– Savory Bakes
Dish– Mustard Quiche
Country– French
Source– Delicious Magazine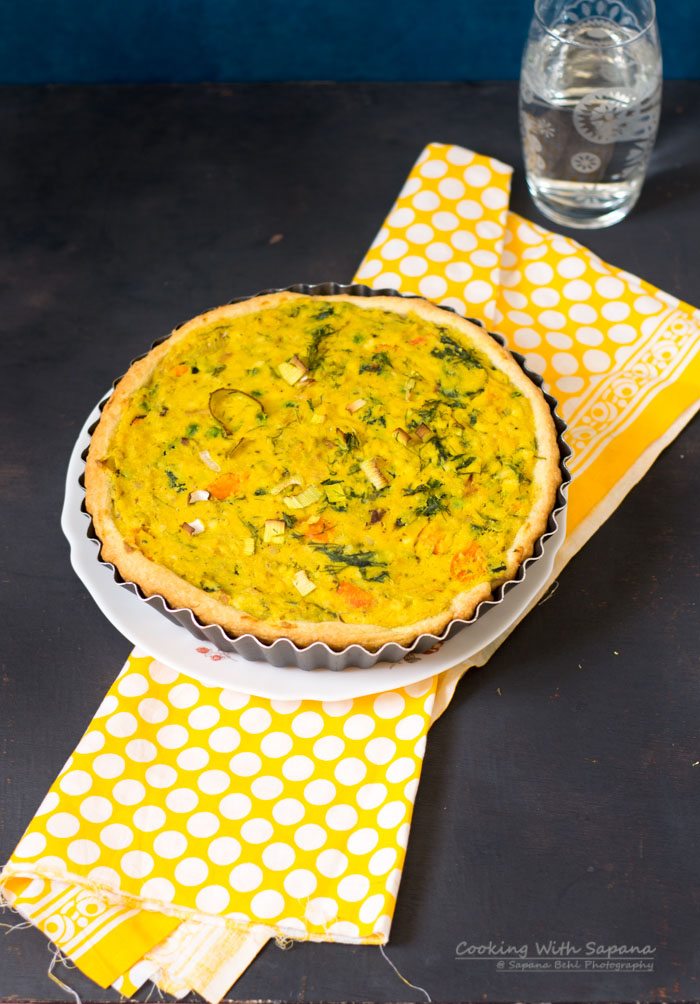 Mustard Quiche
Super filling and very delicious quiche with lots of vegetables and mustard.
Course:
Lunch, Main Course
Ingredients
1

ready-made short crust pastry

thawed
For filling
1

onion

chopped

3-4

garlic

chopped

1

carrot

chopped

1

cup

leek

chopped

1/4

cup

scallions

chopped

1

cup

baby spinach leaves

2

tablespoon

dijon mustard

2

tablespoon

dill leaves

chopped

salt to taste

pepper to taste

1

tablespoon

olive oil

1

cup

tofu

firm

1/4

cup

soy milk

2

tablespoon

rice powder
Instructions
Preheat oven to 400 °F. Unroll the pie crust and place it onto a floured work surface.

Roll the short crust about the size of the tart pan.Prick the pie crust with a fork.

Heat oil in a pan and add garlic and onions. Saute for a minute.

Stir in carrots, leek, scallions, spinach leaves and cook for 3-4 minutes.

Add in dijon mustard, salt, pepper and dill leaves. Remove from heat and set aside.

In a blender pulse tofu, with rice powder and milk.

Add this tofu mixture into the prepared veggies. Mix until combined.

Pour this into the prepared pie crust. Bake in preheated oven for about 25 to 30 minutes.

Remove from oven. Slice and serve.
Recipe Notes
You may use a variety of vegetables in the quiche.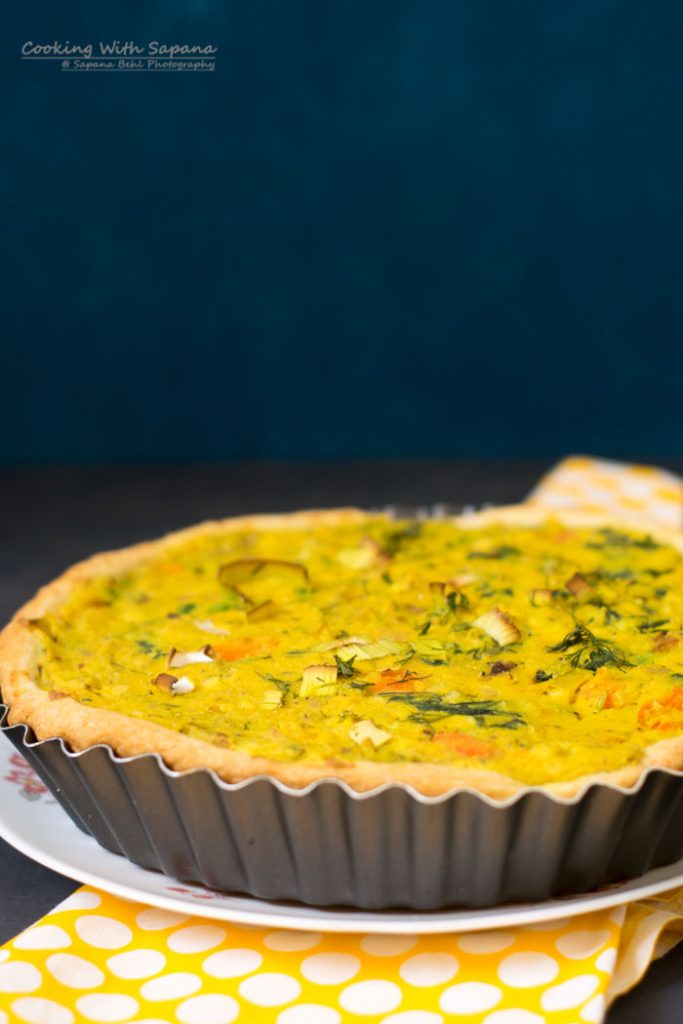 Enjoy!!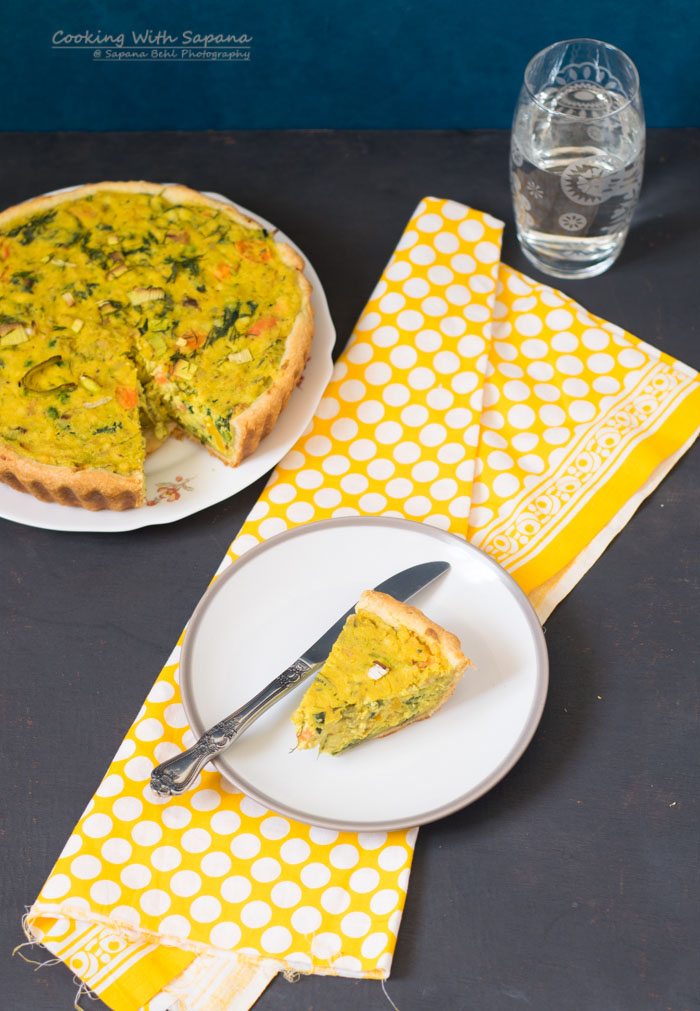 Check out the Blogging Marathon page for the other Blogging Marathoners doing BM#
75
Best regards,
Sapana Behl