Individual Christmas Fruit Cake with Marzipan Stars
Individual Christmas Fruit Cake: Tis the season and what could be better than fruit cakes topped with sweet and nutty marzipan stars. The soft, fruity and spiced cakes that would make you feel so festive and happy.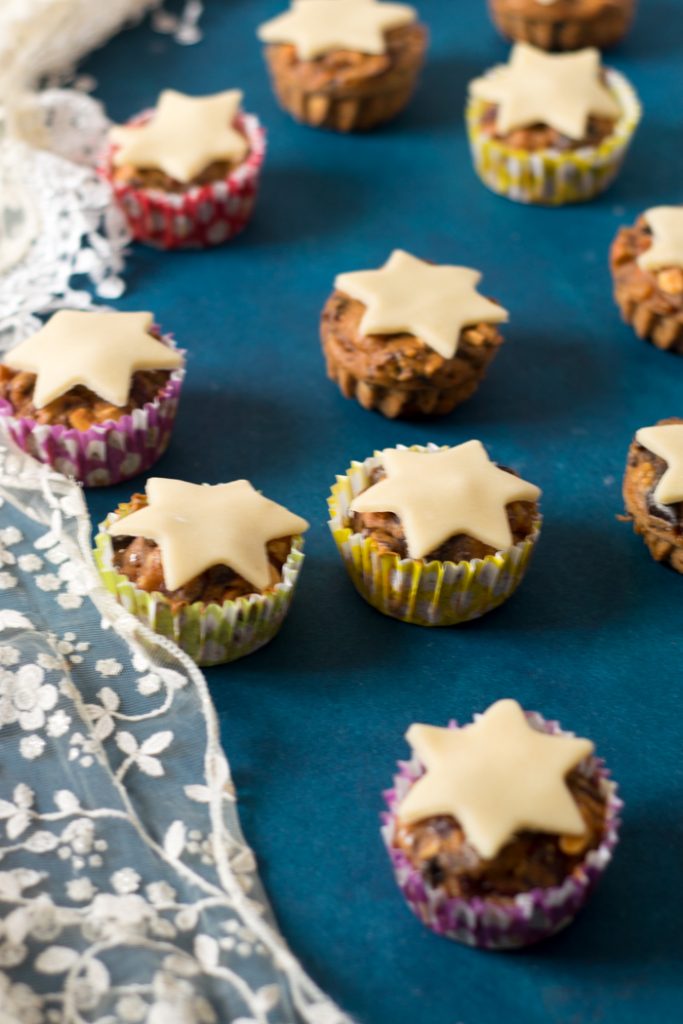 I saw the recipe on Anna Olson Food Network show and immediately soaked the dried fruits to try the cakes. I already have Christmas fruit cake and low-fat version of the recipes but this time I soaked the fruits in Brandy to see the difference. The cakes tasted nice and very strong flavoured and we adults loved enjoying them. But of course if you are making family friendly recipe then try using the apple juice instead of brandy.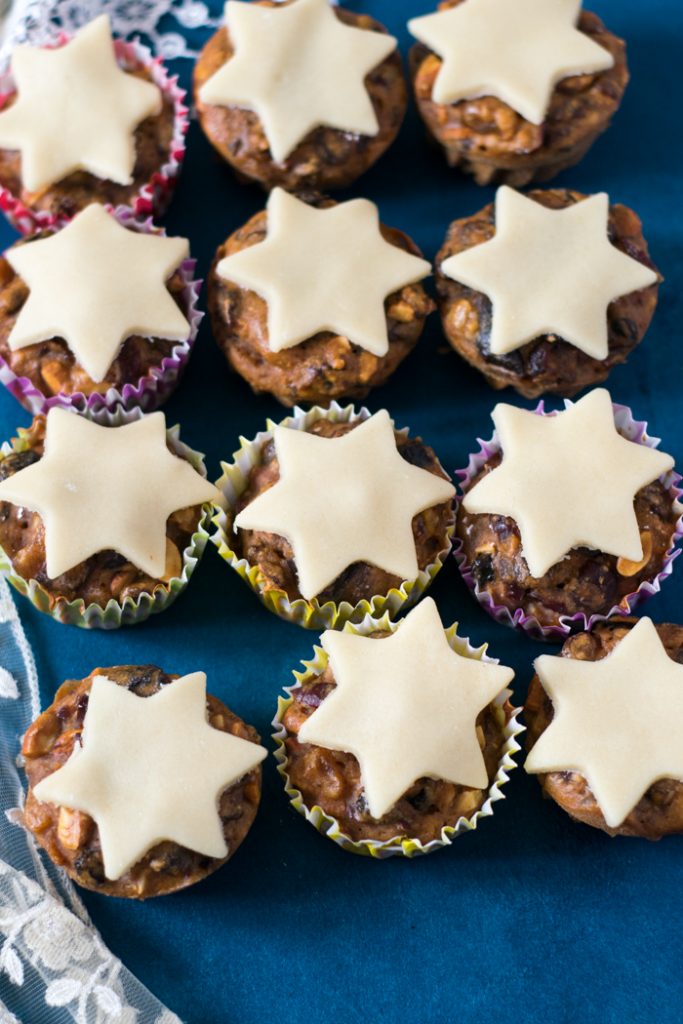 Bake a Thon Day 7
Dish-Christmas Fruit Cakes
Source– Here

Ingredients:
For fruit cake
1 1/2 cup all-purpose flour
1 teaspoon cinnamon
1 teaspoon ginger
1/4 teaspoon nutmeg
1 teaspoon baking powder
1/2 teaspoon salt
2 oranges, sliced with skin, seeds removed
1 cup yoghurt
3/4 cup brown sugar
1/4 cup milk
1/4 cup butter, melted
For fruits
1/2 cup dried apricots, chopped
1/2 cup dried prunes, chopped
1/2 cup raisins
1/2 cup candied fruit peels
1/2 cup dates, pitted and chopped
1/2 cup almonds chopped
3/4 cup brandy or apple juice
For Marzipan
1 1/2 cup almond meal
1 cup sugar
1/4 cup honey
2 tablespoon water
Method:
For cake
Soak the dried fruits in brandy or apple juice for 24 hours or up to a month or so.
Preheat oven to 180° C and line two 12 hole muffin case with baking paper or grease with butter.
In a mixing bowl sift flour, baking powder, salt, cinnamon, ginger and nutmeg. Set aside.
In a blender add oranges, yoghurt, brown sugar, milk and melted butter. Pulse until soft.
Now add the orange butter mixture into the dry sifted flours. Gently whisk to combine.
Stir in the soaked dried fruits in the batter.
Divide the batter into the prepared muffin cases.
Bake in preheated oven for about 20 minutes or until a toothpick inserted in the centre comes out clean.
Remove from oven and cool on wire rack.
Make Marzipan
Add almond meal in a blender or food processor and set aside.
In a saucepan add sugar, water and honey and bring it to a boil. Cook for 5-7 minutes or until bubbly.
Add the sugar mixture to the blender and pulse a couple of times to combine the ingredients.
Remove from blender and roll out into a block. Store in refrigerator.
Roll out the marzipan into a thin sheet dusting with icing sugar.Cut out a star or desired shapes.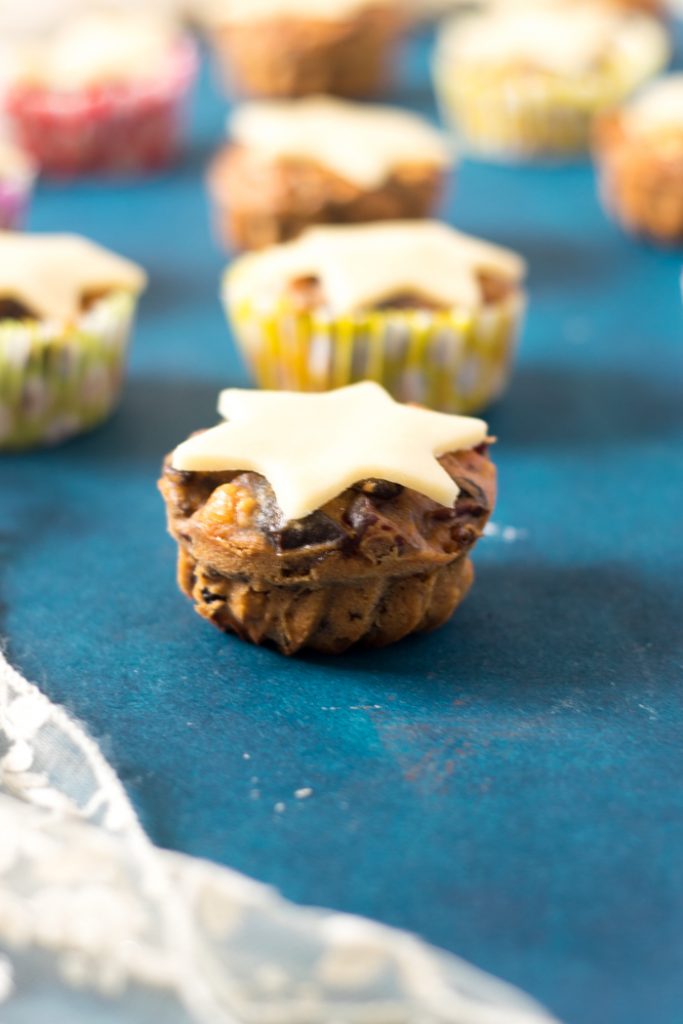 Place the stars onto the prepared fruit cakes. Enjoy!!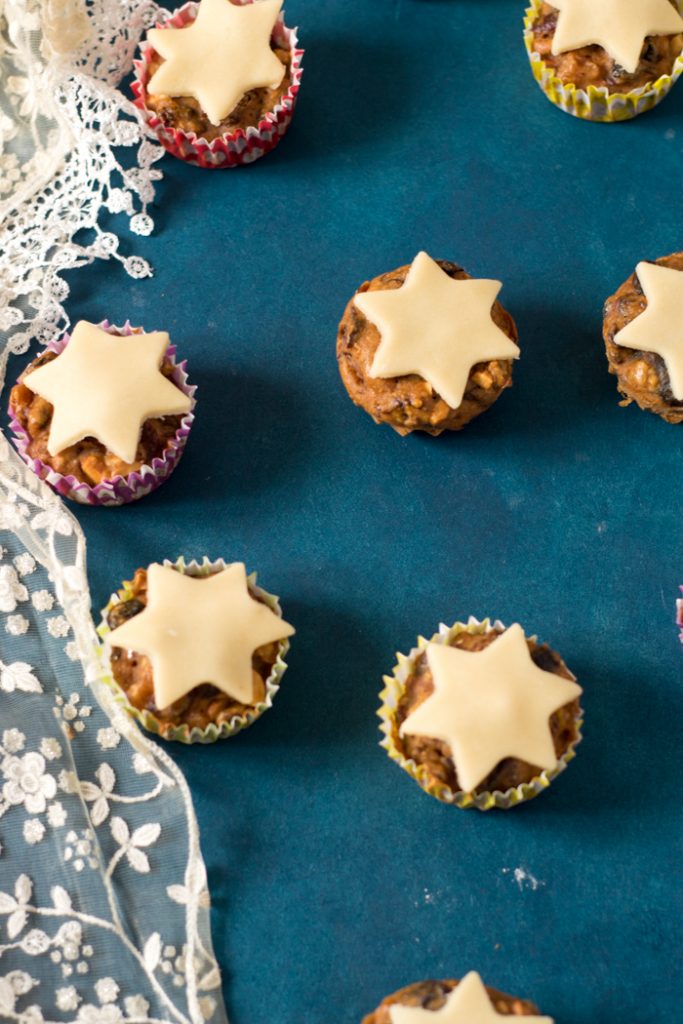 Serve – 24 Cakes Baking Time – 20 minutes

This is part of the Bake-a-thon 2016
Best regards,
Sapana Behl
ù