Barley stuffed Tomatoes
Barley stuffed Tomatoes:
Juicy and baked tomatoes stuffed with garlicky herbed barley and spices make a healthy and delicious appetiser or snack. Recently I have started using barley in my cooking and, to be frank, I am loving the versatility of it as a healthy ingredient. It has a soft yet chewy texture that blends very well in most of the recipes.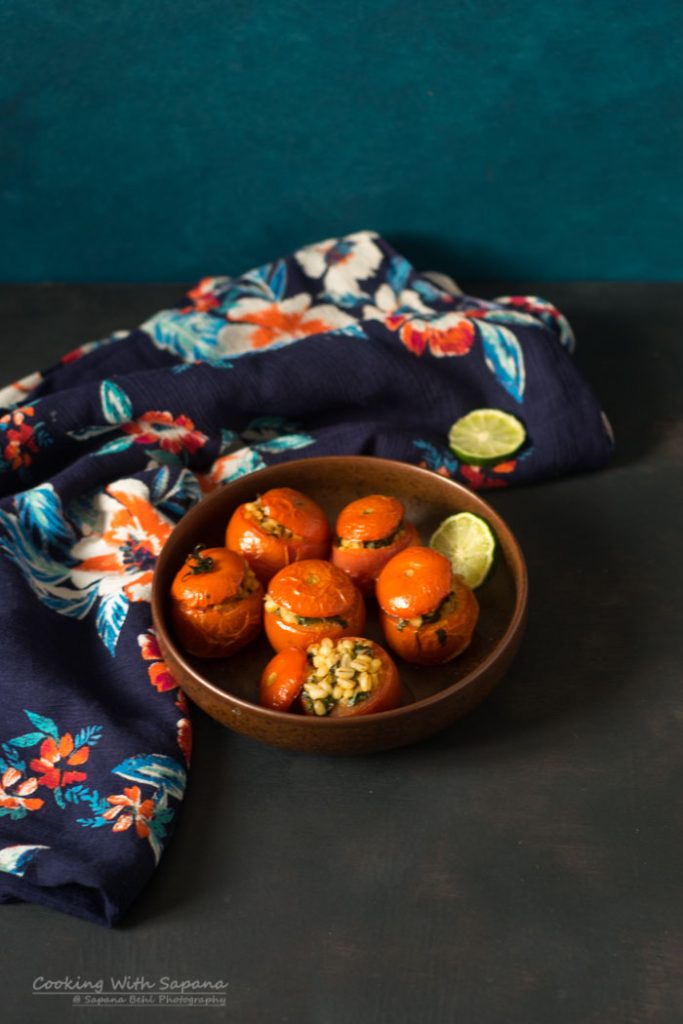 Barley is known as one of the healthy cereal and is worldwide popular for making beer .It has the high source of minerals like copper, selenium and magnesium and also it helps in lowering the blood cholesterol levels if taken regularly in the diet. While reading about Barley in a cookbook called 26 grains I get to know that the Roman Gladiators used to consume Barley to gain strength and stamina and often known as Barely man. Wow , it does not surprise me knowing the health benefits of barley and I am glad I am using it in my soups, salads and many more dishes.
Well, you must be wondering why all of a sudden I am talking about Barley. Because this week's Blogging Marathon theme is to cook with one ingredient and make three-course dishes. So as of course, my ingredient is Barley and the first dish is this tasty and healthy stuffed tomatoes. Here is the link for Barley Salad recipe that I have posted on the blog.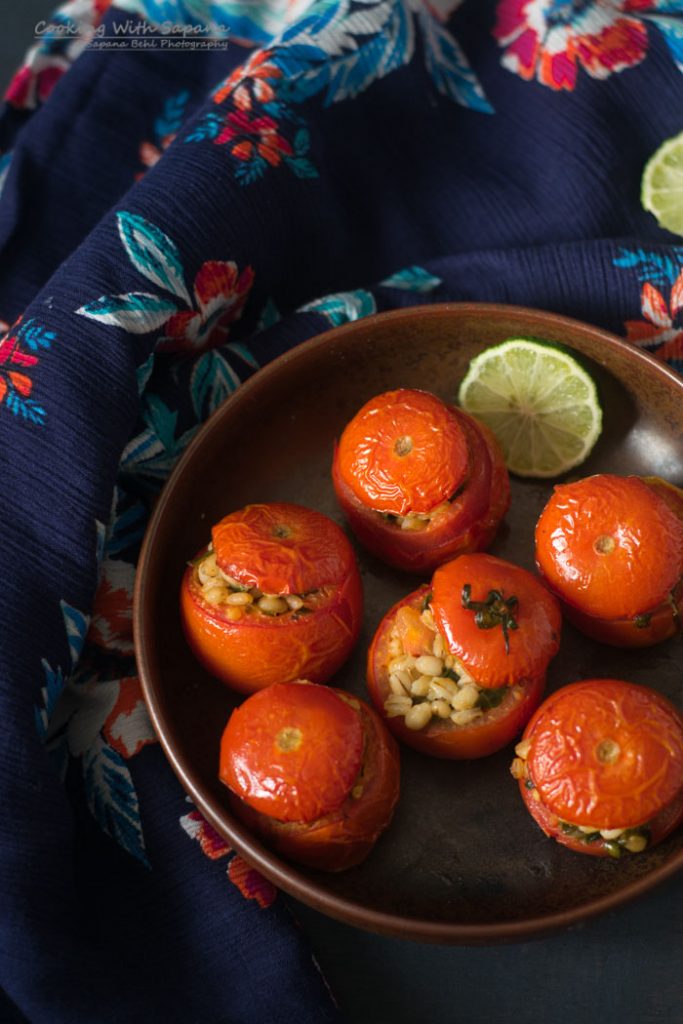 Blogging Marathon#70 Week 2 / Day 1
Theme-One ingredient three dishes
Dish– Barley stuffed tomatoes
Ingredients:
8 ripe medium sized tomatoes
2 teaspoon olive oil
For stuffing:
1/2 cup pearl barley
2 garlic cloves,minced
2 cups spinach leaves,chopped
1 teaspoon parsley
salt to taste
pepper to taste
1 teaspoon lemon juice
1 tablespoon olive oil
3 cups water or broth
Method:
Rinse and dry the tomatoes. Slice the top of the tomatoes and scoop out the pulp and seeds.
Wash and soak pearl barley in enough water for 2 to 6 hours. Drain and set aside.
Heat a saucepan and add olive oil. Add minced garlic and saute fro a minute.
Stir in the spinach leaves,tomato pulp and seeds, parsley,salt and pepper. Stir and add 3 cups of water or broth.
Cook covered until the water is absorbed and barley is soft. Remove from heat add lemon juice and set aside.
Line a baking sheet with oil and preheat oven to 180° C.
Fill the barley stuffing into the empty tomatoes and cover ith the sliced top. Drizzle some olive oil.
Bake them in preheated oven for about 25 to 30 minutes. Remove from oven.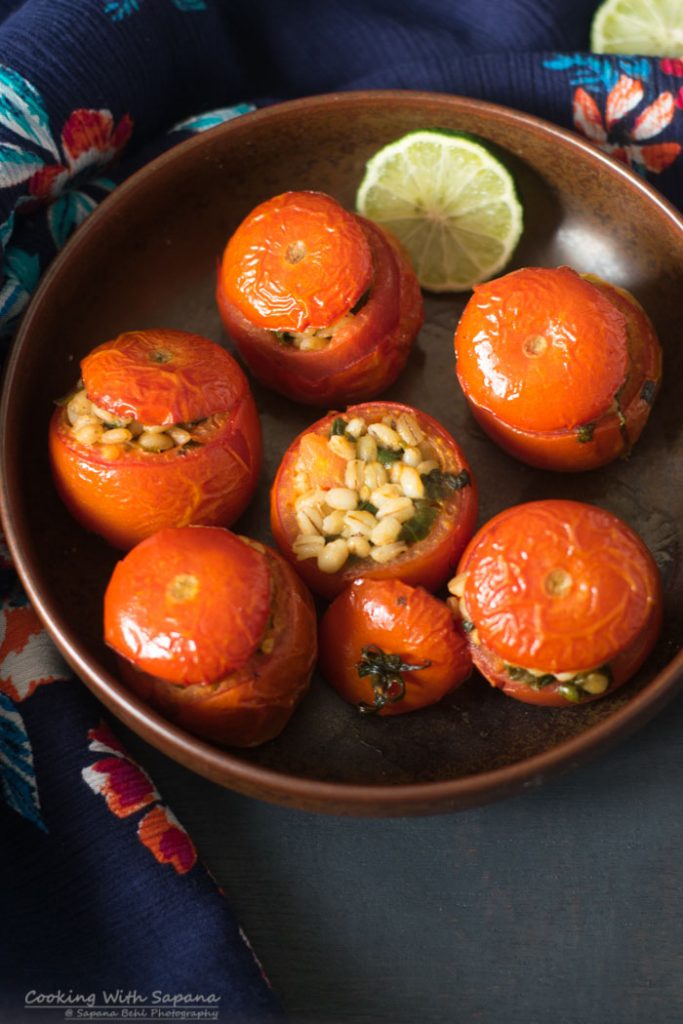 Serve and enjoy.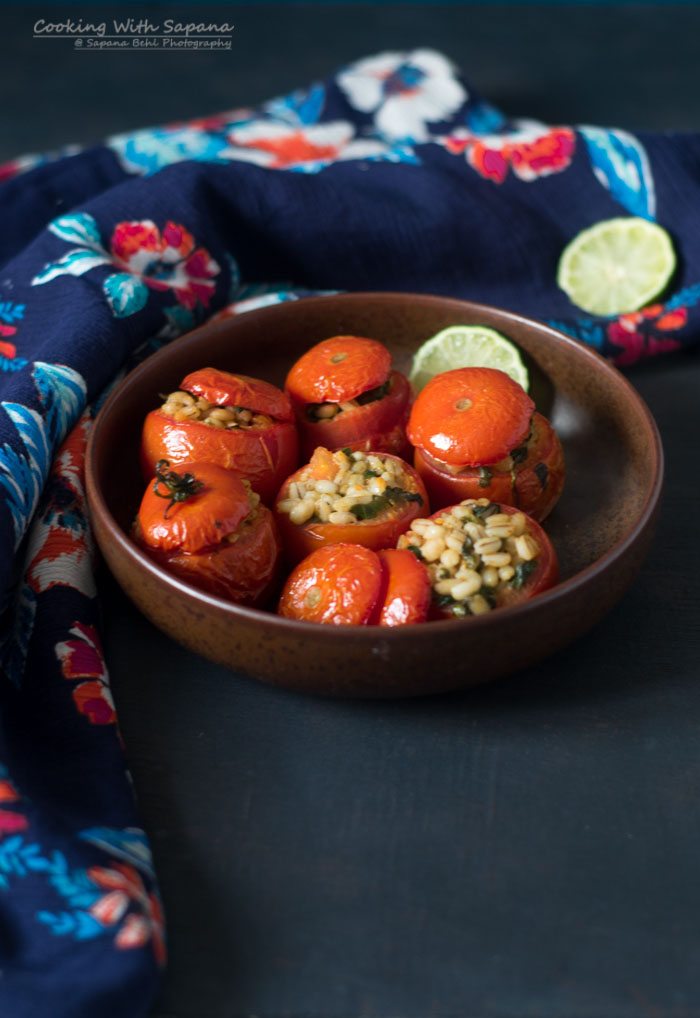 Serve -4 Cooking time – 20 minutes Baking time – 30 minutes
Check out the Blogging Marathon page for the other Blogging Marathoners doing this BM#71

Best regards,
Sapana Behl