Chintapandu Pulihora | Tamarind Rice
Chintapandu Pulihora
: Andhra style tamarind rice in which cooked rice are tossed in tamarind based sauce. I had bookmarked this dish from Suma's space when she posted this
recipe
for September Cooking Carnival. I love rice based dishes and literally have bookmarked all of her rice dishes. So when I picked cooking for one as my theme I knew I have to make one rice dish from her space. In her recipe, tamarind gojju is supposed to serve for 8 to 10 servings but as I was cooking only for me I tweaked the recipe for one serving and made the pulihora for my lunch.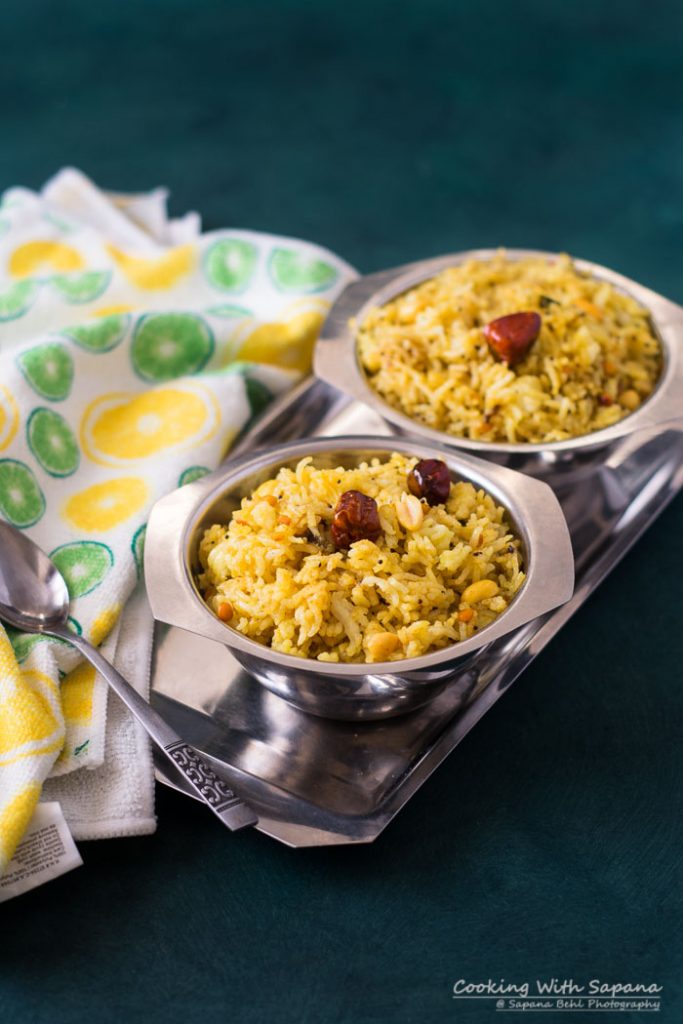 Being a North Indian I have a thing for the South Indian dishes and they always fascinate me. Such as in this dish I totally loved the sour and sweet taste of the rice and had a wonderful and filling lunch. I am now going to make the tamarind gojju for a couple of servings and store it in the refrigerator. So whenever there are going to be some leftover rice I can simply relish this tamarind rice anytime I would want to.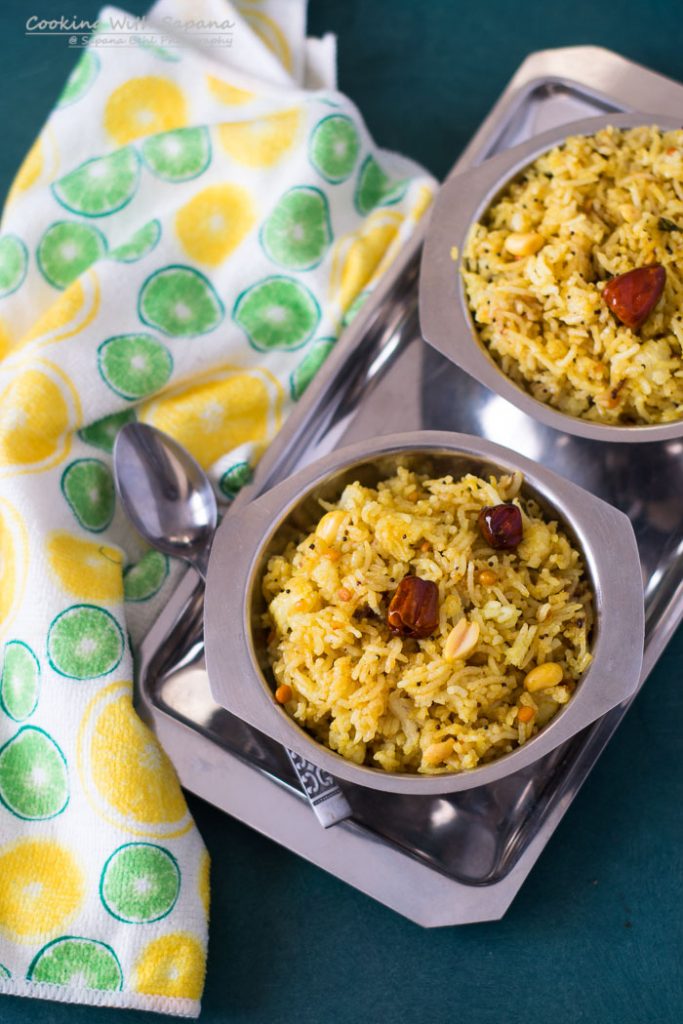 Blogging Marathon#70 Week 1 / Day 2
Theme– Cooking for One
Dish– Chintapandu Pulihora
Source– Veggiplatter
Ingredients:
1 teaspoon tamarind paste
1/2 teaspoon mustard seeds
1 dry red chilli,broken
1 teaspoon chana dal
1 teaspoon urad dal
1 tablespoon peanuts
1/4 teaspoon turmeric powder
a pinch asafetida
1 green chilli ,chopped
few curry leaves( I did not use)
2 teaspoon oil
1 teaspoon jaggery,grated
2 cups cooked rice

Method:
Heat oil in a pan and add dry red chillies, mustard seeds and asafetida. Stir and add curry leaves if using, urad dal, chana dal and peanuts.
Saute until peanuts are roasted. Add turmeric powder, salt, jaggery and green chillies. Stir and add tamarind paste and 1/2 cup of water. Cook until it starts thickening.
Remove from heat and gently combine it with cooked rice.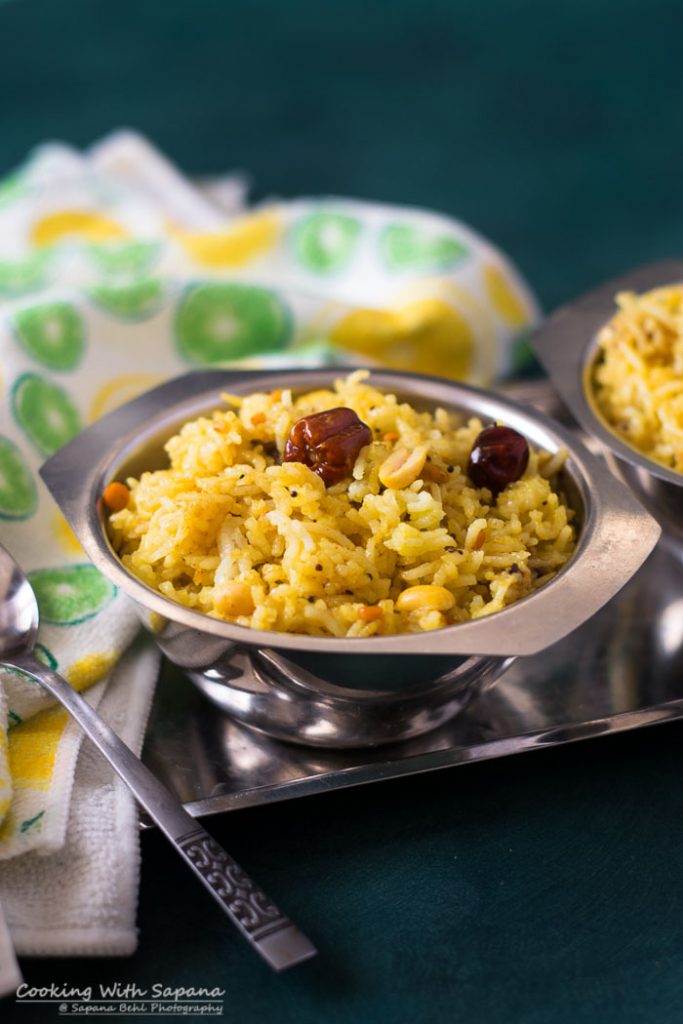 Serve and enjoy.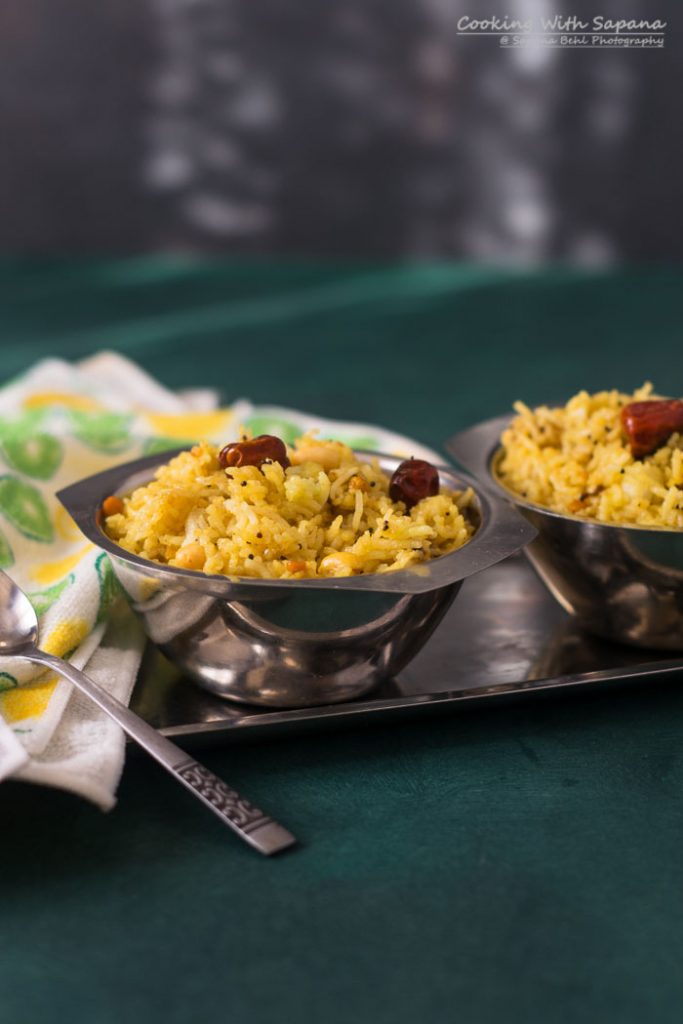 Serve -1 Cooking time-15 minutes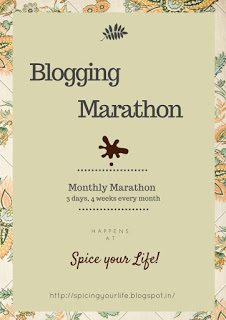 Check out the Blogging Marathon page for the other Blogging Marathoners doing this BM#70