Beet Hummus
Beet Hummus:
A healthy and tasty dip that would make a perfect appetizer with pita chips, or vegetable sticks. I love the aromatic and flavorful taste of hummus and literally do not need anything ? I mean I can eat it alone itself.

Hummus is an Egyptian dip or spread made with cooked chickpeas,beans, tahini,salt, lemon juice and garlic. As an appetizer hummus is scooped with pita bread or it is served as an accompaniment to falafel, grilled meat, and vegetables.It is part of the everyday regular meal in Israel because of its versatility to add flavor in both veg and nonveg dishes.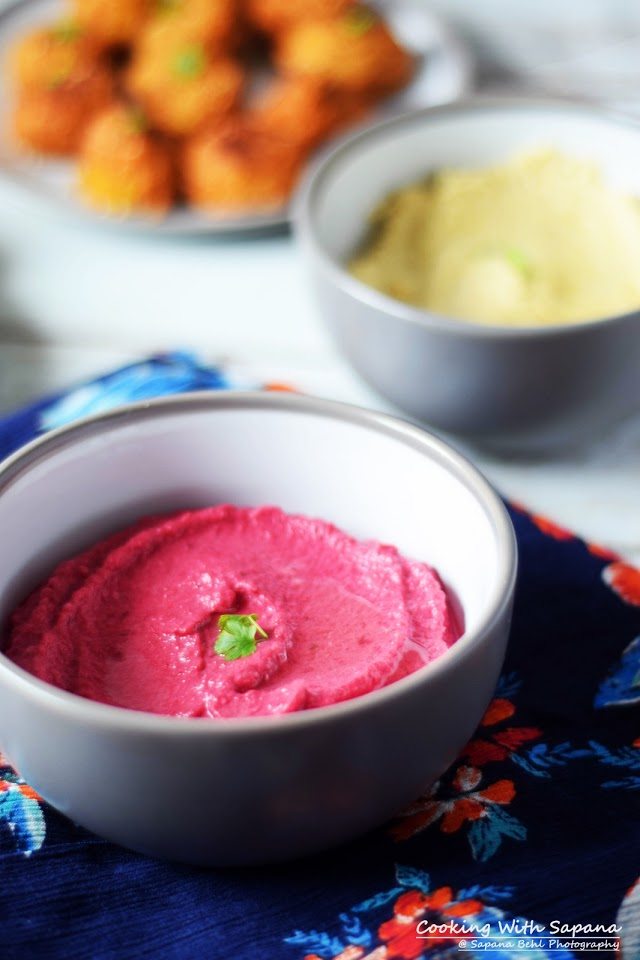 Blogging Marathon#68 Week 3 / Day 21
Theme– 5 Ingredients/5 Categories
Day 21 Ingredient– Sesame Seeds
Day 21 Category – Snacks/Appetizers
Dish– Beet Hummus
1ngredients:
1 cup beetroot,pureed
1 cup cooked chickpeas
4 garlic cloves
1 onion,roughly chopped
1 teaspoon cumin seeds
4 tablespoon olive oil
salt to taste
4 tablespoon tahini
2 tablespoon lemon juice
few parsley leaves,chopped
sea salt to taste
Method:
Blend in all the ingredients in a food processor.
Process until smooth.
Drizzle with more olive oil,salt, and pepper.
Serve with falafel, pita chips or cucumber carrot sticks.
Serve- 4 Prep time- 10 minutes
Check out the Blogging
Marathon page for the other Blogging Marathoners doing BM# 68
Best regards,
Sapana Behl