Stuffed Jalapenos
Stuffed Jalapenos
are fill with creamy and delicious cream cheese -sour cream filling,topped with crispy corn flakes and baked in oven until they become melt in mouth heavenly treat.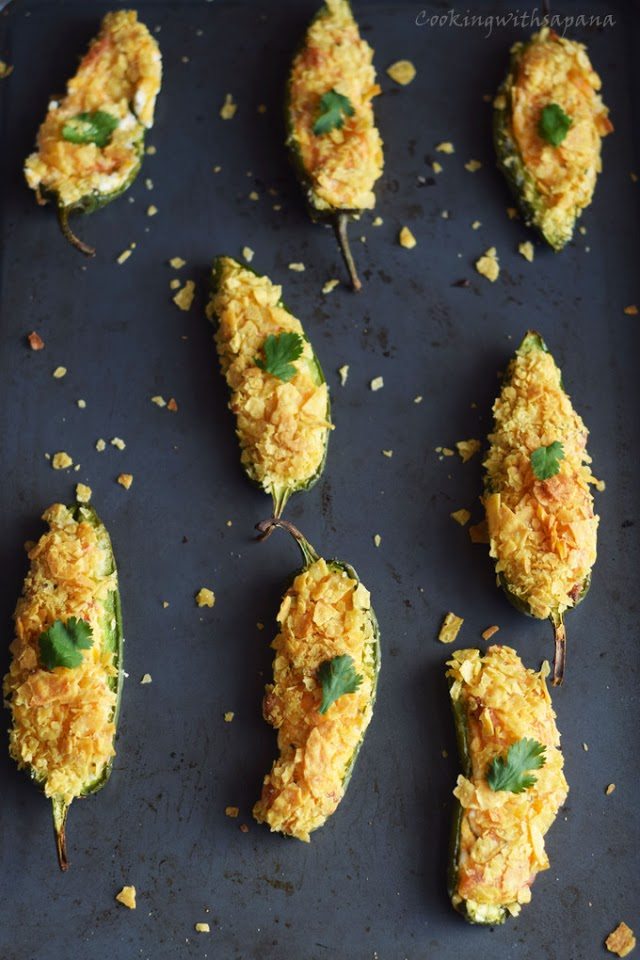 Last week I was in the CVS pharmacy waiting for my prescription drug.Out of boredom ,I start roaming through and reached in the Magazine section of the pharmacy.There were almost each magazine new editions.I picked one or two and just turned the pages.While browsing through one Food Network Magazine I saw the image of stuffed peppers.Those stunning pictures caught my eye and I immediately looked the recipe.I had all the ingredients needed for the recipe in my pantry.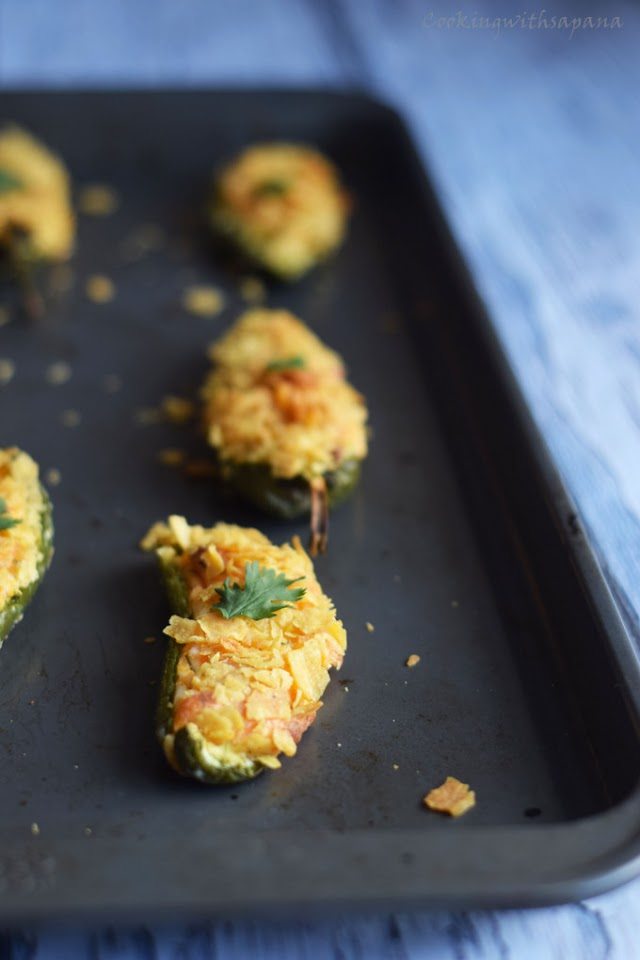 As soon as I reached home,I tried making these stuffed peppers.When they were in the oven there is a wonderful smell in the house.My daughter came home from school and asked about this delicious smell.She loved the stuffed peppers and ate a few of the.In fact,we all loved these scrumptious peppers.They makes a tasty and wonderful appetizers.Just make sure to remove all the seeds if you want your kids to try them.This recipe is for the first week of April Month for CCChallenge.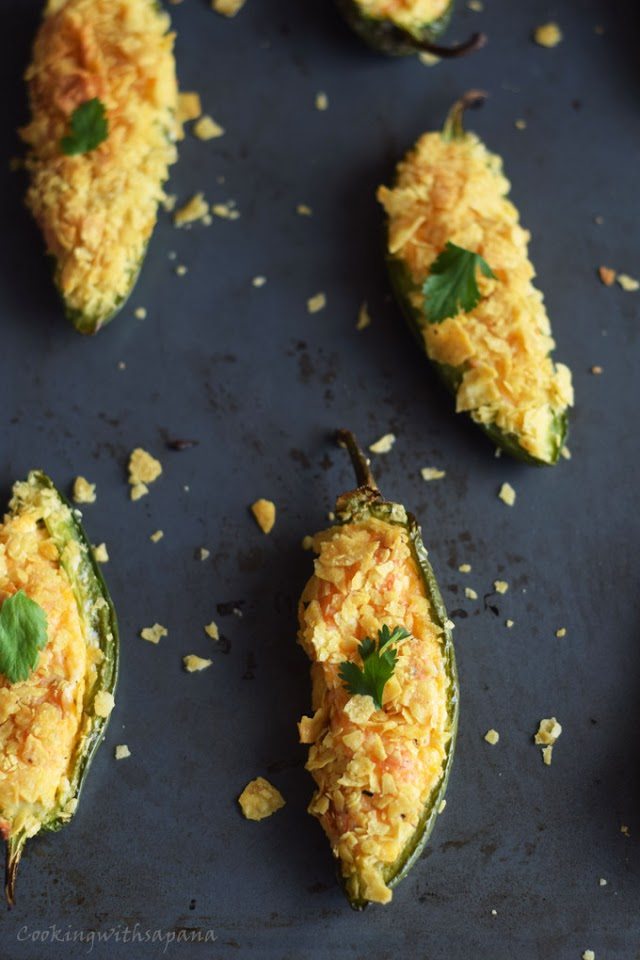 Ingredients:
7-8 Jalapeno peppers
1 cup cream cheese @ room temperature
1/2 cup sour cream
1/2 cup cheddar cheese,grated
1/2 teaspoon dried basil
1/2 teaspoon crushed peppercorn
1/2 teaspoon chilly flakes,optional
1 cup corn flakes,crushed

Method:
Wash the peppers.Remove the seeds and halve the jalapeno peppers.
In a mixing bowl add cream cheese ,cheddar cheese and sour cream.Whisk to combine.
Add in basil,peppercorn and chilly flakes.Mix well to combine.
Season with salt if desired.
Line a baking tray with aluminium foil and preheat the oven at 350 degree F.
Fill the cream cheese stuffing in jalapeno peppers.Top them generously with crushed corn flakes.
Arrange in baking tray and bake them in the preheated oven for 20 to 25 minutes or until top is golden.
Remove from oven and serve warm.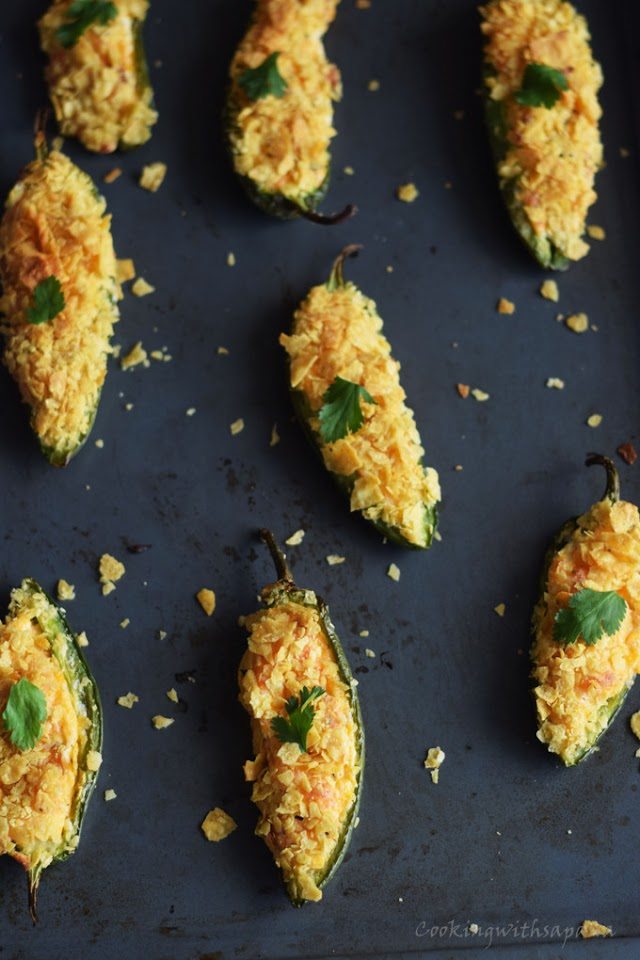 Enjoy!!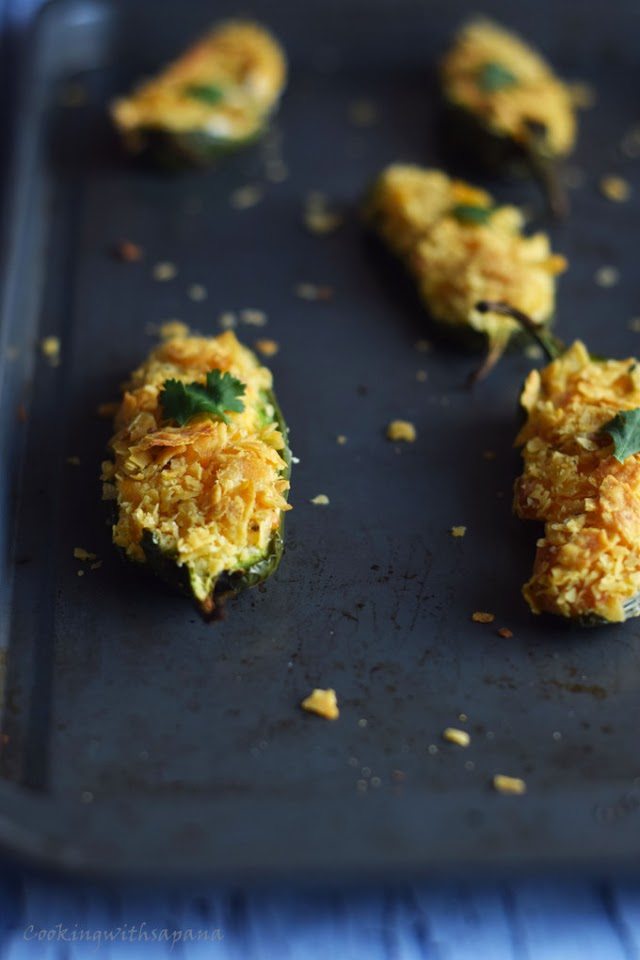 Serve-4 Baking time-25 minutes

Cooking from Cookbook Challenge