Roshogolla
Roshogulla
or
Rasgulla
are sweet balls made of cottage cheese that are cooked and simmered in light and sweet sugar syrup .This humble sweet is considered to be originated in West Bengal.This is my one and only favorite sweet that I can't stop eating 5 or 6 at a time .Yes,I love them that much ,I am sure most of us like them except a few who really do not like eating sweets.

From the very first day when I made my Bengali list I was sure about this alphabet and it has to be Rasgulla .However,I have had few choices like Ras Malai ,Rasobora,Rabadi,Rajbhog etc.,but I wanted to make Roshogolla only as I have never ever tried making them at home before.I followed the recipe from Dasana's space.It's the first recipe that comes in Google search when you look for the recipe of rasgulla.Her recipe was perfect and the rasgulla came out very well the taste was exactly the same like the store bought ones.I send few rasgulla to one of my neighbor's house,she called me back to tell how tasty they were and asked me from where did I bought them .When I told her that they were homemade she was like wow.You should open a sweet shop and I will be your assistant ,that was her words after eating the Rasgulla.
The trick as Dasana told in her recipe was to add sugar syrup twice in the procedure of making Rasgullas.The first time they will shrink a little and the second time when you will add the syrup they will hold the shape and will taste heavenly.
Blogging Marathon#63 Day 18
Cuisine-Bengali
Dish-Roshogolla
Source–Here
Ingredients:
1 liter whole milk
juice of 1 lemon
1 teaspoon suzi/rava/semolina
2 cups sugar
4 cups water
few drops of rose water (optional)
Method:
Heat milk in a heavy bottom pan.Let it boil on simmer.Once boiled remove from heat and let it cool for 2-3 minutes.
Now start adding juice of one lemon little at a time and stir the milk.Stop adding the lemon juice once all the milk curdled and water is separated.
In a bowl place a muslin or cotton cloth and pour the milk mixture over it.Strain the chenna and wash it under running water 2-3 times to remove the lemon juice.
Now squeeze all the excess water from the chenna by pressing it in the palms inside the muslin cloth or let it tie on kitchen tap to drain all excess water.
Take the prepared chenna in a plate,add semolina and press it or knead it with the palms for a couple of minutes to make it soft.
Make 15 to 20 small round balls from the chenna and arrange them in a plate.Keep them covered with kitchen towel.
Now in a sauce pan add water and sugar.Dissolve the sugar and put it on medium heat.Cook for 5-7 minutes or until it starts boiling.Now remove 1 and 1/2 cup of the sugar syrup in a bowl.
Once it starts boiling drop the chenna balls into it one by one.
Cover the lid of the pan.After 5 minutes open the lid and add 1/4 cup of the reserved syrup in it.Shake the pan slightly and cover it again with lid.
Once again cook it for another 5 minutes,open lid and add 1/4 cup of the reserved syrup.Cover lid and cook for 2 minutes more.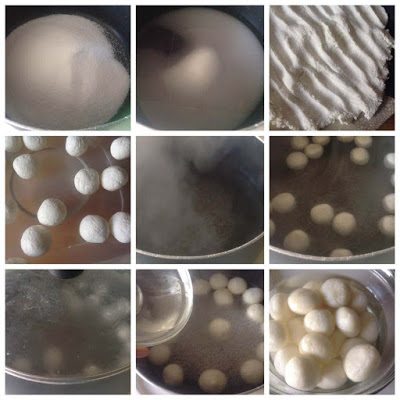 Now remove it from heat.Remove the rasgulla along with the syrup in a big glass bowl.Add in the remaining 1 cup of reserved syrup.Add few drops of rose water.
Cool and place it in refrigerator.Serve chilled.
Enjoy!!

Serve-6 Cooking time-45 minutes
Check out the Blogging
Marathon page for the other Blogging Marathoners doing BM# 63
Sending this post to A to Z April 2016 Challenge
Best regards,
Sapana Behl