Elaich Sondesh
Elaich Sondesh
,my next dish in "Journey through Cuisines" is a sweet melt in mouth dish from the Bengali Cuisine.Bengali cuisine is famous for its amazing milk solids/chenna based desserts all over the India and even outside the country.Either it is
Misthi Doi
,
Cham Cham
,
Pithe
or the very humble Rosogulla,each and every sweet dish is a delicacy in itself and can't beat with the others in the taste.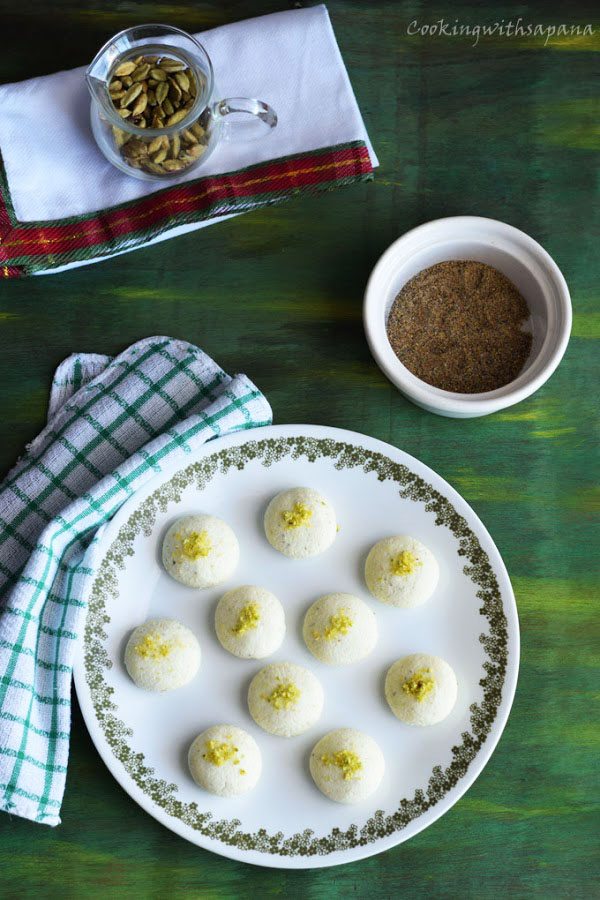 After searching a lot of recipes for the alphabet E' and almost giving up,even planned to use adjectives,I came up with this recipe.There are many versions of Sondesh like kesar sondesh,chocolate sondesh,aam sondesh or so but I made the classic Sondesh with flavors of Elaichi or as they say in Bengali Elaich Soboj.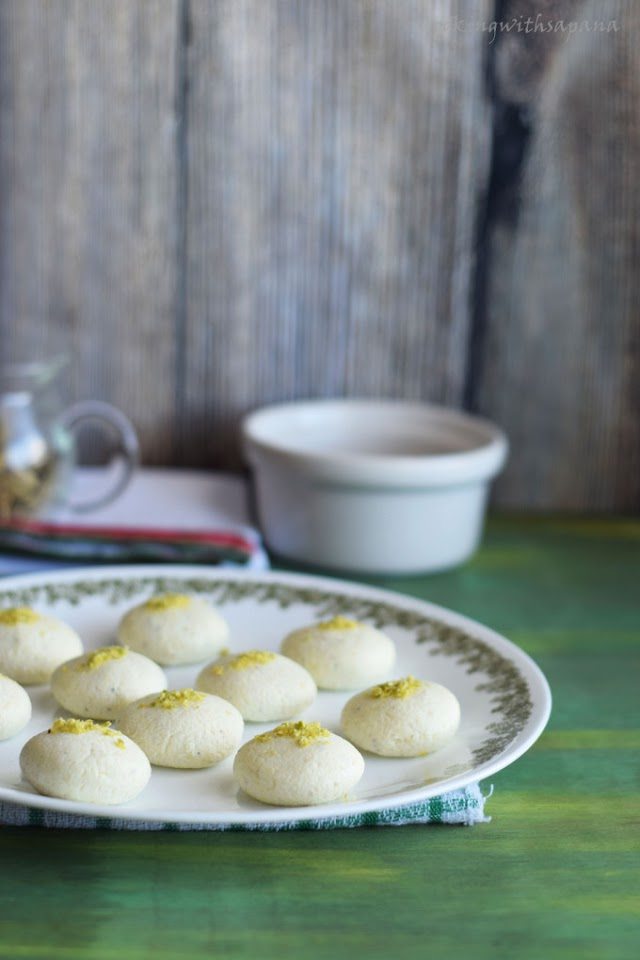 It was a nice weekend day when I start the process of making sondesh. I normally do not buy elaichi or cardamom powder and make it at home.So after making chenna ,I crushed fresh cardamoms in the coffee grinder and shifted it to make a nice and flavorful powder.Once my sondesh were ready ,I kept them in the dining room,at that time Hubby was working on his computer in his study.He suddenly came down in the that room and looked on the table smelling something and asked what I had done.At that time,I went in flashback and I compared the scene with when we were kids and watching the Mickey Mouse or chip and dale.You all must have remembered how Pluto or any other character used to flying with the aroma of food and reached around it.It was almost the same scene and I started laughing,imagine him flew down behind the smell of cardamoms,like crazy.He ate 2-3 sondesh and looking to me as if nothing happened.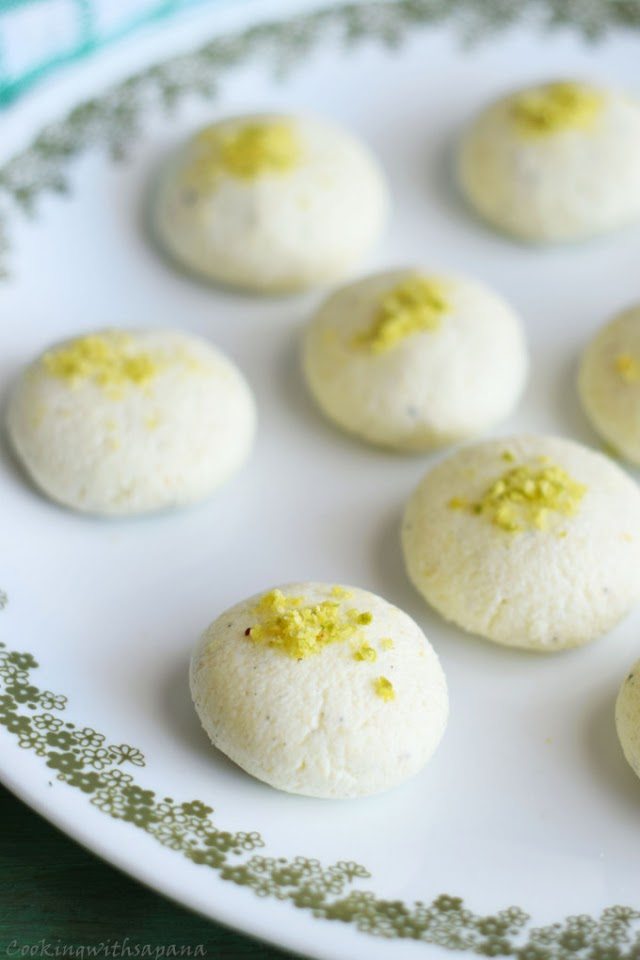 Blogging Marathon#63 Day 5
Cuisine-Bengali
Dish-Elaich Sondesh
Source–Here
Ingredients:
1 liter whole milk
juice of 1 lemon
1/3 cup powdered sugar
1 teaspoon cardamom powder
crushed pistachios to garnish
Method:
Heat milk in a heavy bottom pan.Let it boil on simmer.Once boiled remove from heat and let it cool for 2-3 minutes.
Now start adding juice of one lemon little at a
time and stir the milk.Stop adding the lemon juice once all the milk curdled and water is separated.
In a bowl place a muslin or cotton cloth and pour the milk mixture over it.Strain the chenna and wash it under running water 2-3 times to remove the lemon juice.
Now squeeze all the excess water from the chenna by pressing it in the palms inside the muslin cloth.
Take the prepared chenna in a plate and press it or knead it or a couple of minutes to make it soft.
Now add the sifted powdered sugar and mix again until sugar combined with chenna.
Heat a pan on low and add the chenna in it.Stir and cook on low pr 3-4 minutes only.
Remove from heat ,cool the chenna and add cardamom powder in it.
Make small round balls from the chenna and press them gently to flatten the sondesh. You may try making them with molds or an other desired shape.
Garnish with crushed pistachios and store in refrigerator.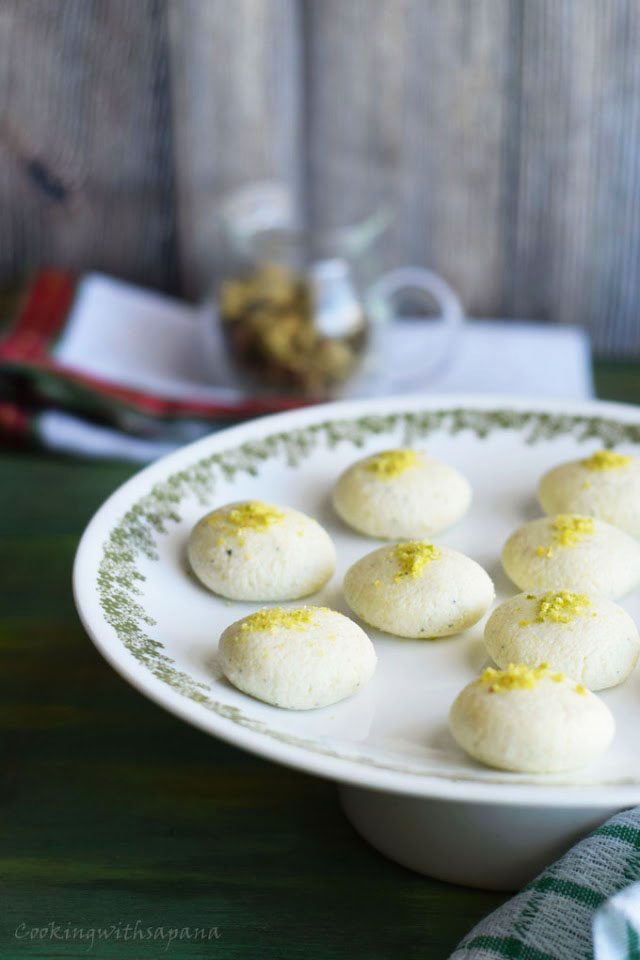 Serve and enjoy.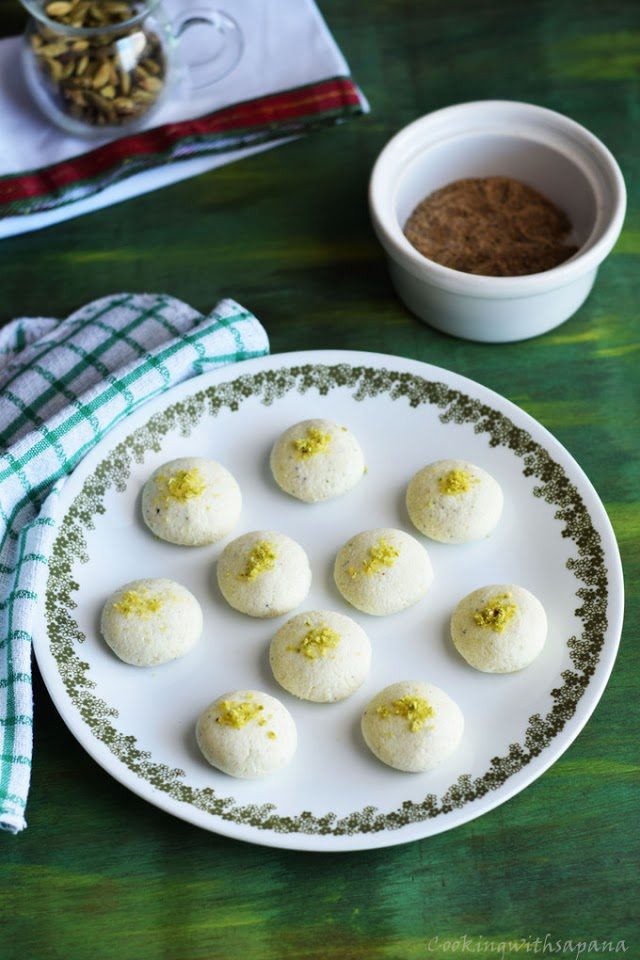 Stays fresh for 3- days in refrigerator.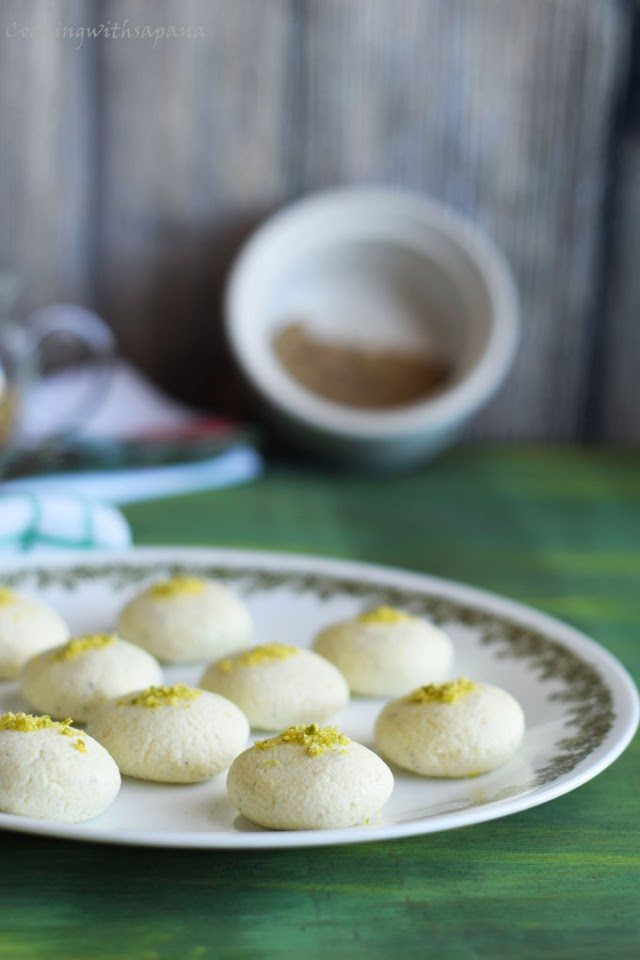 Serve-12 to 15 pieces Cooking time -30 minutes
Check out the Blogging
Marathon page for the other Blogging Marathoners doing BM# 63
Sending this post to A to Z April 2016 Challenge
Best regards,
Sapana Behl