Bhuni Khichuri
Bhuni khichuri
means fried khichdi or tempered Bengali style rice and lentil preparation.I had shortlisted quite a few dishes with letter B like Bengali lopsi, Bhandhakopir ghonto ,Begun Siraji ,Beans Tarkari etc. but I ended up making Bhuni Khichuri.The name Bhuni caught my attention and I imeediately bookmarked to try this popular khichdi from the cuisine.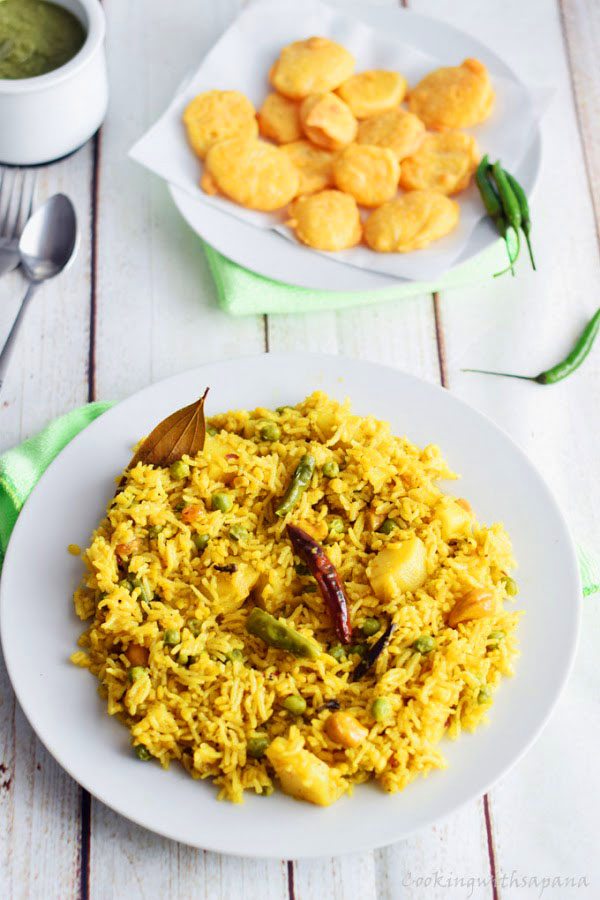 The spice powder makes the khichdi more like pulao or biryani and as this khichdi supposed to have separated rice and lentil grains.Usually the khichdi is served with begun bhajja and fish curry.I wanted to serve it with begun bhajja.So after I finished cooking khichdi,I was about to make begun bhajja but could not ind the eggplant in the refrigerator.I knew I surely bought the big eggplant to pair wit the khichdi but where it was.After searching for a couple of minutes I had to change the begun bhajja with aloo bhajja. They tasted great with khichdi but I could not get what I had in my mind.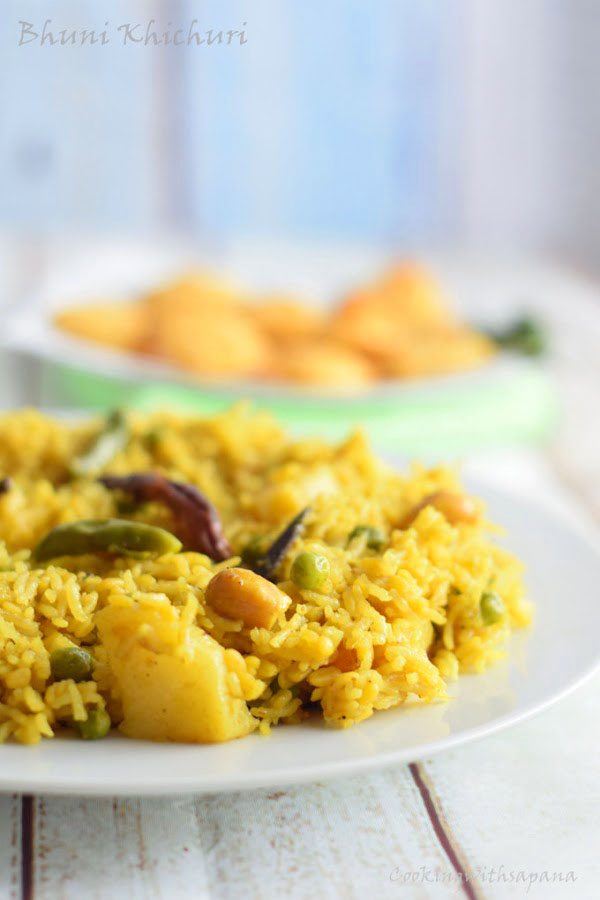 Next day afternoon when I was making lunch or us guess what I found that same sneaky eggplant ,it was in the top shelve behind a box of chocolate.Silly me ,I should have looked carefully but I guess I was in too hurry as i khichdi would be cold it might become sticky and lost the texture that I needed.Well that's a common story for being a food blogger.I am sure many of you agree with me on this.
Blogging Marathon#63 Day 2
Cuisine-Bengali
Dish-Bhuni Khichuri
Source-Here
Ingredients:
1 cup rice
1/2 cup split moong dal/dhuli moong dal
1/4 cup peas
1 big potato,cubed
1/2 cup onion-ginger paste
2 green chillies,cut in slits
salt to taste
1/2 teaspoon turmeric powder
2 tablespoon raisins
2 tablespoon cashew nuts
2 tablespoon oil
1 tablespoon ghee/clarified butter

Whole Spices
1 bay leave
2 cloves
2 cardamoms
1 cinnamon stick
1 dry red chilli
For masala
4 cinnamon sticks
3 dre yred chilli
7-8 cloves
3-4 cardamoms
2 teaspoon coriander seeds
1 tablespoon panch phoran
Method:
For Khichdi
Dry roast the ingredients for masala.Cool and grind in coffee grinder or food processor to make a powder.Set aside.
Wash and drain rice.Dry roast the moong dal in a pan until light golden in color.
Heat oil in a pressure cooker and add the whole spices.Stir and add onion ginger paste.
Saute the onions ,stiriing ocassionaly until light brown in color.
Now add peas, potatoes ,turmeric powder,salt and the ground masala.Mix weel.
Add rice ,moong dal and 2 cups of water.Stir and add a tablespoon of ghee.
Cover the lid and cook for one whistle.
Let the pressure release and open the lid of cooker.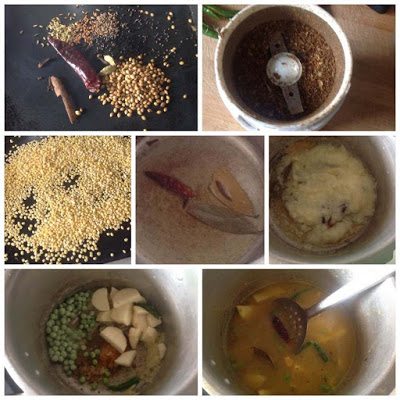 Serve hot with begun bhajja or any other side dish.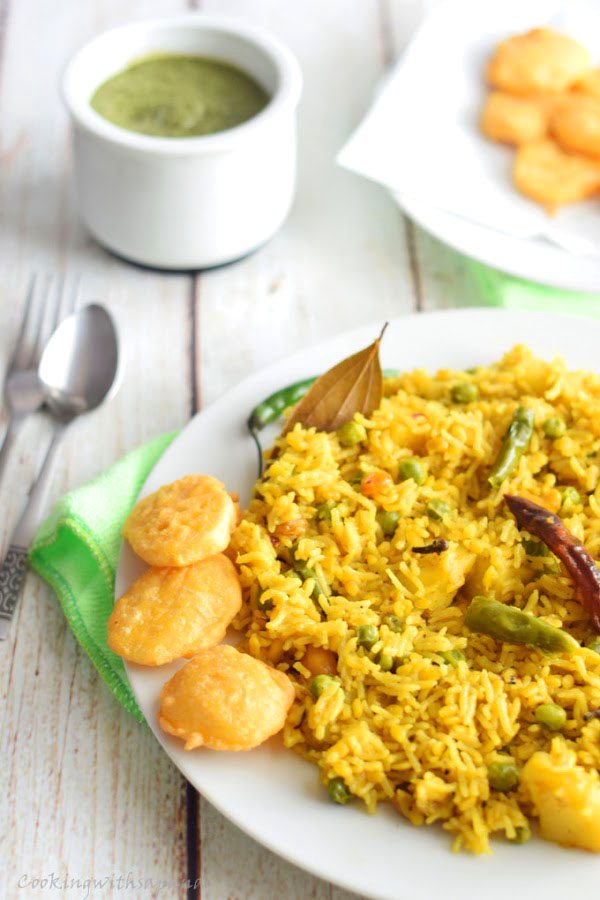 Enjoy!!
Serve-3 Cooking time-20 minutes
Check out the Blogging
Marathon page for the other Blogging Marathoners doing BM# 63
Sending this post to A to Z April 2016 Challenge