Saag with Tofu ~ Vegan Saag
The day two begins with some nostalgic memories of childhood. Whenever we would go to visit Nani(Grandma) in the village the whole journey was all about fun,lots of eating, and much more.We were always singing in the bus on our way to her house.These were our lines "Nani ke ghar jayenge ,doodh malai khayenge ,moote ho kar aayenge".As soon as we arrived there, my mom and nani would hug and start crying.As a kid I never understand why they were crying.But I think now I know ,because of all the time they were away from each other .Those tears were of mixed emotions .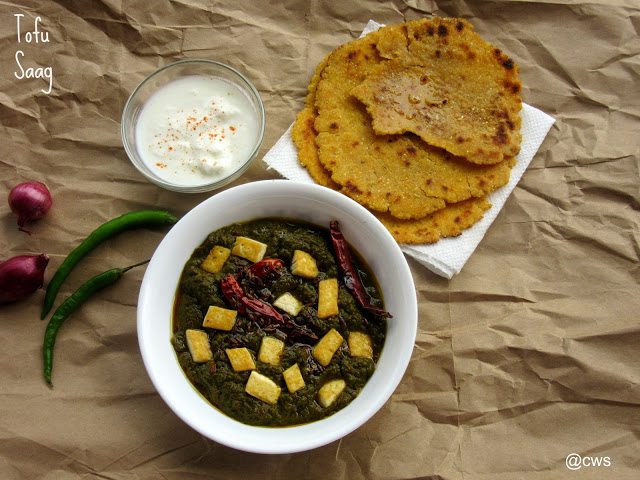 So the first thing that we were served with was a tall huge glass of brass ,full of freshly made buttermilk and a piece of jaggery.We would finish that in seconds and ran outside to see the farms , the aam ka baag , the cow's and buffalo's ,the jamun ka ped etc .All these thing were fantasy for us.After spending few hours outside we would go back in house and served with makki ki roti and sarson ka saag.My nani would deliberately add a big dollop of freshly churned white butter over the hot saag and that would melt in seconds making the saag more scrumptious.My nana ji was a headmaster so we had a room full of books and stationary items.The last thing we would love to do was go in the room and brought back many story books .Then we would just lost in the stories of kings, fairies,panchtantra tales and many more. There were slates and chalks and we would love to write on them for hours .All those memories are so nice and unforgettable.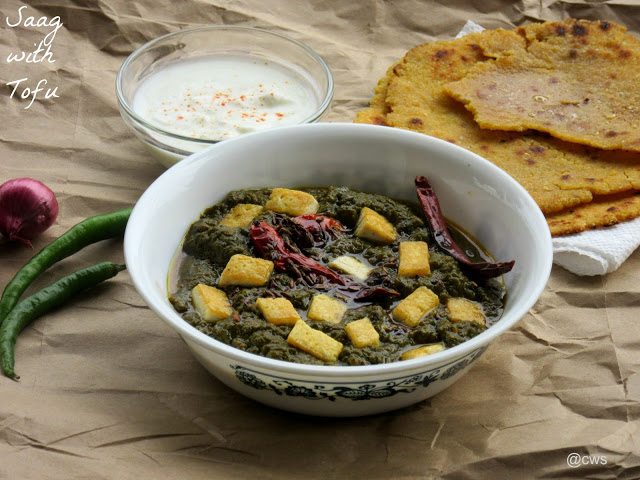 When we were in India, in winters I was making the sarson saag twice a week .But after moving in Ireland and now in US, it's been almost two years since we tasted the saag. So this strange thing happened last week , while going through the vegetables section in Walmart ,I saw a pack(only one left ) of mustard green. Omg ! I was jumping with joy .I immediately took it and called my husband to tell him the news.He was super excited and said alright tonight we will eat makki ki roti and sarson ka saag .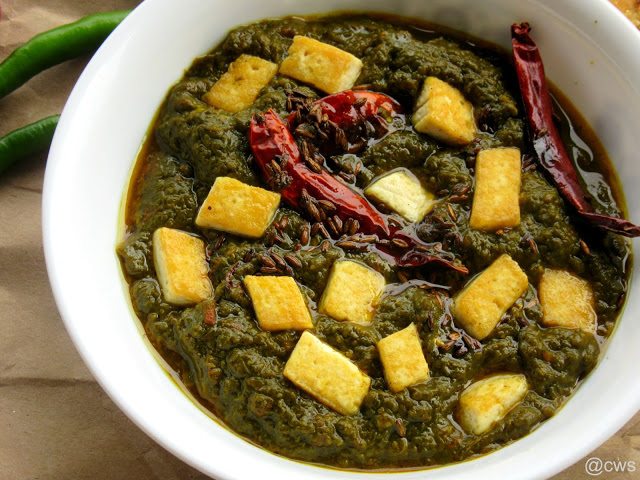 When the greens were cooking ,all the tempting smell of mustard leaves and spinach made me feel so nostalgic .I love to make the saag in ghee as it takes the saag to another level .So to try the vegan tofu saag I only used a small batch and the rest was cooked in ghee.We totally loved the hot makki ki rotis and mouth watering saag .But let me tell you one thing ,when we (me and my friend) went back to Walmart ,the next day to buy some more mustard greens there was none.Hopefully within coming weeks it will be back and we can enjoy it again.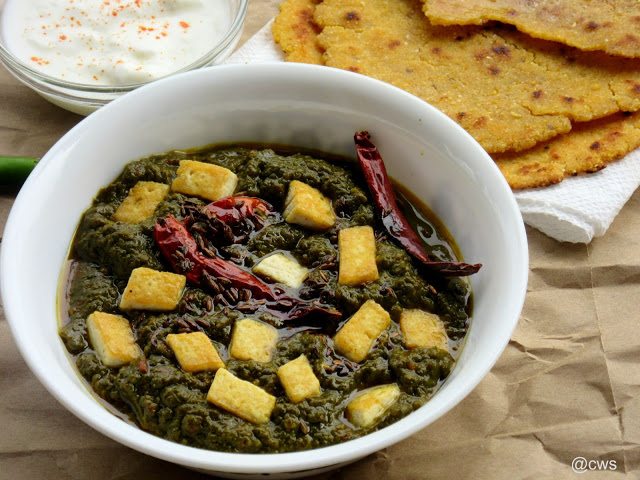 So coming back to the recipe.Here is how I made it.
Blogging Marathon#56
Theme-Blogger's Choice
Country-India
Dish-Tofu Saag
Source-Mom
Ingredients:
1 pack/13.25 oz spinach greens
1 pack/16 oz mustard greens
2″ ginger piece
4 green chilies,chopped
3 tomatoes,chopped
7-8 garlic cloves,minced
1 teaspoon coriander powder
1 teaspoon cumin seeds
A pinhch aseftida
1/2 teaspoon turmeric powder
1 teaspoon red chilli powder
salt to taste
2 tablespoon yellow cornmeal
2-3 dry red chilies
2 tablespoon canola oil
1 pack/8 oz organic super firm tofu,cubed
water as required
Method:
In a big cooking pan add 1 cup water ,mustard green ,spinach green along with a pinch of salt and ginger.Cook, covered for 15-20 minutes or if using a pressure cooker ,cook for 3-4 whistles.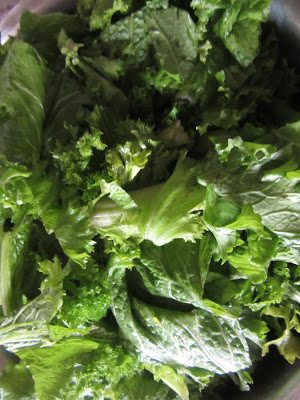 Once cooled puree the cooked spinach and mustard in blender and set aside.
Drizzle a pan with canola oil and pan fry the cubed tofu from both sides till lightly golden in color.
Make puree of the tomatoes and green chilli as well.
Heat canola oil in a pan or wok.Add aseftida ,dry red chilli and cumin seeds.Let the seeds splutter a little.
Now add minced garlic and saute till golden in color.Once garlic is golden brown ,ad tomato chilli puree,salt ,red chilli ,turmeric ,coriander powder.Saute and cook till oil comes out from the edges of pan.
Add the cornmeal and stir until combined.
Finally add the spinach mustard puree ,cook covered for 10-15 minutes.
Turn off the heat and add pan fried tofu,mix well.
Serve hot with makki roti or plain phulka.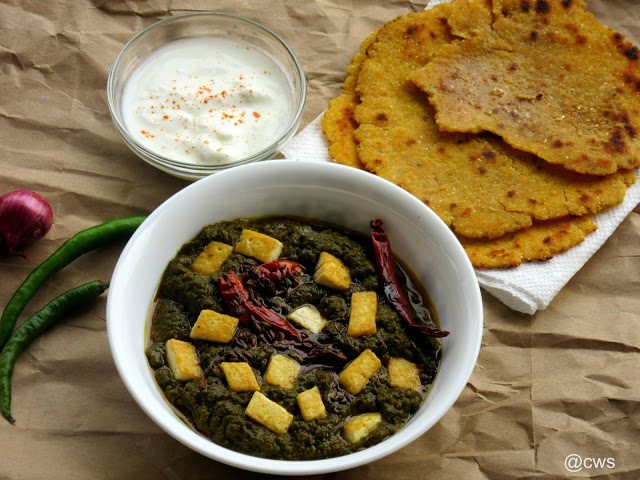 Enjoy!!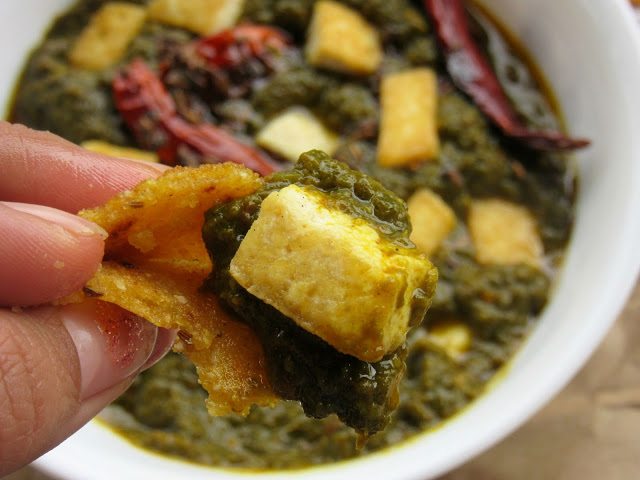 Tastes best the next day.
Serve-4 Cooking time -45 minutes
Check out the Blogging
Marathon page for the other Blogging Marathoners doing BM# 56
Best regards,
Sapana Behl