Jalebi
Do I need introduction for the most popular , finger licking ,juicy and tasty Jalebis. No no I don't need .So what are you waiting for , just go and make yourself a batch and eat them all while still hot.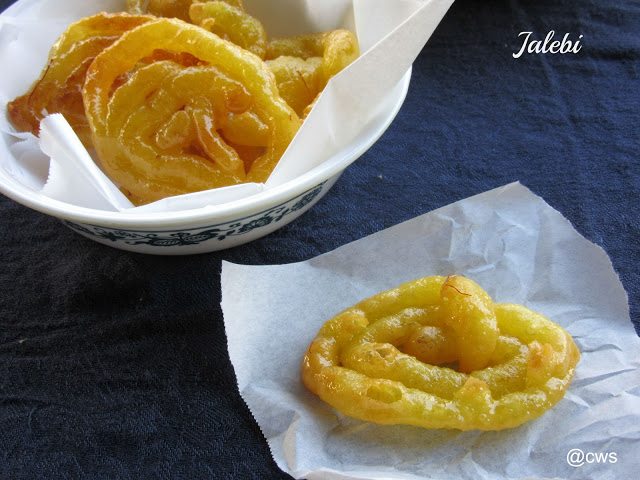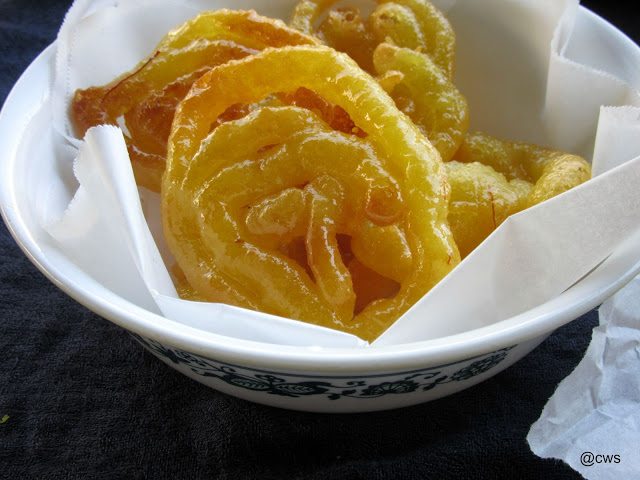 Ingredients:
3/4 cup plain flour/maida
1/4 cup corn starch
2 tablespoon oil,hot
1 cup yogurt
a pinch food color,optional
1 teaspoon lemon juice

For sugar syrup
1 1/2 cup sugar
1/2 cup water
few drops of lemon juice

Method:
For syrup:
In a saucepan add sugar and water.Bring it to boil.
Let it simmer for 10 minutes or until the syrup is single thread consistency.
Add few drops of lemon juice to prevent crystallization.

For Jalebis:
In a mixing bowl add flour,corn starch,yogurt ,hot oil ,saffron strands,and lemon juice.Mix well until combined.Add food color (I used turmeric powder)and mix again.
Keep the mixture ,covered in a warm place for 24 hours to ferment.
Once bubbly and fermented , check the consistency .If the batter seems loose ,add a tablespoon of corn starch.
Heat oil in a wok.Keep it on medium flame.
Pour the jalebi batter in ketchup bottle or any zip lock bag.Pipe the batter in circular motion into the oil few at a time.
Let them cook from one side for 1-2 minute.Flip and cook from the other side till nice golden .
Drain from oil and place the jalebis in warm syrup for a minute ,flipping from both sides.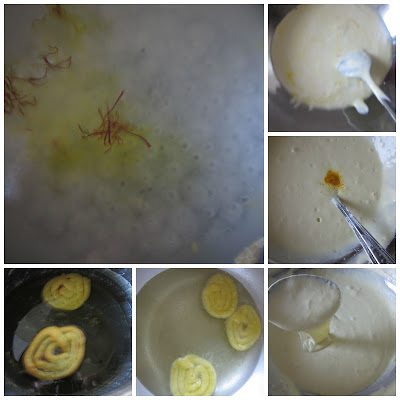 Remove from sugar syrup and serve warm.
Enjoy!!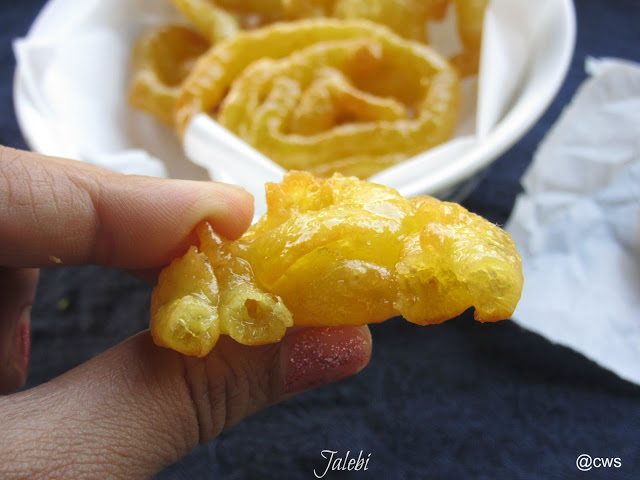 Serve -12 to 15 jalebis Cooking time-30 minutes
Best regards,
Sapana Behl