Chiroti
A crispy,flaky and layered sweet that is popularly made on Diwali and in marriages.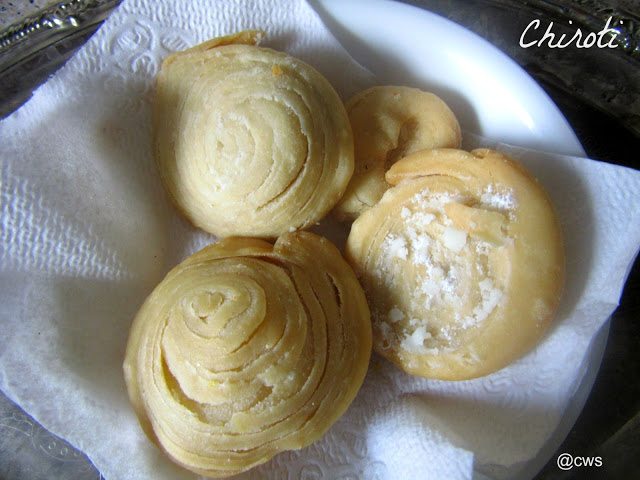 Source-Here
Ingredients:
2 cups plain flour
2 tablespoon clarified butter/ghee
a pinch salt
3/4 cup sugar,powdered
1 teaspoon cardamom powder
oil for frying
For paste
2 tablespoon rice flour
2 tablespoon ghee
Method:
In a mixing bowl ,add plain flour,salt and ghee.Mix well.
Now using enough water knead a firm dough .Keep the dough covered to rest for an hour.'
Mix cardamom powder with powdered sugar and set aside.
Make a paste of rice flour and ghee and set aside.
After resting the dough,pinch it down and make 6 round balls from it.
Roll each ball into thin rotis and set aside.
Now take one roti and apply a layer of rice flour paste over it.Cover it aith another roti and apply a layer of the paste on it.Repeat the same step with third roti.Follw the same procedure with the remaining three rotis.
Now roll out the layered rotis in to a log.With the help of knife cut out 10-12 small pieces.
Roll ut each thick piece into small disch.
Heat oil in a wok and deep fry the chirotis till golden from both sides.
Drain on paper towel and sprinkle the sugar cardamom mixture.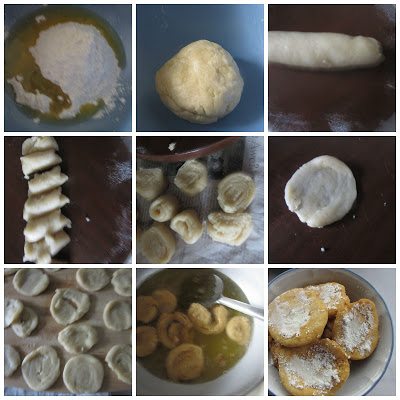 Store in airtight container.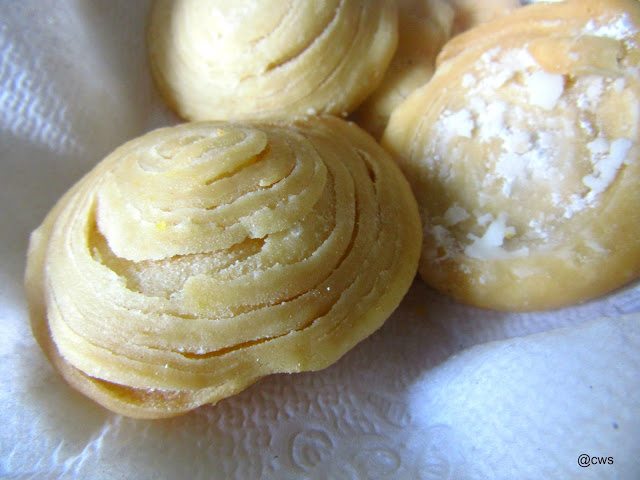 Serve-20 25 pieces Cooking time-40 minutes
Best regards,
Sapana Behl