Ukadiche Modak (Steamed Sweet Dumplings)
I was really amazed after reading various posts about Modak preparation while surfing, and got little curious about how they would taste, be coz I never had this delicacy before. There was so much variation in the stuffing like from coconut , Jaggery , chana dal rice, Moong dal etc . Enthusiastically I prepared the basic steamed(Ukadiche in Marathi ) Modak, considered to be Lord Ganesha's favorite , with coconut and Jaggery stuffing . And the preparation really tasted well. My family enjoyed them very much. I decided to try other variation in stuffing and will make them soon. Meanwhile celebrate and enjoy this Ganesh Chaturthi with sweetness of these awesome dumplings called Modak. So let's start the recipe. Yum
Recipe Source
here
and
here
.
Ingredients:
For Outer Covering
1 cup Rice flour
1 cup water or as needed
1 pinch Salt
1 teaspoon oil
For filling
1 cup Grated jaggery
1 cup Grated coconut
1/2 teaspoon Cardamom powder
Method:
Add grated coconut and Jaggery in a heavy bottom wok or pan and roast on low to medium heat .
Keep the mixture stirring and let it cook till it becomes dry. Add cardamom powder , mix and set side.
Boil water with oil and pinch of salt in a vessel , take rice flour in a bowl , add the boiled water slowly , mixing it with spatula. Make a smooth dough and cover it with wet cloth.
Make small round balls from the dough , take one ball and flatten this dough ball in your palm .
Place a small portion of the jaggery-coconut mixture on the center and bring together all the edges. Shape it round or triangular as you want.
Steam the modaks for 7-10 mins on a low to medium flame in a pressure cooker without the whistle or in a steamer.
Offer to Lord Ganesha and serve.
Serve -8-10 modaks. Cooking time -30 minutes

Gujaratizaika"s 1st Anniversary Celebration
Cook With White announced at Merry Tummy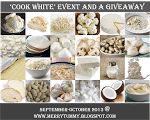 Best regards,
Sapana Behl