Crispy Tofu Vegan Tacos- Guest Post by Ben Smith
Crispy Tofu Vegan Tacos are super crispy and spiced tofu filled corn tacos along with crunchy bell peppers which makes an absolutely amazing dish to surprise your vegan friends' and family.
Hey Peeps, How are you all doing? I know it's been long since I am away from the blog but believe me I did not forget about you guys. I was super busy with some personal stuff and have been travelling too. But here I am back with an amazing Vegan recipe by a very talented chef Benjamin Smith who writes at the online grill. Don't forget to check his fabulous space.
About the Author: Ben is a former semi-pro cyclist and a big eater. Now he is just a big eater. He writes about food and drink for lazy chefs at The Online Grill.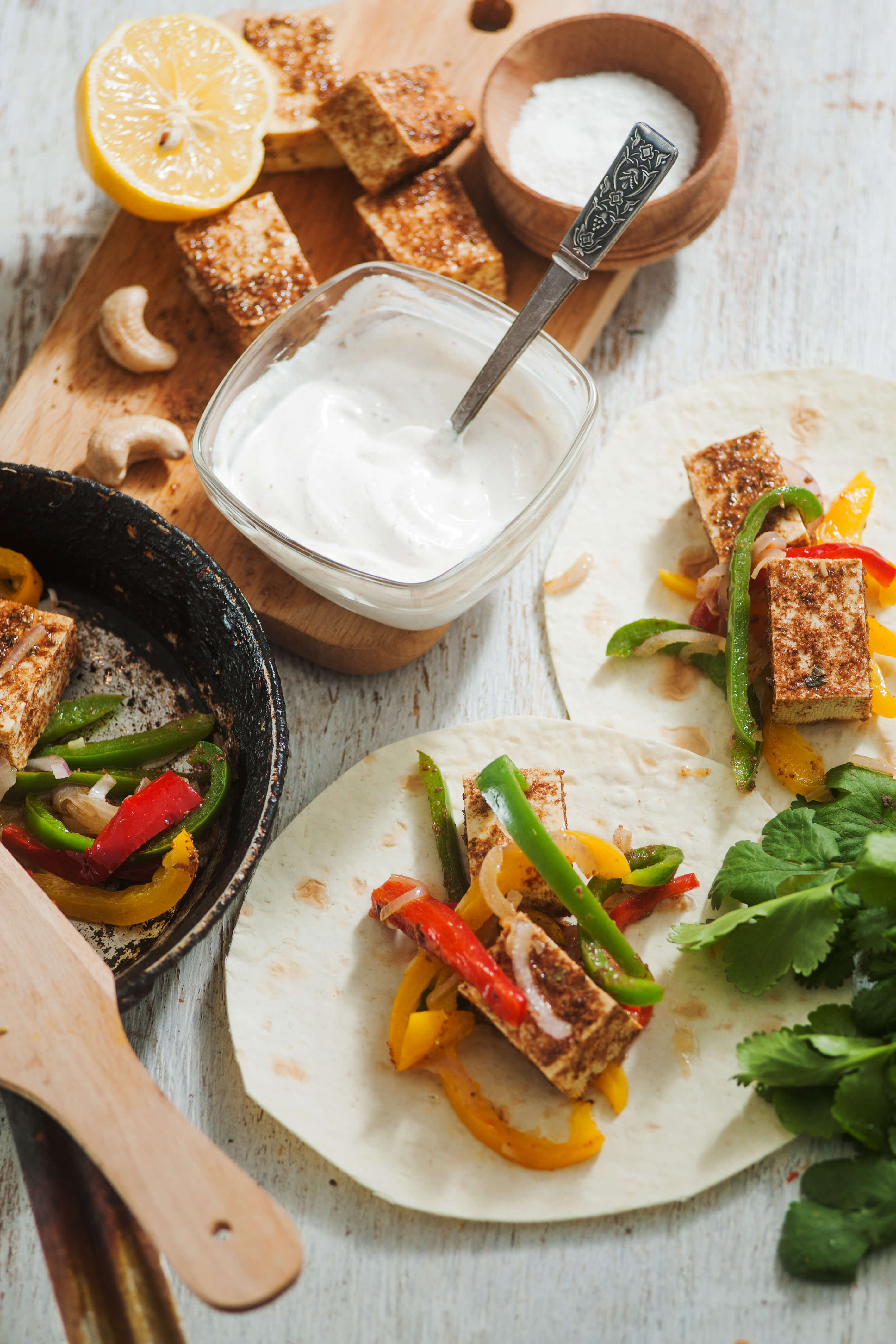 So without further delay let's head over to Ben.
Eating vegetarian doesn't mean that you can't enjoy delicious meals. In fact, some of the best meals don't have any meat in them at all. No one should have to give up their favourite dinner – tacos! That's why it's time to learn how to turn your standard taco recipe into one that makes crispy tofu the star of the show.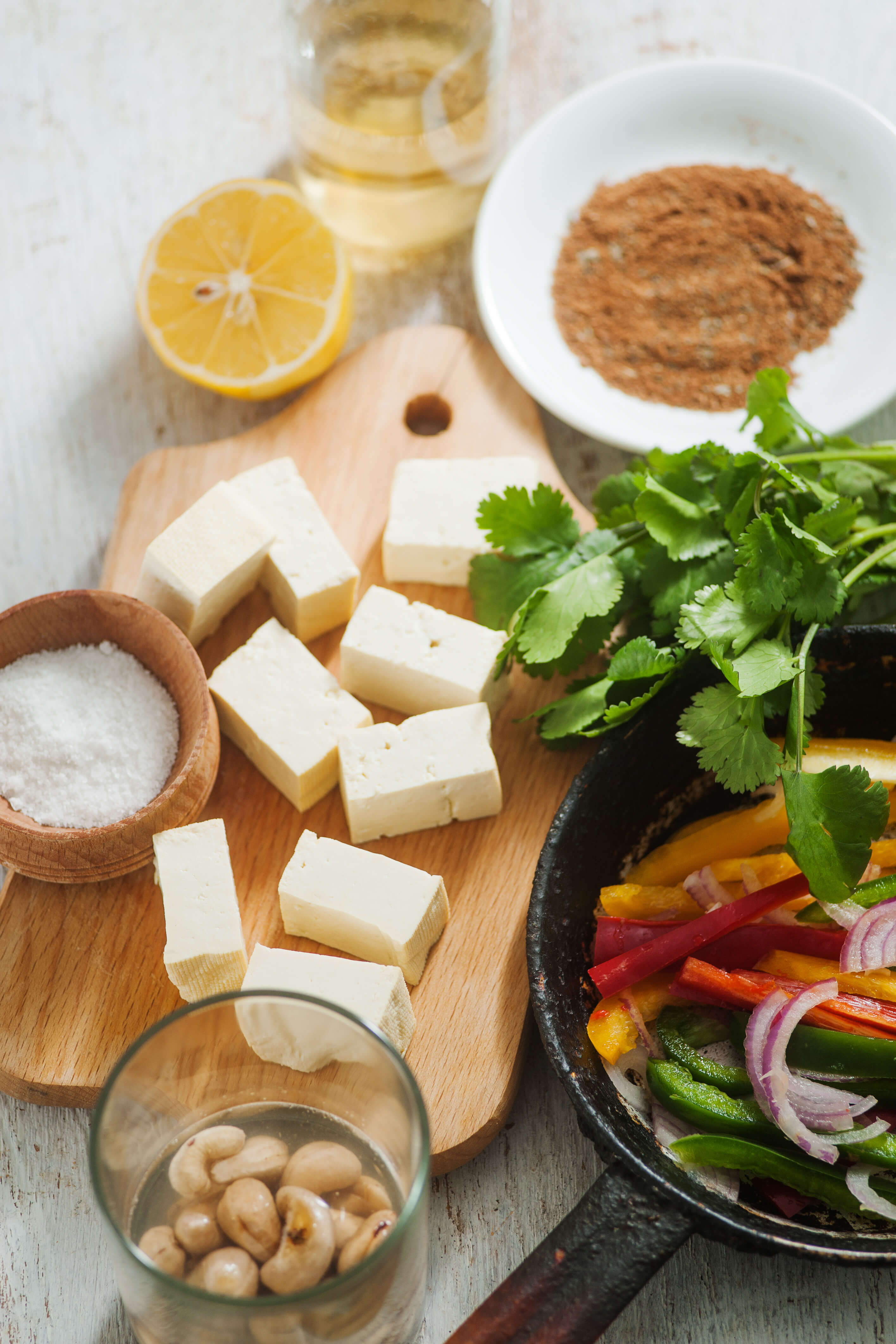 I've been going through a stage of trying to reimagine popular recipes for vegetarians. From breakfast egg pizzas to spicy Quorn avocado wraps, I've been adamant to prove that meat-free options are in no way inferior to their non-vegetarian counterparts.

The best thing about this recipe is the crispy texture of the tofu, mingled with the absolutely mouthwatering Indian spices that give it its flavour. With an infusion of tikka seasoning and chilli seasoning, you turn your average dish of tacos into something really special. In fact, these tacos taste so good you'll swear you ordered them in an upscale restaurant.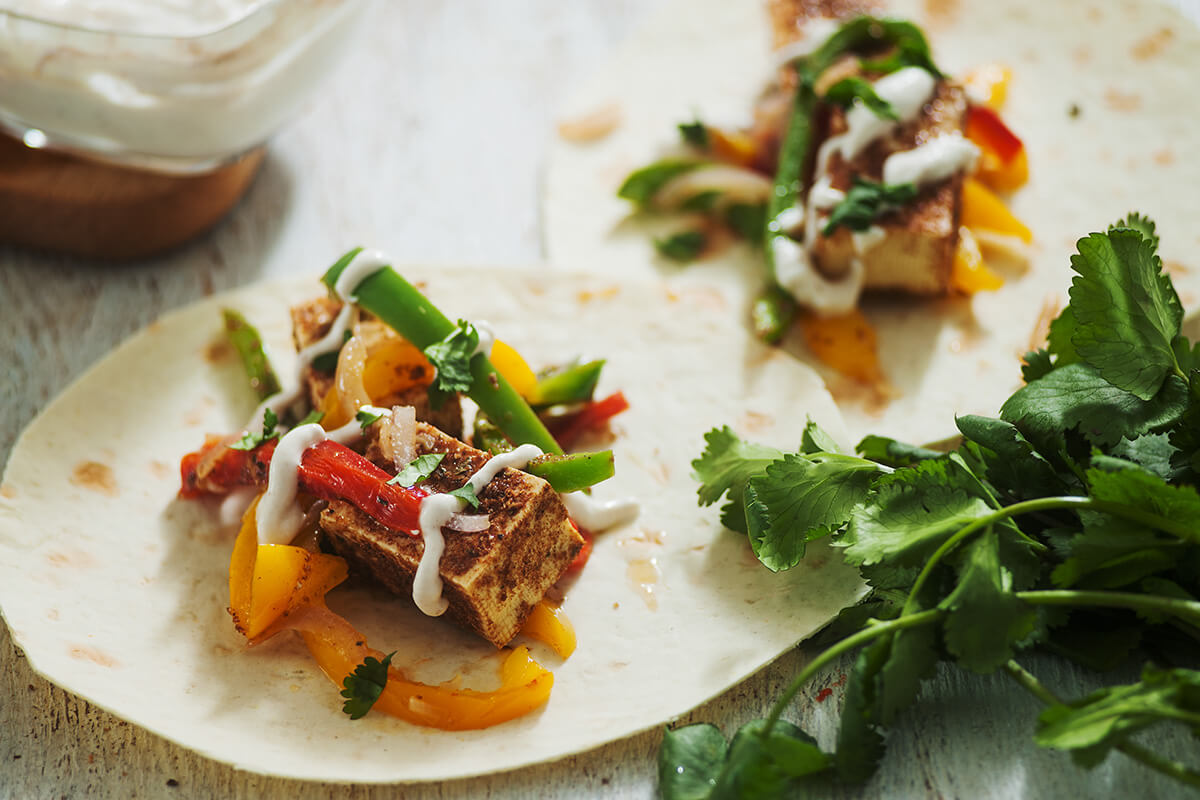 When you pile the tofu into your corn tortillas, they mingle with a mixture of brightly coloured red peppers and onions that add to the delicious flavour of the dish. For the best results, season your tofu liberally, then bake it for a crispy outer coating and a creamy centre that lets the taste shine through. The juxtaposition of the tofu with the crisp tenderness of the peppers and onions creates a gustatory experience you won't soon forget.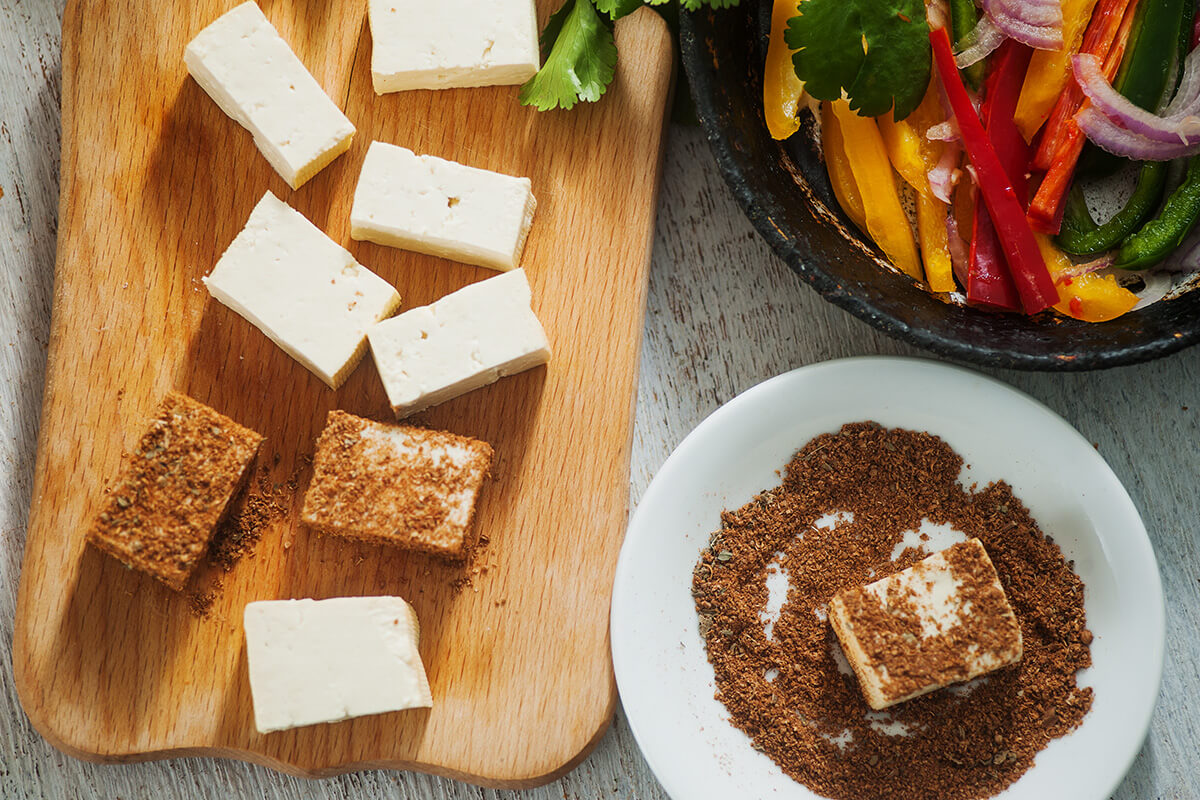 One of the other things that make these tofu tacos your new favourite dinner is the cream that goes on top. Whether you drizzle it or pour it on more liberally, the chilli fire flavour melds with the tofu and vegetables to create the perfect flavour complement to simultaneously heat things up and cool down the spice just a bit.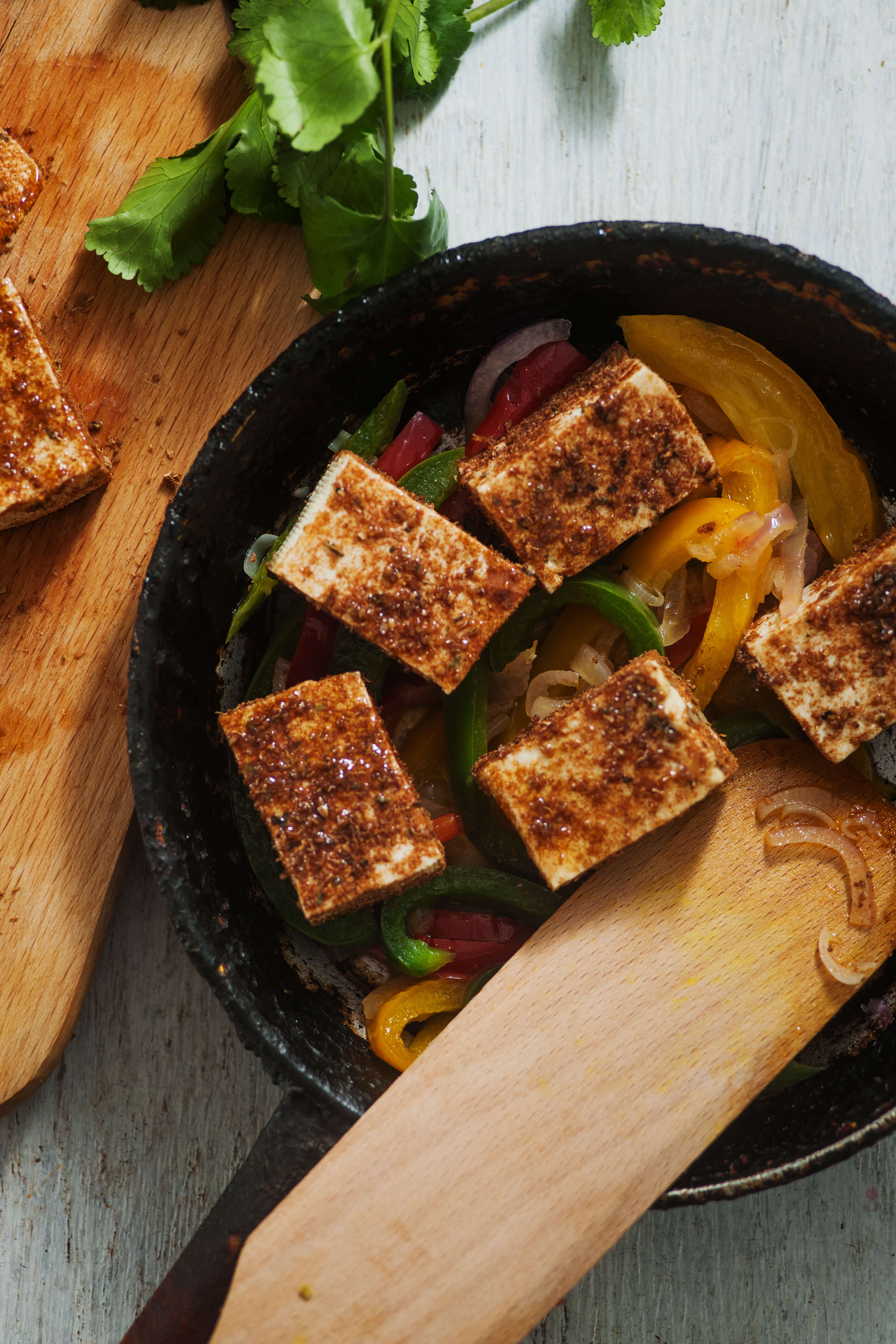 Here's something else to love about vegan tofu tacos made this way – you can prep the filling the day before and simply heat it up when you're ready to eat. In a mere 30 minutes or so, you can go from starving to ready to eat one of the best meals of your life. That means that if you're willing to share these delightful tacos, you can easily prepare them for a crowd without spending a lot of time. You're sure to be everyone's new favourite chef.

Just one bite of these outstanding crispy tofu tacos are sure to change your mind about eating a vegetarian meal. You'll see – you'll be full and satisfied without ever feeling deprived. And there's not much that's better than that.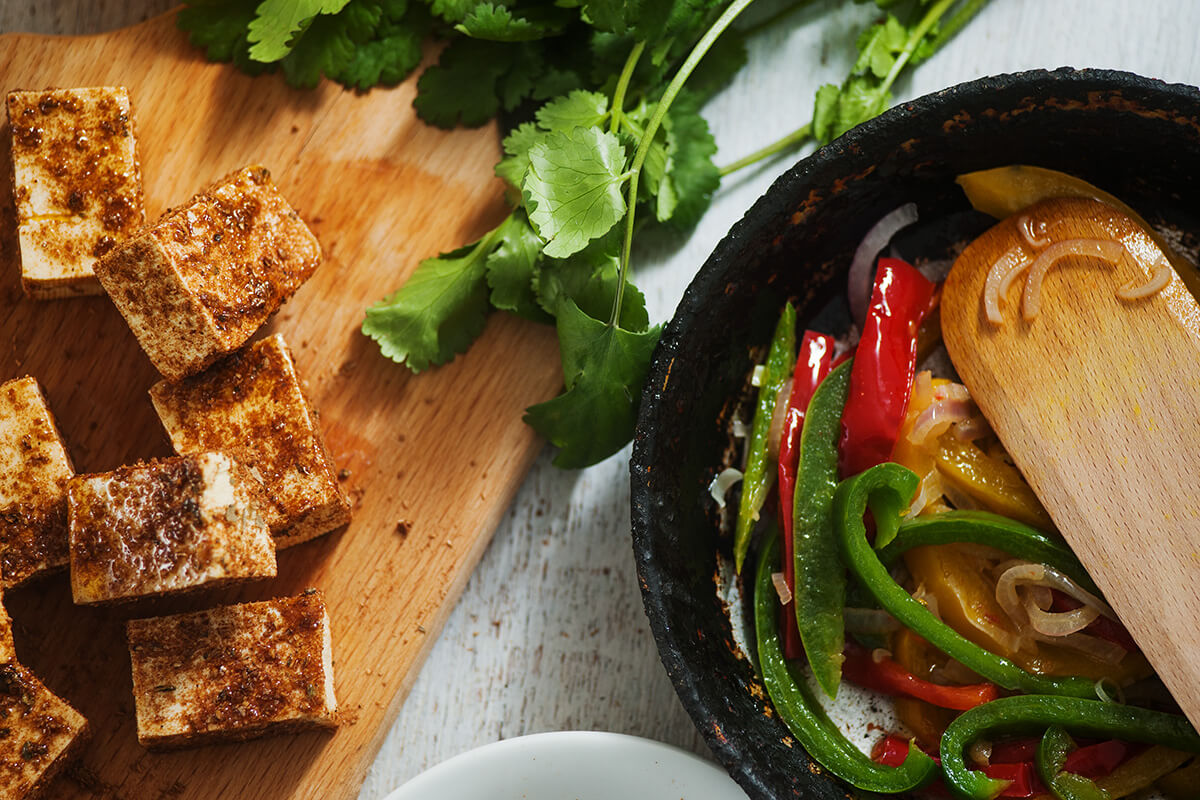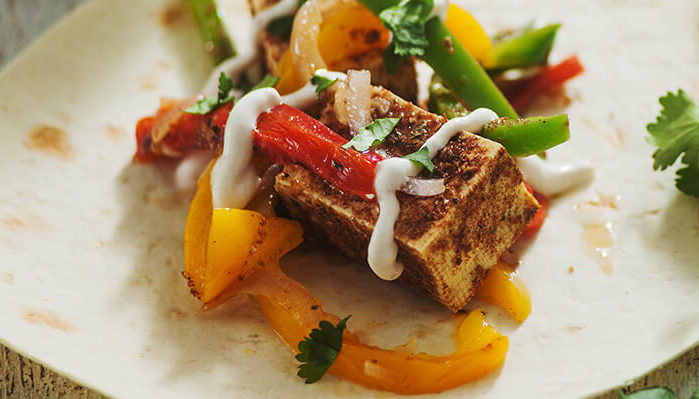 Tofu Vegan Tacos
Super crispy and spiced tofu filled with the corn tacos along with crunchy bell peppers would make an absolutely amazing dish to surprise your vegan friends' and family.
Ingredients
8

corn tortillas

2 ½

cups

bell peppers

thinly sliced and halved

1 ½

cup

red onions

thinly sliced and quartered

2 ½

teaspoon

tikka curry powder

¼

teaspoon

salt

2

teaspoon

cooking oil

fresh cilantro

finely chopped (for garnish)
For the Tofu:
7

oz.

firm tofu

1

tablespoon

tikka curry powder

1

tablespoon

cornstarch
For the chili cream:
1

cup

raw cashews

⅔

cup

water

2

teaspoon

chili powder

5

teaspoon

lemon juice

1 ½

teaspoon

apple cider vinegar

½

teaspoon

salt
Instructions
For the Tofu:
Prepare by lining a baking sheet with parchment paper and preheating your oven to 400°F/200°C.

Cut your tofu into cubes, each about ½ inch in size. Toss the cubes with the tikka seasoning and cornstarch. Don't be shy to use your hands!

Organise your seasoned tofu cubes as a single layer on the baking sheet. Bake in your preheated oven for 20 minutes, or until crispy.

While the tofu bakes, move onto the next part of the recipe...
For the cream
Put all the ingredients for the cream in a blender and blend until completely smooth. Season with salt and lemon juice as desired. Place mix in the fridge.
For the Tacos:
Heat 2 teaspoons of cooking oil in a large pan over a medium-high heat.

Saute the red onions and bell peppers, making sure to mix frequently until cooked. I like a slight bit of charring on mine, but feel free to stop short of that if you're not quite as keen.

Hopefully, the tofu should be done by now, but if not then turn off the heat in the pan and wait until it's ready.

Once done, remove the tofu from the oven and add it to the onion and pepper mix. Combine well and saute for a further 1-2 minutes on a medium heat.

And now…Grill the tortillas on each side, then add a layer of the tofu-onion-pepper mix in the centre. Add the cream on top and garnish with cilantro.

Enjoy!
Recipe Notes
You may add your choice of vegetables along with crispy tofu in the tacos.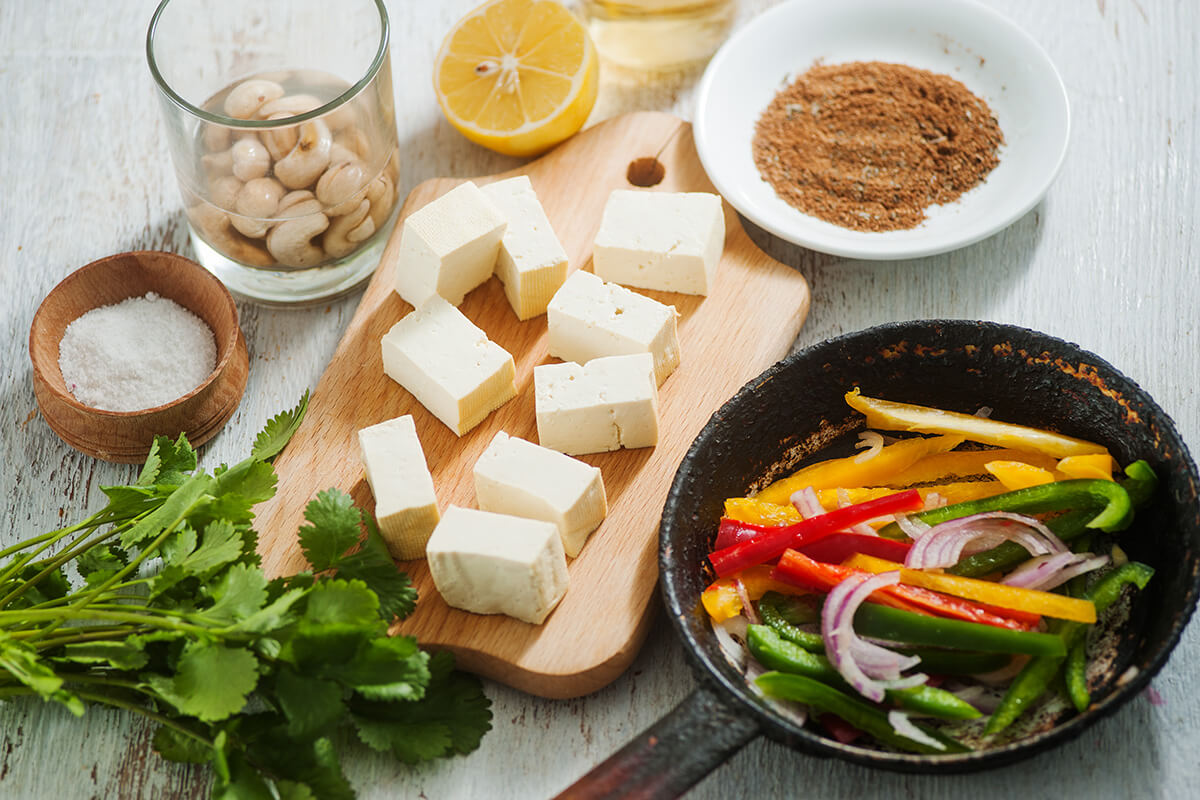 Enjoy!!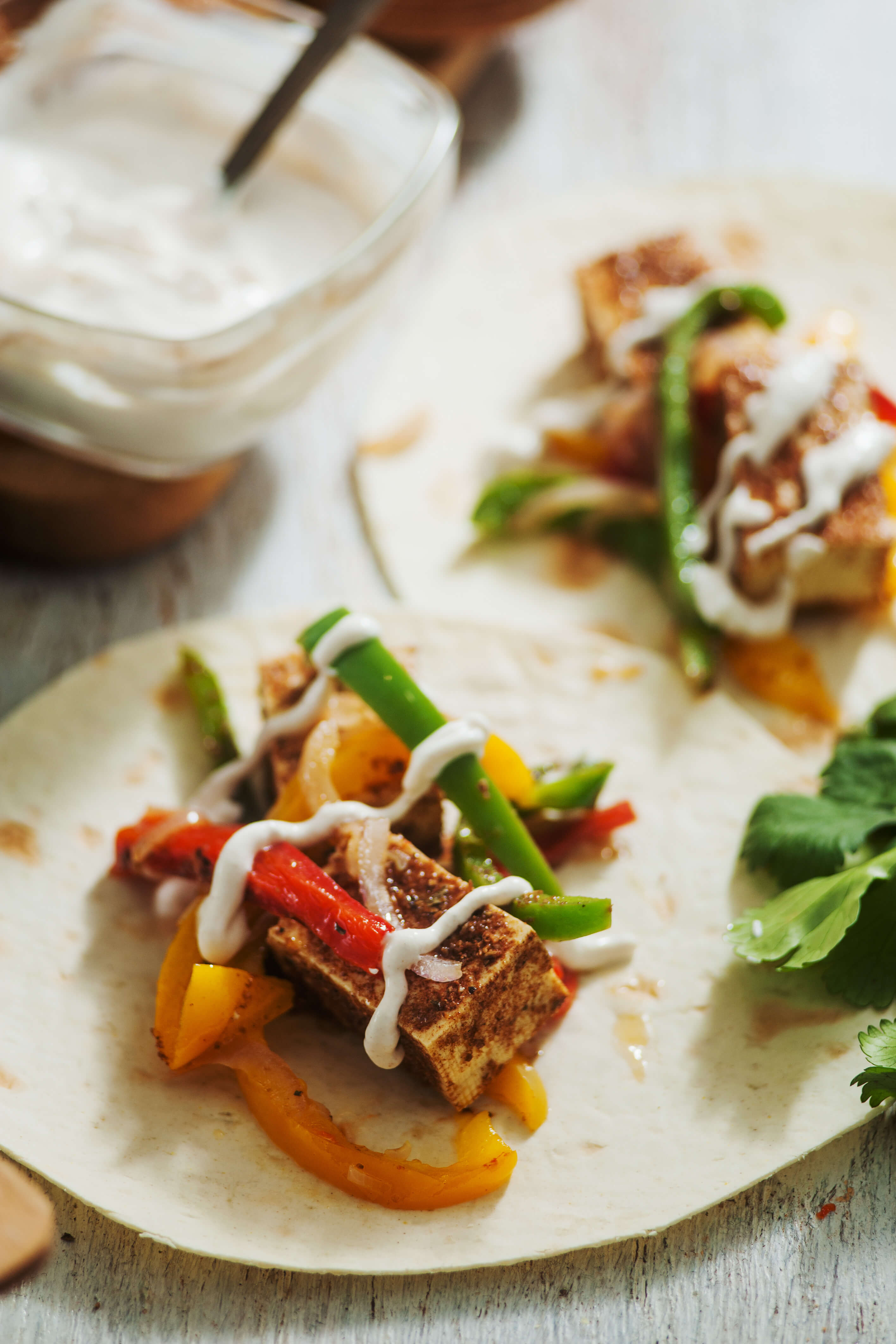 Best Regards
Sapana Behl