Whole Wheat Banana Bread
A super delicious, egg free and whole wheat banana bread. Each slice of this bread is worth eating.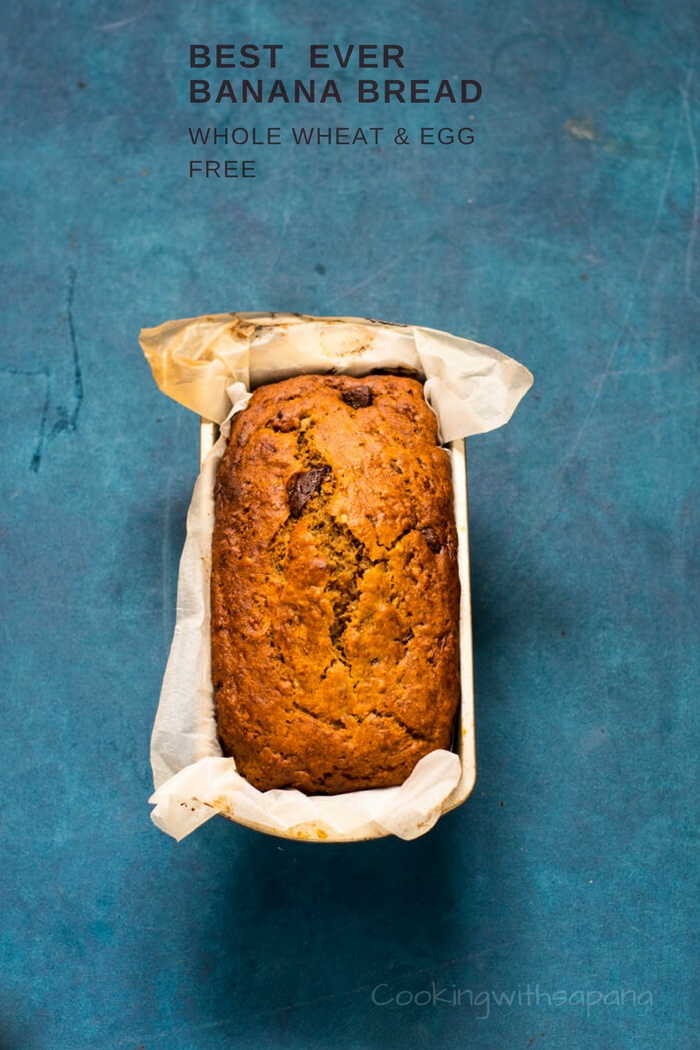 Did I tell you that this is the best ever banana bread? If not let me tell you guys now that seriously this is the best. I have had at least three or four failed attempts at making banana bread in the past few years until I totally gave up on it.
This Bake a thon I gathered up all the courage and searched the internet for the best banana bread recipe. Frankly, I wasn't sure if I could find a recipe that my family would like otherwise have to feed it to the birds, Yes right, that is what I did with my failed attempts.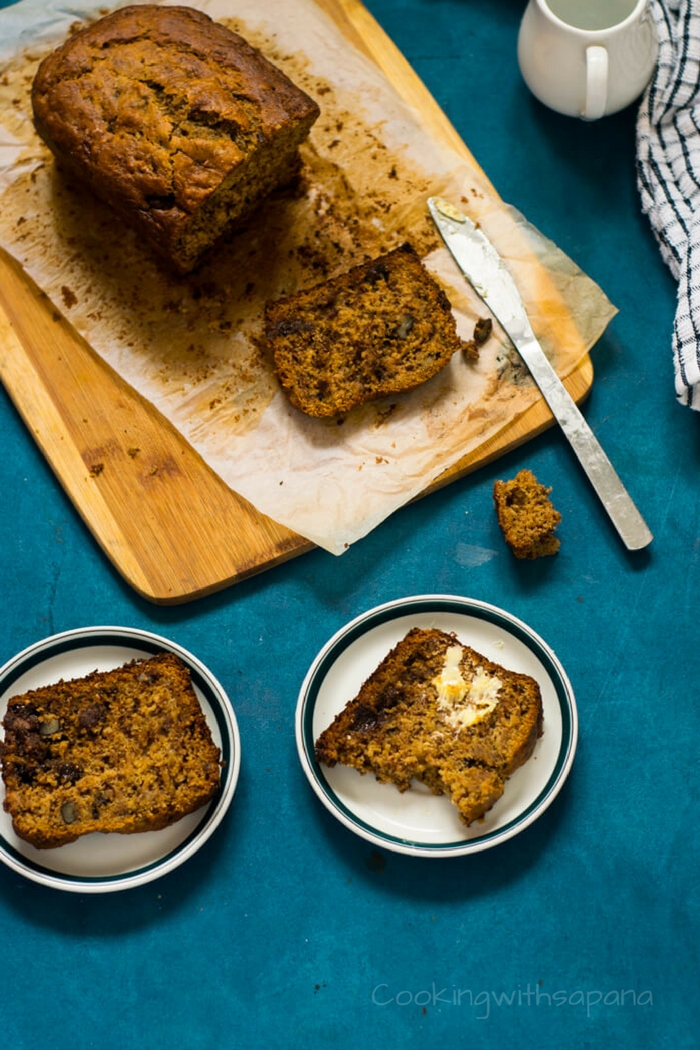 So after a lot of research, and few ideas from Veg Recipes of India, Tasty App and some more others, I thought of trying a version of my own. And seriously the results were amazing. I was so happy that my bread wasn't soggy, or uncooked in the centre or tasteless like before.
You have to take my word and do try this banana bread and you will also love each bite of it. Go ahead and use those overripe bananas into this amazing bread and enjoy.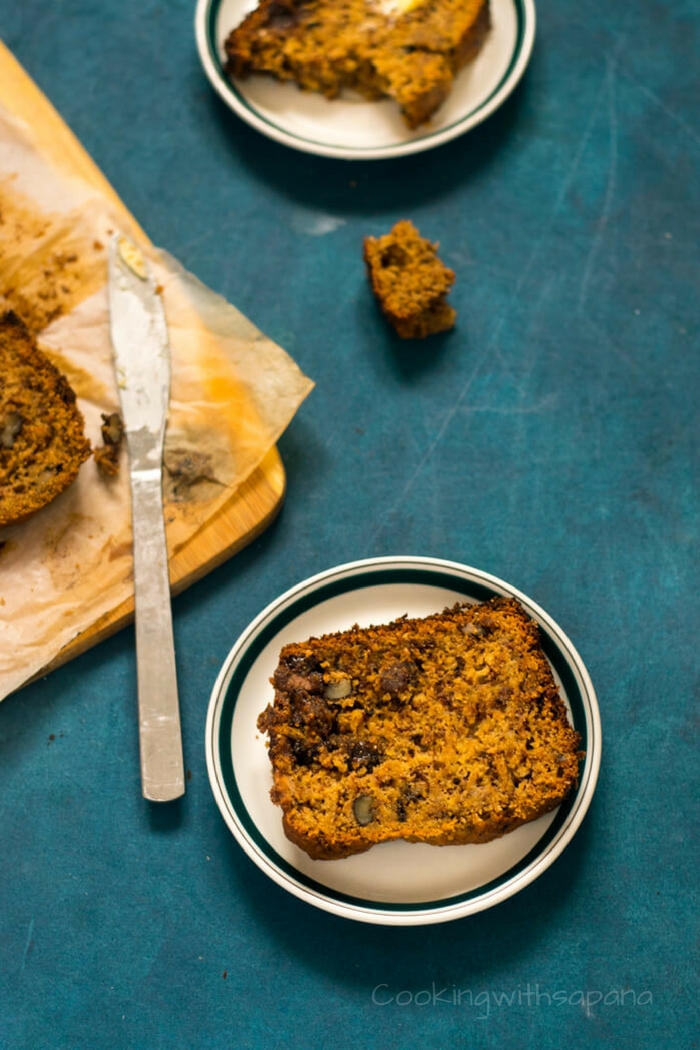 Bakethon– Day 1
Dish-Banana Bread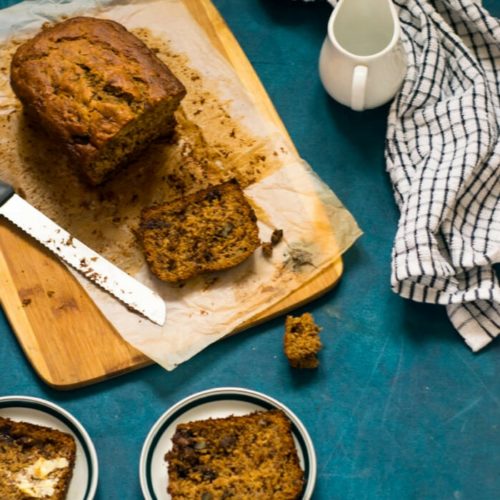 Banana Bread
A super delicious, egg free and whole wheat best ever banana bread. Each slice of this bread is worth eating.
Course:
Breakfast, Dessert
Ingredients
1 1/2

cups

whole wheat flour/atta

4

medium- sized ripe bananas

1/3

cup

butter or oil

1/4

cup

brown sugar,

you may use 1/2 cup if you prefer more sweet bread

1

teaspoon

vanilla extract

1

teaspoon

baking soda

1

teaspoon

baking powder

1/4

cup

chocolate chunks/chips

optional

2

tablespoon

chopped walnuts,

optional
Instructions
Preheat oven to 350°F and line an 8" loaf tin with parchment paper.

In a mixing bowl add roughly chopped banana and mash it with a fork until smooth.

Add in melted butter or oil whatever you are using. Stir and add vanilla extract.

Into the same bowl sift in flour, baking powder and baking soda. Mix gently to combine all the ingredients.

Lastly add chopped chocolate chunks and chopped nuts, if you are using them.

Transfer the batter into the prepared loaf tin, tap on counter to remove air bubbles.

Bake in preheated oven for about 45 to 50 minutes or until a skewer inserted in the centre of the cake comes out clean.

Remove cake from oven and let it cool in the pan for 15 minutes.

Cool the cake on wire rack, completely before slicing.
Recipe Notes
If you would use butter then the bread would be vegan. Adjust sugar as per your taste but as we are using four bananas the cake is sweet itself from that. Keep an eye on the bread after 35 minutes. Baking time may vary depending upon the type of oven.
Nutrition Facts
Serving Size 2 slice
Servings Per Container 4
---
Amount Per Serving
Calories 566
Calories from Fat 224.1
% Daily Value*
Total Carbohydrate 82.6g
28%
---
*Percent Daily Values are based on a 2,000 calorie diet. Your daily values may be higher or lower depending on your calorie needs.
Pin it for later
Slice and serve with or without coffee.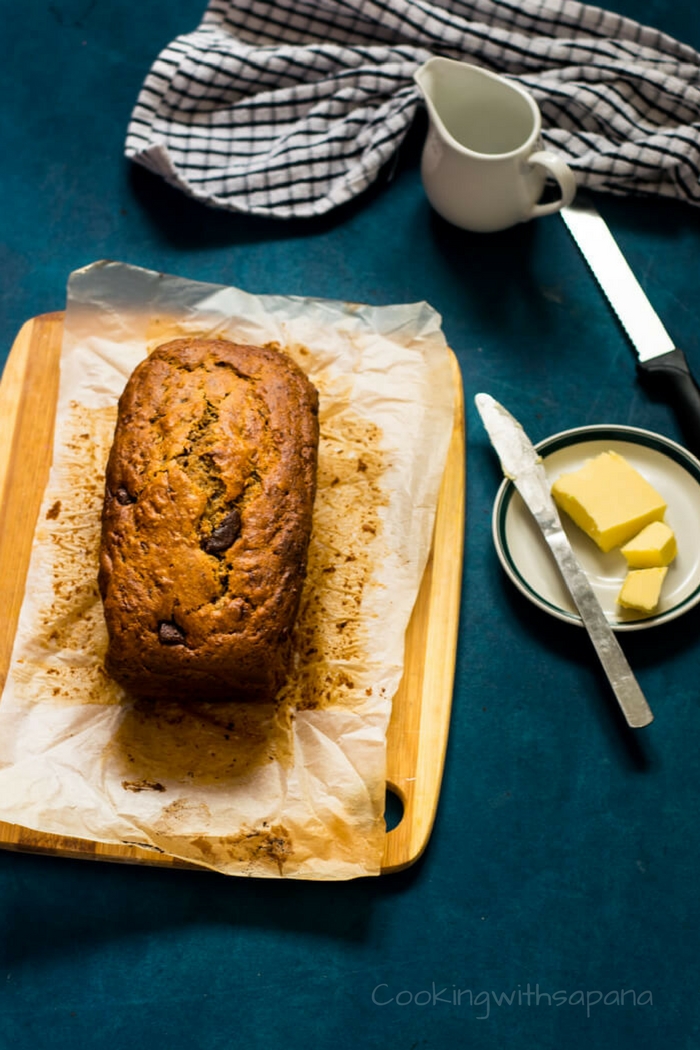 Enjoy!!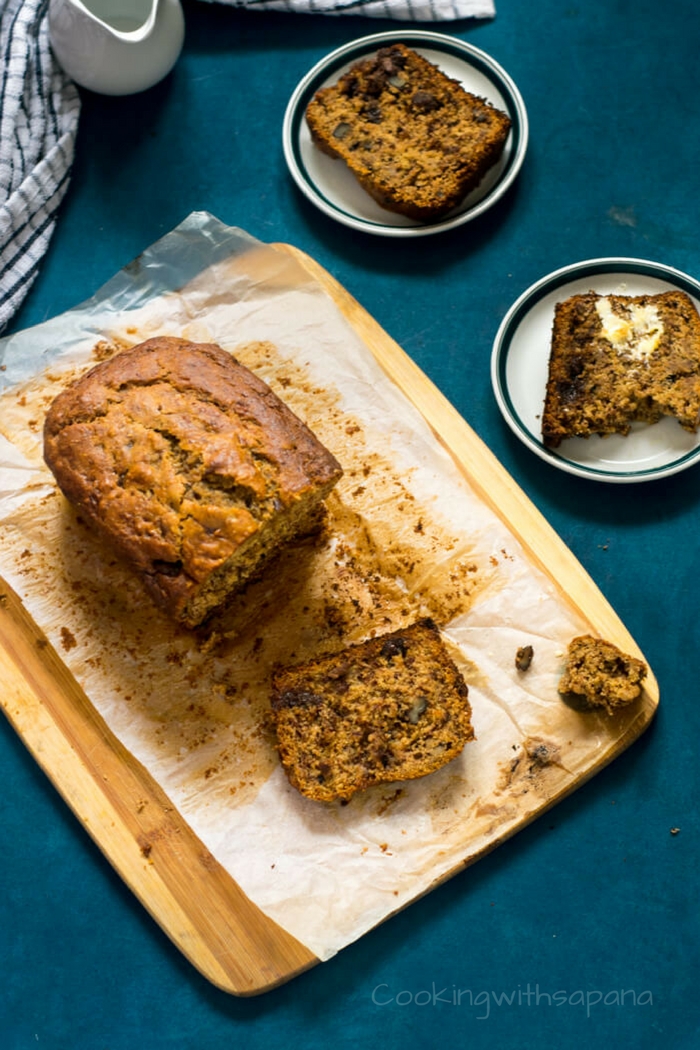 This is part of the Bake-a-thon 2017


Best Regards,
Sapana Behl