Sour Cream Cranberry Cake with Chocolate Ganache
Sour Cream Cranberry Cake with Chocolate Ganache is a fresh cranberry and sour cream cake topped with milk chocolate ganache.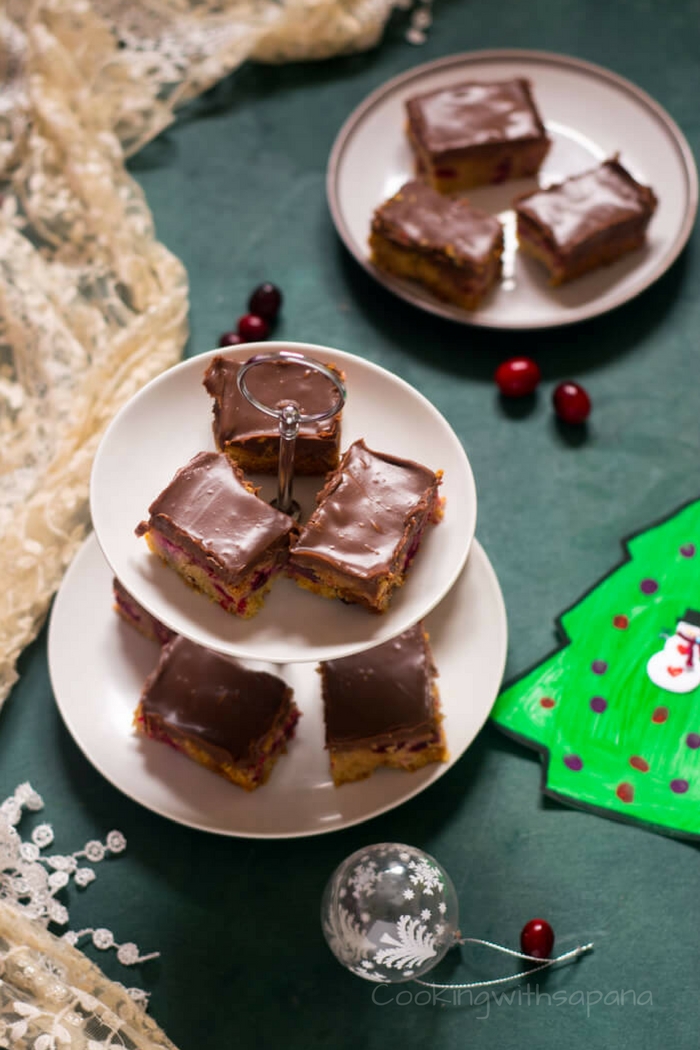 Sour cream and cranberry together, it sounds weird, isn't it?? Even I was septical to try the recipe but believe the combination is heavenly. It tasted amazing with that little tanginess from fresh cranberries and sweetness from the chocolate ganache.
I had some fresh cranberries and I was looking for a Christmas bake recipe and then I found so many recipes for cranberry sour cream coffee cake. Then I made my eggless version and topped it with ganache.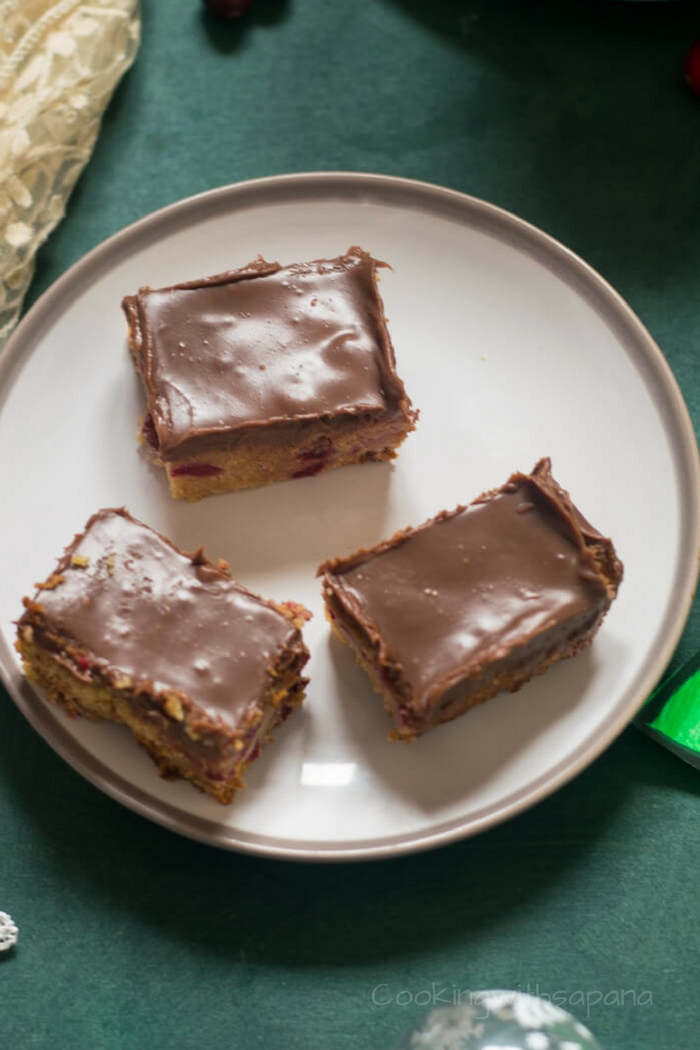 Bakethon– Day 12
Dish-Cranberry Sour Cream Cake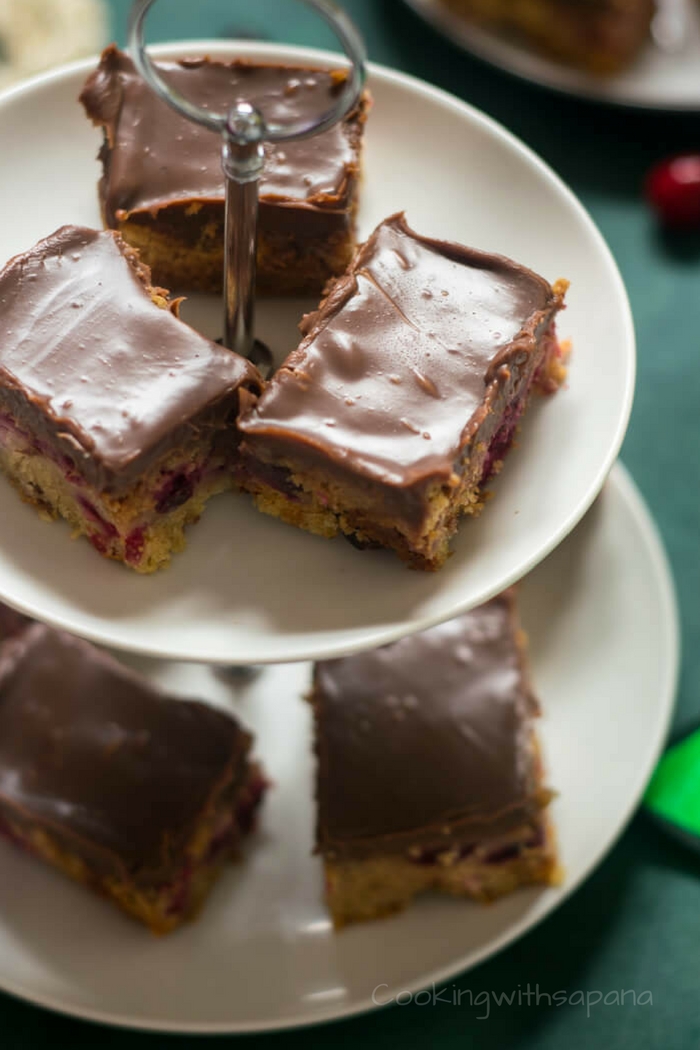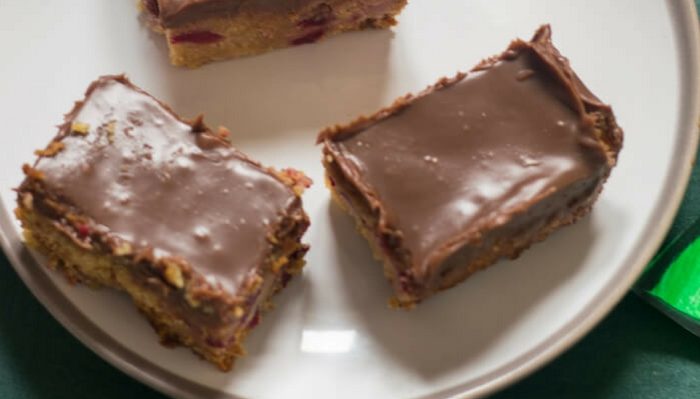 Cranberry Cake
Fresh cranberries and sour cream combined together in this delicious cake and topped with milk chocolate ganache.
Ingredients
1

cup

plain flour

1

teaspoon

baking soda

1 1/2

teaspoon

baking powder

1

cup

fresh cranberries

1

cup

sugar

1

cup

sour cream

1/2

cup

unsalted butter

1

teaspoon

vanilla extract
For Ganache
1

cup

milk chocolate chips

1/4

cup

milk cream
Instructions
Preheat oven to 350°F and grease a square baking tray with butter and dust with flour.

In a mixing bowl sprinkle, some dry flour on to the cranberries and set-aside.

In another mixing bowl sift together flour, baking soda and baking powder.

Beat sugar and butter in a bowl until soft and pale in colour. Stir in sour cream and vanilla extract.

Add the flour mixture to the sour cream one in two batches. Stir in cranberries and gently fold in to combine.

Transfer the batter to the prepared baking tray and bake in preheated oven for about 35 minutes or until checked by skewer

Remove the cake and cool completely before frosting.
For ganache
In a saucepan start cooking the cream for few minutes.

Remove from heat and stir in the chocolate chips. Mix with the spatula until smooth.

Pour the ganache over the cake into the baking tray. Let it set in the refrigerator.

Slice into desired shape and serve.
Recipe Notes
You may bake the cake in round cake tin and frost with ganache.
Pin it for Later

Enjoy!!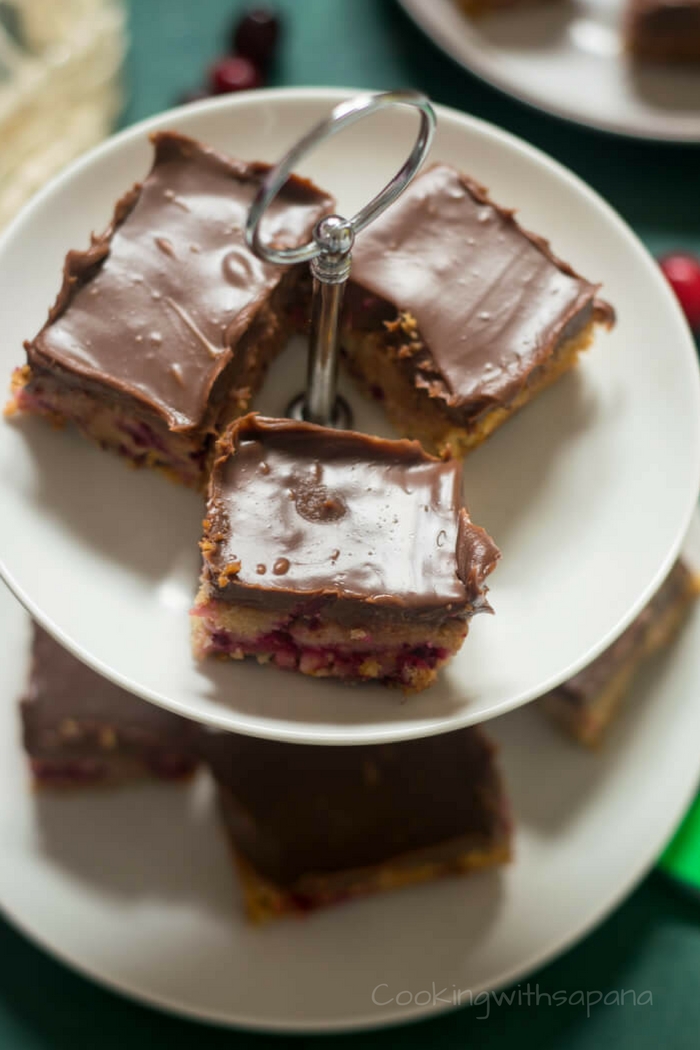 This is part of the Bake-a-thon 2017


Best Regards,
Sapana Behl