Eggless Rainbow Cake with Pink Buttercream Frosting
Jump to Recipe|| Print Recipe
A super delicious, moist and wonderful cake with 7 layers of rainbow colours and pink buttercream frosting is perfect for the birthday parties for your little angels.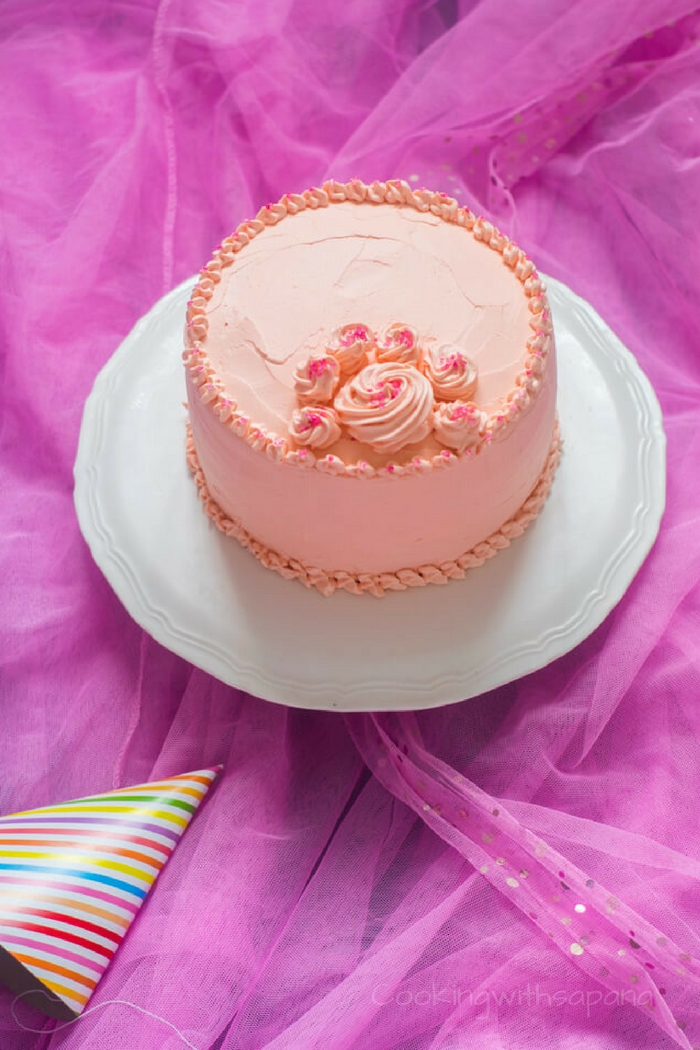 This rainbow cake was made in September from Gayatri's cookspot, so today when I started writing the recipe and link to her site I couldn't find her blog. I know how devastated and unhappy would be as I am feeling sad that I won't be able to look on her site for eggless cakes. She's the one stop site for sinful and exotic eggless bakes and for every birthday in my house, I always hoped on her site. I wish she would be able to back up her site soon.
I made this rainbow cake for my little one's third birthday in September. But somehow this time also couldn't find the time to click the inside of the cake. When you have 20-30 guest waiting for the cake after cutting it how come you can go in your photo room and click the pictures. There were some pictures on the phone but I couldn't find them too.
I will update the post if I find the pics on my phone. Anyways I will be making this cake again just to click the insides but maybe in summer.
Bakethon– Day 8
Dish-Mocha Cake
Source– Gayatri's Cookspot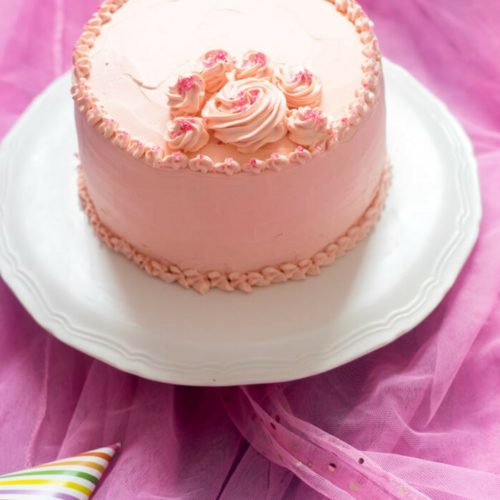 Rainbow Cake
A super delicious, moist and wonderful cake with 7 layers of rainbow colours and pink buttercream frosting is perfect for the birthday parties for your little angels.
Ingredients
For Cakes
3

cups

cake flour

3

teaspoon

baking powder

2

teaspoon

baking soda

1/2

teaspoon

salt

2

cups

sugar

1 1/2

cup

butter,

at room temperature

1

cup

yougurt

1 1/2

cup

milk

2

teaspoon

vanilla extract

few drop each of red, orange, yellow,green,blue and purple food coloring
For buttercream frosting
4

cups

icing sugar

1

cup

butter,

softened

2-3

drops

red food coloring
Instructions
For Cakes
Preheat oven to 350°F and grease round cake pans with little butter or place parchment paper.

In a mixing bowl sift together cake flour, baking powder, baking soda and salt and whisk a couple of times to combine.

In another mixing bowl beat butter and sugar until light and fluffy. Stir in vanilla, milk and yoghurt and mix to combine.

Now add the flour mixture to the butter mixture in three-four batches and gently fold in all the ingredients.

Divide the batter into seven equal parts in bowls and add the rainbow food colours into each bowl until you get desired hue of the colour.

Pour the batter into the prepared cake tins and bake in preheated oven for about 15 minutes or until a toothpick inserted into the centre of the cake comes out clean.

Cool the cakes on wire rack completely.
Make frosting
Beat butter in a mixing bowl with electric mixer or kitchen aid until light and fluffy.

Start adding a cup of sifted icing sugar at a time and beat until the buttercream is pale and reach soft peaks.

Stir in vanilla and red food colouring and beat again until you get your desired consistency and color.
Assembling the cake.
Once the cakes are cooled slice off the top layers of the cake using a serrated knife.

Spoon a little bit of frosting on the cake board and place the first violet layer of cake on the cake board.

Using an offset spâtula scoop a small amount of frosting into the centre of the cake and spread evenly.

Add the indigo layer and stack it on top of purple, frost it a with some buttercream and likewise arrange blue, green, yellow, orange and red layers of cake.

Scoop the frosting on top of layers cake and spread evenly on sides and top. Try doing with little frosting and crumb coat the cake evenly.

Let the crumb coat layer set in the refrigerator for 30 minutes.

Frost the cake with remaining buttercream until you get the desired coating. Pipe some flowers if you want and add sprinkles if desired.

Let the cake rest in the refrigerator and remove only before an hour of cutting the cake.
Recipe Notes
If using gel food colors you may need one drop only but if you are using liquid colors you may need more drops. You may get the indigo colour by using blue and orange colour. I have only three 7" cake tins so I baked the cakes in batches. You may cling wrap the cakes and store at room temperature or in the refrigerator before frosting. If the cake seems a bit dry you may brush them with simple sugar syrup before frosting.
Pin it for Later

Slice and serve.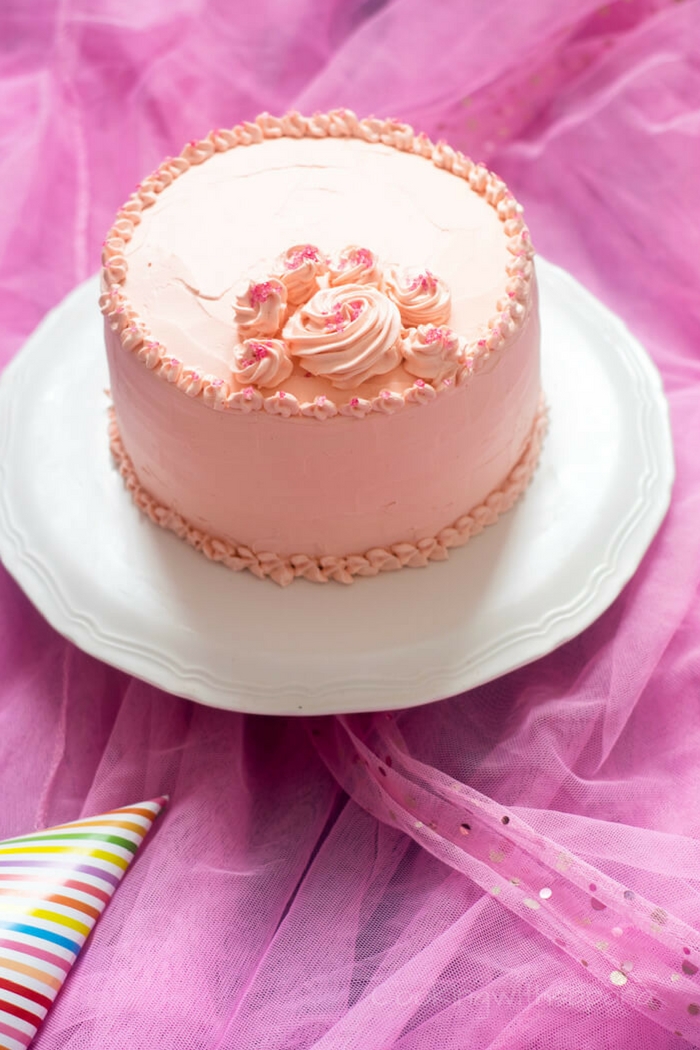 Enjoy!!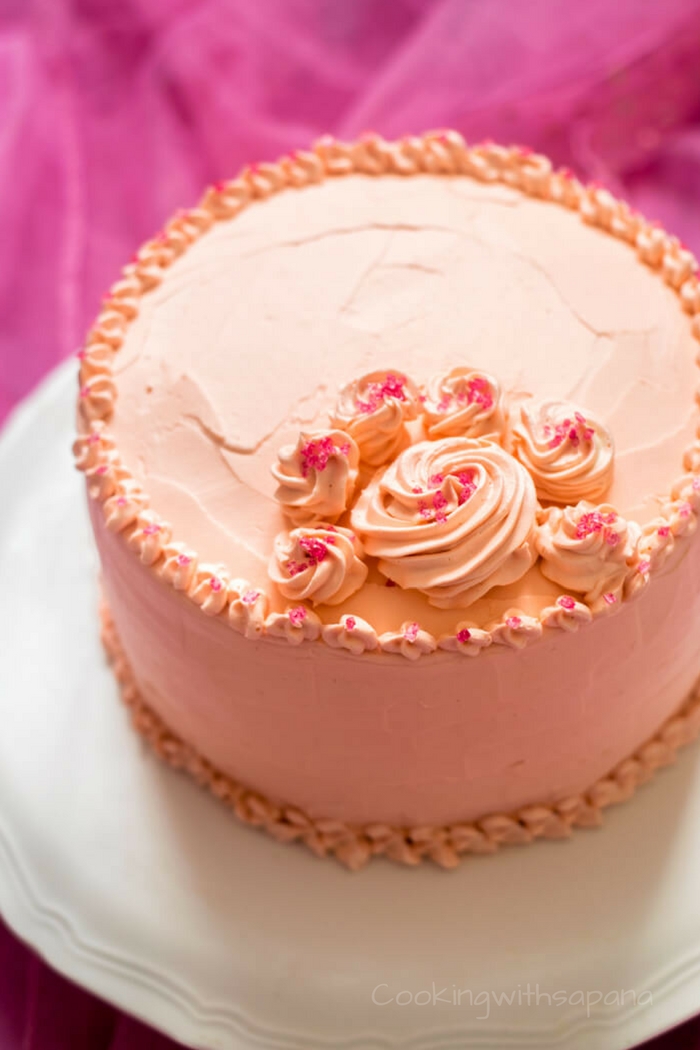 This is part of the Bake-a-thon 2017


Best Regards,
Sapana Behl