Mixed Seeds Chikki
Mixed Seeds Chikki is a healthy and delicious Indian style super energy bar aka chikki made with jaggery, super seeds and nuts.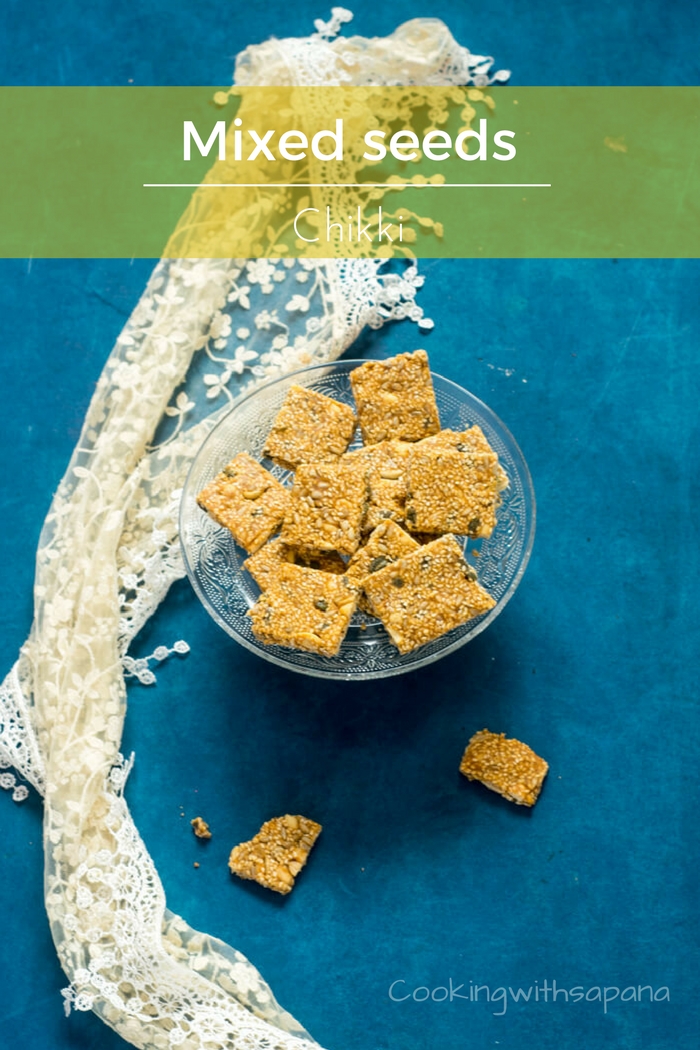 Winter is here and it's getting really cold outside. Scarfs, hats and coats are already out and I just love making warm and comforting bowls of soups for dinner. All I want to do is just lazing around in my blankie on the couch with a cup of green tea or bowl of soup and mazing around.
It's the weather that makes me lazy and I totally hate going out, especially when it is windy too. This is the weather when I make all kinds of warm things to keep us heated enough from the inside too. Pinni, atta laddo, sukhadi, besan halwa and of course all varieties of stews, chilli and soups to make us cosy. One such quick and easy snack is this mixed seeds and nuts chikki that I always make a jar full of in the winters.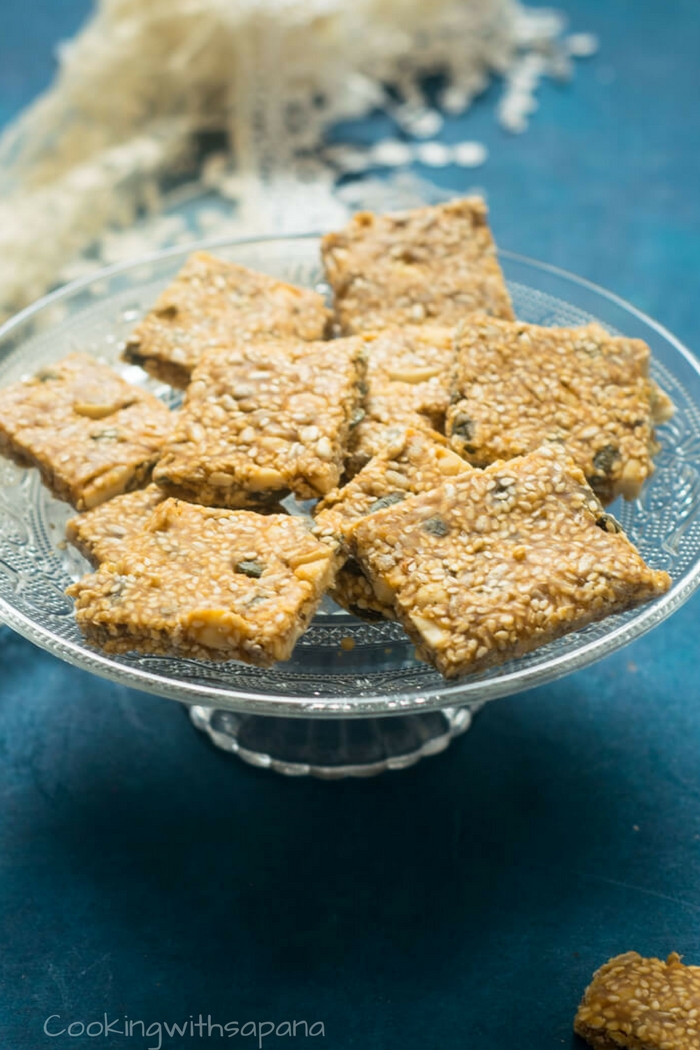 Believe me, these mixed seeds chikki are so addictive that they won't even last a week. I mean healthy and super delicious too. What else do we need when kids can eat them without hesitation.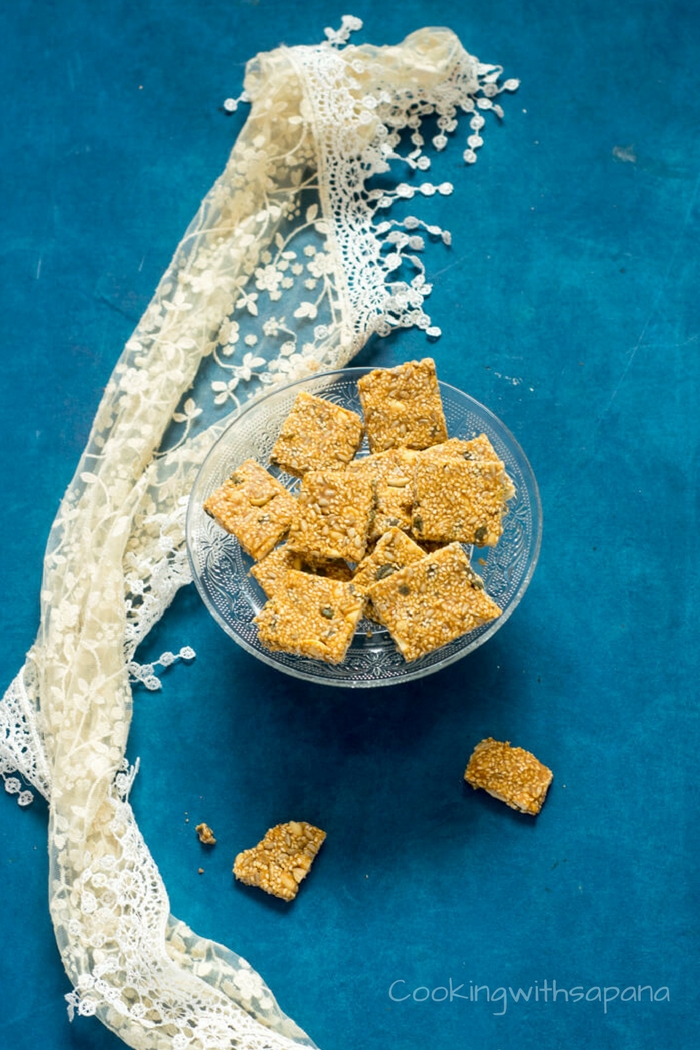 Mixed Nuts Chikki
A healthy and delicious Indian style bar aka chikki made with jaggery, super seeds and nuts.
Ingredients
1 1/2

cups

Jaggery,

grated or broken

1/2

cup

sesame seeds

1/4

cup

pumpkin seeds

1/4

cup

sunflower seeds

1/2

cup

peanuts,

roasted and skinned

1

teaspoon

ghee
Instructions
In a pan dry roast the sesame seeds, pumpkin seeds and sunflower seeds for 2-3 minutes and set aside.

In a heavy bottom, pan add jaggery and start cooking on low to medium heat until it melts.

Once melted let it cook on low until it starts bubbling for 10 minutes. Check the consistency by dropping it in a bowl of water. If it forms a ball then it is done.

Remove from heat and add sesame, pumpkin and sunflower seeds along with peanuts. Stir quickly until combined.

Transfer the mixture to a greased plate or chopping board.

Grease the rolling pin with ghee and start spreading the mixture into an even layer of desired thickness.

Let it cool for 5 minutes an then cut out desired shapes of the chikki.

Store in airtight container. Serve and enjoy.
Recipe Notes
You may use parchment paper and place it on top of the mixture to help to roll the chikki.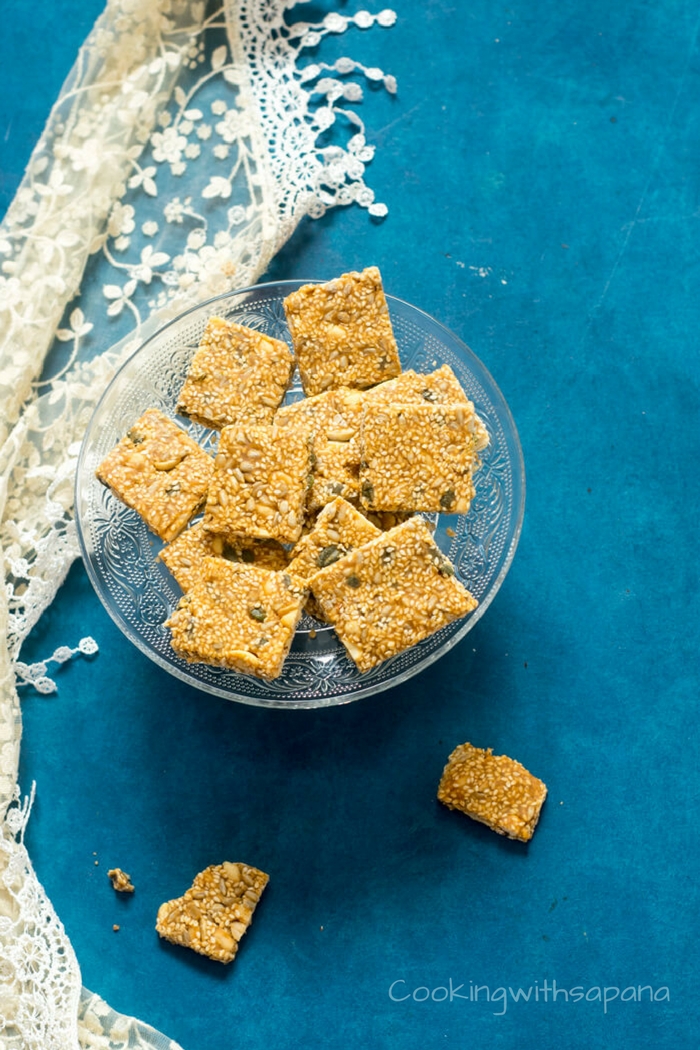 This is for Srivalli's Kid's Delight event, guest hosted by Sapana, themed on Bite Size Appetizers.
ᐧ
Best Regards,
Sapana Behl