Plantain Chips | How to make Plantain Chips
Plantain Chips are super crispy and absolutely delicious deep fried chips made with raw plantain. If you are looking to know how to make plantain chips at home, then this is the recipe for you. They taste so amazing and I bet you won't stop at few once you start eating them.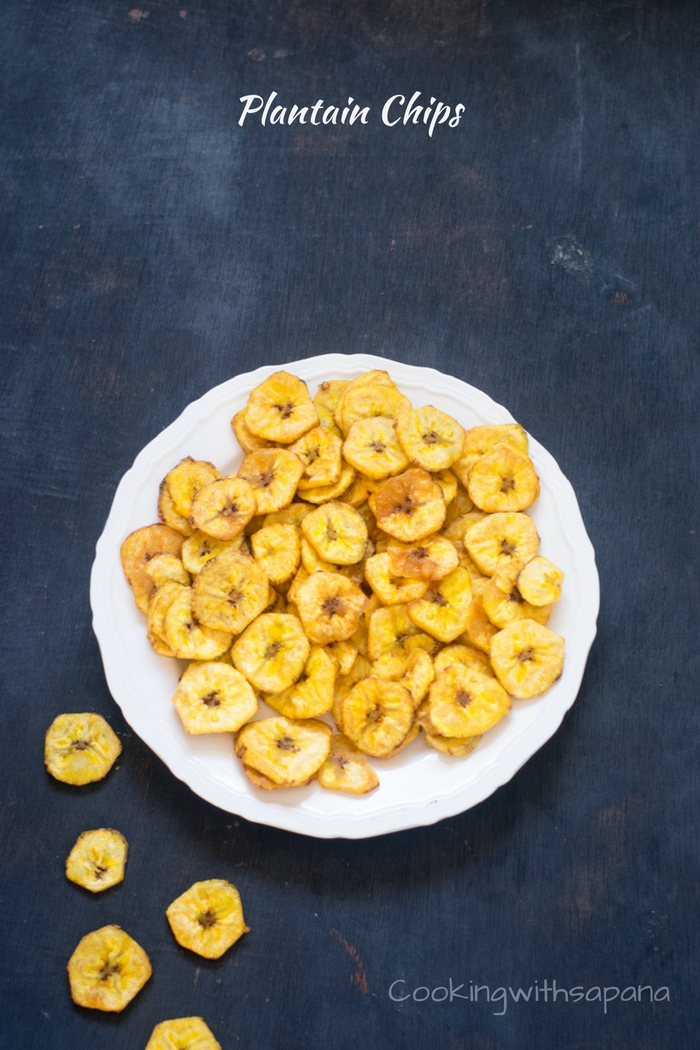 Plantain chips are my favourite snacks of all South Indian dishes and being a Northie they would always fantasise me. We had a Keralite friend in college and every time she would go to Kerala for holidays she had to bring the coconut oil fried plantain chips otherwise no one would talk to her.
The flavour of coconut oil makes them more interesting and delicious. If you have plenty of coconut oil at home then go ahead and try frying the chips in that and you will see the difference.
Before making plantain chips at home I was buying them from the store and they were always so expensive. As my girls love this super easy bite-size snack and they love munching them I am now making the chips at home only.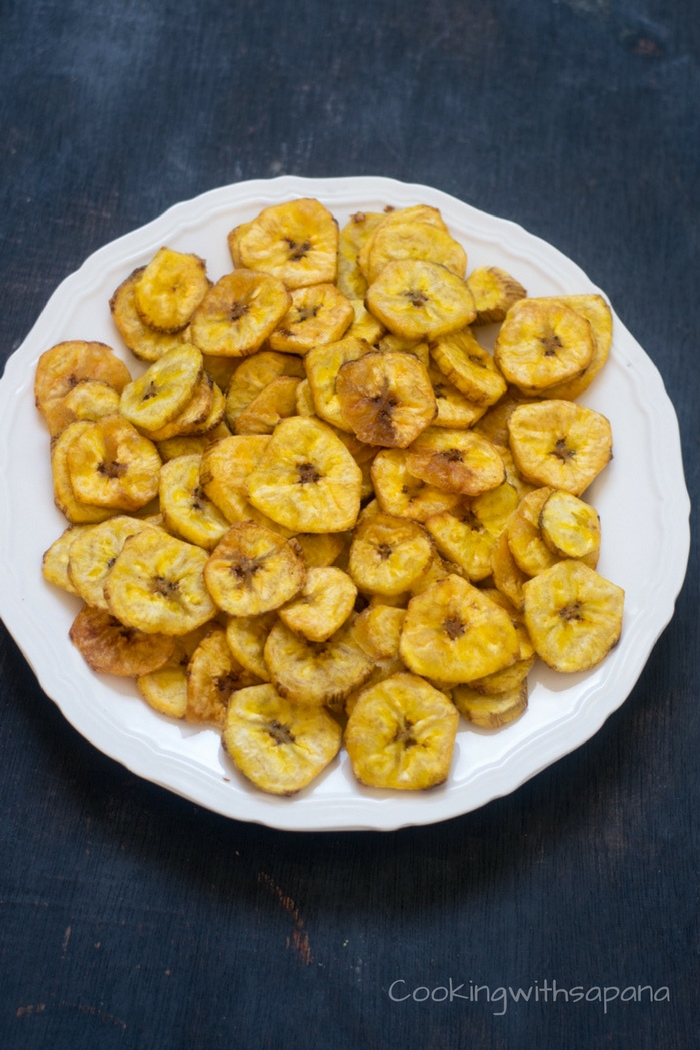 I have some homemade potato chips recipe on the blog which tastes just like the store-bought ones, do not forget to check out.
My fellow blogger Valli has Oven Baked Potato recipe which is perfect for guilt-free snacking and if you happen to like zucchini then these Zucchini Chips from Pavani's are for you.
For some sweet tooth read this amazing recipe of Sandhya's Cinnamon Pita Chips. and for some bitter yet delicious taste hop on to Usha's Bitter gourd Chips.
Blogging Marathon#81 Week 4/Day 1
Theme– Diwali Sweet and Savories
Dish-Banana Chips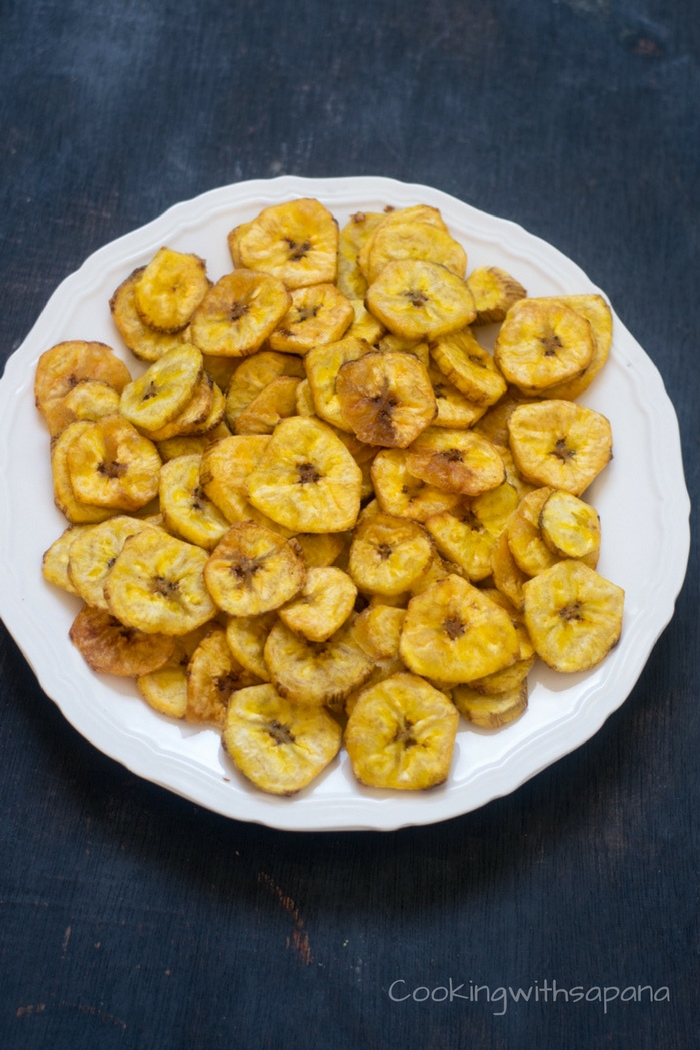 Raw Plantain Chips
Crispy and tasty raw plantain chips are perfect to munch on any occasion.
Ingredients
4

raw plantains

Himalayan pink salt to taste

oil for frying
Instructions
Wash and peel the plantains. Cut thin slices with hand or using a mandoline in a bowl of water.

Rub and wash out as much starch as you can and drain the excess water.

Dry the plantains with a paper towel a couple of times to remove all water.

Heat oil in a wok over medium-high heat and add the plantains in batches.

Mix salt with a tablespoon of water and sprinkle some water into the wok.

Let the chips cool completely and crisp from both sides.

Drain on paper towel and cool completely.

Store in airtight containers. Serve and enjoy;
Recipe Notes
I cut them thinly with hand but if you have slicer or mandoline go ahead and use it.
While adding the salted water in hot oil just be careful, it won't splash but take care while doing that.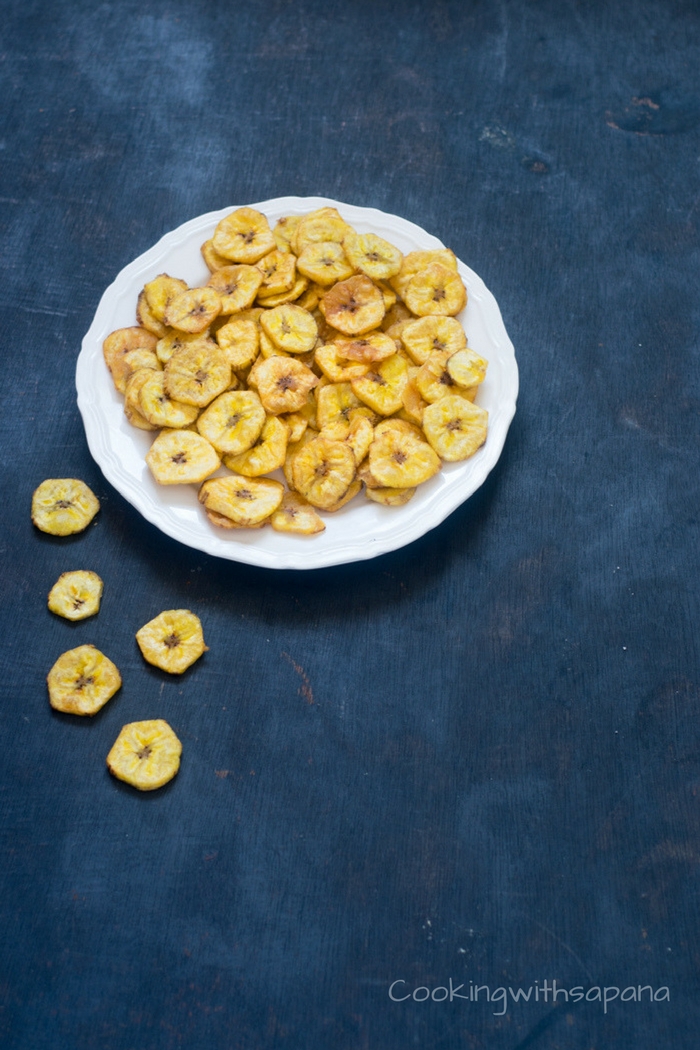 Enjoy!!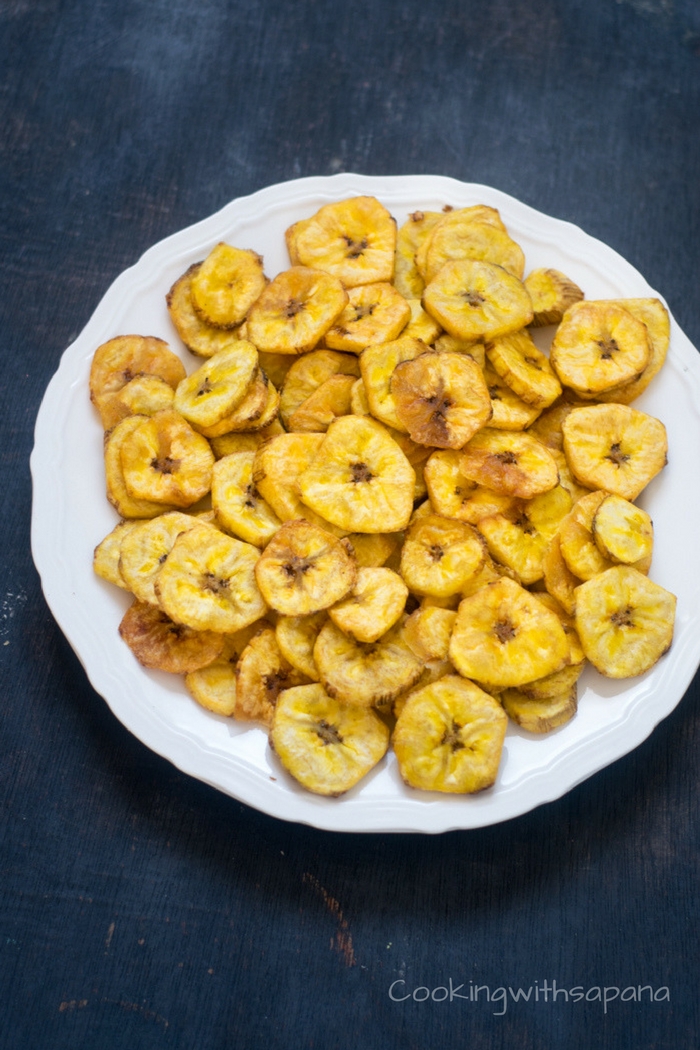 This is for Srivalli's Kid's Delight event, guest hosted by Sapana, themed on Bite Size Appetizers.
ᐧ
Best Regards,
Sapana Behl