Dutch Rusk Canapes
Crispy and delicious loaded with vegetables, cheese, and yogurt dip, these Dutch Rusk Canapes would make a wonderful party or evening tea time snack.
Sometimes recipes in the drafts are a total lifesaver, right?? How would you feel when the magic draft folder has recipes that suit your theme or course you want to post on the blog. That's what happened with me, this third week all the recipes I am posting are suitable for snacks and I was worried that I do not have snacks for last two days. But to my surprise, I did find two recipes that would fit the theme.
I know I could have cooked a new recipe and post on the blog, but this whole week I was and still am super busy. Lo is going to start school from Monday and before that, it's her birthday on Sunday. I have to bake rainbow ombre cake from Gayatri's space and cook for a small party too. That's why I could not cook anything new, not right now.
Anyways I made these Dutch rusk canapes a few months back when I had a pack of Dutch Rusk needs to be used. On that day I didn't have anything on hand for an evening snack and the family was super hungry practically crying for some snack. So I used all the veggies I had and wrapped these canapes as soon as I could. Everyone loved these light and delicious yet super inviting canapes and hence I saved the day.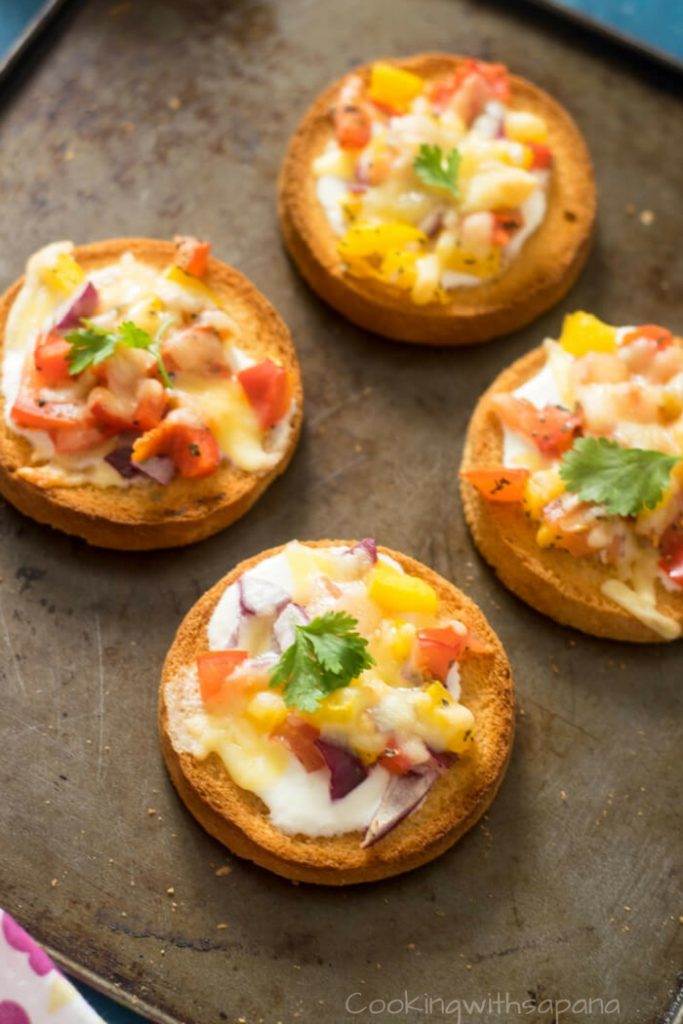 Blogging Marathon#80 Week 3/Day 13
Theme– Protein Rich Dishes
Dish-Dutch Rusk Canapes
Protein Source– Yogurt, Cheddar, Mozzarella Cheese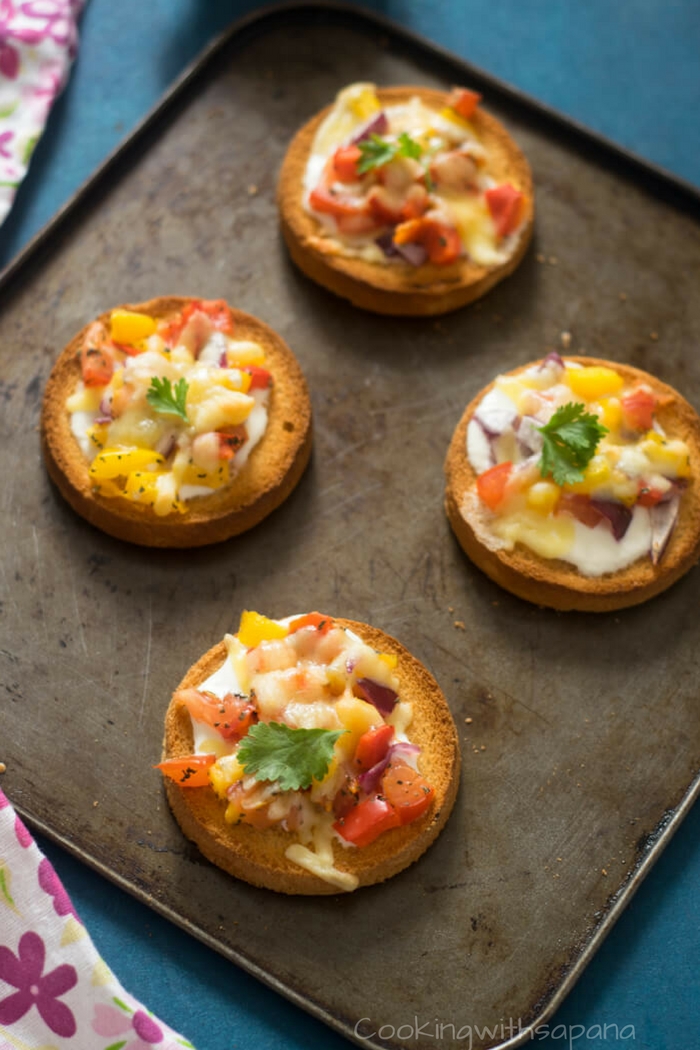 Dutch Rusk Canapes

Crispy and delicious loaded with vegetables, cheese, and yogurt dip, these canapes would make a wonderful party or evening tea time snack.

Course: Appetizer, Snack

Cuisine: French, Fusion

Servings: 4 People

Ingredients
12 number Dutch Whole Wheat Rusk
1 cup bell peppers, chopped
1 cup tomatoes, chopped
1 cup onion, chopped
1/2 cup cheddar cheese
1/2 cup mozzarella cheese
1 teaspoon dried basil leaves
salt and pepper to taste
1/4 cup coriander leaves, chopped
For yogurt spread
1 cup yougurt
1 teaspoon garlic, grated
salt to taste
1 teaspoon olive oil
Instructions
Mix all the ingredients for the yougurt spread and set aside.

In a mixing bowl add bell peppers, tomatoes, onions, and coriander leaves. Season with salt, pepper and basil leaves.

Apply a tablespoon of yogurt dip on each rusk. Now top with a generous amount of vegetable toppings.

Sprinkle the cheddar and mozzarella and arrange them on a baking tray.

Bake in preheated oven for 5 minutes or just to melt the cheese.

Remove from oven and serve immediately.
Recipe Notes

The topping variations are endless. You may top the rusk with potato peas or any other topping you like.




Nutrition Facts

Serving Size 3 per person

Servings Per Container 4
---
Amount Per Serving

Calories 541 Calories from Fat 93.6

% Daily Value*

Total Fat 10.4g 16%

Saturated Fat 5.7g 29%

Trans Fat 0g

Cholesterol 20mg 7%

Sodium 442mg 18%

Total Carbohydrate 83.6g 28%

Dietary Fiber 4.6g 18%

Sugars 20.3g

Protein 24.1g 48%
---
*Percent Daily Values are based on a 2,000 calorie diet. Your daily values may be higher or lower depending on your calorie needs.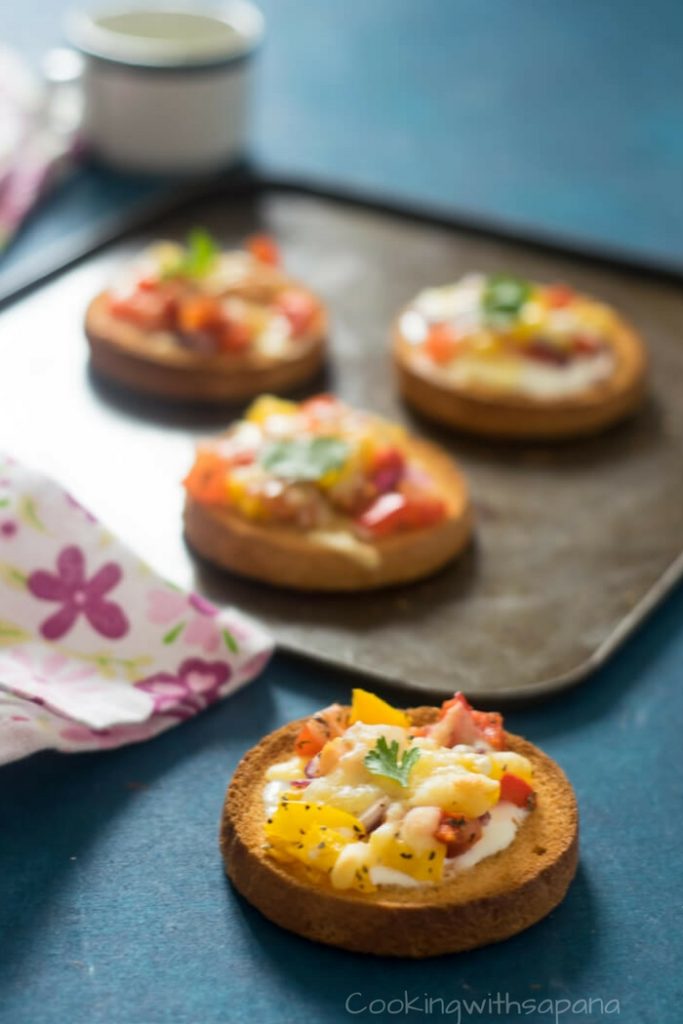 Enjoy!!
Check out the Blogging Marathon page for the other Blogging Marathoners doing BM# 80
Loading InLinkz ...
Best Regards,
Sapana Behl