Vegan No Bake Mango Cheesecake
Vegan No bake mango cheesecake topped with mango jelly is an irresistible yet easy sweet summer treat made with agar agar and is an eggless dessert that your family would definitely love for sure. Mangoes are in season and are so versatile to work with any dessert or sweet recipes.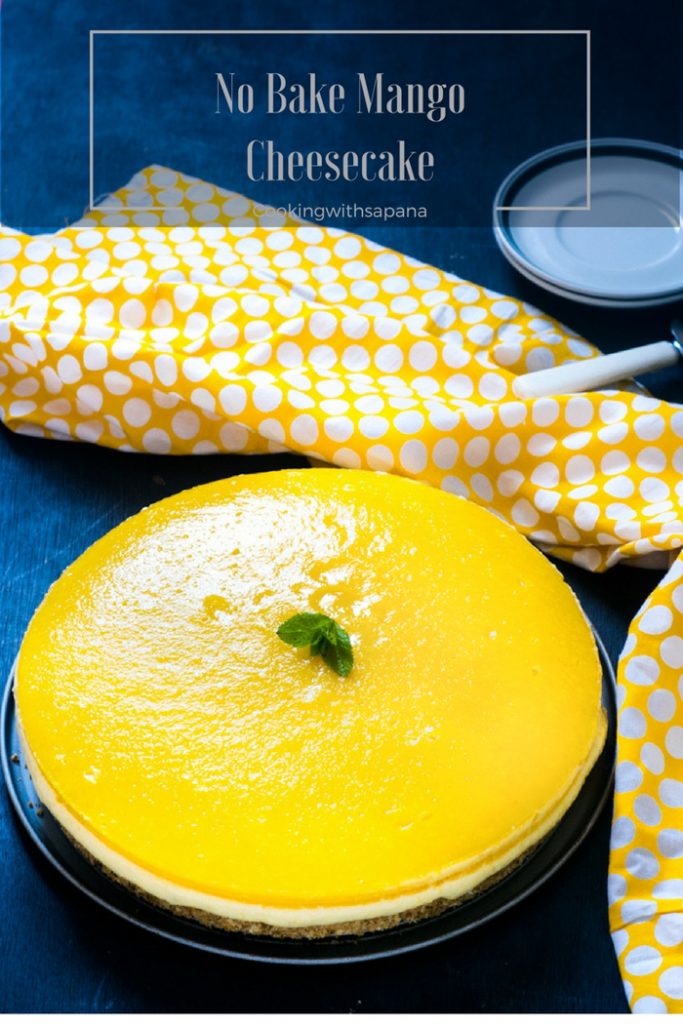 Last week we ordered a carton of mangoes through a friend from India. It was a box full of Kesar mangoes and were very sweet and delicious mangoes. In spite of my daughters eating the mangoes as such, I save a couple of them to try some recipes. Guess what, this cheesecake is one of the sweet dessert recipes that I wanted to try.
The vegan no bake mango cheesecake is made with a crust of digestive cookie crumbs topped with vegan cashew nut mango cream and the final topping of mango jelly layer. However is you want to make it purely raw and vegan you could use the dried nuts and dates as the crust.
Each single slice of cheesecake tasted awesome and no one guessed that it was vegan therefore from next time onwards I probably will be using the healthy dates and nuts layer to make it a complete guilt free dessert.
This cheesecake cake was for a get-together party and that's why no pictures of inside. However, I did had some leftover slices from the party but it was already very late in the night and I was too lazy to click them. Maybe some other time I would update the recipe with inside clicks. I only had 12″ springform pan and I used the same and as a result, the layers aren't as thick as they should be in an 8″ pan.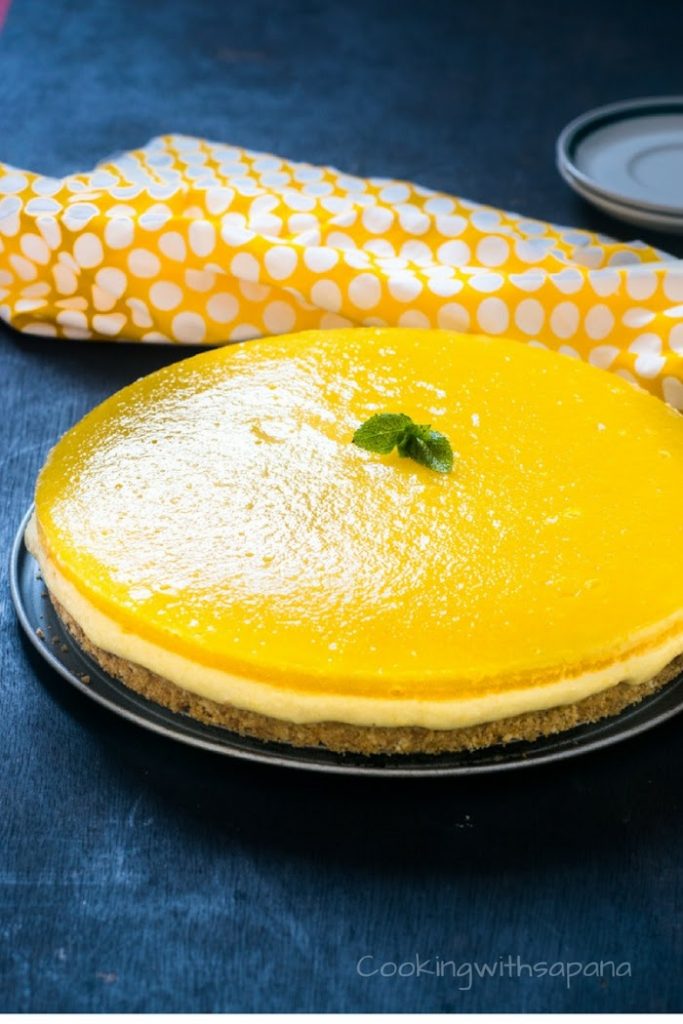 Blogging Marathon#76Week4 / Day2
Theme-I love, you love Cheesecake
Dish– No bake Mango Cheesecake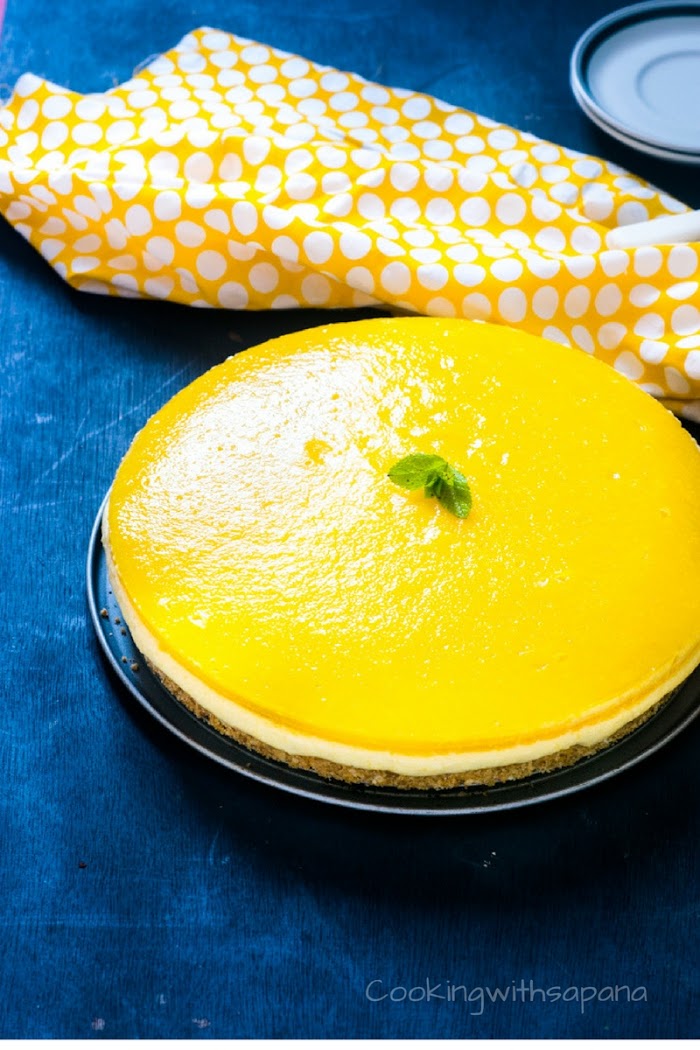 No Bake Mango Cheesecake
A refreshing and delicious vegan no bake mango cheesecake topped with luscious mango jelly. This is a perfect dessert to serve at any party or get together.
Course:
Cheesecakes, Dessert
Ingredients
For Crust
1 1/2

cup

or about 15 digestive biscuits

1/2

cup

butter

, melted
For cashew cheese filling
1 1/2

cup

cashew nuts

(soaked in water overnight)

1/4

cup

coconut oil

1

cup

mango puree

1

teaspoon

lemon juice

1

teaspoon

lemon zest

1

teaspoon

vanilla extract

1/4

cup

honey

a pinch salt

For mango jelly

2

cups

mango puree

1/4

cup

water

2

tablespoon

agar agar/ china grass
Instructions
Grease an 8" round springform pan with oil or butter and set aside.

Place the digestive cookies and melted butter in a zip lock bag.

Press with rolling pin or alternatively pulse in food processor.

Spread the crumbs into the bottom of the springform pan.

Press with back of a spoon and let it set in the refrigerator for 20 minutes.
Make filling
Pulse the soaked cashew nuts into the food processor for few minutes until light and creamy.

Add in coconut oil, mango puree, lemon juice, zest, vanilla, salt and honey and pulse again to combine all the ingredients.

Pour the mango cashew cream into the biscuit layer and let it set in the refrigerator for few minutes until mango jelly is ready.
Make mango jelly
Chop the agar strand into small pieces. In a saucepan add water and agar agar. Bring it to boil and then strain the mixture.

Cool it for few minutes and then add it into the mango puree. Whisk until all the puree combines with agar agar.
Assemble the cheesecake
Pour the mango jelly o top of the mango cashew layer and place it in the refrigerator for 3 to 4 hours or until sets completely.

Remove from refrigerator. Demold from the pan. Slice and serve.
Recipe Notes
You may use dried nuts and dates crumbs for the crust layer to make it healthier.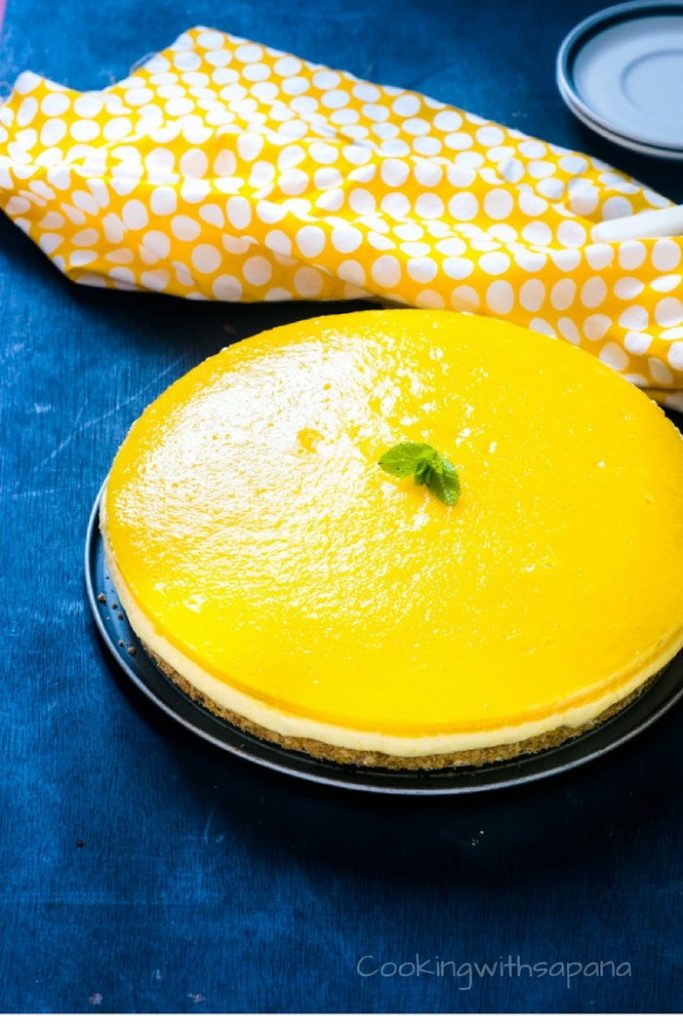 Enjoy!!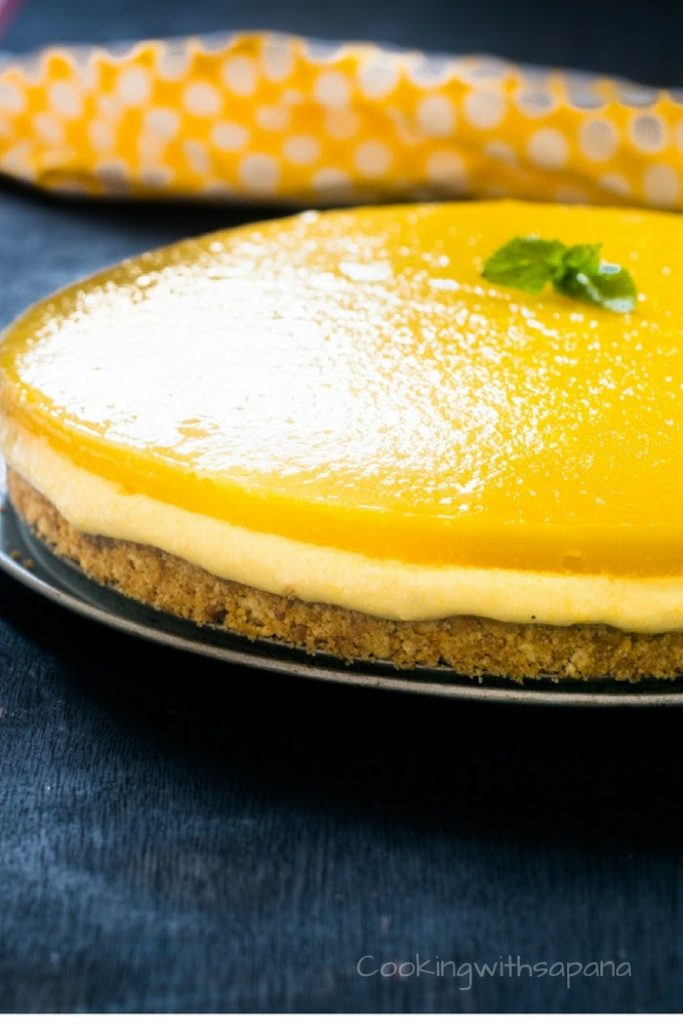 Check out the Blogging Marathon page for the other Blogging Marathoners doing this BM#76
Best regards,
Sapana Behl