Victoria Sponge Cake | Vegan
Victoria sponge cake is cake named after Queen Victoria who ate a slice of sponge cake with her afternoon tea. The cake is usually filled with raspberry jam and double cream filling and no frosting on top.

I made a healthier version for #Recipemakeover of this cake which is vegan and made with healthy spelt flour. The filling is made with coconut cream and fresh berries instead of double cream and jams. I followed the cake recipe from another cookbook named Perfectly Paleo and replaced the coconut flour in the recipe with spelt flour. I wasn't sure that the cake would come out perfect as it doesn't have eggs as well. But to my surprise, it was the perfectly baked sponge cake.
I also frost the cake with coconut cream filling just to make my girls like and eat the cake. They loved this spongy creamy cake and had few slices happily, even Mr Husband couldn't tell that it was made with spelt flour. The only tricky thing is that the cream kind of loosens in heat and the cake has to be stored in the refrigerator. It was sunny when I was taking my pictures and the filling loosens and slides down on both edges. I wanst even sure if I could use these pictures as they were making the cake look so messy but still as I didn't have any other recipe for the ABC bake around the world I had to post this recipe.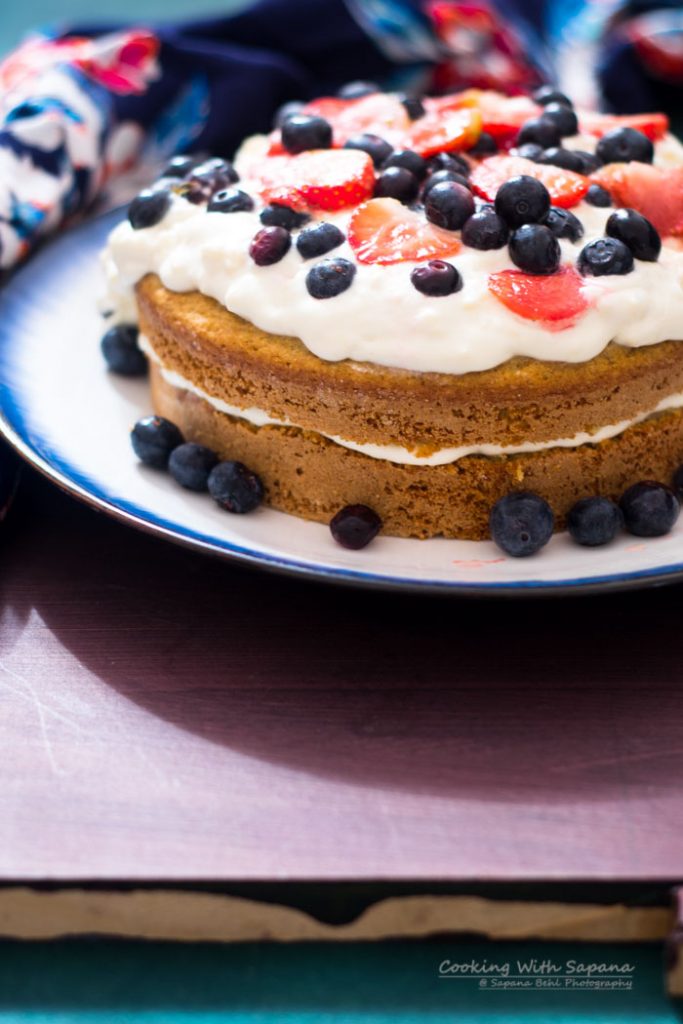 Blogging Marathon#75 Week 4/Day 22
Sub Theme– Cakes
Dish– Victoria Sponge Cake
Country– United Kingdom
Source– Cookbook

Ingredients:
1 1/2 cup spelt flour
1/4 cup fine semolina
1 teaspoon baking powder
1/4 teaspoon salt
1 cup coconut milk
2 tablespoon coconut oil, melted
1/2 cup coconut cream, melted
1 teaspoon vanilla
1 cup coconut palm sugar
For filling
2 cups coconut cream
1 teaspoon vanilla extract
3 tablespoon honey
1/4 cup strawberry conserve(1 cup strawberries cooked with a teaspoon sugar and 2 tbsp water for few minutes)
1/2 cup strawberries, halved
1/2 cup blueberries
Method:
Preheat oven to 350 °F and line two 8″ round tins with parchment paper or grease and flour them.
In a mixing bowl sift together spelt flour, semolina, baking powder and salt a couple of times.
In another bowl add coconut oil, coconut milk and coconut cream. Stir and add coconut palm sugar and vanilla. Whisk for 2 minutes.
Add the flour mixture into the coconut mixture in two batches. Gently fold in all the ingredients until combined.
Divide the batter into two cake tins (I did not have two tins of the same size so I baked in one and sliced the cake.)
Bake in preheated oven for 25 to 30 minutes or until a skewer inserted in the centre comes out clean.
Remove the cake from pan and cool before filling cream.
Melt the coconut cream in a saucepan and remove from heat.
Whisk together the coconut cream, vanilla and honey together until light and creamy. Place it into the refrigerator covered with cling wrap to set.
Once cake is cooled and filling is set. Spread one cake with cream filling and add strawberries conserve on top oof it.
Top with second cake and spread more cream fillings and fresh strawberries and blueberries.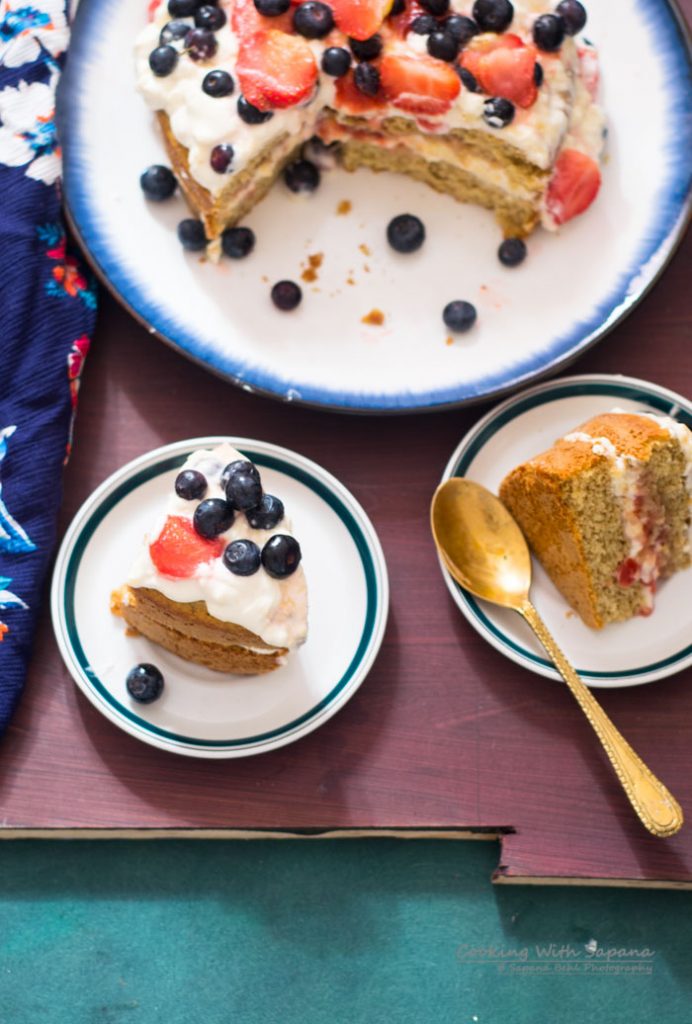 Slice, serve and enjoy.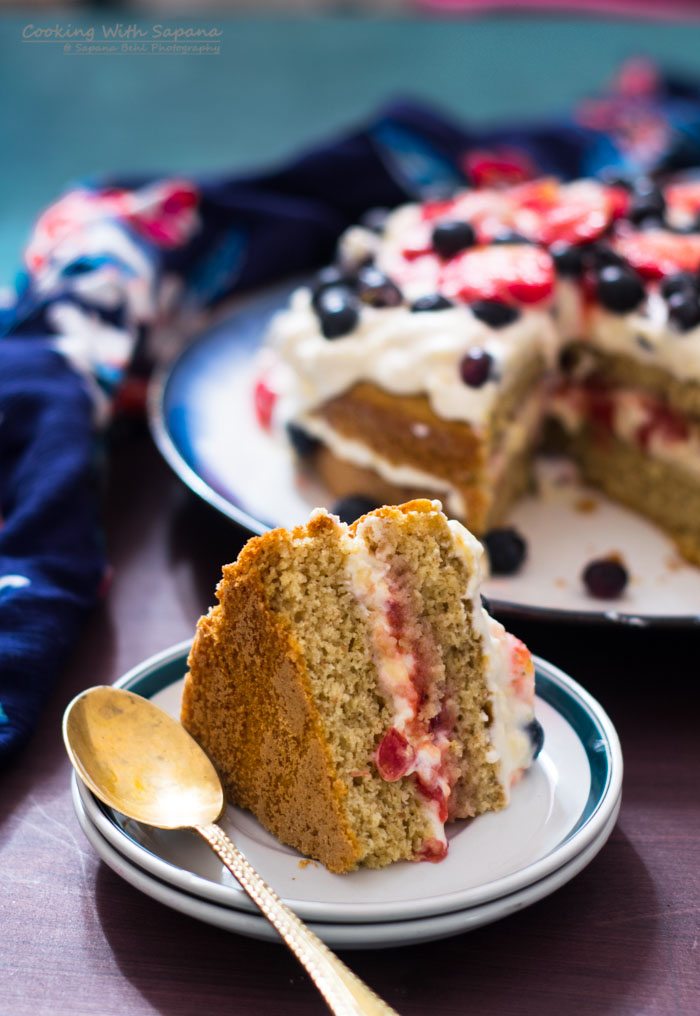 Note: The coconut cream can be collected from the refrigerated cans of coconut milk which solidify.
The cream loosens if placed at room temperature. Always store the cake in refrigerator.
Serves 8 Baking time 30 minutes

Check out the Blogging Marathon page for the other Blogging Marathoners doing BM#
75