Neapolitan CupCakes
Neapolitan Cupcakes are inspired from the classic Italian Neapolitan Icecream which has three different flavours of chocolate, vanilla and strawberry in one. The idea was to get all three flavours in one cupcake and hence the name Neapolitan cupcakes.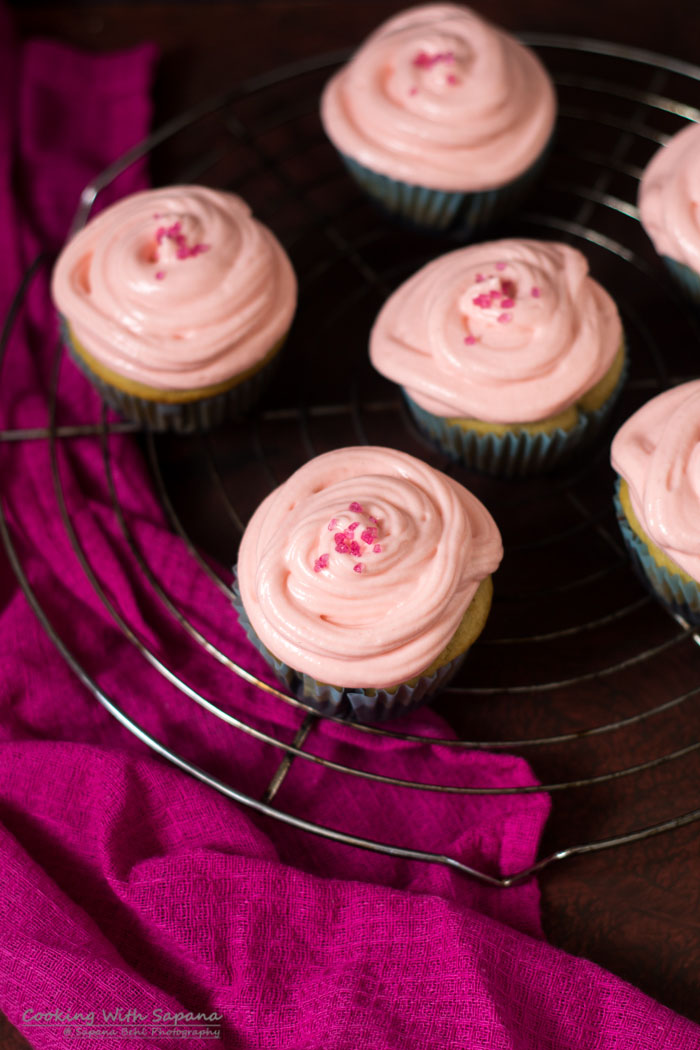 It's the third week of ABC bake around the world and my theme this week is Cupcakes and Muffins. Before I planned to make puddings and had also made a list but as I am baking every day I thought it would be impossible to eat the puddings for a week. However, cupcake and muffins could be finished easily as both of my girls loves them.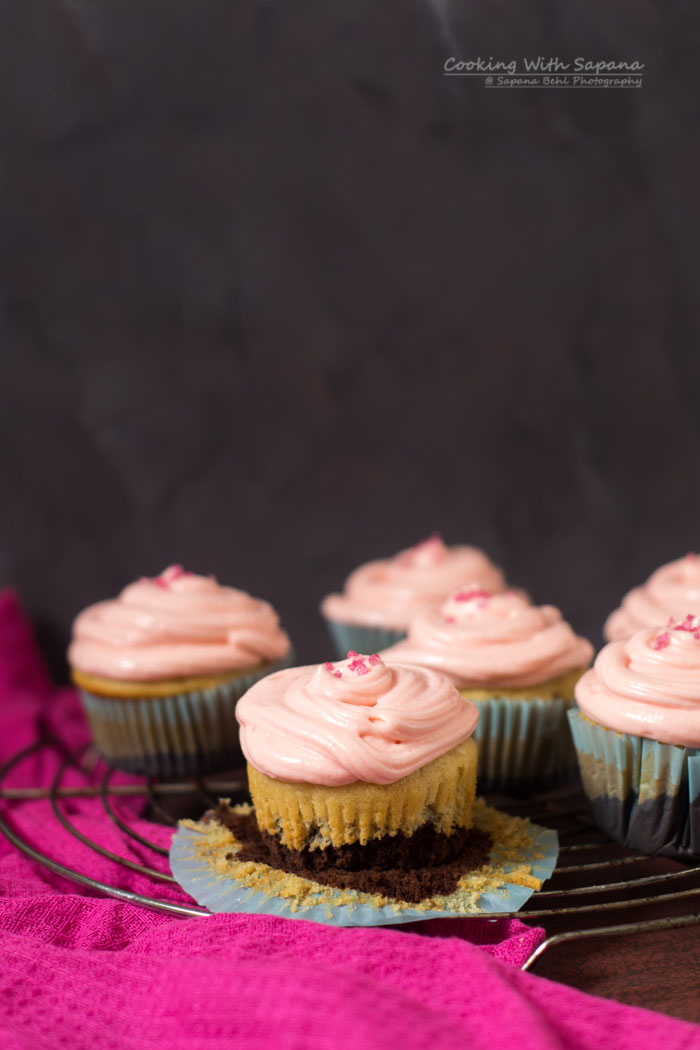 It took me very long to finalise the dish and by the time I finished baking it was 7:00 in the evening. But thankfully the daylight is coming up to 9 ish or 10 pm I could click the pictures today itself. I used strawberry cream cheese frosting and it paired well with the chocolate vanilla flavours. My girls went crazy for these cupcakes and finished four of them at once.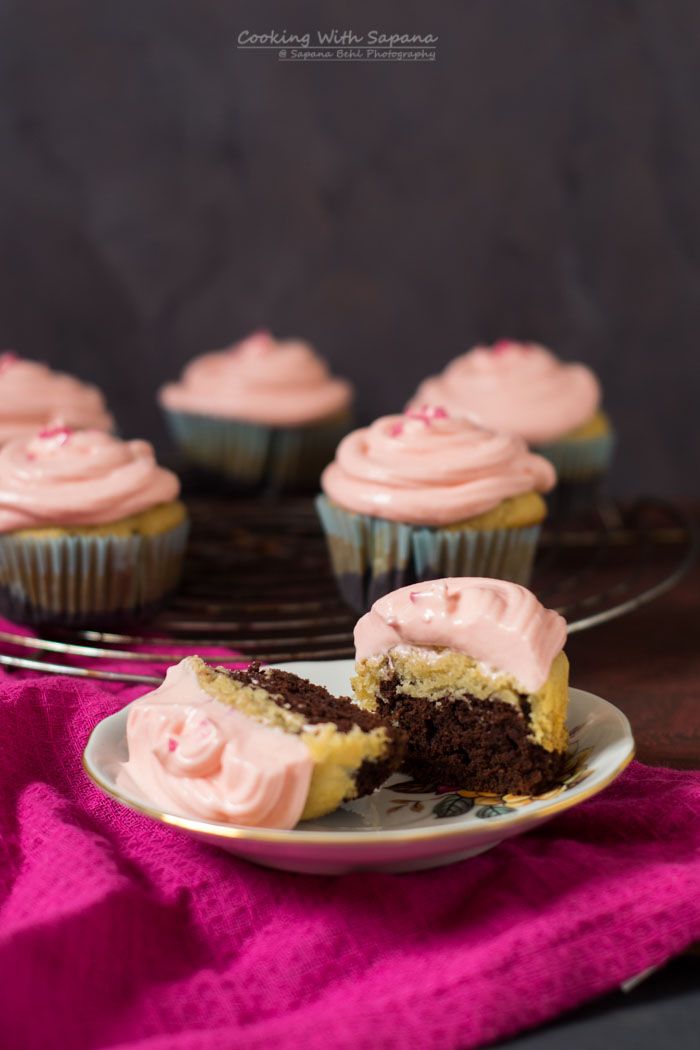 Blogging Marathon#75 Week 2/Day 14
Sub Theme– Cupcakes and Muffins
Dish– Neapolitan cupcakes
Country– Australia, Italian
Source– Here
Neapolitan Cupcakes
Three layered cupcakes with vanilla, chocolate and strawberry flavours.
Course:
Cupcakes, Dessert
Ingredients
For chocolate
3/4

cup

all-purpose flour

1/2

teaspoon

baking soda

2

tablespoon

cocoa powder

1/4

cup

milk

2

tablespoon

olive oil

1/4

cup

boiling water

4

tablespoon

sugar
For vanilla
3/4

cup

all-purpose flour

1

tablespoon

corn starch

1/2

teaspoon

baking powder

1/2

cup

milk

2

tablespoon

olive oil

1

teaspoon

vanilla extract

4

tablespoon

sugar
For frosting
1

cup

cream cheese

at room temperature

2

cups

icing sugar

sifted

1/4

cup

strawberry puree
Instructions
Make chocolate batter:
Preheat oven to 350 ° F and line two muffin trays with cupcake liners.

In a mixing bowl sift together flour, cocoa powder and baking soda. In another bowl whisk sugar and olive oil.

Add in milk and boiling water. Pour the wet ingredients into the dry and gently whisk to combine.

Pour a spoonful of chocolate batter into the cupcake liners and set aside.
Make vanilla batter:
In a mixing bowl sift together flour, cornstarch and baking powder.

Combine milk, olive oil, sugar and vanilla in another bowl.

Fold in the dry ingredients into the wet and whisk until combined.

Pour the vanilla batter on top of the chocolate batter.

Bake in preheated oven for about 20 minutes or until a skewer inserted into the centre comes out clean.

Cool the cupcakes completely on wire rack.
Make frosting:
In a large mixing bowl add softened cream cheese and icing sugar. Whisk with an electric mixer until it reaches soft peaks.

Fold in strawberry puree and gently whisk again.

Pipe the frosting onto the cool cakes.
Recipe Notes
Alternatively, you can make three layered cupcakes with strawberry, vanilla and chocolate layered batter.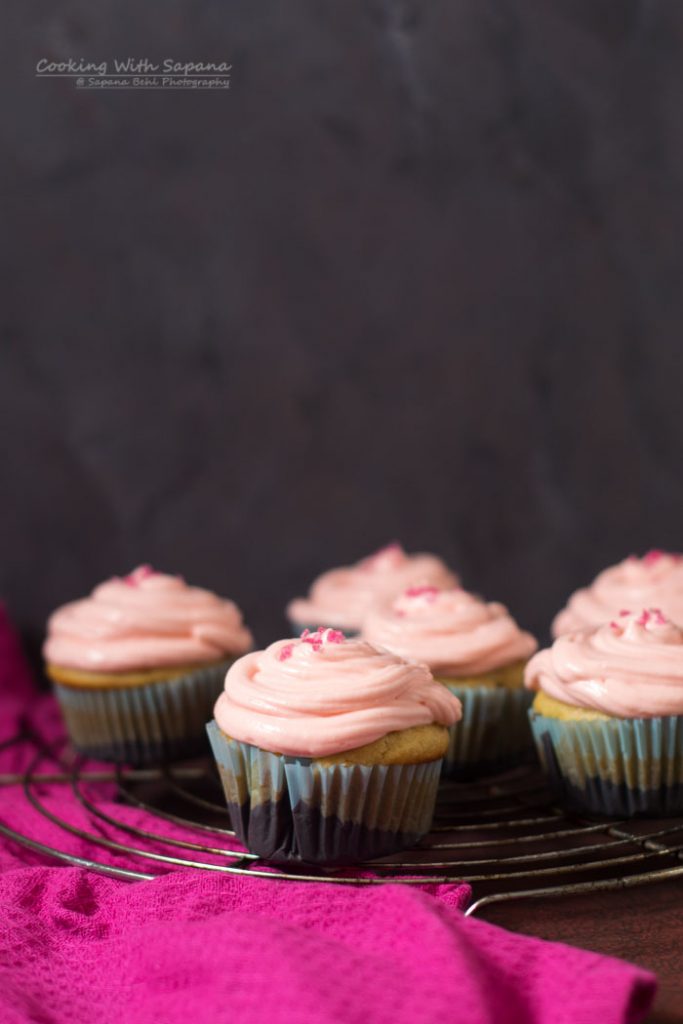 Have fun decorating them.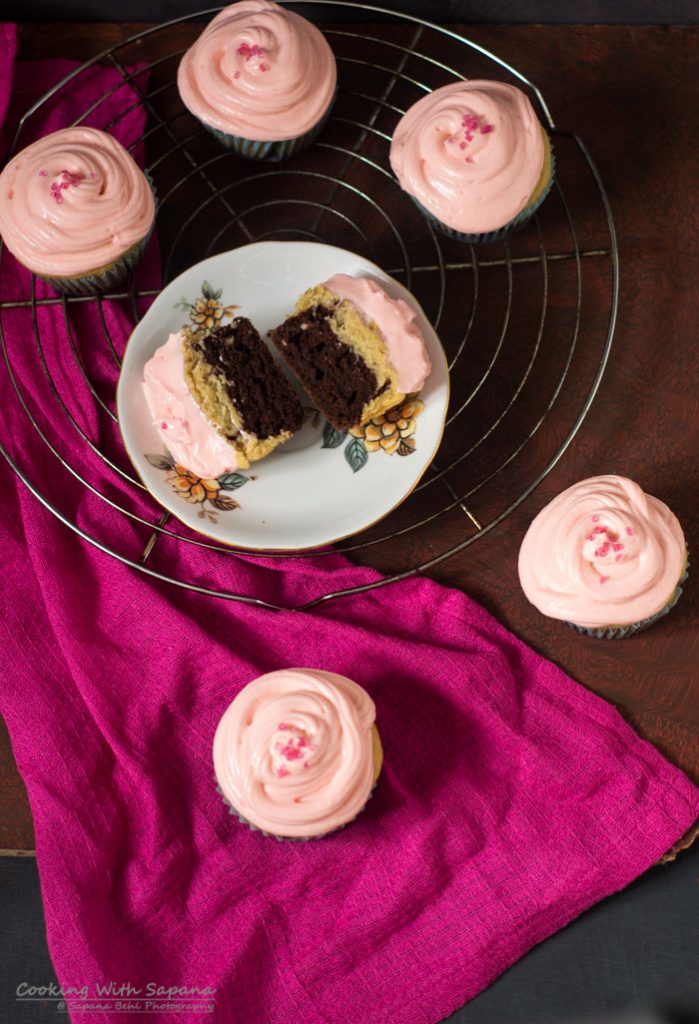 Serve and enjoy.

Check out the Blogging Marathon page for the other Blogging Marathoners doing BM#
75