Jamaican Patties
The
Jamaican patty
is the popular pastry of Jamaica ad few places in Carribean, is made of flour pastry tinted in yellow colour using turmeric ad filled with ground beef or some other fillings. This is served as a full meal along with a bread ad sometimes it would be made in bite sizes as an appetiser in parties or get together.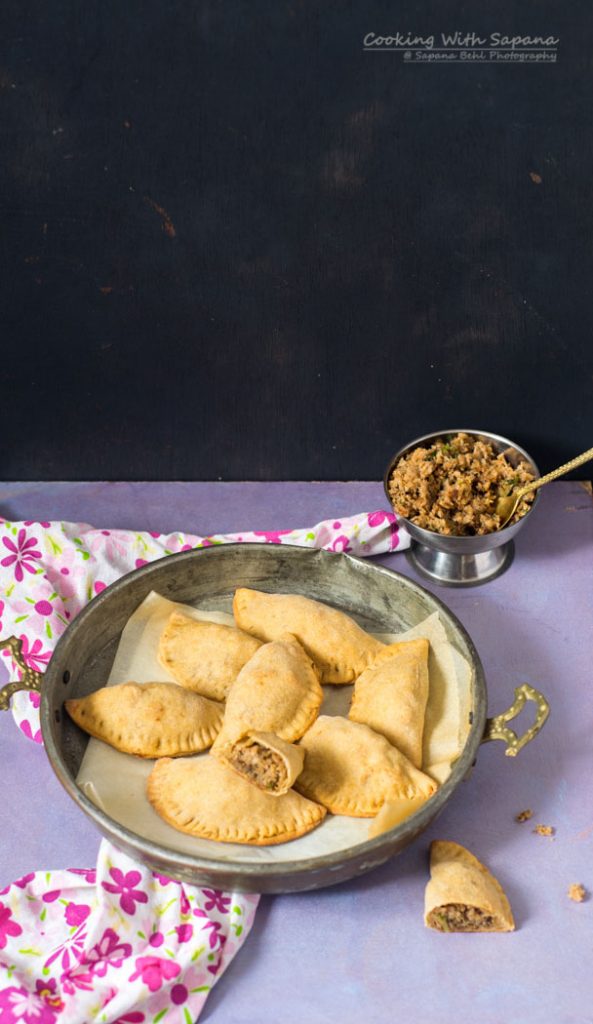 It's Easter break in schools and my elder one is at home with me. I am finding it very difficult to bake and post every day as the lazy me didi not planned well and had to bake now each day. So all these savoury bakes I am making in lunch for us to finish them off without getting spoiled or wasted. I used soya keema to make the filling and when my daughter tried she thought it was some non-veg filling in it and refused to eat it. I had to convince her that it is your favourite soy nuggets in minced form then only she ate the Jamaican patties. Frankly, it did taste like on veg filling but was very flavorful and delicious.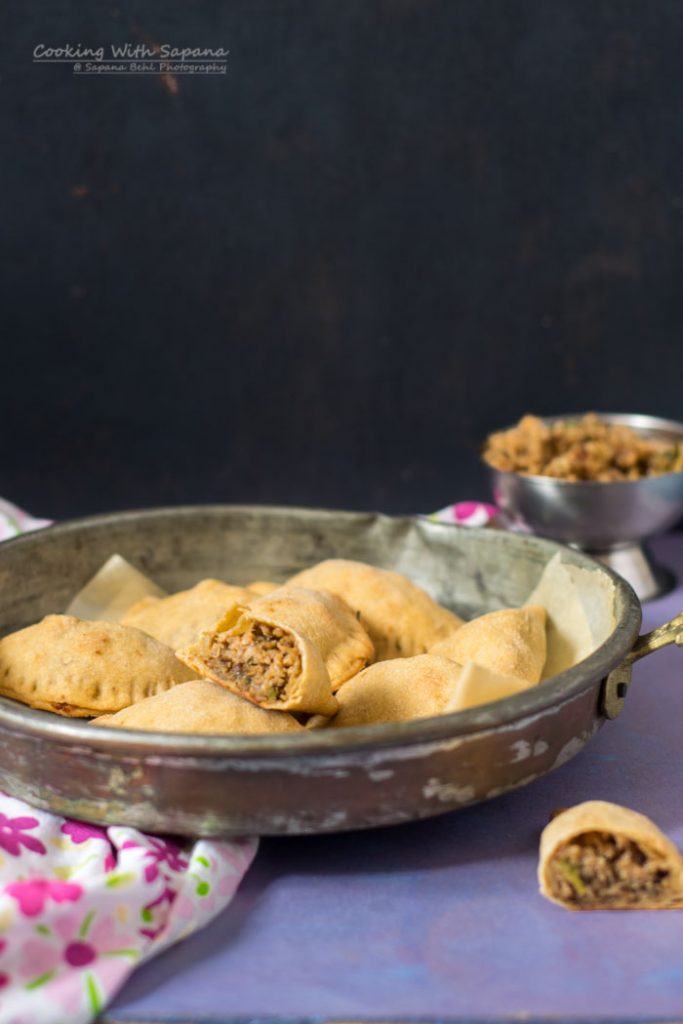 Blogging Marathon#75 Week 2/Day 1O
Sub Theme– Savory Bakes
Dish– Jamaican Patties
Country– Jamaica
Source– Here
Ingredients:
For patties
1 1/2 cup plain flour
1 teaspoon sugar
1 teaspoon salt
a pinch turmeric
1 teaspoon vinegar
2 tablespoon butter
1/2 cup cold water
For filling
1 cup soya keema, cooked
1 onion, chopped
3-4 garlic cloves, minced
1 teaspoon allspice powder
1 teaspoon paprika
1 teaspoon thyme
1 teaspoon curry powder
salt to taste
white pepper to taste
1 tablespoon parsley, chopped
1 tablespoon olive oil

Method:
In a mixing bowl add flour, salt, sugar, turmeric and mix well.
Stir in vinegar and make a dough by adding water in batches. Knead the dough for few minutes
and let it rest in the refrigerator for few minutes.
Meanwhile, make the filling. Heat oil in a pan and saute garlic and onions.
Stir in soya keema, salt, paprika, thyme, curry, white pepper and allspice powder.
Cook for 2-3 minutes. Add in chopped parsley and set it aside.
Preheat oven to 375 °F and line a baking sheet with parchment paper.
Remove the dough from refrigerator. Roll it into a floured surface and cut out 4 to 5″ circles.
Place the filling in the centre of the round circles. Cover the pies and seal the edges by pressing with a fork.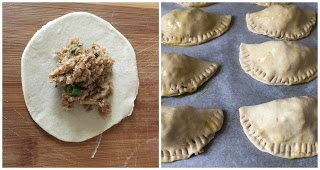 Brush with a little olive oil or butter from the top and arrange them on prepared baking tray.
Bake in preheated oven for about 25 to 35 minutes or until golden.
Remove from oven and serve warm. Freeze and bake when desired.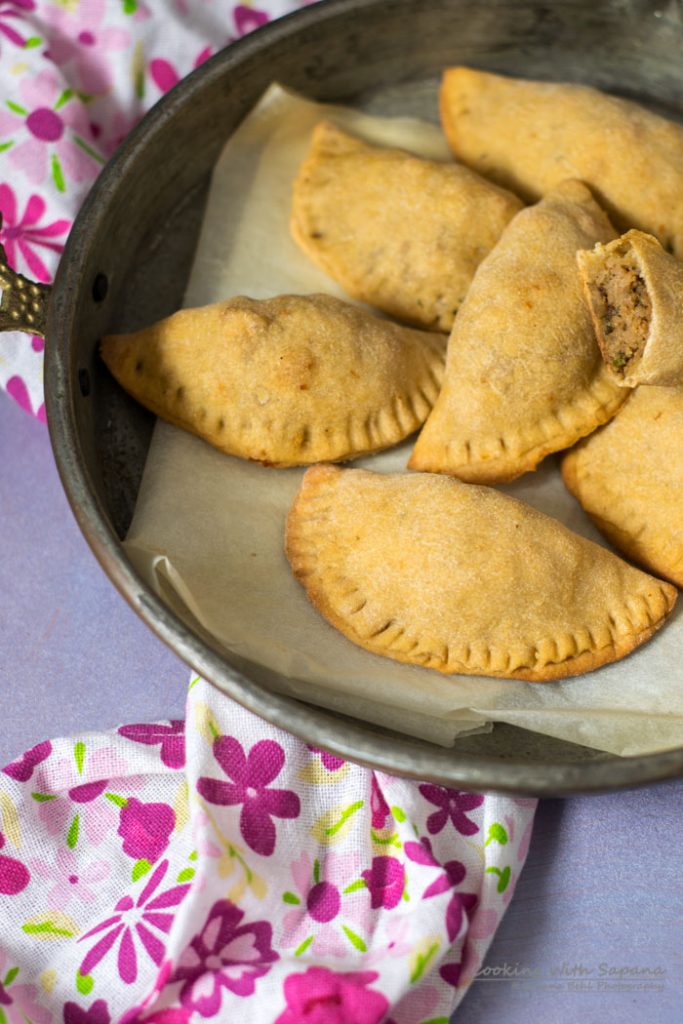 Enjoy!!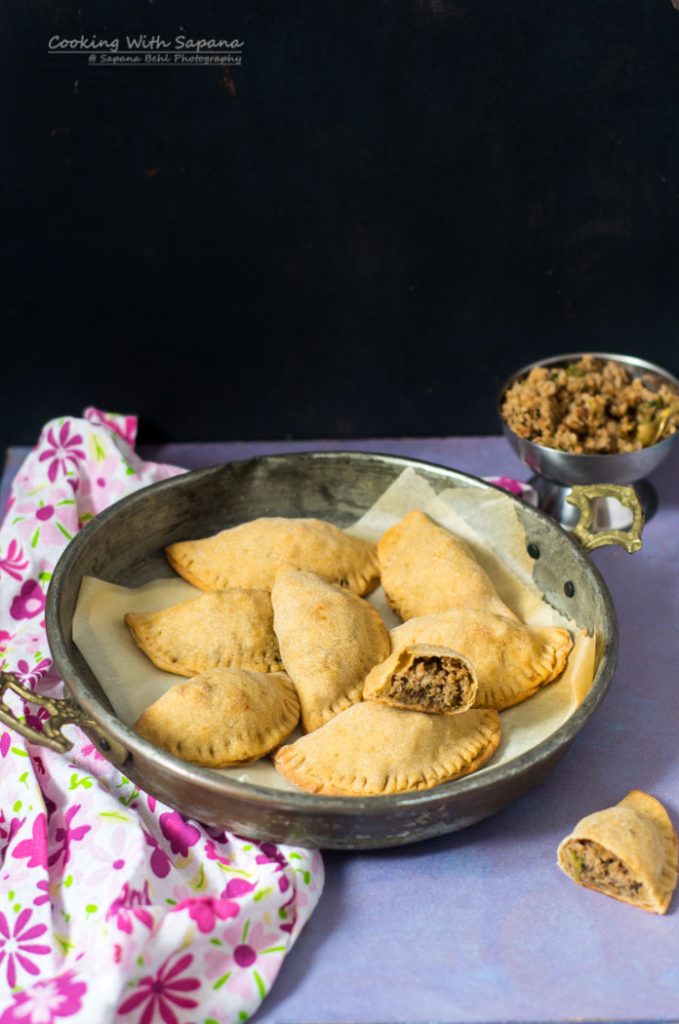 Serve-6 Baking time 30 minutes

Check out the Blogging Marathon page for the other Blogging Marathoners doing BM#
75
Best regards,
Sapana Behl