Pumpkin Cake with Buttercream and Caramel Sauce
Pumpkin Cake
with Cinnamon buttercream and salted caramel drizzled over top, a perfect and beautiful cake to make in the autumn. Well, I made it in Fall for Thanksgiving but saved to post it in December for Bake-a-thon. I saw this
image
on Foodgawker and totally fell in love with it. The next day itself I made this cake and clicked pictures.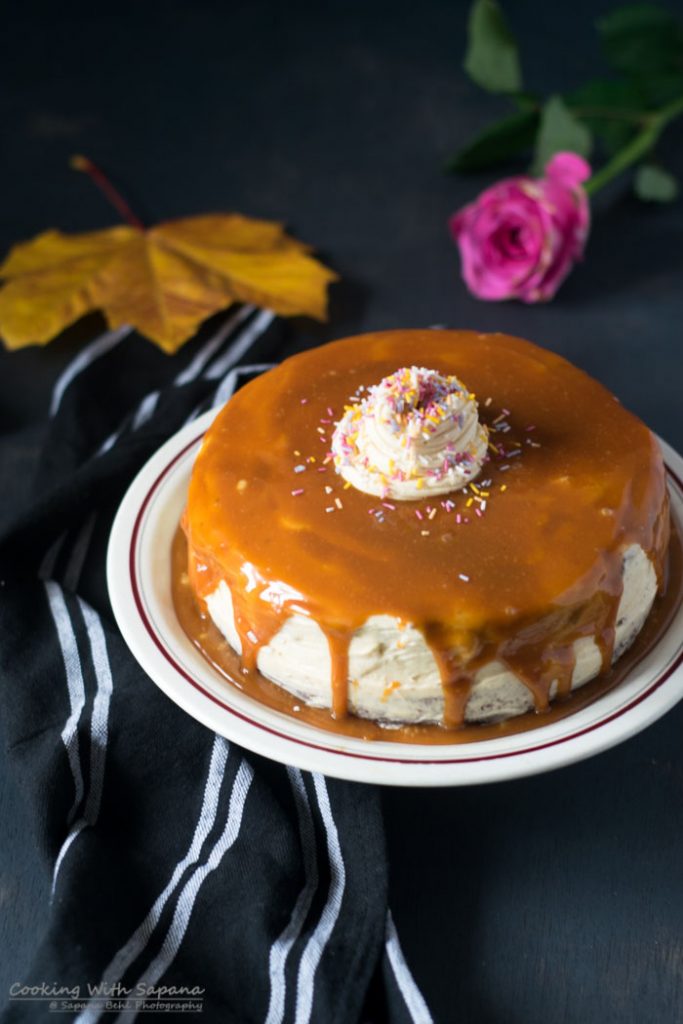 We took this cake to a dinner party and that's why I could not get the pictures from inside of the cake. However, everyone loved the texture and taste of the cake when it was cut in the party.In fact people asked me for the recipe too.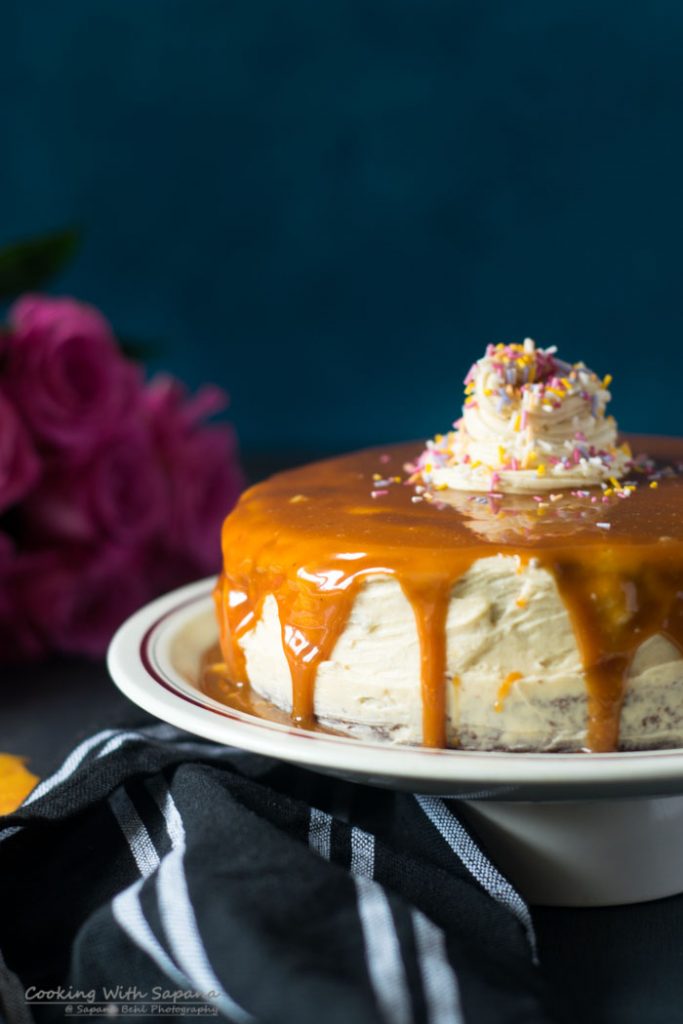 Bake a Thon Day 13
Dish-pPumpkinCake
Source–Here
Ingredients:
1 1/2 cup all-purpose flour
1 teaspoon cinnamon
teaspoon ginger
1/4 teaspoon nutmeg
1/2 teaspoon salt
1 teaspoon baking powder
1 teaspoon baking soda
1 can sweetened condensed milk
1/4 cup canola oil
1 cup pumpkin puree
For buttercream
1 stick butter
2 cups icing sugar
1 teaspoon cinnamon
1 teaspoon vanilla
orange zest
1 cup salted caramel
Method:
Preheat oven to 180° C and line an 8″ round cake tin with parchment paper.
In a mixing bowl sift altogether flour, salt, baking powder, baking soda, cinnamon, ginger and nutmeg.
Make a hole in the centre and add condensed milk, canola oil and pumpkin puree. Whisk to combine.
Pour the batter into the prepared pans and bake in preheated oven for about 30 to 35 minutes or until a skewer inserted in the oven comes out clean.
Cool, the cake completely on wire rack.
Make the buttercream
In a mixing bowl, add softened butter and cream it with an electric mixer until soft and creamy. Add icing sugar in batches and whip until smooth and light cream forms. Finally, add cinnamon, zest and vanilla and gently fold in to combine. Refrigerate until use.
Once cake is cooled completely slice it into halves. Add a layer of vanilla frosting on tip of one cake. Cover it with another layer of cake.
Frost the cake with buttercream from all sides and top in even layer. Refrigerate to chill.
Remove from refrigerator and drizzle caramel on top of the cake. Decorate with buttercream if desired.
Slice and serve.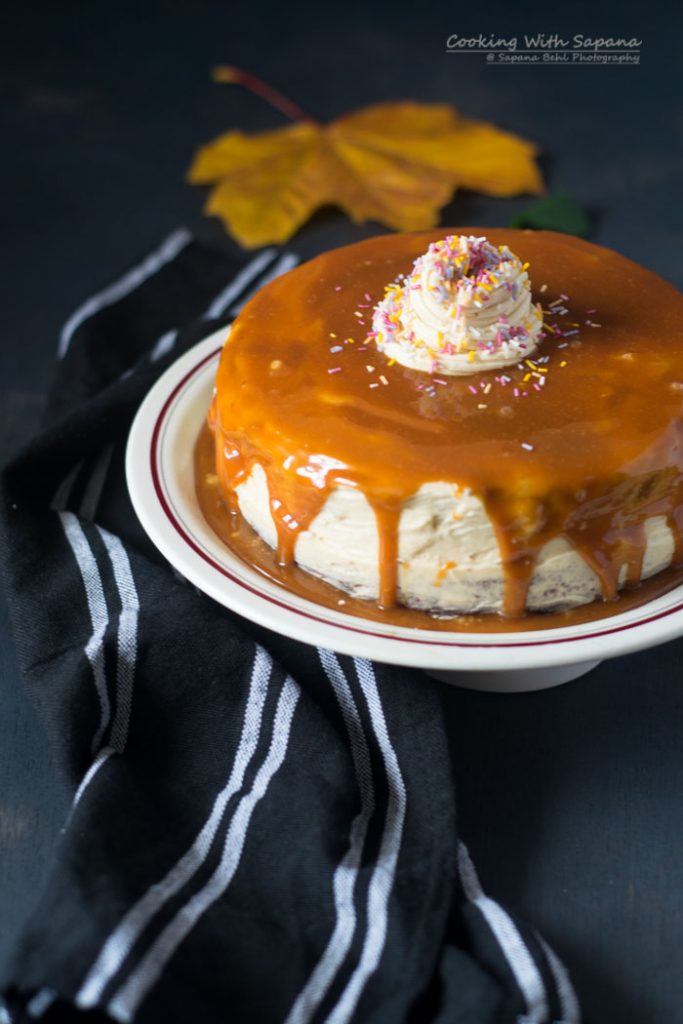 Enjoy!!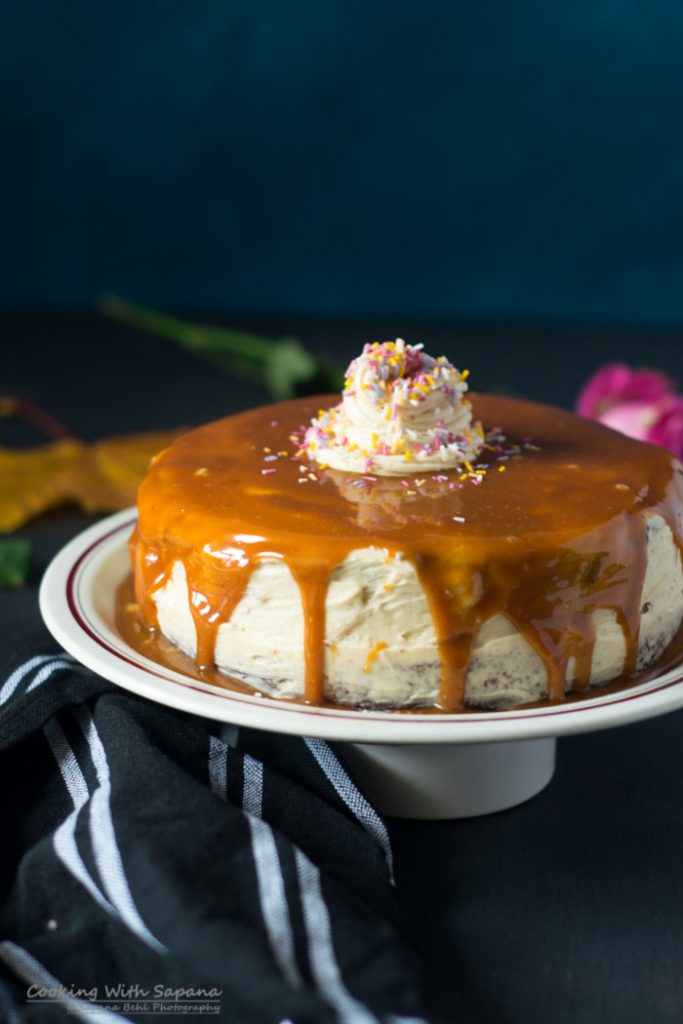 Serve- 8 Baking time -30 minutes


This is part of the Bake-a-thon 2016
Best regards,
Sapana Behl