Olives Focaccia with Roasted Tomato Kale Soup
Olives Focaccia with Roasted Tomato Kale Soup:
Soft and delicious Italian focaccia bread topped with green and black olives, flaky salt, rosemary and olive oil and served warm with roasted tomato kale soup would make a wonderful dinner on weekends.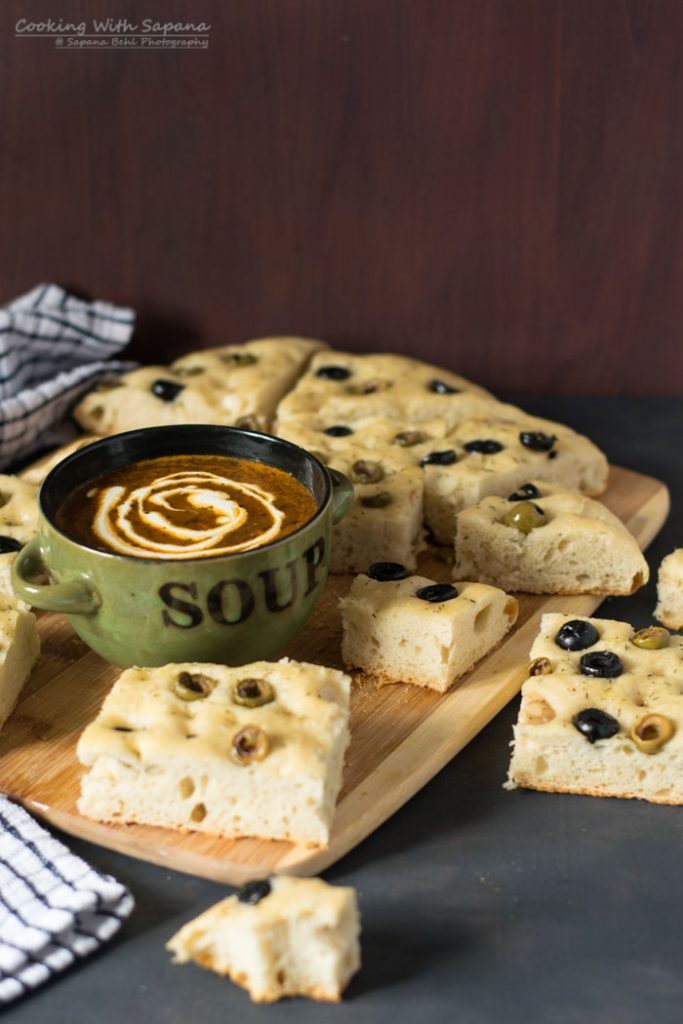 This is the first time I tried focaccia and it came out fabulous. The olives tasted amazing in the bread and it paired very well with tomato kale soup. We had a wonderful and filling dinner last weekend. This kind of dinner I only make maybe once in a month or so as I know if I would make them often my family will go crazy over them and demands those kinds of fancy dinners more than usual. I am going to post the recipe of the soup very soon. Stay tuned.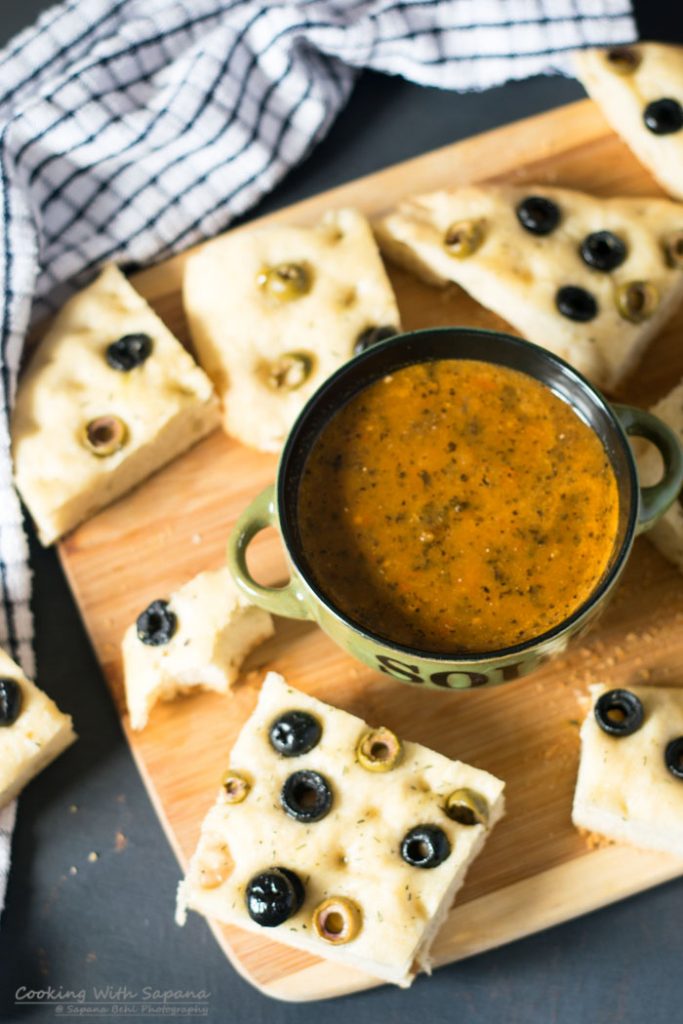 Blogging Marathon#72Week4 / Day2
Theme-Vegetarian Dinner
Dish– Olive Focaccia with Roasted Tomato Soup
Source– BBCgoodfood Magazine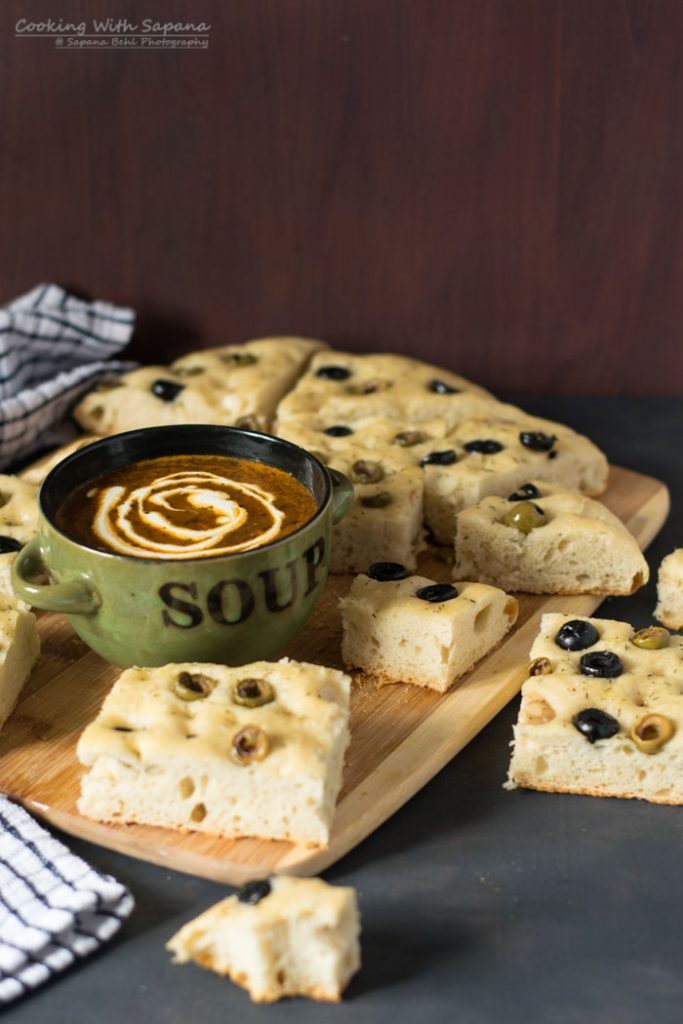 Ingredients:
400 g strong white bread flour
1 cup olives, sliced
1 teaspoon active dried yeast
2 teaspoon salt
1 teaspoon ground rosemary
1/4 cup olive oil
250 ml or as required warm water
Instructions:
In a mixing bowl add flour, yeast, salt and a tablespoon of olive oil.
Make a well in the centre and add warm water. Combine with wooden spoon or hands until a dough forms. Knead the dough for about 10 minutes using dry flour if needed.
Place the dough into an oiled bowl and cover it with cling film. Let the dough rise for about 2 hours or until doubled in sized.Once doubled in size dust the work surface with dry flour and punch down the dough a couple of times.
Oil a baking tin and set aside. Shape the dough into a rectangle and transfer it to the baking tin.
Arrange the olives and rosemary over the dough. Sprinkle remaining salt and olive oil over the rectangle. Gently press down the olives in the dough with fingertips.
Place the dough in a warm place to rise for 1 hour covered with cling film.
Heat the oven to 200° C for 15 minutes.
Place the dough into the oven and bake for 30 minutes or until lightly golden. Cool on wire rack or serve warm.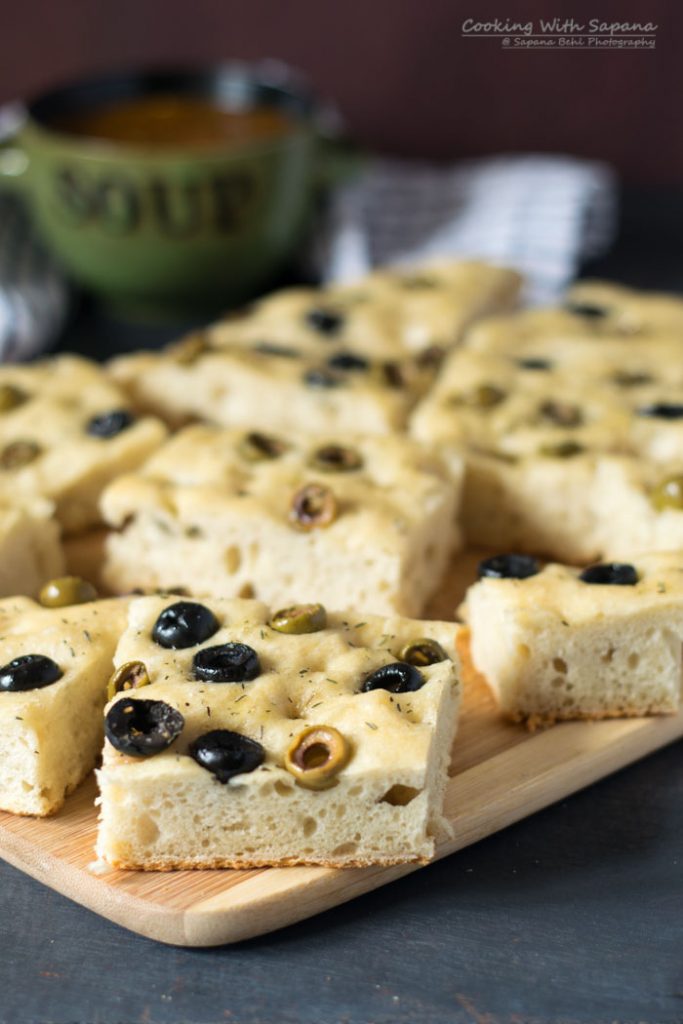 Enjoy!!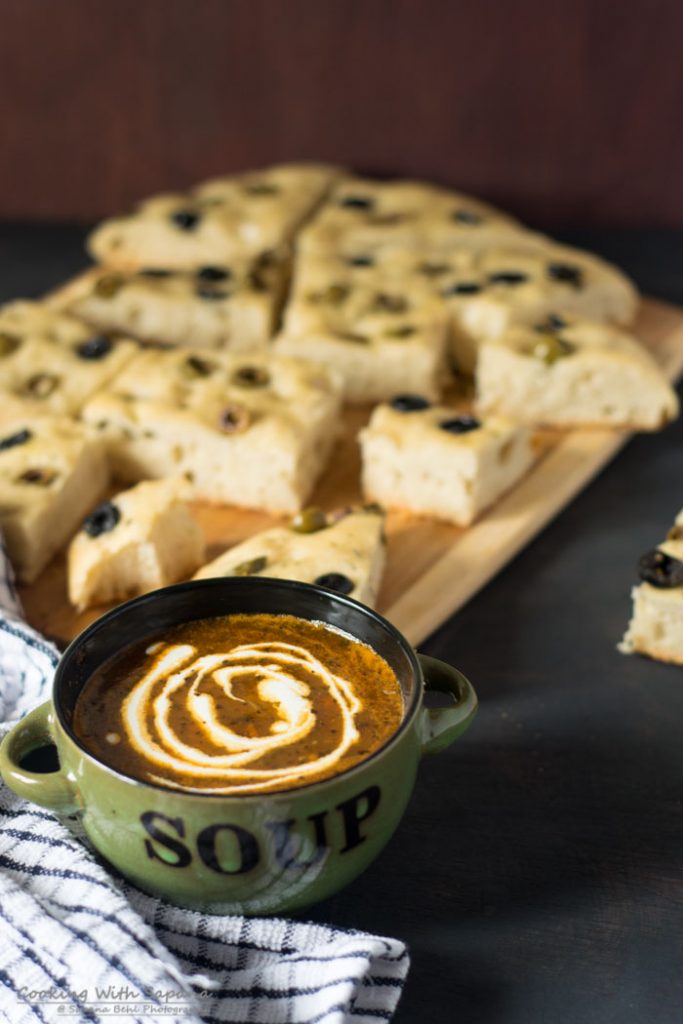 Check out the Blogging Marathon page for the other Blogging Marathoners doing this BM#72

Serve- 6 Total time 3 hours Baking time 30 minutes
Best regards,
Sapana Behl