Garlic Pull Apart Bread
Garlic pull apart bread
Soft and loaded with herbed garlic butter would make a nice filling breakfast bread. I have had this bread bookmarked from
Pavani's space
and finally I got to try this recipe for Bakethon.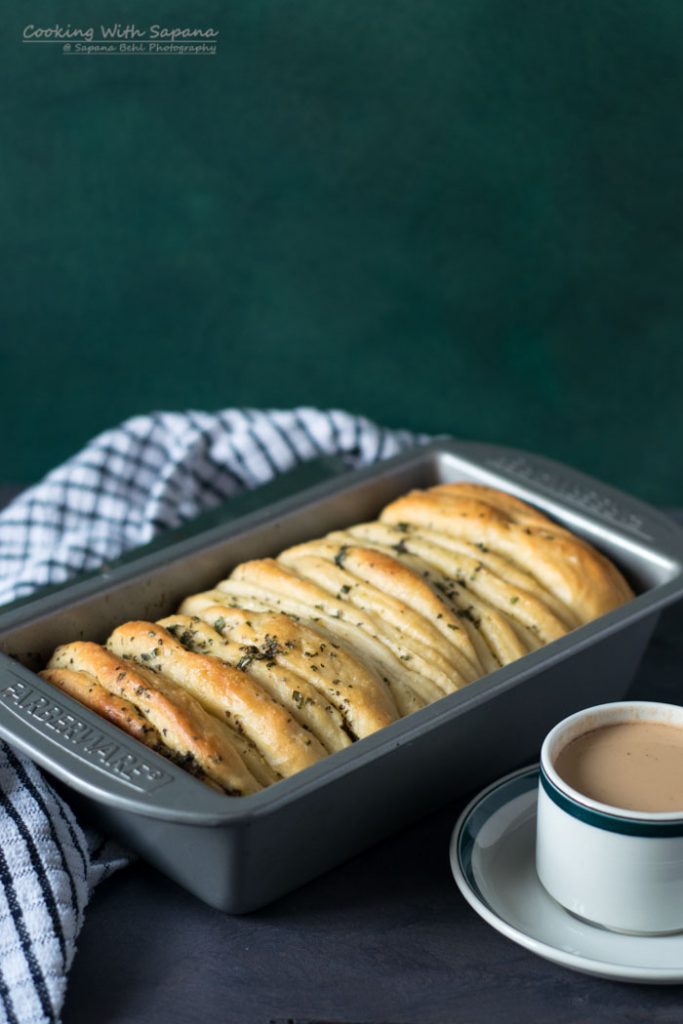 This post was supposed to live last week but unfortunately, I could not do it on time. My whole family including me got down with a very bad flu and we were down the whole winter break. It was too bad and we could not even have a little stamina to even stand up and cook. We are still recovering from the after effects of that horrible flu and slowly getting better. Finally, I am feeling well enough to sit and draft the remaining posts.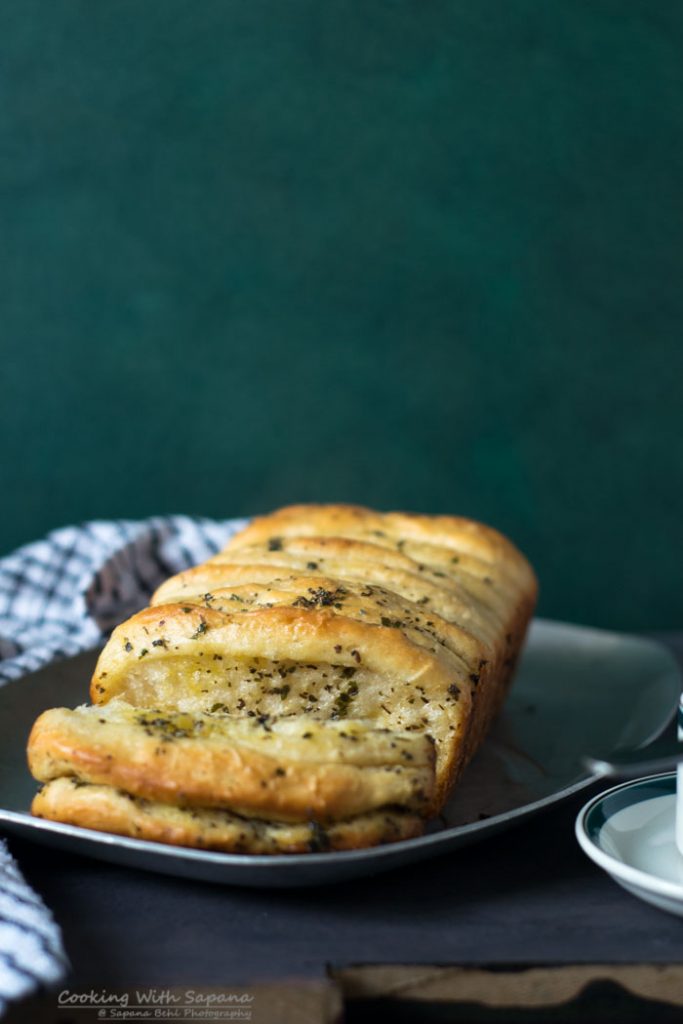 Bake a Thon Day 11
Dish-Garlic pull apart bread
Source–Here
Ingredients:
1 1/4 cup all-purpose flour
1 cup wheat flour
1 tablespoon corn starch
1 cup warm milk
1 tablespoon sugar
2 tablespoon butter
1 teaspoon salt

Garlic butter
1 teaspoon garlic, minced
1/4 cup butter
1 teaspoon basil
1 teaspoon oregano
1 teaspoon salt
1/2 teaspoon pepper
:
In a mixing bowl add warm milk and butter. Once the butter is melted add salt, sugar and yeast.Stir and add corn starch and the flours. Knead the dough and place it in an oiled bowl to rise for about an hour or until doubled in size.
Grease an 9″ loaf tin with butter and set aside.
Once risen place the dough onto a floured work surface. Roll the dough into a half inch thick sheet. Cut out circles from the dough and spread a teaspoon of garlic butter on one side of the circles. Fold them in the middle.
Place the prepared discs into the loaf pan. Cover it with cling film and let it rise again for an hour or until double in size.
Preheat the oven to 180 °C and bake the bread in the oven for about 25 to 30 minutes or until golden.
Remove from the oven.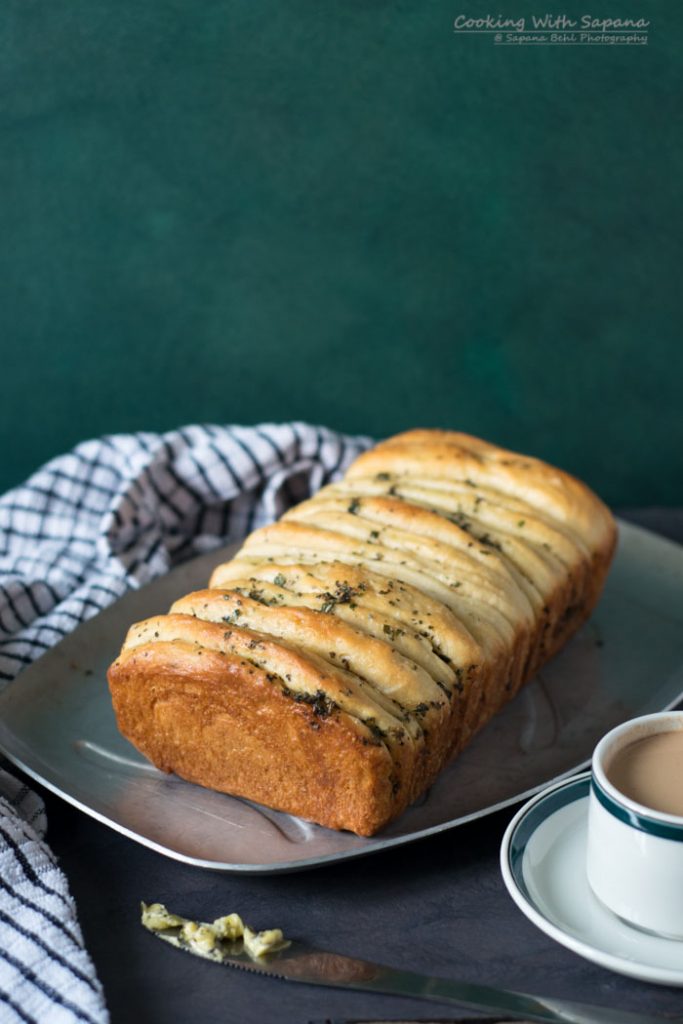 Serve and enjoy.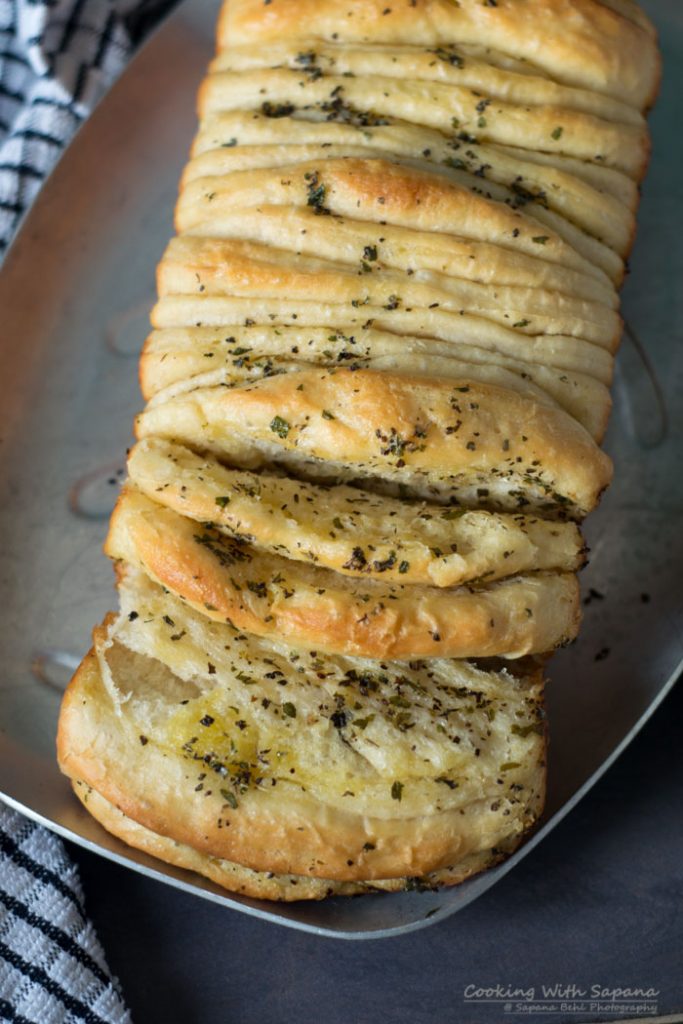 Serve 4 Baking time 30 minutes

This is part of the Bake-a-thon 2016
Best regards,
Sapana Behl