Dal Palak
Dal Palak:
Spicy and delicious split moong dal cooked with fresh spinach leaves and served with roti make a healthy and comforting weekday dinner.
This is the normal kind of dinner that we have on regular weekdays. Nothing fancy nor elaborate just simple dal with roti and some salad. My family has the habit of having a dry vegetable curry with roti, salad and yoghurt for lunch and gravy curry/dal with roti/rice and salad for dinner. I mean I can not change the dry/gravy forms either way. It has to be like that as they love taking the dry ones in lunch and love enjoying the gravy forms in dinner.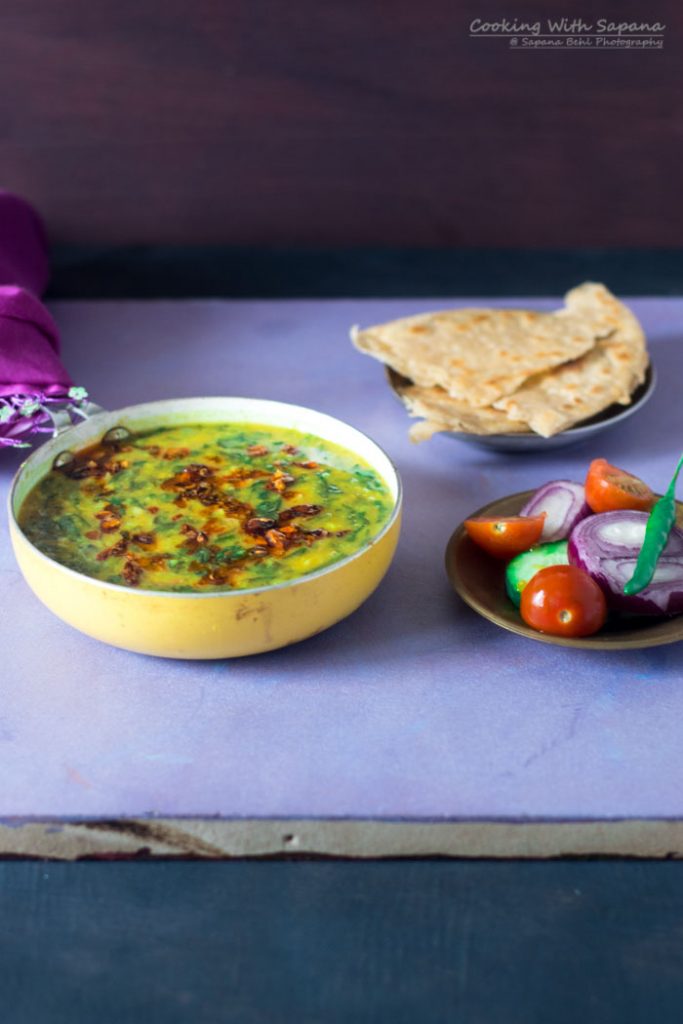 So I have all the varieties of dals, pulses and legumes in my pantry and I would make them alternating the turns over the month. Sometimes I really get fed up of the dals and then I make the gravy curries or koftas etc. The spinach dal is one of the comforting and favourite meals of the family that we never get bored of. I wonder why I haven't posted it before. I guess the normal recipes we forget to share and of course, it is very hard to keep the family waiting while we are taking photos. My elder one sometimes says " Mum, if you will take the pictures I am not going to wait and will not eat", with a sad face. That's the irony of being a food blogger. Right? It was late in the evening when I took the pictures and that's why I couldn't get decent pictures. I will update the post with new pics very soon.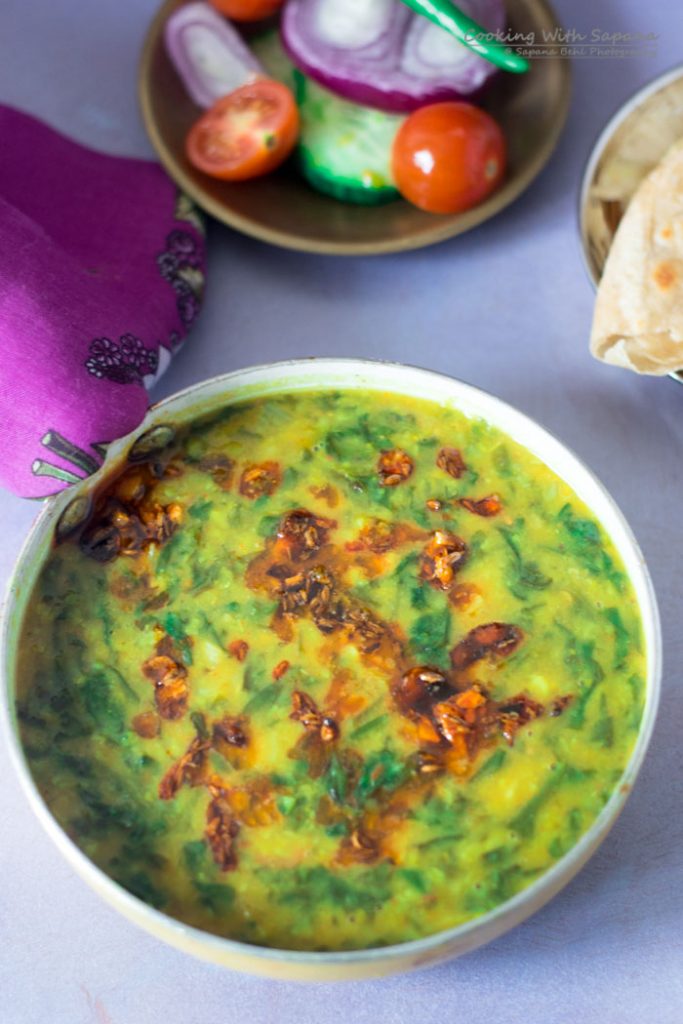 Blogging Marathon#72Week4 / Day3
Theme-Vegetarian Dinner
Dish– Dal Palak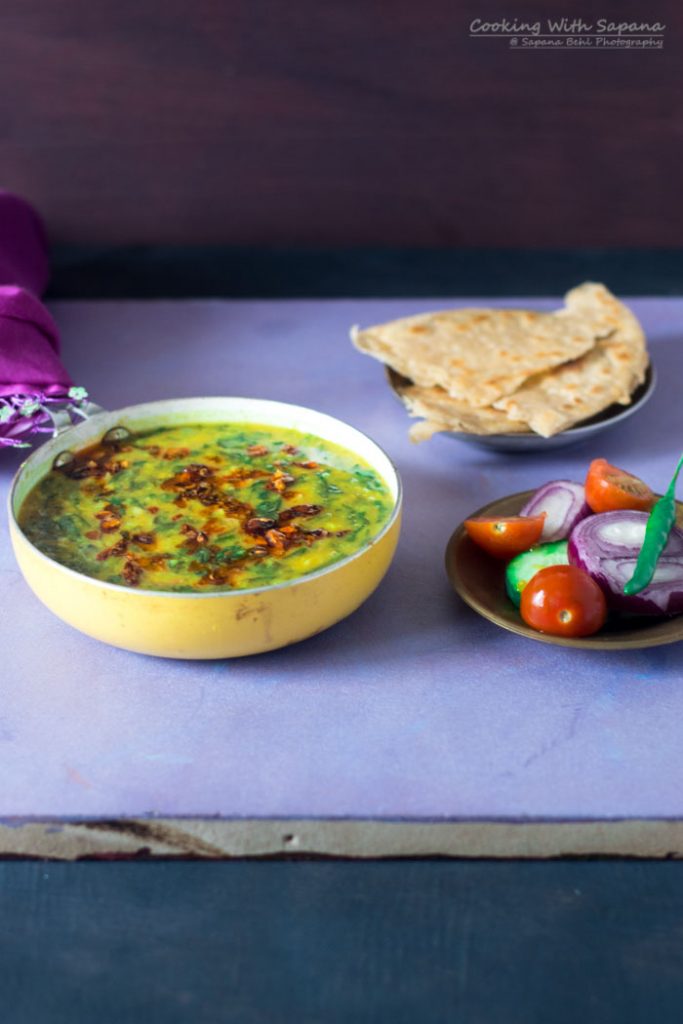 Ingredients:
1/2 cup split moong dal
400 g spinach leaves, washed and chopped
2 tomatoes, chopped
1 onion, chopped
1 teaspoon ginger, grated
2 green chillies, chopped
4 tablespoon clarified butter/ghee
1 teaspoon cumin seeds
a pinch asafetida
1 teaspoon turmeric powder
1 teaspoon coriander powder
1 teaspoon garam masala
salt to tastev
water as required
To temper
4 garlic cloves, chopped
1/2 teaspoon red chilli powder
1/2 teaspoon cumin seeds
Instructions:
Wash and pressure cook split yellow moong dal into 2 cups of water, a pinch of turmeric and salt. Remove from heat and set aside.
In a wok or saucepan heat two tablespoon ghee. Add asafetida and cumin seeds, stir and add chopped onion and ginger.
Saute for few minutes until onions are golden brown.
Now add the chopped tomatoes, green chillies, turmeric, coriander, garam masala and salt.
Stir and cook until tomatoes are soft and ghee comes out from the edges of the pan.
Now add the spinach leaves along with half a cup of water and cook for 5-7 minutes.
Finally, add the cooked dal, stir and let it boil for few minutes or until desired consistency.
Remove from heat and set aside. In another small pan heat 2 tablespoons of ghee.
Add chopped garlic and cumin seeds and fry until light golden in colour.
Remove from heat and add the red chilli powder in it. Stir and pour the tempering over the cooked dal palak.
Serve with roti and salad. Enjoy.
Serve-4 Cooking Time-30 minutes
Check out the Blogging Marathon page for the other Blogging Marathoners doing this BM#72
Best regards,
Sapana Behl