Scallion Barley with Grilled Aubergine
Scallion Barely with Grilled Aubergine: Pearl barley cooked with scallions and served with grilled aubergine in tomato sauce makes a healthy and filling dinner or lunch recipe.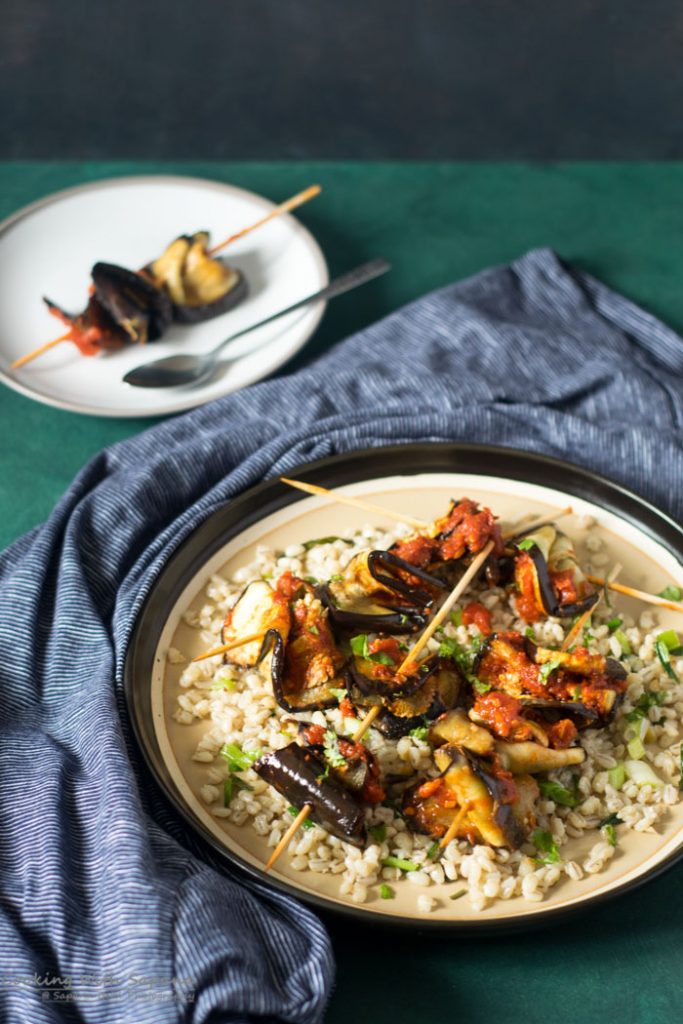 The second day of barley recipe is starting with this delicious and healthy combination of pearl barley and aubergines. I love aubergine in any form and can eat them in anytime. That's how much I love aubergines. So when I saw this grilled aubergine recipe in a cookbook Home Gron Harvest I knew I had to try it. The original dish was served with couscous but I replaced them with scallion barley and it tasted amazing. I tweaked the recipe a little bit as per our taste preference and it comes out amazing.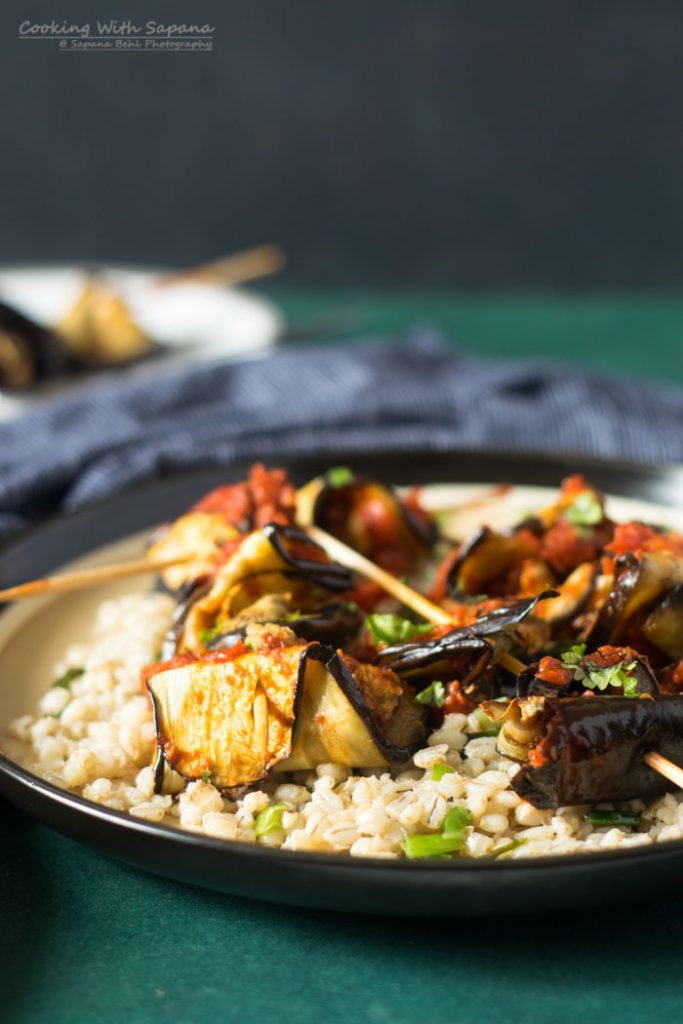 Blogging Marathon#70 Week 2 / Day 2
Theme-One ingredient three dishes
Dish– Scallion Barley with grilled Aubergine
Source– Cookbook

Ingredients:
For Barley
1 cup pearl barley
1 cup scallions, chopped
2-3 garlic cloves,minced
1 tablespoon olive oil
salt to taste
pepper to taste

For Aubergine
1 aubergine,sliced lengthwise
1 onion,chopped
2 garlic cloves,chopped
1 can tomatoes
1 teaspoon paprika
salt to taste
1 teaspoon basil
2 tablespoon olive oil
1 teaspoon lemon juice
To garnish
Coriander leaves,chopped
Method:
Make barley
Wash and soak barley in enough water for 6 hours or overnight. Bring 3 cups of water to boil in a saucepan .
Add drained barley and salt.Cook covered for 2à minutes or until barley is soft and done.
Heat olive oil in a pan .Add garlic and scallions. Saute until light brown in colour. Add cooked barley,salt and pepper.Set it aside.

Make Aubergine
Brush sliced aubergine with olive oil and cook them on the grill in pan or oven until golden and grilled.
Heat the remaining olive oil in a pan.Add chopped garlic and onion.Stir and cook for 2 minutes.
Add canned tomatoes,salt, pepper, and paprika. Cook for 3 minutes or until the sauce thickened slightly.
Add the grilled aubergine in a single layer into the pan. Let the sauce coated ion the aubergine.
Now roll the aubergine slices and arrange them on skewers.
Transfer the cooked barley in the serving plates and top with aubergine skewers. Sprinkle lemon juice and coriander leaves and serve.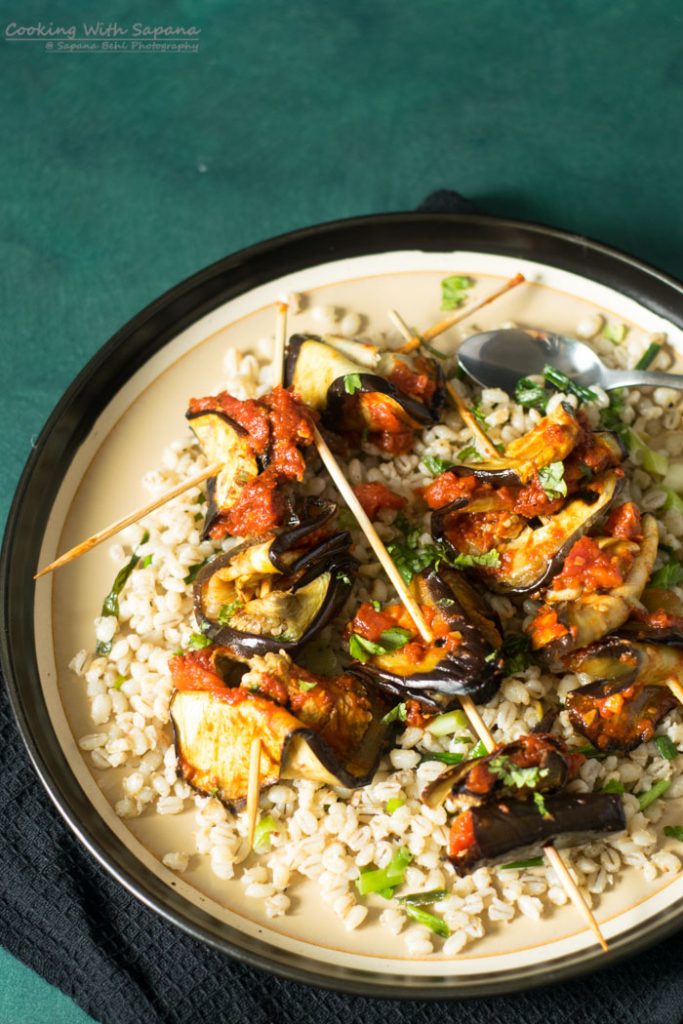 Serve and enjoy.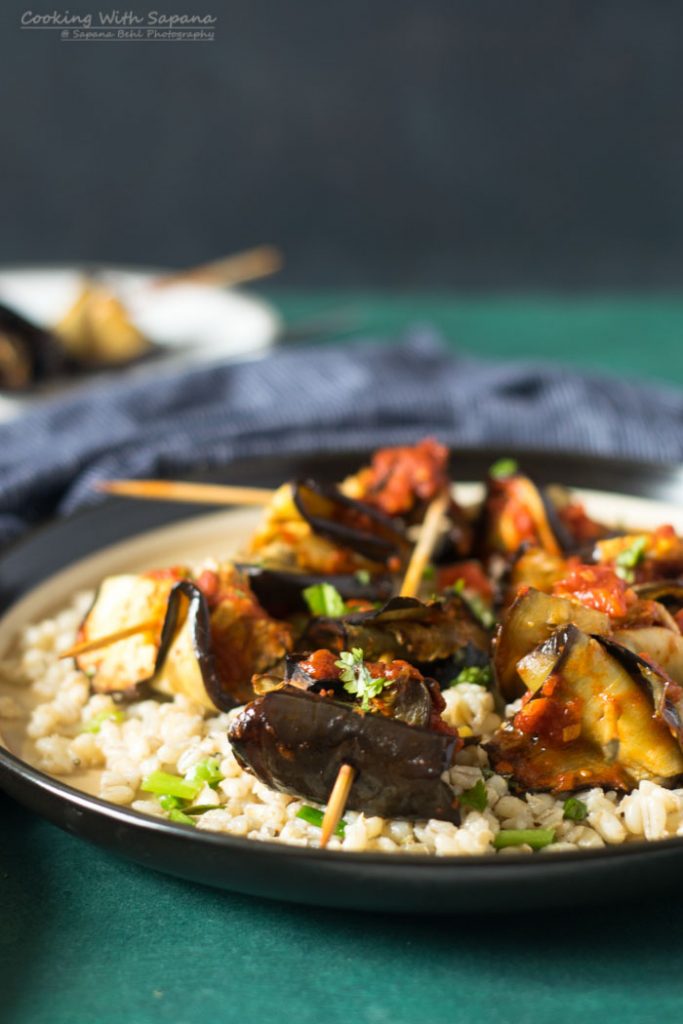 Serve-2 Cooking time- 40 minutes
This goes for the December Week 2, Cooking from Cookbook Challenge Group.

Check out the Blogging Marathon page for the other Blogging Marathoners doing this BM#71