Mushroom Pizza Pockets
Mushroom Pizza Pockets:
Cheese and mushroom stuffed pizza pockets makes a nice variation to the regular pizza and tastes amazing too. Well, for my mushroom loving family it sure is a favourite dish.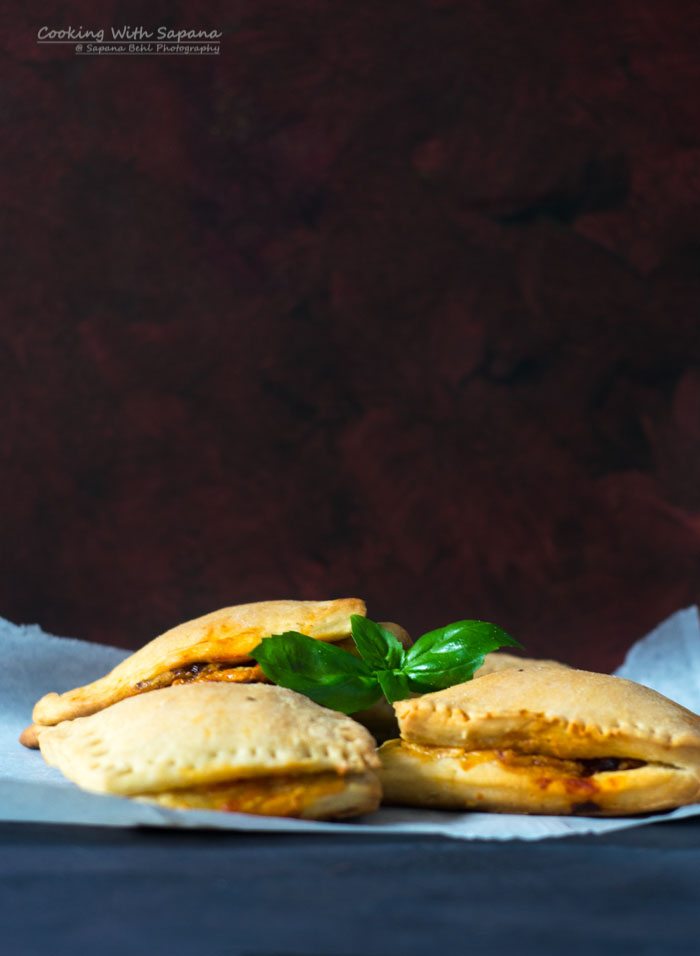 So the other day in the morning I was watching Food Network while enjoying my tea as usual for most days. The pioneer woman cooking show was live on the tv and she was making this collection of frozen food dinner recipes to stock up in the pantry freezer. I learned the recipe from that show and immediately made a batch and stored them in the freezer. But that supposed to be "freezer stock" did not last more than a day as I baked them the next day morning ng fo our breakfast and everyone loved them. It sure is a good idea to make some freezer friendly quick dinner recipes and make them when you have no time to cook or you are too tired to make something. I got many ideas from the show , she made few batches of enchiladas, cheese stuffed jumbo pasta shells, pizza pockets, and some frozen smoothie popsicles.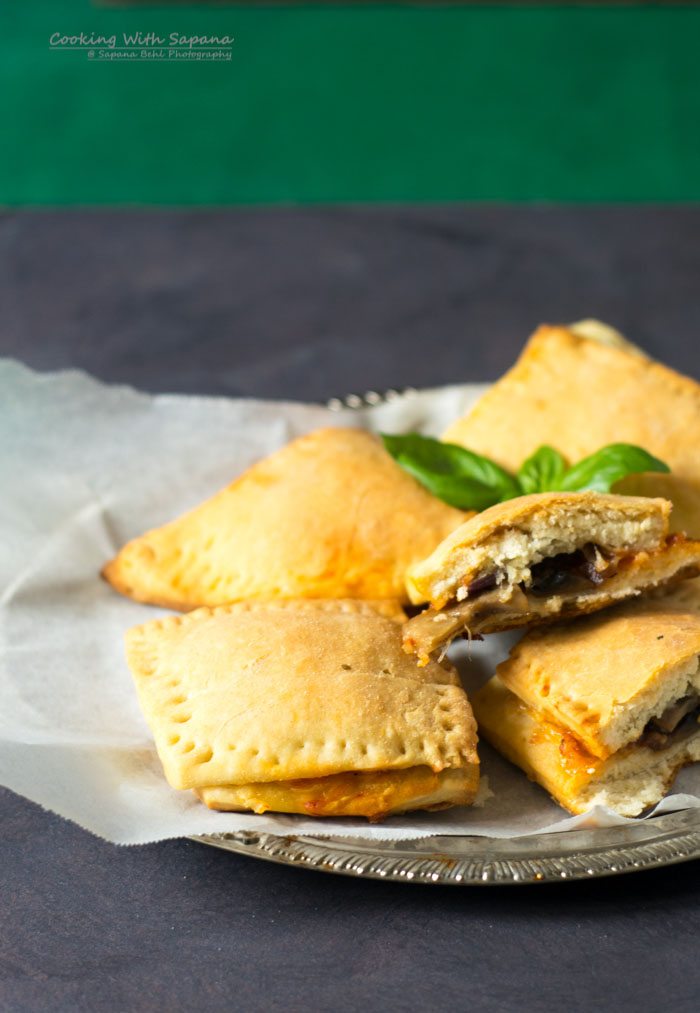 Bake a Thon Day 4
Dish– Mushroom pizza pockets
Source– Food Network Show
Ingredients:
2 1/2 cups all-purpose flour+ more for dusting
1 teaspoon active dry yeast
1 cup milk
1/4 cup water
2 tablespoon olive oil
1 teaspoon salt
For filling
200 gm button mushrooms,sliced
1 red onion, thinly sliced
1/2 teaspoon red chilly flakes
1 teaspoon oregano
1 teaspoon basil
salt to taste
Pepper to taste
1 tablespoon olive oil
1 cup pizza sauce
1 cup mozerella cheese
1/4 cup butter ,melted
Method:
Make pizza dough
Luke warm milk and water in a saucepan. Add yeast and let it proof for few minutes.
Sift flour and salt into a mixing bowl.Add in the olive oil and stir to combine. In the centre make a hole and add the milk-yeast mixture.
Stir and mix until a dough forms. Let the dough rest in an oiled bowl covered with cling film. Once doubled in size
Make filling
Heat olive oil in a pan and add onions and garlic. Saute for two minutes.
Add sliced mushrooms, salt, pepper, oregano, basil and chilli flakes. Stir and cook for 5-7 minutes.
Remove from heat and set aside.

Make Pizza Pockets
Remove the dough from refrigerator. Dust the work surface with dry flour. Divide the dough into two parts.
Roll one-half of the dough into 1/4 inch thick rectangle sheet. Cut six small rectangles or square or desired shapes from the dough.
Line a baking sheet wit parchment paper and preheat oven to 180 C. Place three rectangles on the baking sheet .
Add an even layer of pizza sauce , mushroom filling and mozzarella sauce. Sandwich them with the remaining three rectangle pieces.
Brush with melted butter and press the edges with a fork to seal the pockets. Now if you want to store them in freezer place the baking tray in freezer. Once the pockets are froze place them in ziplock and label the dates. Store in freezer for upto a month.
Repeat the same with the other half of the dough. Bake them in the preheated oven for about 25 minutes or until golden and puffy.
Remove from oven and serve warm.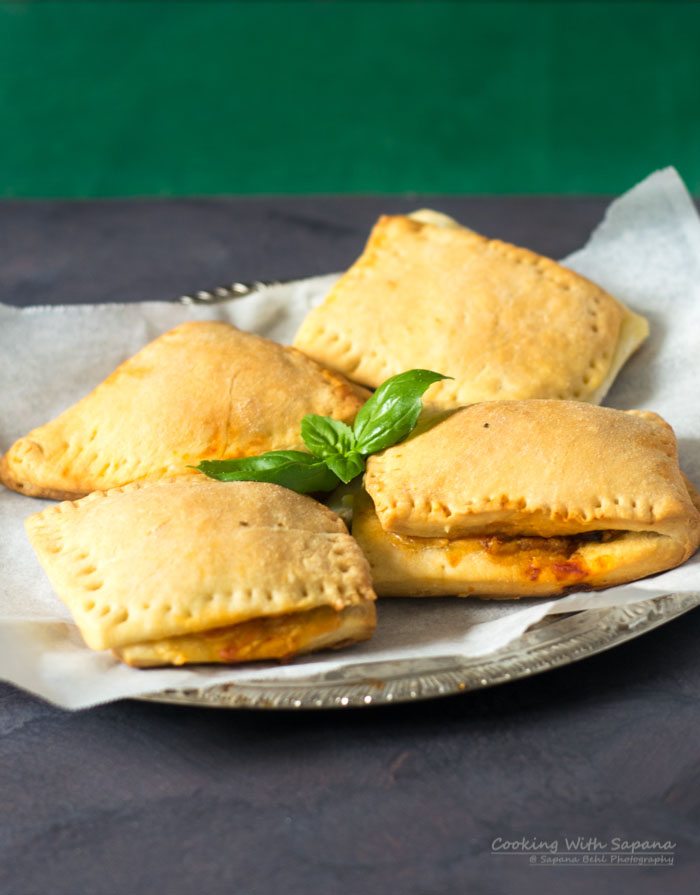 Enjoy!!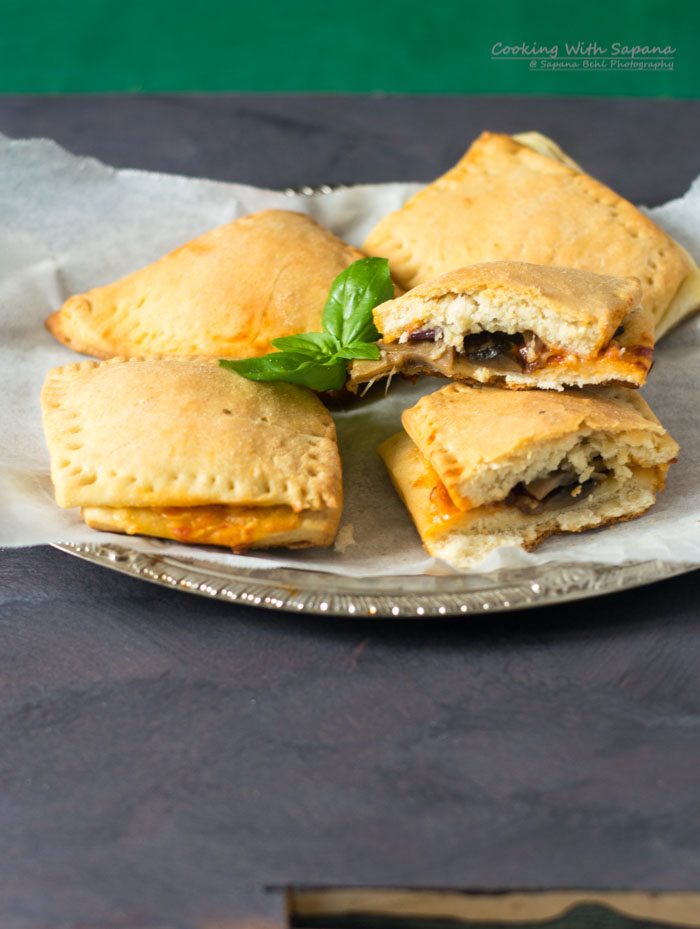 Serve- 4 Cooking Time 15 minutes Baking Time- 25 minutes

This is part of the Bake-a-thon 2016
Best regards,
Sapana Behl