Cake Pops
Cake Pops:
When te leftover cake is turned into scrumptious cake pops then there is no turning back. This is a nice and kids friendly recipe idea to use any kind of leftover cake to finish in no time. I had some gingerbread cake that no one is interested in finishing off and that's when this idea popped up to me. After that, I had to force my girls to stop stuffing as they were just eating one after another non-stop.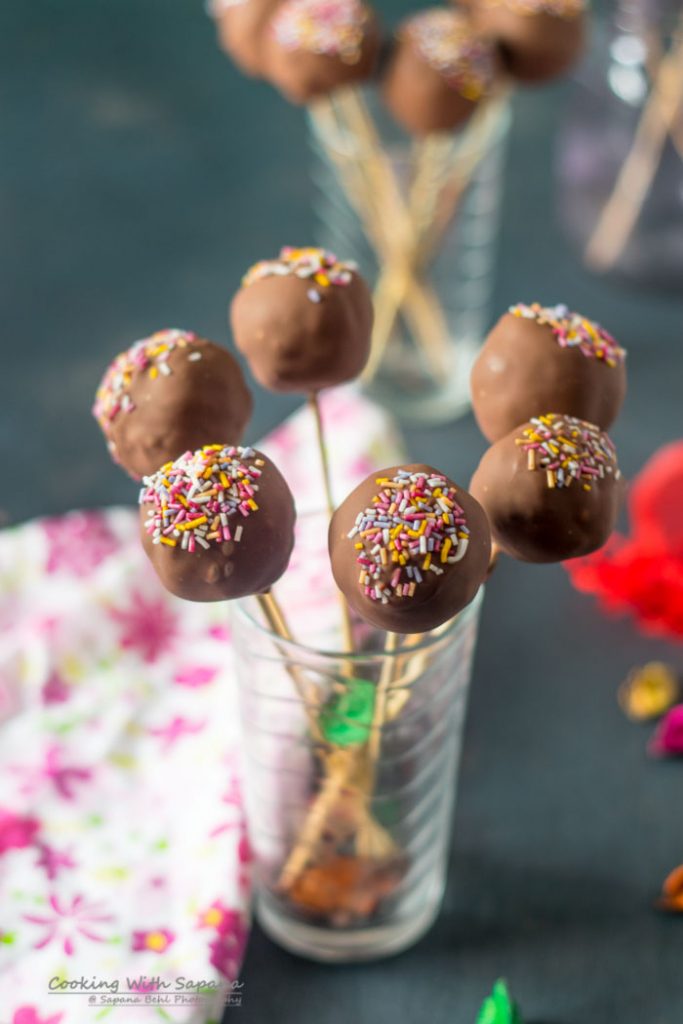 These cake pops are a perfect Christmas gift. Wrap them in some fancy coverings and make a nice and festive gift hamper for your friends and relatives. If you have some leftovers cake or simply if you did not get a cake as pretty as you wanted from the oven go ahead and crumb it and store it in the freezer. Once you are ready to make remove the cake crumbs from the freezer and make some beautiful cake pops. Use your favourite dark, milk or white chocolate and sprinkles.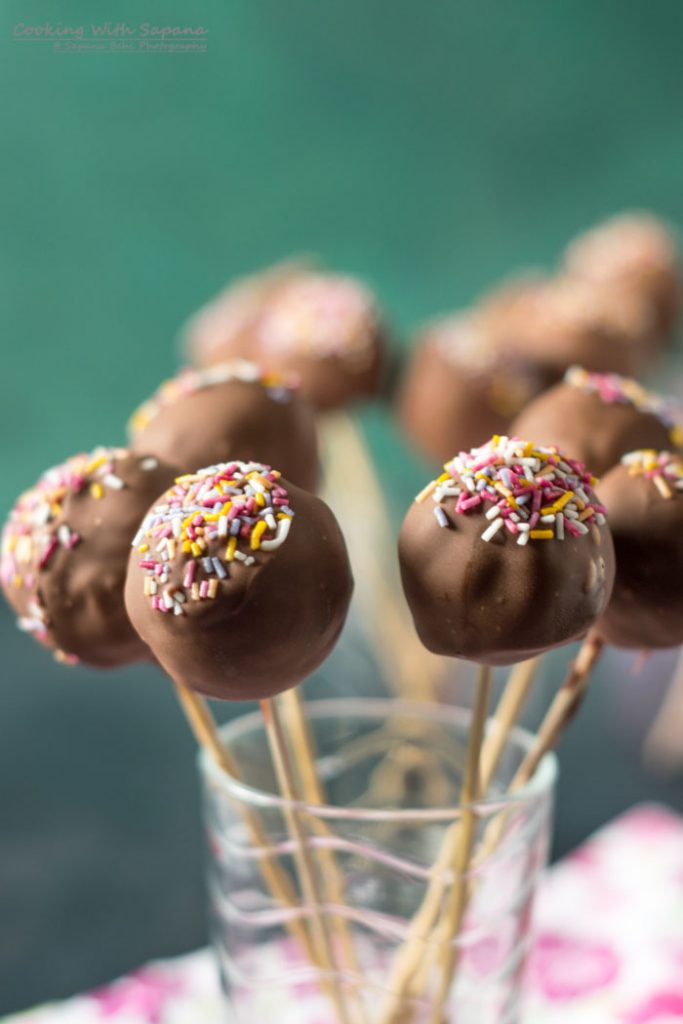 Blogging Marathon#71 Week3 / Day 2
Theme-Christmas Recipes
Dish– Cake Pops
Ingredients:
1 recipe cake ( I used one leftover gingerbread cake),
2 tablespoon butter, melted
2 cups dark or milk chocolate or chocolate chips
1 tablespoon olive oil
colourful sugar sprinkles
Method:
In a mixing bowl add the cake and smash it into crumbs. Add in the melted butter and mix well.
Make lemon sized small balls from the cake mixture and place them on the baking tray.
In a microwave, safe bowl adds the chocolate pieces or chocolate chips whatever you are using.
Microwave on high for about 2 minutes for 30 seconds at one time and stirring in between.
Once melted add in the olive oil and stir well. Place a thermocol sheet or big mason jar handy on the kitchen counter.
Now dip one skewer at a time into melted chocolate and insert it into the cake ball.
Dip that cake ball into the melted chocolate, sprinkle some coloured sprinkles and insert it into the thermocol sheet or place in mason jar.
Repeat the same with remaining cake balls.
Store the cake pops in the refrigerator.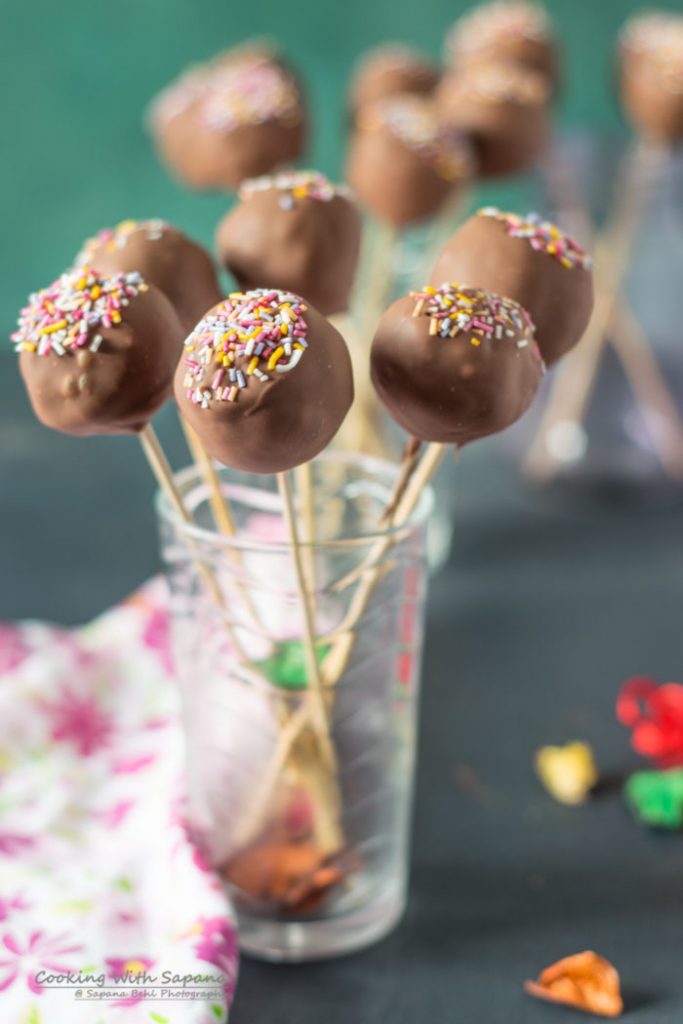 Serve and enjoy.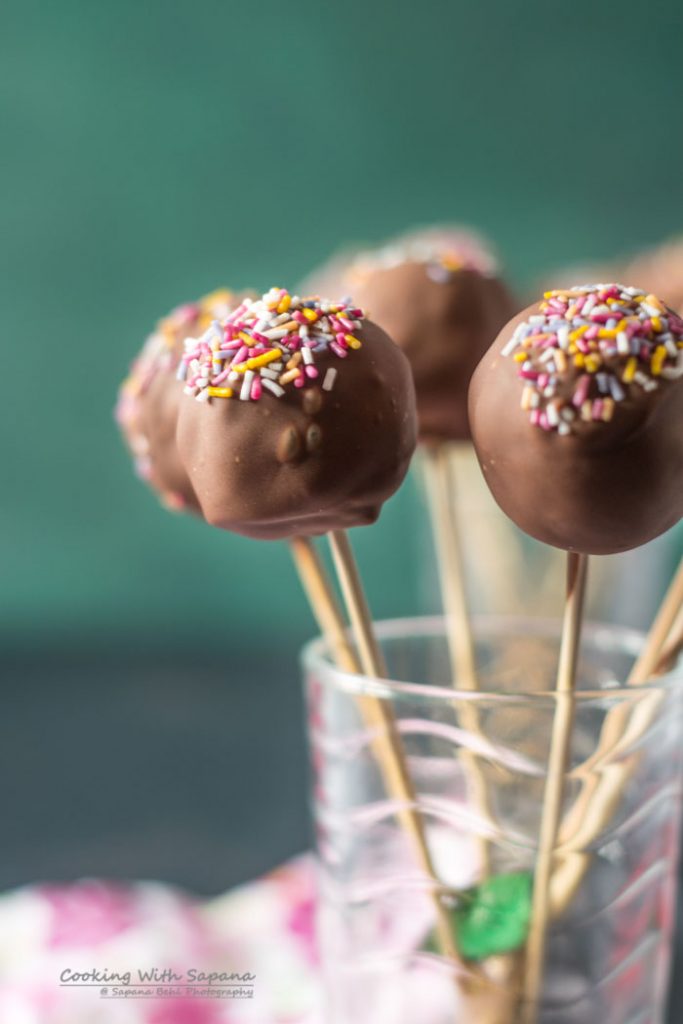 Serves 20 to 24 Cake Pops Prep time – 30 minutes
Check out the Blogging Marathon page for the other Blogging Marathoners doing this BM#71
Best regards,
Sapana Behl