Baked Polenta Fries
Baked Polenta Fries:
Golden crispy outside and creamy soft inside are these delicious polenta fries that makes a wonderful guilt free and healthy snacks.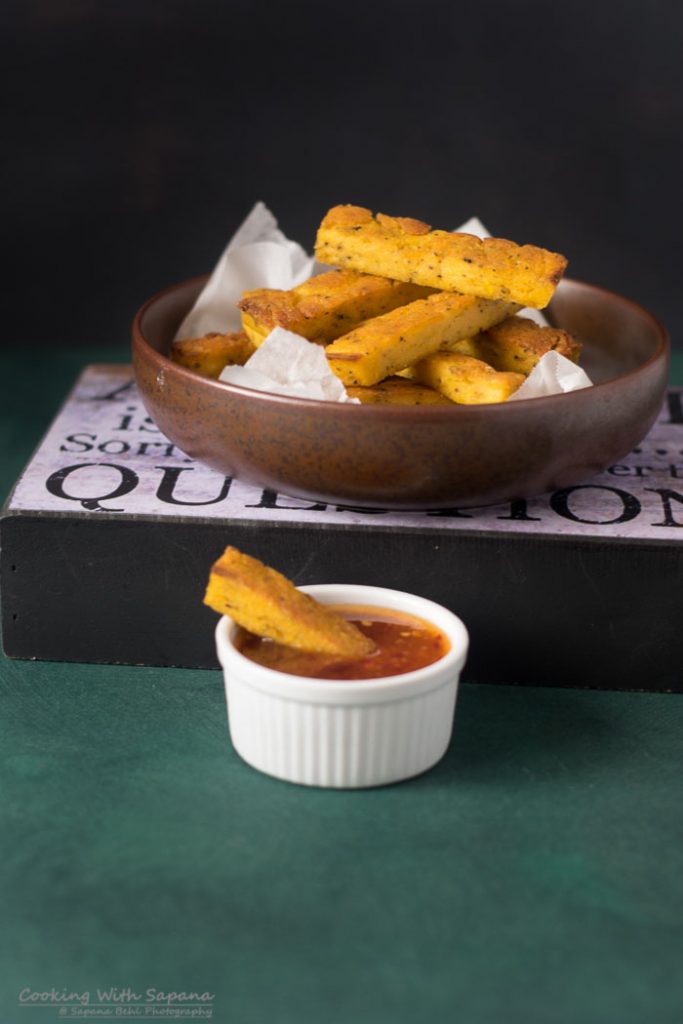 December is the month of cold but mesmerising holidays, celebrations and Bake-a-thon . A month full of baking with we a group of fellow bloggers post a baked recipe on each Monday, Wednesday and Friday throughout the whole month. So I am starting the Bake-a-thon with a savoury baked recipe that has now become my family favourite. It is the healthy and tasty option for regular fried fries and makes a nice and filling snack too. I served it with sweet and spicy chilli sauce and voila the evening snack was a hit.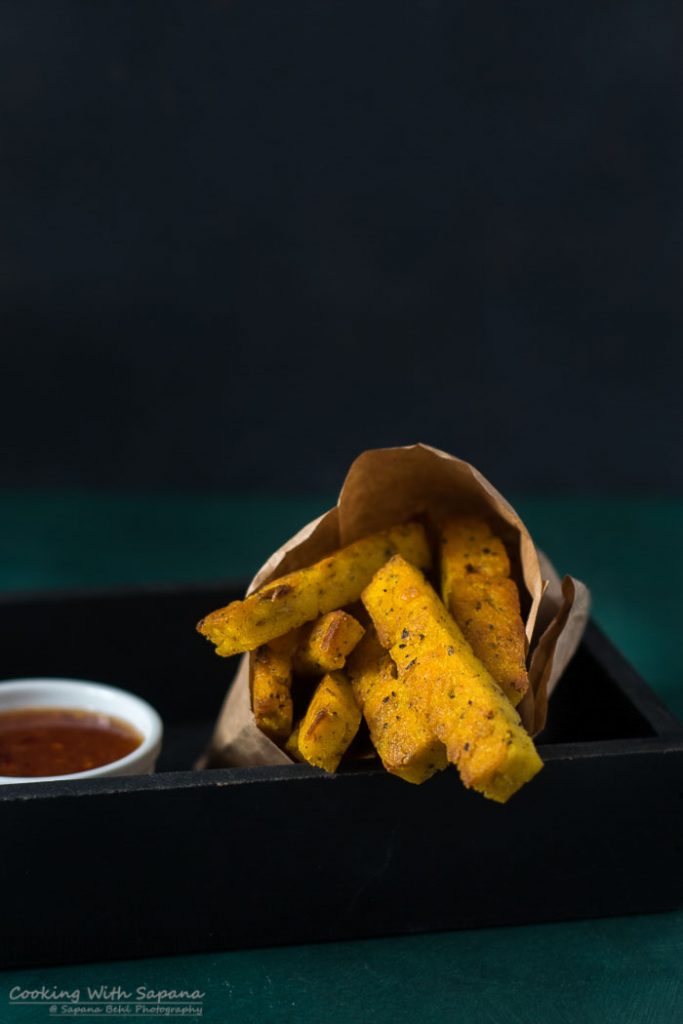 The best part is you can always make ahead of the polenta and pop it in the freezer until use. It would really help with all of sudden hunger pangs and tastes incredible.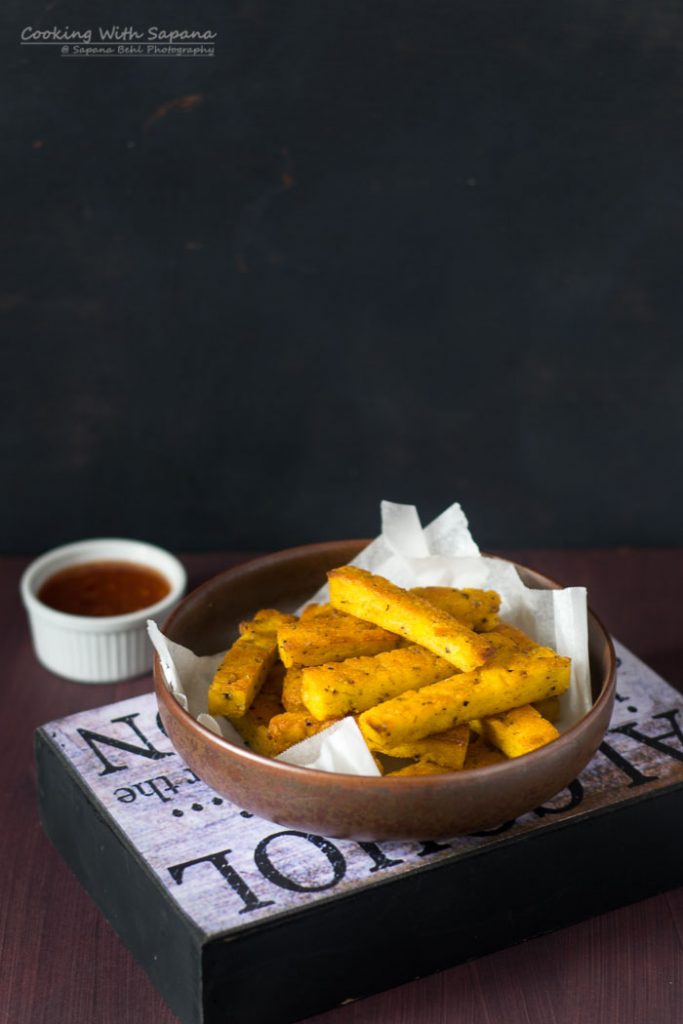 Bake a Thon Day 1
Dish– Baked Polents Fries
Source Here

Ingredients:
1 cup yellow corn meal
1/2 cup parmesan cheese,grated
1/4 cup butter
3 cups veg stock or water
1 teaspoon sage fresh or dried
1 teaspoon basil,fresh or dried
1 teaspoon red chilli flakes
salt to taste
pepper to taste
2 tablespoon olive oil
Method:
In a sauce pan add the veg stock or water and bring it to a boil. Add in sifted cornmeal, sage, basil, salt , pepper and chilly flakes and keep stirring to avoid lumps.
Cook on low for about 15 to 20 minutes or until it becomes thick and leaves the sides of the pan with continuous stirring.
Remove from heat and stir in butter and parmesan.
Transfer the mixture to the prepared sheet and press evenly with a spatula. Place it in the refrigerator covered with cling wrap for about 2 hours or until set.
Once set preheat the oven to 210 Degrees and line an 8″ baking sheet with parchment paper and brush it lightly with olive oil.
Invert the polenta over a chopping board and cut into desired shape sticks. Arrange the sticks on the prepared sheet and brush them lightly with olive oil.
Bake in preheated oven for about 15 minutes and flip the sticks to bake from the other side for 15 minutes or until golden and crispy.
Remove from oven and serve warm with chilli sauce.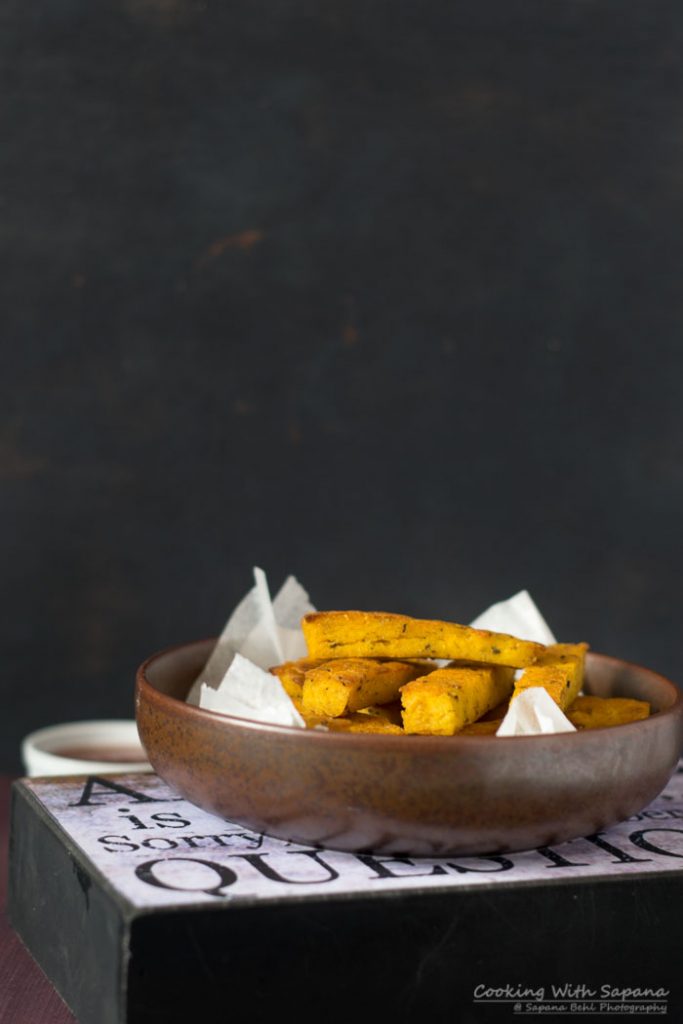 Enjoy!!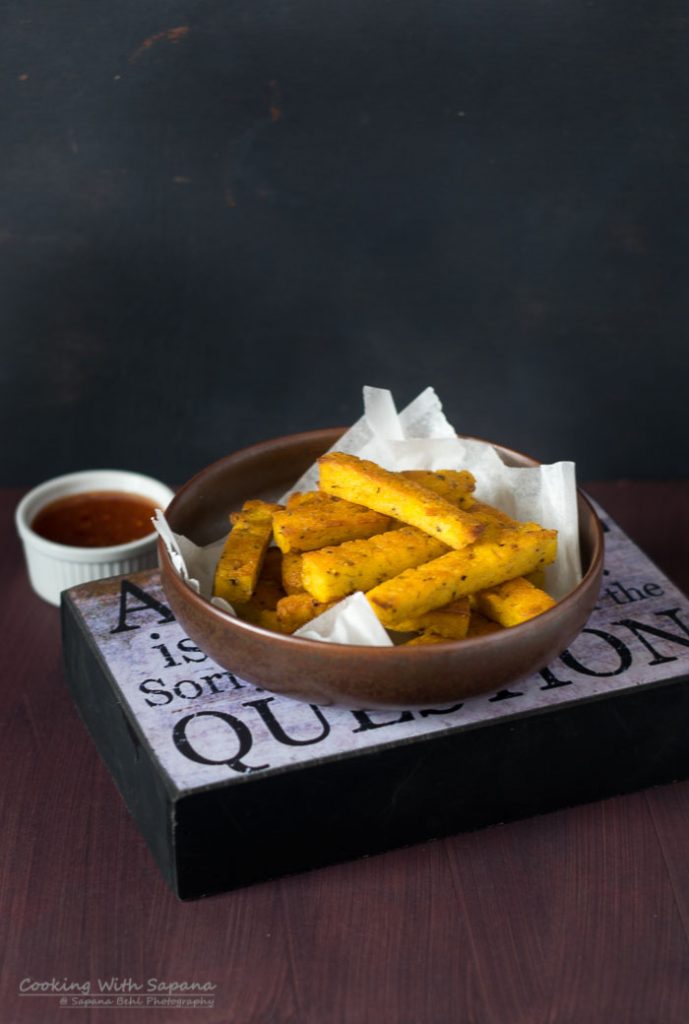 Serve -4 Cooking time 1 hour

This is part of the Bake-a-thon 2016
Best regards,
Sapana Behl