Tawa Fried Bhindi
Tawa fried bhindi:
Crispy tawa fried okra loaded with spicy coating and tastes amazingly crispy and tasty. The second day of cooking Tawa recipes began and I knew already that I had not cooked anything for next two days. I was thinking of cooking some easy tawa recipes today itself. But in all of this, I totally forgot about the Black Friday sale today . It was a pretty much big deal back in the States but here Black Friday sale is not so enthusiastic.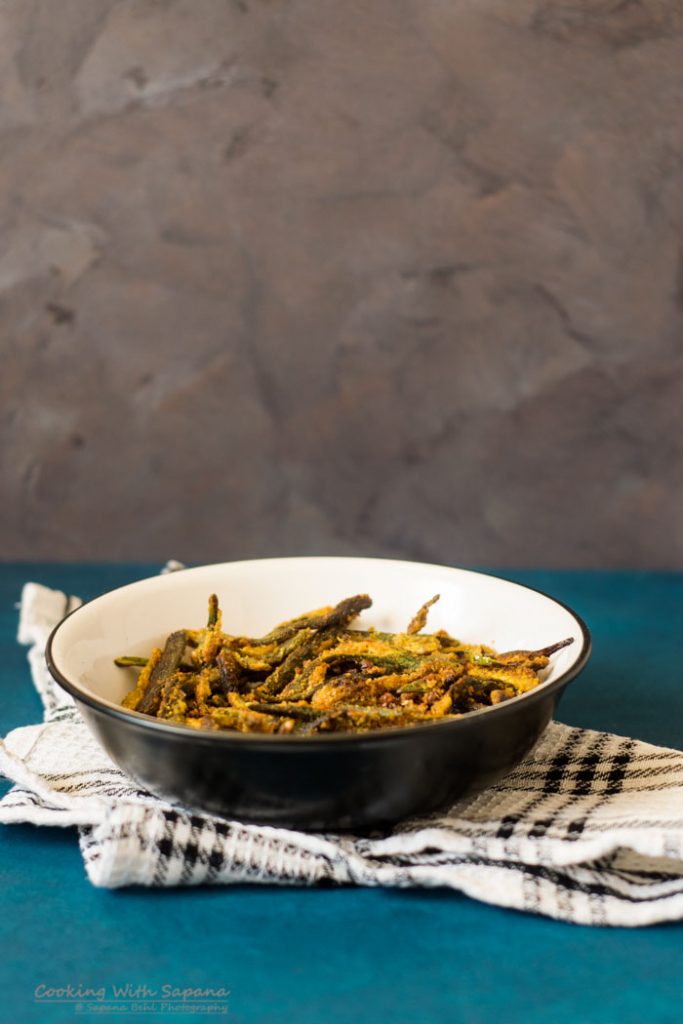 They do have some sort of half price sales but it is time-consuming and I did not have any plans for the same. One of my friends called me in the morning and told me about this one store where they were offering 90% sale. Then, of course, I had to go and look for some nice deals. I went in there the early morning after sending the elder one school and husband office. It was freezing cold and still the streets were full of crowd. Here in European countries, people love walking and so we (me and lo ) were walking in freezing cold temperature. Shopping centers were looking like our Chandni chowk in Delhi, I mean literally, too many people to buy sale stuff , what to say I was one of them. So finally I did find some nice warm coats on the sale for very less ,almost free price and some stuff for kids.
In all of this I forgot about my post So when I got back home I looked up for something in the fridge to suit the theme. As in Winters, it is already dark here at 4:pm in the evening I quickly made this tawa fried bhindi and took pictures. Afterwards, we finished all the bhindi with roti and had a nice evening trying outfits that we bought in the day.
Blogging Marathon#70 Week 4 / Day 2
Theme-Cook on Tawa
Dish– Tawa fried okra
Ingredients:
250 gm okra,cut into slits
2 green chillies,cut into slits
1 teaspoon red chilly powder
1 teaspoon coriander powder
1 teaspoon garam masala
1/2 teaspoon turmeric powder
1 teaspoon amchur powder
1 teaspoon cumin powder
a pinch asafetida
salt to taste
2 tablespoon gram flour/besan
4 tablespoon olive oil
d not ha
Method:
In a mixing bowl add gram flour , red chilli powder, salt, coriander powder, garam masala,cumin powder, amchur powder and turmeric powder.
Whisk all the ingredients to combine.
Add the chopped okra and green chilli slits. Sprinkle a dash of water and mix everythiung until the flour mixture is copated with the okra.
Heat a tawa and add olive oil. Stir in aseftida and add the flour coated okra slices. Keep the heat on medium and let the okra cook until it is golden and crispy fried fro all sides. Stir in between for even cooking.
Remove from heat and serve with roti or as it is
Serve- 2 Cooking time- 20 minutes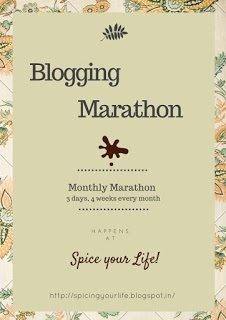 Check out the Blogging Marathon page for the other Blogging Marathoners doing this BM#70
Best regards,
Sapana Behl