Spicy Pineapple Skewers
Spicy Pineapple Skewers:
Pineapple cubes coated in spicy dressing and grilled on tawa until golden, juicy and delicious. Pineapple itself tastes amazing but on skewers, it holds the shape perfectly and tastes more delicious. Most of the time when I have a pineapple sitting on the counter this is how we love to finish it. Of course, the hard part is the cleaning and cutting but other than that these spicy skewers are totally worth trying.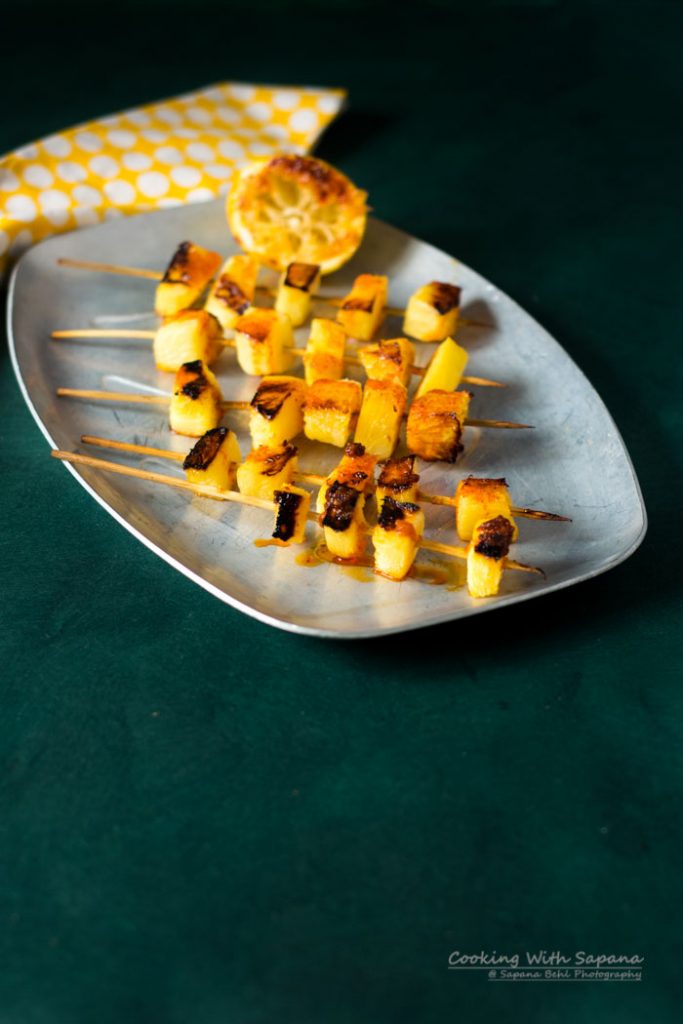 This week I will be sharing dishes cooked on tawa and these pineapple skewers are the first tawa based recipe for the same. Last weekend, I made the skewers in the evening and they were all gone in seconds after taking pictures. My daughter doesn't even want to wait for the pictures and she was all like , why do you make all the things for the blog and why don't let us eat first. For them, it was very impatient waiting for the juicy and scrumptious skewers and that's why she was all grumpy.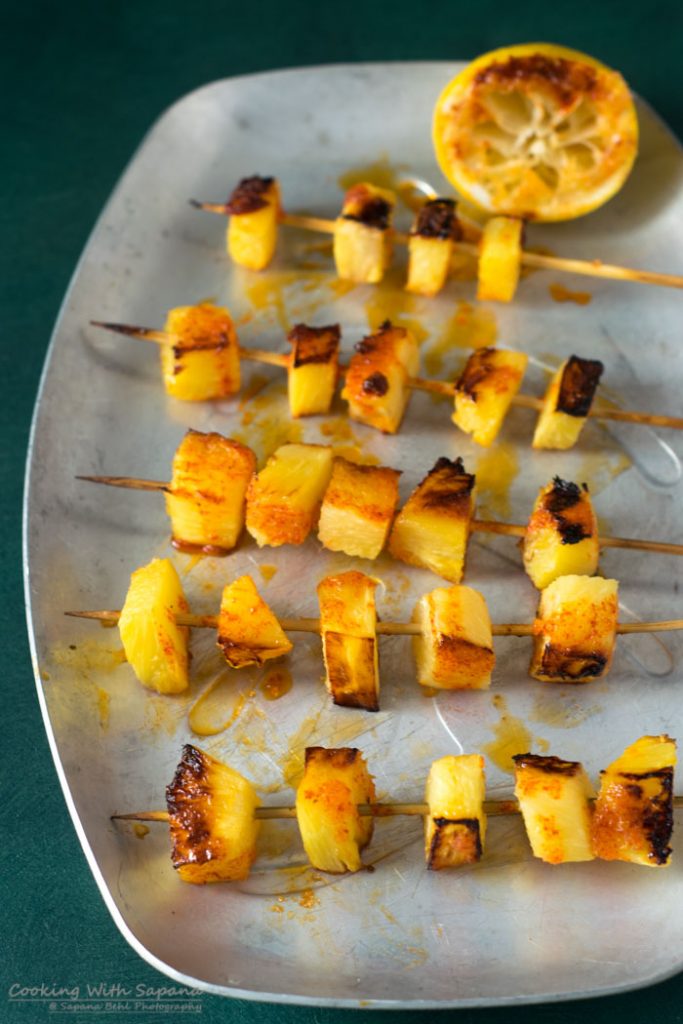 Blogging Marathon#70 Week 4 / Day 1
Theme-Cook on Tawa
Dish– Pineapple Skewers

Ingredients:
1 medium sized pineapple, cut into cubes
bamboo skewers
1 teaspoon olive oil
For dressing
1 tablespoon olive oil
1 tablespoon lemon juice
1 tablespoon sugar
salt to taste
1 teaspoon paprika

Method:
In a mixing bowl add all the ingredients for dressing and whisk to combine.
Heat a tawa and drizzle it with olive oil.
Coat the pineapple cubes in dressing and arrange them on bamboo skewers.
Place them on the preheated tawa on low to medium heat . Cover with a plate or lid and let them roast for about 10 minutes.
Turn the skewers to other side and cook till golden.
Remove the skewers from tawa.
Drizzle with more dressing if required .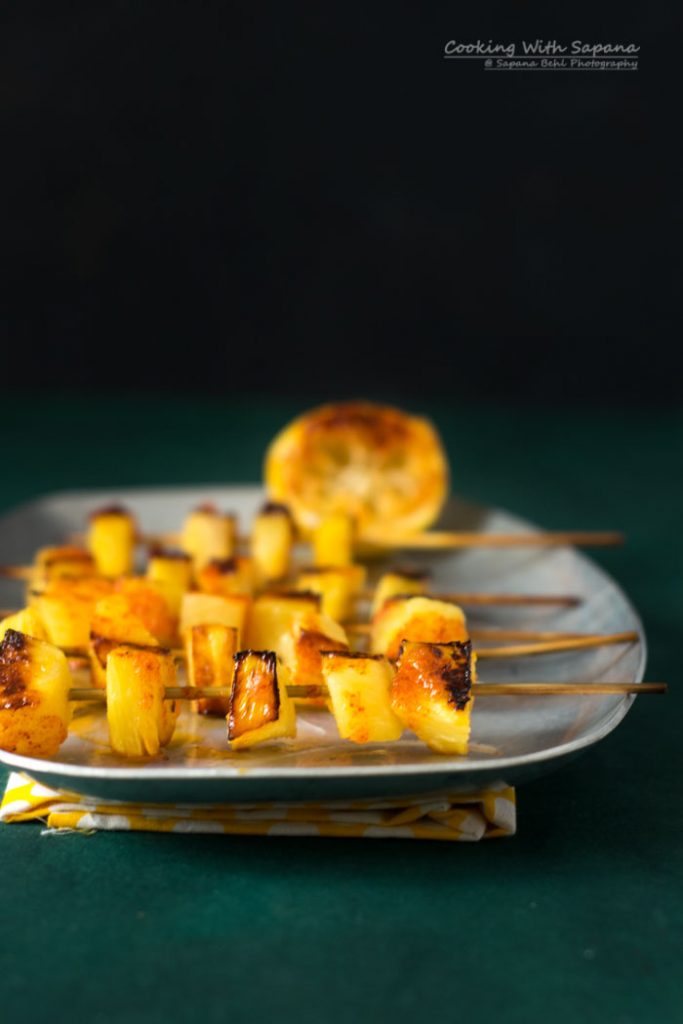 Serve and enjoy.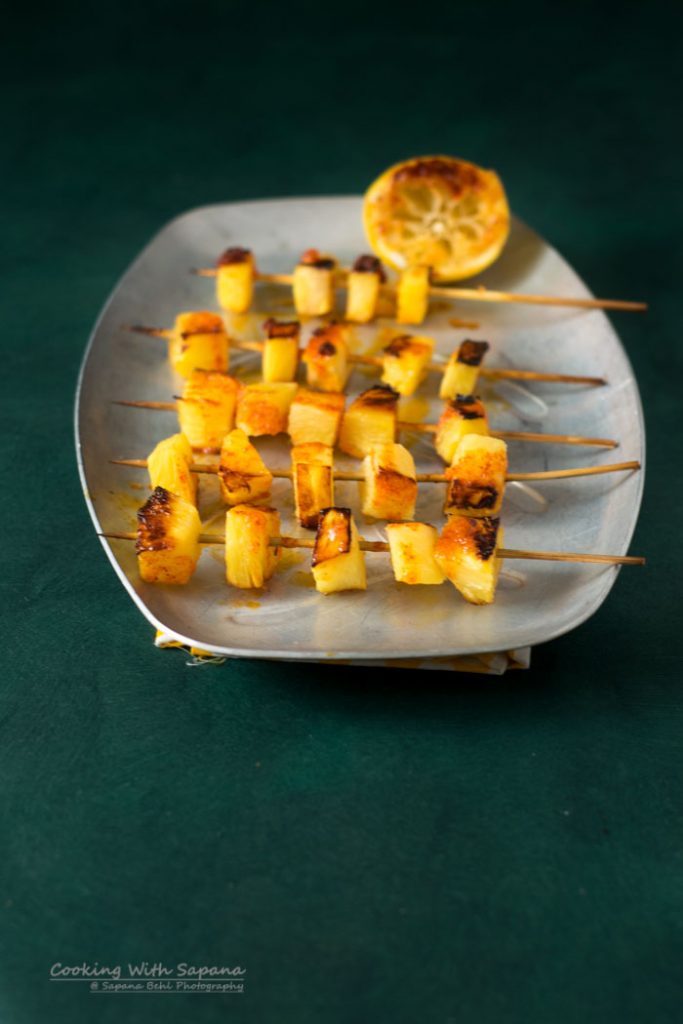 Serve – 4 Cooking Time -15 minutes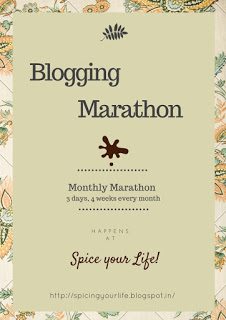 Check out the Blogging Marathon page for the other Blogging Marathoners doing this BM#70
Best regards,
Sapana Behl