Batata Vada Burger
Batata Vada Burger:
A scrumptious and filling burger filled with deep fried batata vada patty and juicy salad along with sweet tamarind and spicy green chutney. What could be tastier than this irresistible combination? Batata vada itself tastes wonderful and when combined with cheesy burger buns and lettuce it makes a nice filling and delicious meal.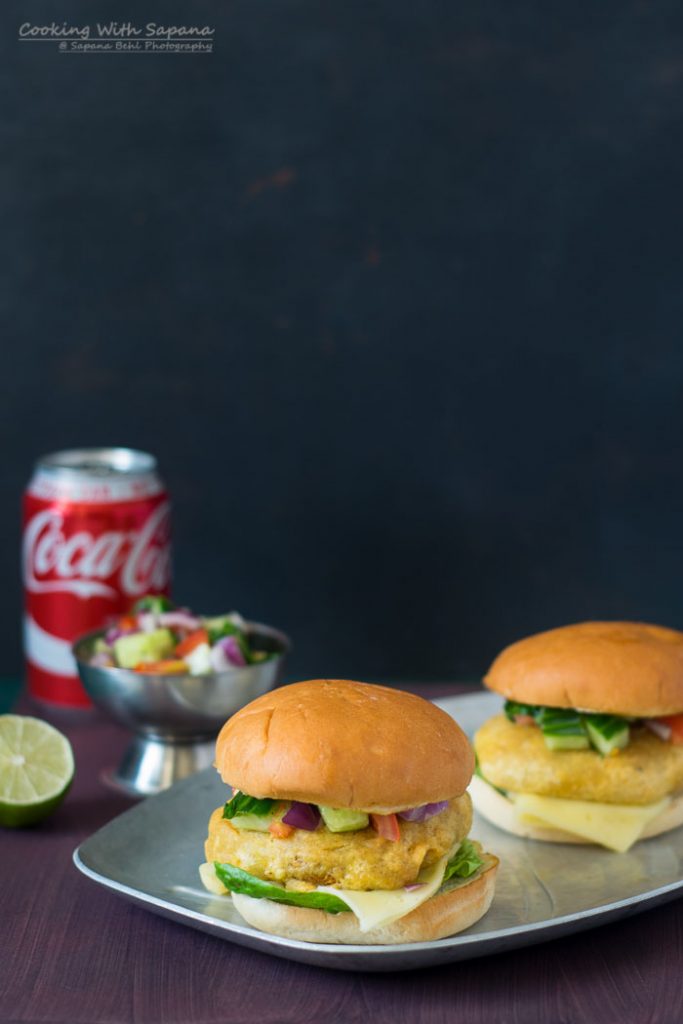 This week for Blogging Marathon I will be sharing burgers recipes. For me, the whole process of making burger always seems a tough task and I do not prefer them making on weekdays. However weekend is perfect for such elaborate meals which would be definitely served as Brunch. So all three burgers that I am going to share were made on the weekends and totally adored by the family. When I was frying the batata vada my elder one started asking questions if you are making burgers why you are frying the vada and blah blah , all kinds of questions. But when she tasted this humble pairing of burger and batata vada she loved it. This burger is definitely a party pleaser and kids friendly recipe.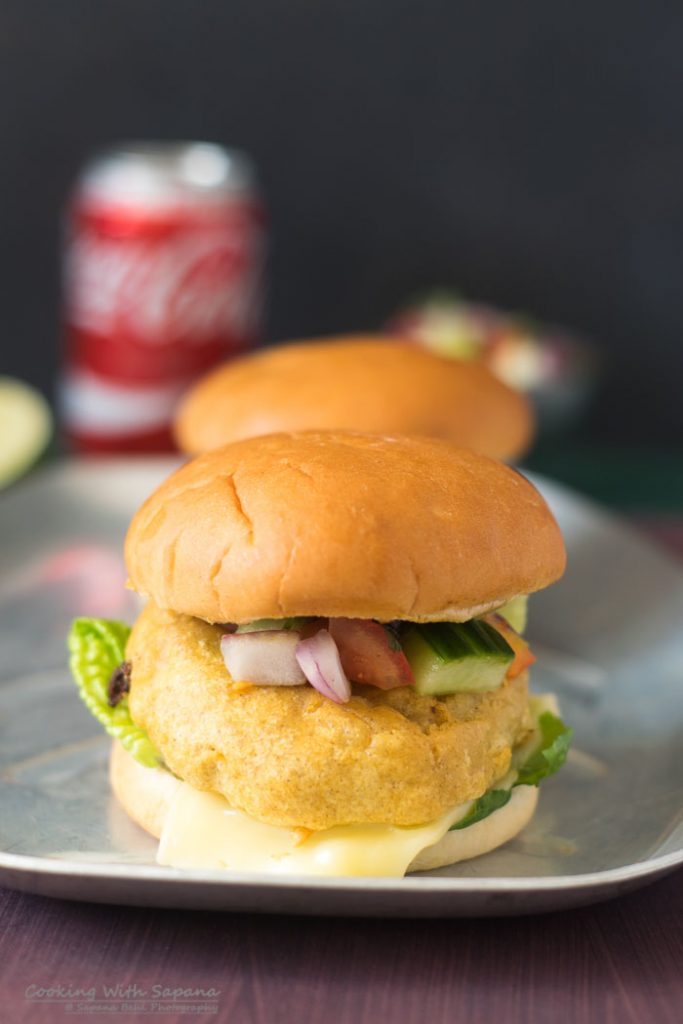 Blogging Marathon#70 Week 3 / Day 1
Theme-Bring them Burgers
Dish– Batata Vada Burger
Source– Here
Ingredients:
5-6 medium sized potatoes, boiled and mashed
1 onion,chopped
1 teaspoon mustard seeds
1/2 teaspoon turmeric powder
1 teaspoon ginger,grated
a pinch asafetida
few curry leaves
salt to taste
1 tablespoon oil
Batter
1 cup gram flour/besan
a pinch soda
1/2 teaspoon salt
1/2 teaspoon red chilli powder
water as required
oil for frying
Salad
1/4 cup cucumber,chopped
1/4 cup tomato,chopped
1/4 cup onion,chopped
1 green chilli,chopped
2 teaspoon lemon juice
salt to taste
pepper to taste
For burgers
4 burger buns
4 cheese slices
4 batata vada patty
1 cup salad
lettuce leaves
tamarind chutney
green chutney

Method:
Make batata vada
Heat oil in a pan and add aseftida, currey leaves and mustard seeds.
Stir and add ginger and chopped onions. Saute till light golden in color.
Add salt, turmeric powder and green chillies. Stir and add mashed potatoes; Cook stirring for about 2 minutes.
Cool the potato mixture and make 4 round balls from it.
Add all the ingredients for batter in a mixing bowl and make a smooth batter using enough water. Whisk it to combine.
Heat oil for frying in a wok or pan. Flatten the potato balls in the shape of patties. Dip each patty into the prepared batter and deep fry in hot oil from both sides until golden and crispy. Drain on paper towel.
Make salad
Combine all the ingredients for salad in a mixing bowl.
Assemble the Burger
Heat a Tawa or pan and slightly toast the burger buns. On the bottom side of the bun place, a lettuce leaves sand a cheese slice.
Top the cheese slice with batata vada patty. Add a generous portion of the prepared salad. Apply tamarind chutney and green chutney on the
other half of the bun and place it on top of the saald . Press the burger buns gently.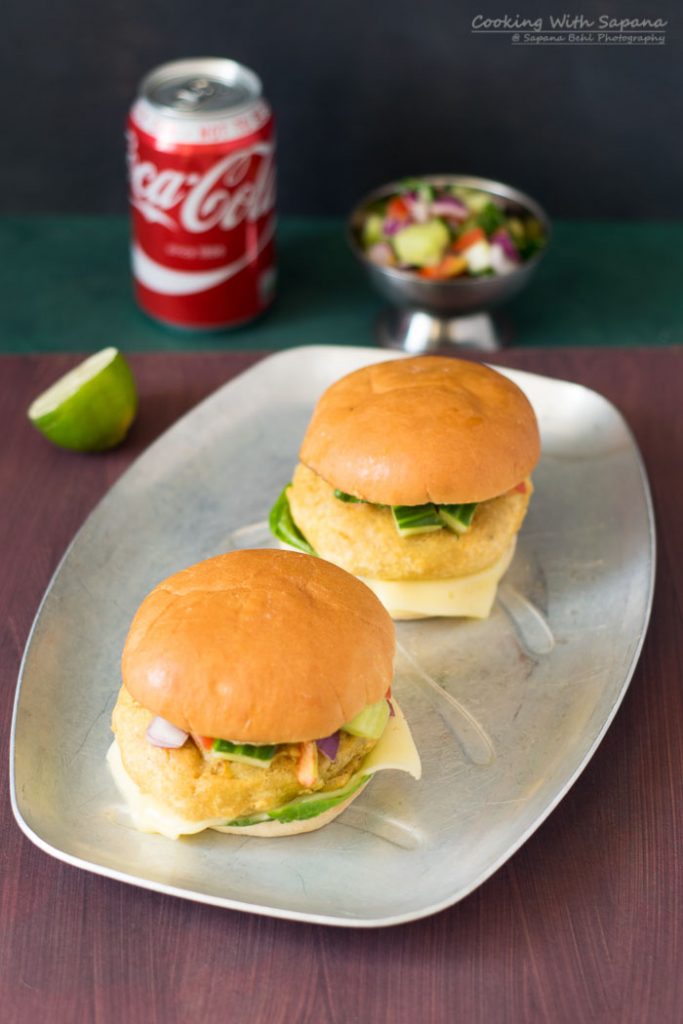 Serve and enjoy.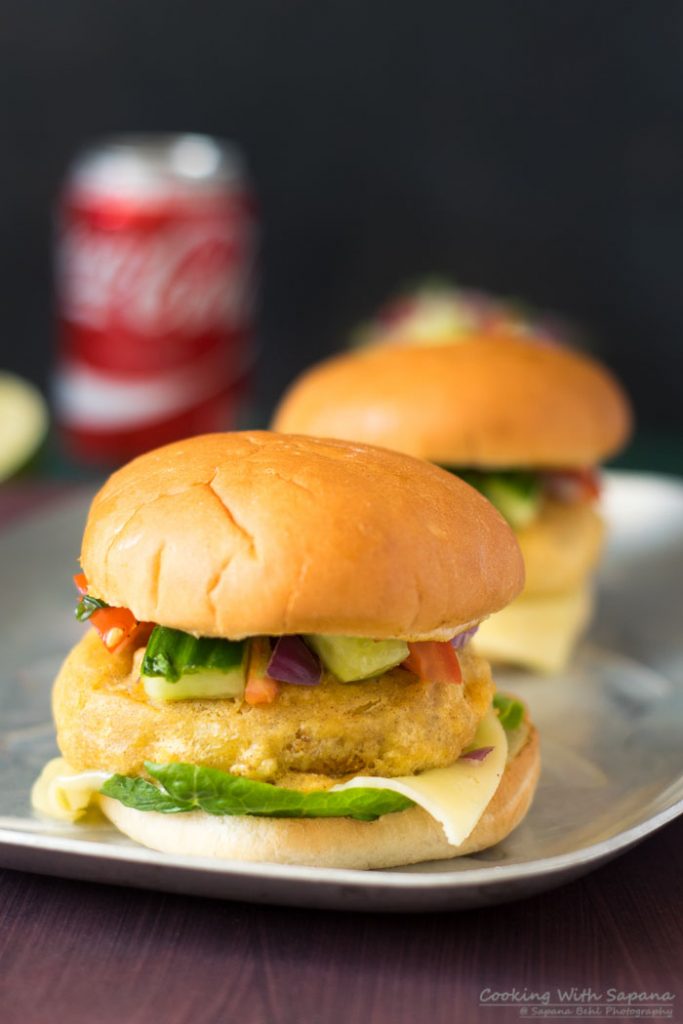 Serve – 4 Cooking time- 30 minutes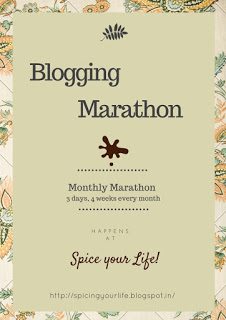 Check out the Blogging Marathon page for the other Blogging Marathoners doing this BM#70