Chinese Style Cold Sesame Noodles
Chinese style Cold Sesame Noodles:
Cold noodles tossed in Chinese style sesame seeds and chilli oil paste, too good to eat anytime of the day. This week my theme for the Blogging Marathon is Homemade Chinese takeout from the list
here
. While looking for the recipes in the
link
the recipe that first caught my eyes was this noodles .The recipe is from
Lady and pups
and it turned out super fantastic.The family went crazy for the noodles and totally loved it.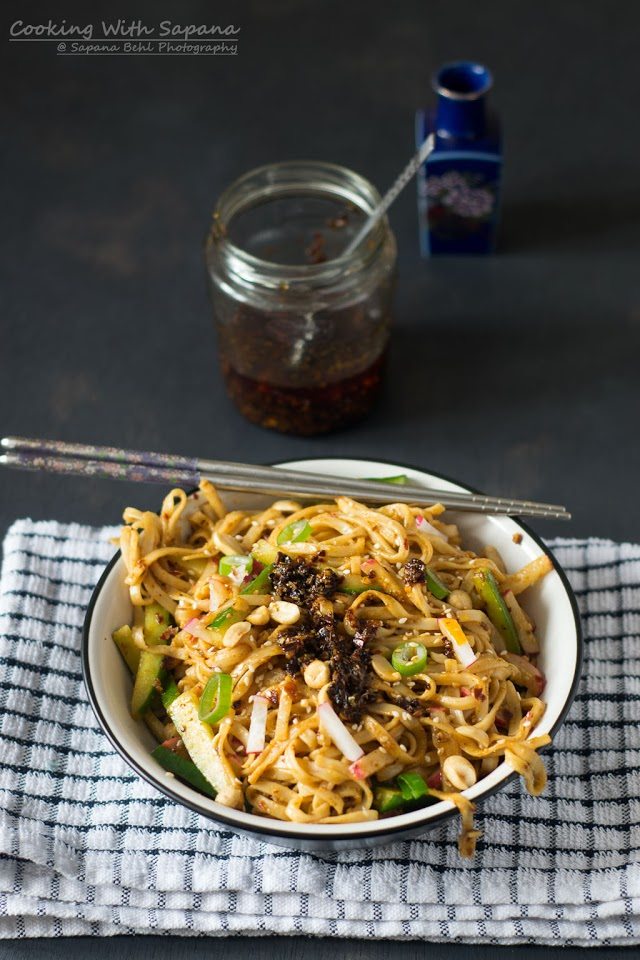 Actually, the main reason I choose this recipe to work with is because I was a little familiar with the chilli sauce dressing used in the recipe. When we were in Florida I had a Chinese neighbour who became my best friend .We loved eating lunch together and spent a good jolly time.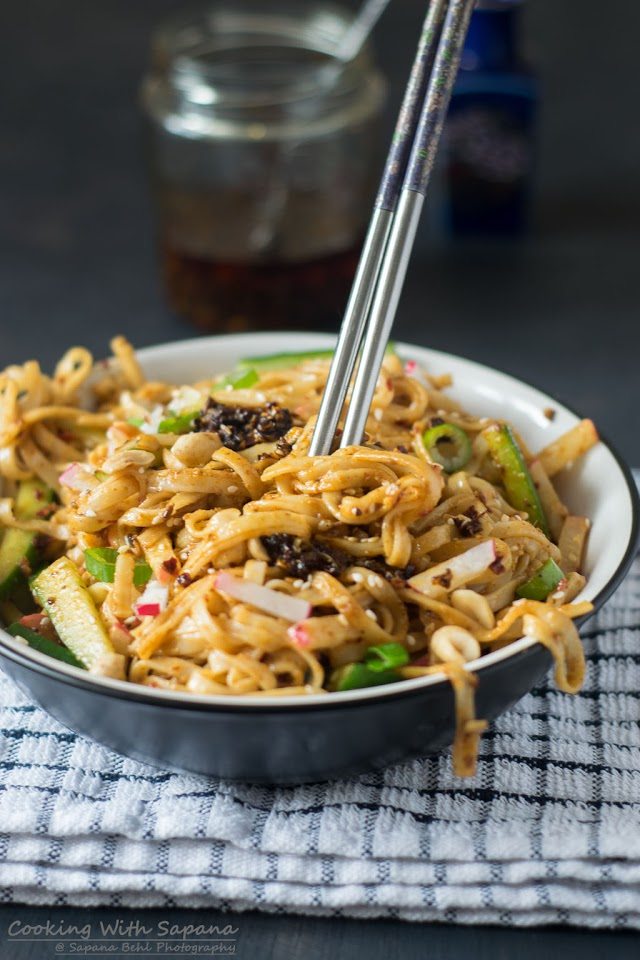 She is the one who gave me a jar full of the smacking hot and delicious chilli oil that is used in this particular recipe.Sometimes when my lo is having the cranky teething time and made it difficult to cook or do chores then she being a nice friend used to bring these noodles tossed in the chilli sauce and I loved eating them with chopsticks , well not exactly with chopsticks as I am still learning how to use them. She moved back to China while we were still there and the one thing we missed along with our sweet memories were the chilli sauce and the tasty noodles.This recipe brought back all the nostalgic memories.
P.S. I took the inspiration for the photographs from my fellow blogger Pavani. A few months back I saw one of her noodles photo falling out from the bowl and totally loved it and tried the same. Thanks Pavani for the idea.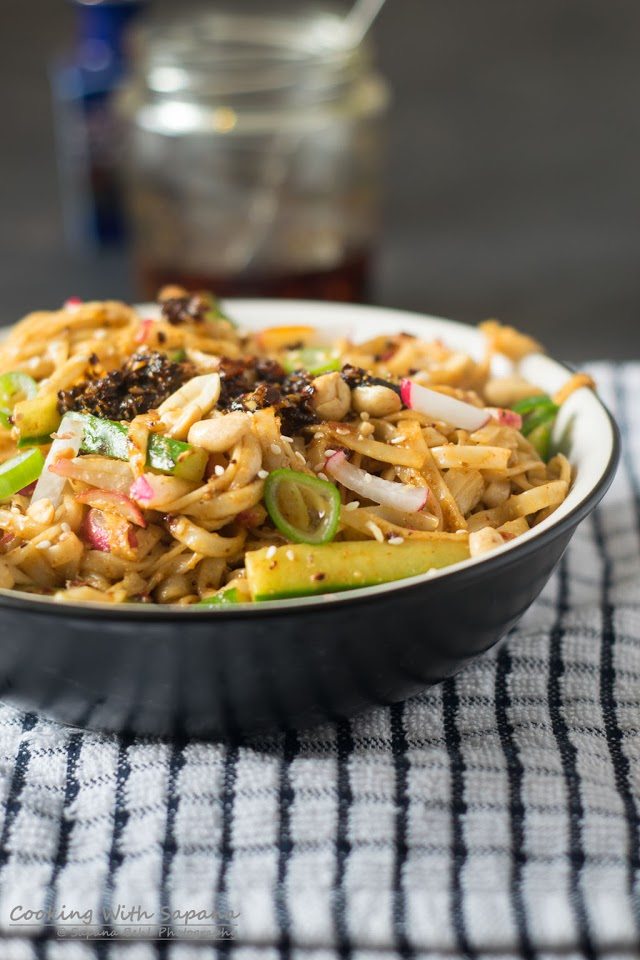 Blogging Marathon#69 Week 3 / Day 1
Theme– Homemade Chinese Takeout
Dish-Cold Sesame Noodles
Ingredients:
For chilli oil
4 teaspoon Sichuan peppers
4 tablespoon red chilli flakes
1 scallion,roughly pieces
1 bay leave
1 star anise
1 tablespoon cumin seeds powder
1 tablespoon coriander powder
1 tablespoon garlic,finely minced
1 tablespoon soy sauce
1/2 cup sesame oil
For sesame mixture
2 tablespoon chili oil
1/4 cup roasted sesame seeds paste
1 tablespoon vinegar
2 teaspoon soy sauce
1 tablespoon peanut butter( I did not use )
For noodles
250 gm Chinese style noodles, cooked as per package noodles
1/4 cup sesame mixture
1 cup ,cucumber ,cut into strips
1/2 cup radish,cut into strips
To garnish
scallion greens
roasted peanuts
toasted sesame seeds

Method
Make Chilli Oil
Heat sesame oil in a wok and add garlic,scallion pieces chilly flakes, cumin powder, coriander powder,Sichuan pepper,bay leave and star anise.Stir and cook on low until it starts bubbling.Remove from heat and add soy sauce.Stir and remove the bay leave, star anise and scallion pieces.Cool and store in glass jar.
Make Sesame mixture
In a mixing bowl add 2 tablespoons of prepared chilli oil, sesame seeds paste,vinegar,soy sauce and peanut butter if using.Stir with a spoon until combined.

Make Noodles
Cook the Chinese noodles as per package instructions.Drain and run under cool water.Place in refrigerator.
Just before serving Toss the noodles, cucumber strips and radish strips in prepared sesame mixture.Mix until combined.
Garnish with scallion greens,roasted peanuts and toasted sesame seeds. Serve cool.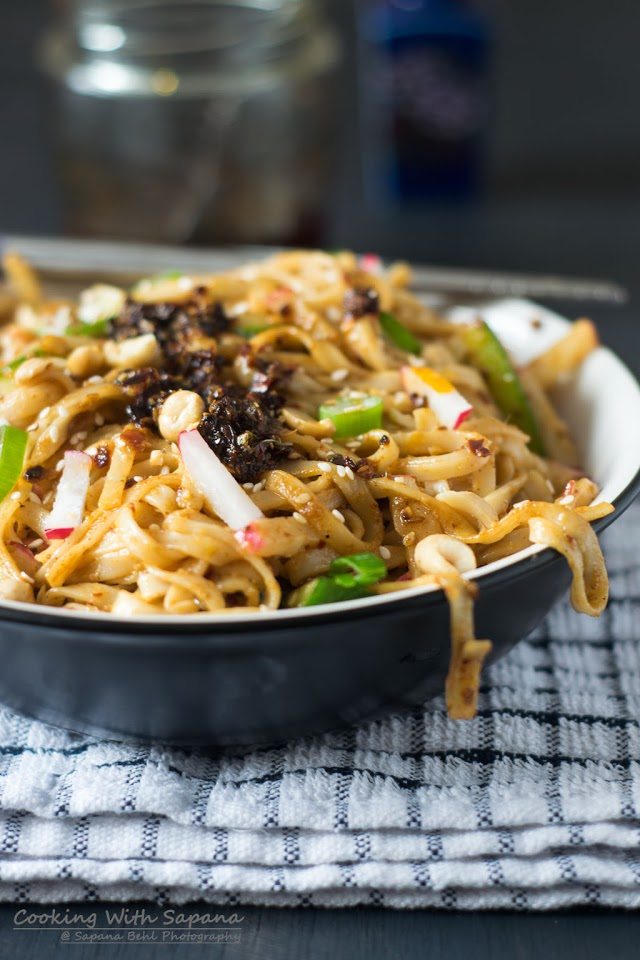 Serve and enjoy.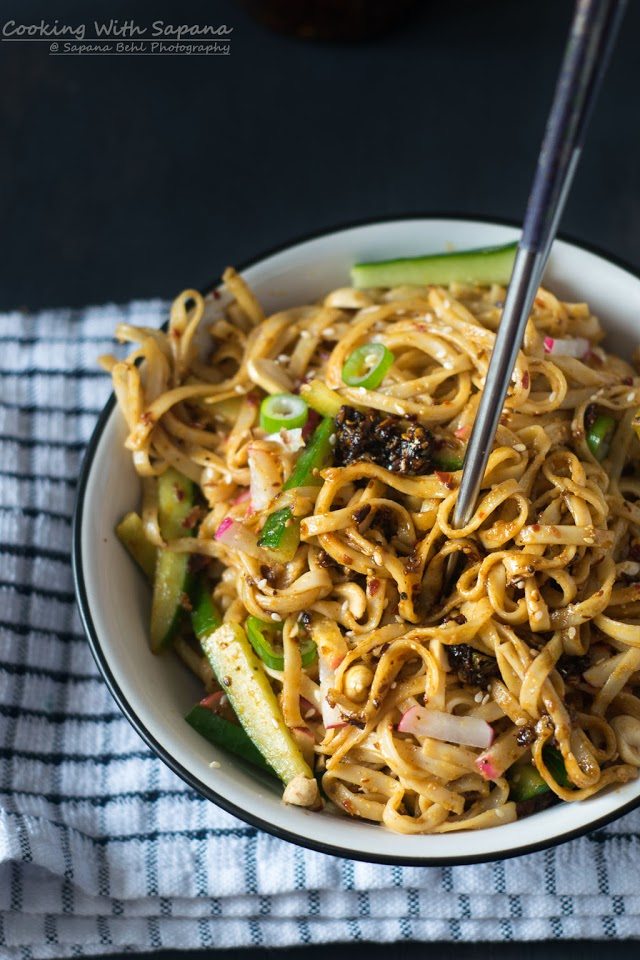 Serve- 3 Cooking time- 20 minutes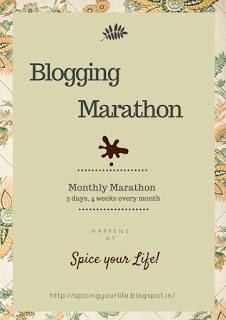 Check out the Blogging Marathon page for the other Blogging Marathoners doing this BM#69
Best regards,
Sapana Behl