Sesame Seed Crackers
Sesame seed Crackers
: A crispy and tasty crackers to munch on anytime a day. Time is flying too fast ,it is like we started the Cooking Carnival a few days ago and now we are already in the fourth week. As you, all may know that I am posting recipes made with five different Super seeds under different courses.My next seed in the series is our own sesame seeds and I will be posting six snacks/appetizers made with these seeds.
Sesame seeds do come under the healthiest seeds on planet nd have tons of health benefits too.These seeds are tiny yet nutty in taste and known to human beings from ancient time. Sesame seed is rich in copper, manganese, calcium, iron, phosphorus, zinc, nd selenium and also helps in lowering cholesterol levels in the body.Read some more health benefits of sesame seeds here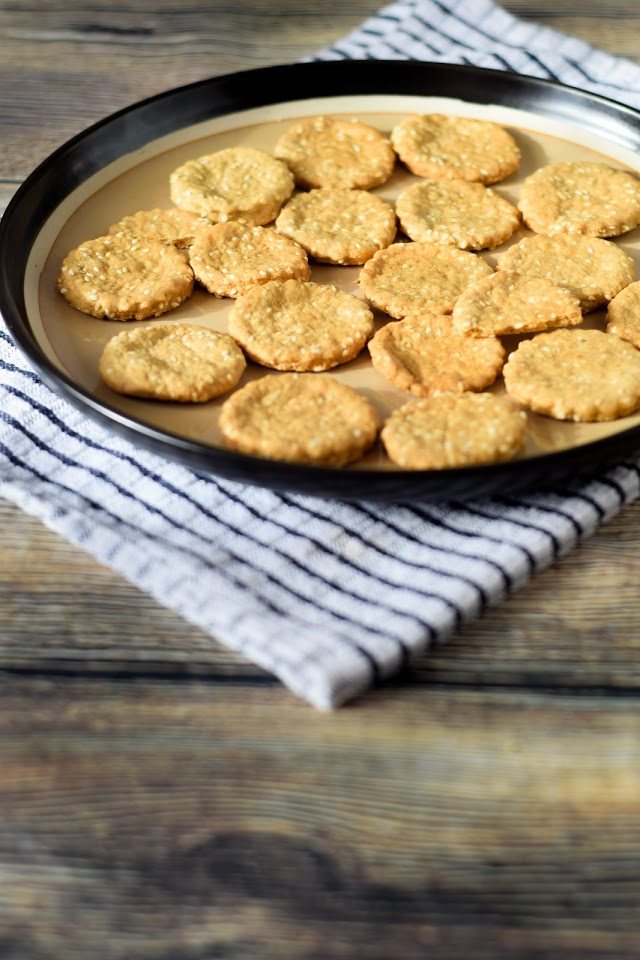 As we all are quite familiar and do use sesame seeds in our cooking like making ladoo and chikki etc.so for me this was the most simple seeds to work with. Even If I had no idea what I am going to cook with them still I was confident enough to come up with some dishes knowing it is Sesame seed. While reading about the history of these seeds I get to know that they are the ancient seeds used in the Arabian Nights stories,"Open Sesame". Interesting, right??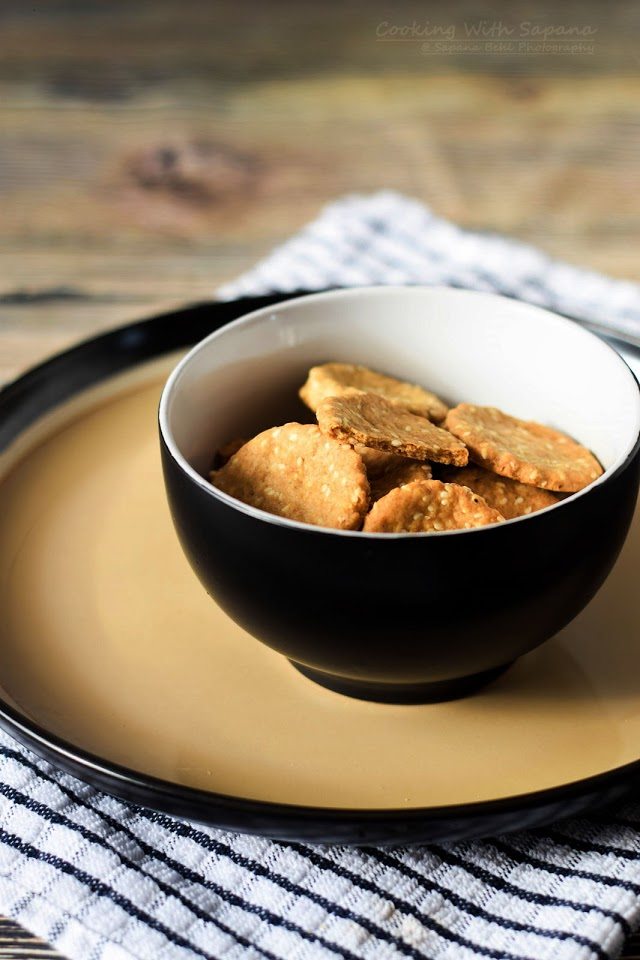 Blogging Marathon#68 Week 4 / Day 16
Theme– 5 Ingredients/5 Categories
Day 16 Ingredient-Sesame Seeds
Day 16 Category – Snacks/Appeizers
Dish-Sesame Seed Crackers
Ingredients:
1 cup all-purpose flour
2 tablespoon butter,cold
salt to taste
pepper to taste
1/2 teaspoon baking soda
1/2 teaspoon baking powder
4 tablespoon sesame seeds
cold water as required
Method:
In a mixing bowl add flour, salt, baking soda, baking powder.Whisk to combine.
Add in the cold butter.Mix until it resembles bread crumbs.
Add in the sesame seeds and freshly crushed peppercorn.
Knead a dough using enough water.Let it rest for 15 minutes.
Preheat the oven to 180 degrees and line a baking sheet with parchment paper.
Make a big ball from the dough.Place the dough ball between two baking paper sheets and roll into a rectangle or circle with rolling pin.
Cut out desired shapes with cookie cutter.Place them onto the prepared pans.
Bake in preheated oven for 15 to 20 minutes or until golden and crispy.
Remove from oven ,cool and store in air sealed containers.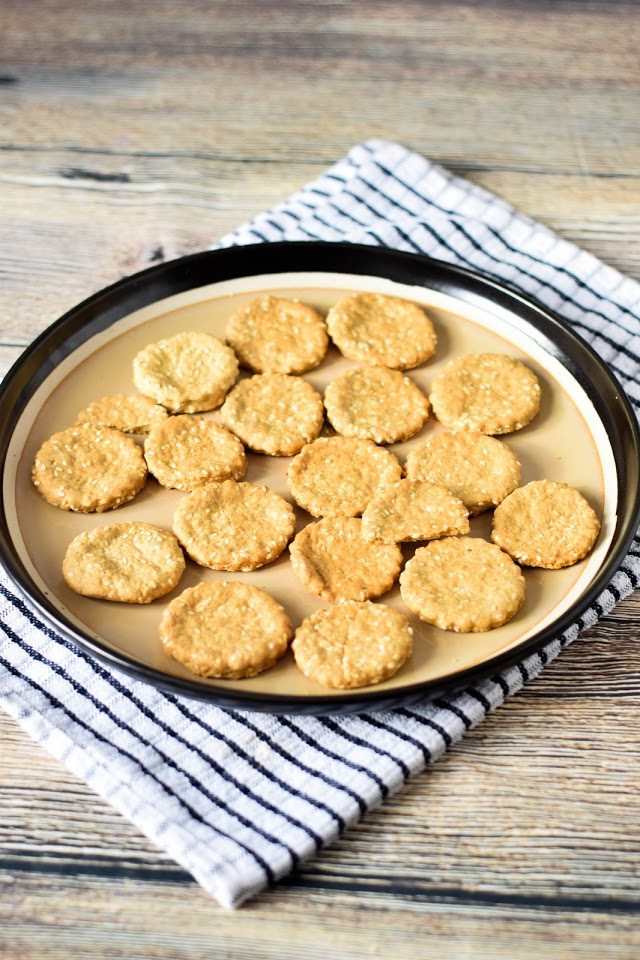 Serve with any dip or as it is and enjoys.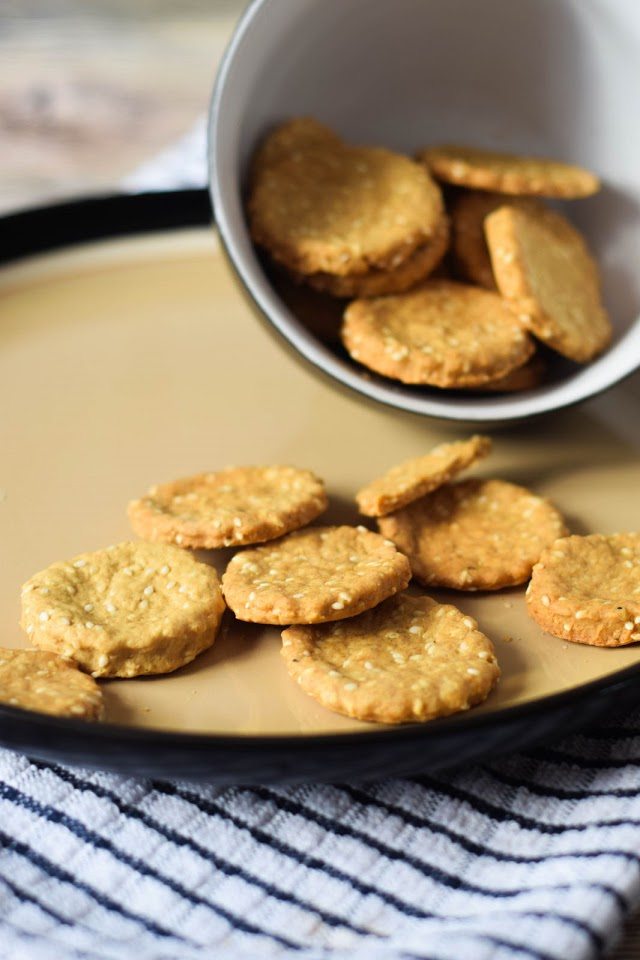 Serve- 15 to 20 pieces Baking time- 25 minutes
Check out the Blogging
Marathon page for the other Blogging Marathoners doing BM# 68
Best regards,
Sapana Behl