Roasted Bell Pepper Flax Seeds Soup
Roasted bell pepper flax seeds soup
: A hearty ,filling and finger licking delicious soup that would a perfect light lunch or dinner for those lazy days when you don't want to cook elaborate.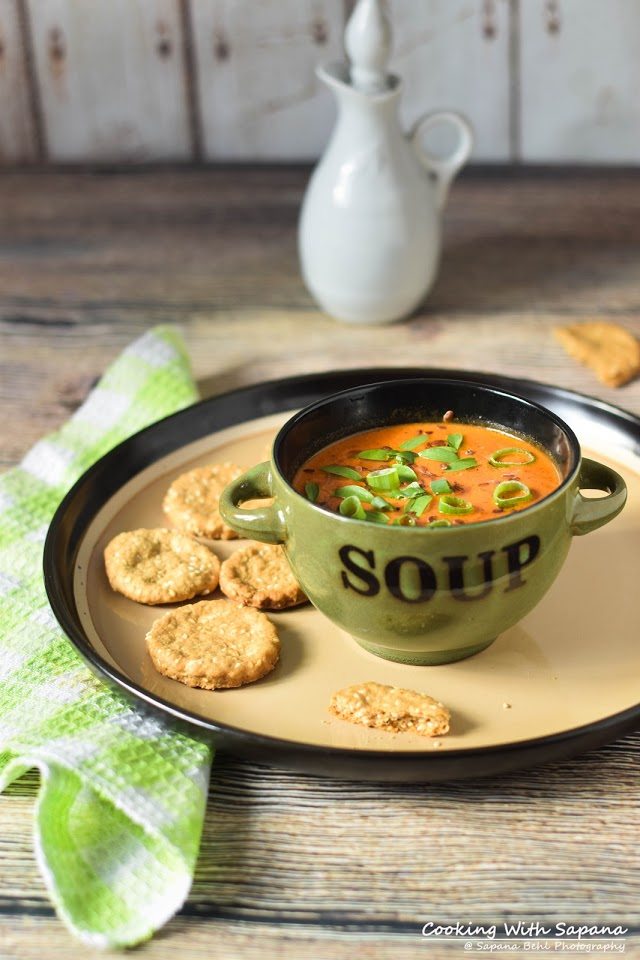 After enjoying Chia seeds drinks and Sunflower seeds Breakfast recipes, my next seeds in the Cooking Carnival is Flax Seeds and I shall be posting Lunch/Dinner recipes using the flax seeds.
Flax seeds aka Linseeds are one of the super seeds and again one of the healthiest ingredient on the planet.These seeds found in two colours brown and golden or yellow.These tiny seeds contain most of the nutrient and are high in fibre and low in carbohydrates.Being a source of antioxidants and omega 3 fatty acids they also help in lowering the bad cholesterol levels in the blood.Flax seeds help in weight losing and they are Gluten free too.
These seeds can be consumed whole or in ground form .Always make sure to store the ground flax in the refrigerator in airtight bags or container or else they can get rancid very soon.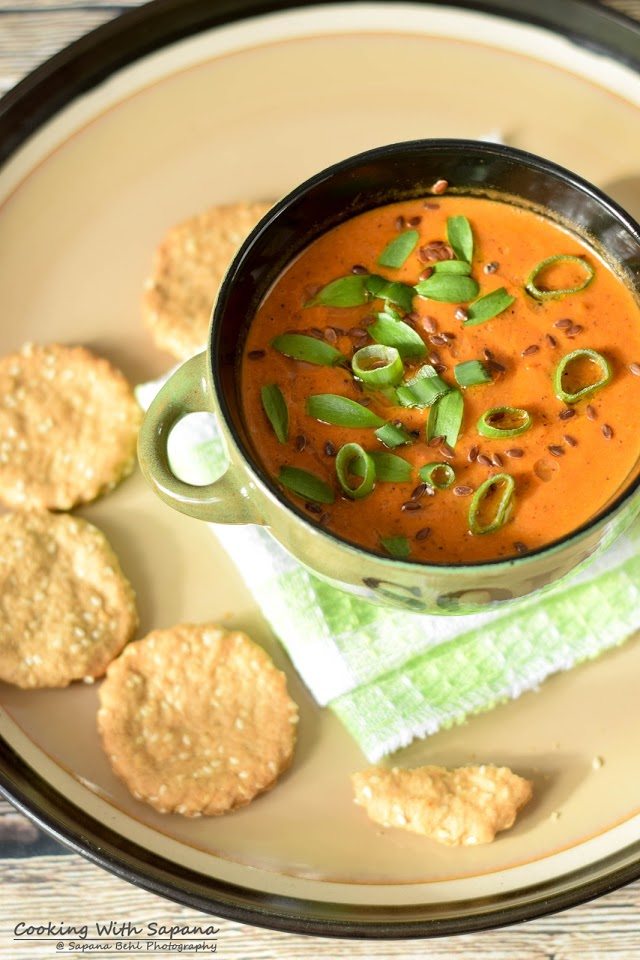 Blogging Marathon#68 Week 2 / Day 10
Theme– 5 Ingredients/5 Categories
Day 10 Ingredient– Flax Seeds
Day10 Category – Lunch:Dinner
Dish-Roasted Bell Pepper Flax Soup
Ingredients:
2 big red bell peppers
4 tomatoes
1 onion,chopped
2 sprigs spring onions,chopped
3-4 garlic cloves,minced
4 tablespoon ground flax seeds
1/2 teaspoon paprika
1 teaspoon ground basil
1 teaspoon ground parsley
salt to taste
black peppercorn ,crushed
2 tablespoon olive oil
1 tablespoon butter
1/2 tablespoon corn starch
4 cups water
2 teaspoon flax seeds,toasted

Method:
Roughly slice the red bell pepper and tomatoes and brush with olive oil.Preheat oven to 180 degrees and grease a baking tray with oil.
Place them in preheated oven fo about 20 minutes or until smoked and roasted.Remove from oven and set aside.
Heat olive oil and butter in a pan and add garlic, spring onion and onions.Saute till slightly golden in colour.
Now add basil,parsley,paprika and flax seeds powder.Stir and add roasted peppers and tomatoes.
Col the contents of the pan and puree them in a blender.
Place the soup back in the pan for cooking.Add salt and pepper and 3 cups of water.Cook covered for 15 to 20 minutes.Dissolve cornstarch in a quarter cup of water.
Add the cornstarch paste into the cooking soup pot.Stir and cook until soup thickens.
Remove from heat and season with more salt and pepper if required.Sprinkle with spring onion greens and toasted flax seeds.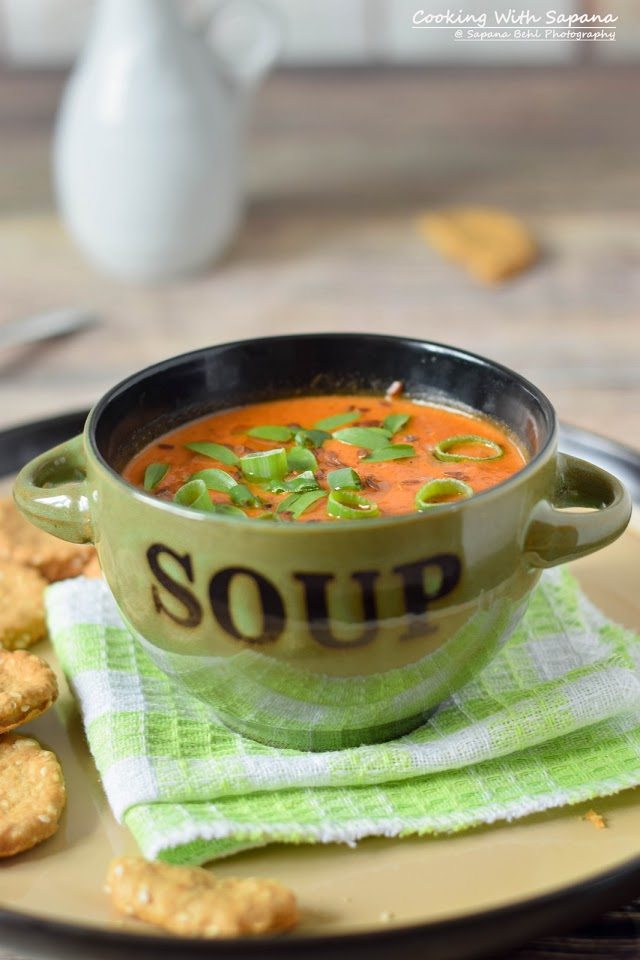 Serve and enjoy.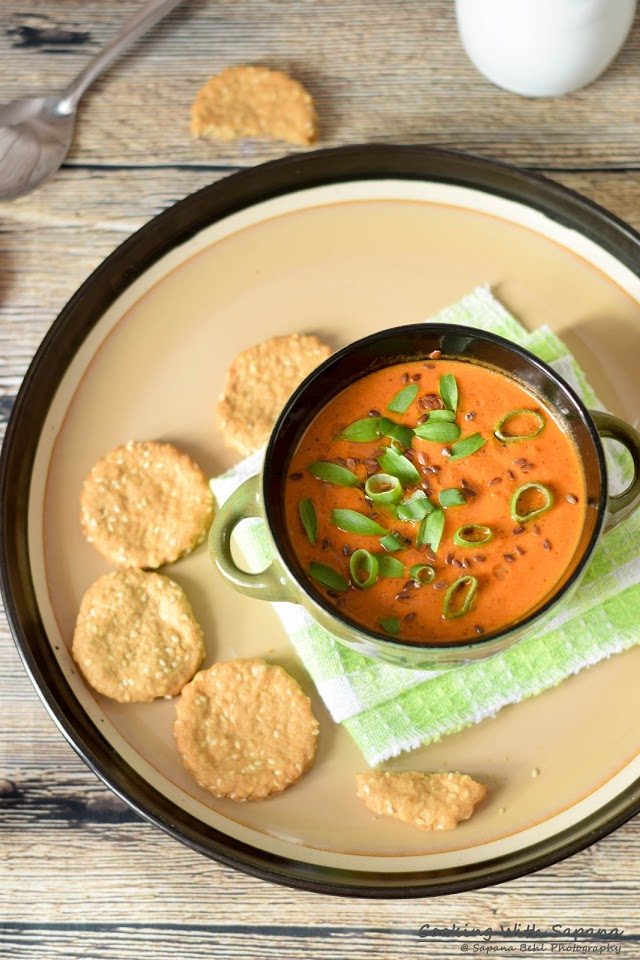 Serve- 4 Cooking time-30 minutes
Check out the Blogging
Marathon page for the other Blogging Marathoners doing BM# 68
Best regards,
Sapana Behl