Buckwheat Pumpkin Seeds Chocolate Cookies
Buckwheat Pumpkin Seed Chocolate Cookies: A delicious , nutty , chocolaty cookies to enjoy with coffee or as such . These cookies are gluten free and loaded with pumpkin seeds, chocolate chips and peanuts. What else do we need to enjoy these scrumptious cookies , they have everything.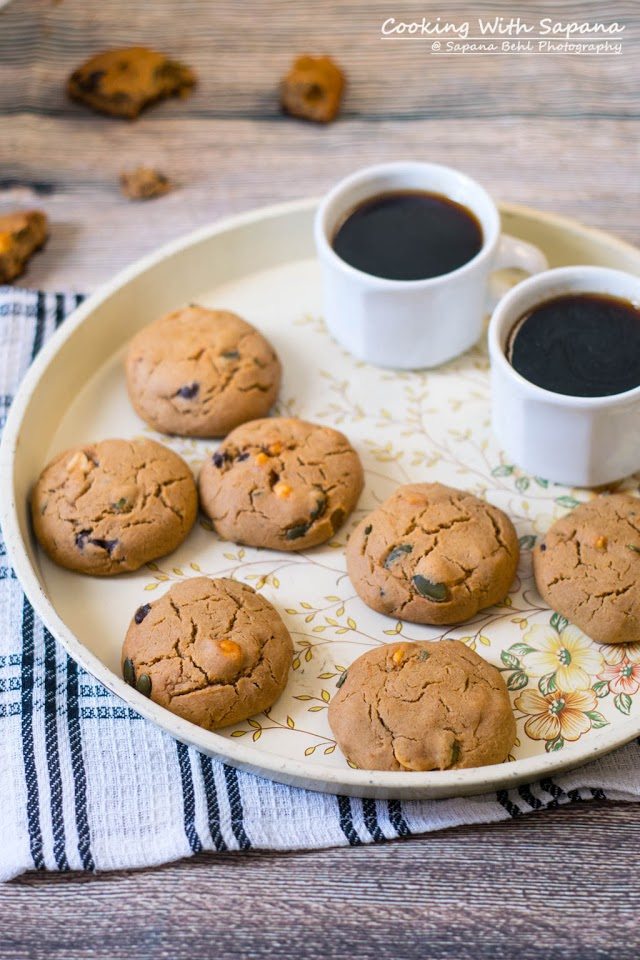 The roasted peanuts tasted great with pumpkin seeds and chocolate chips. Buckwheat flour itself gave a wonderful nutty taste to the cookies.These cookies would be loved by both kids and adults and make a wonderful all in one yummy treat. I adapted the recipe from a cookbook on ancient grains that I have had borrowed from the library a couple of days back.I picked the book for its amazing photographs as they were so wonderful that I just keep turning the pages all day to have a glance on the pictures. Hubby dear thought I went crazy as he always found me hanging with the book. Wish I could learn how to click those stunning pics someday.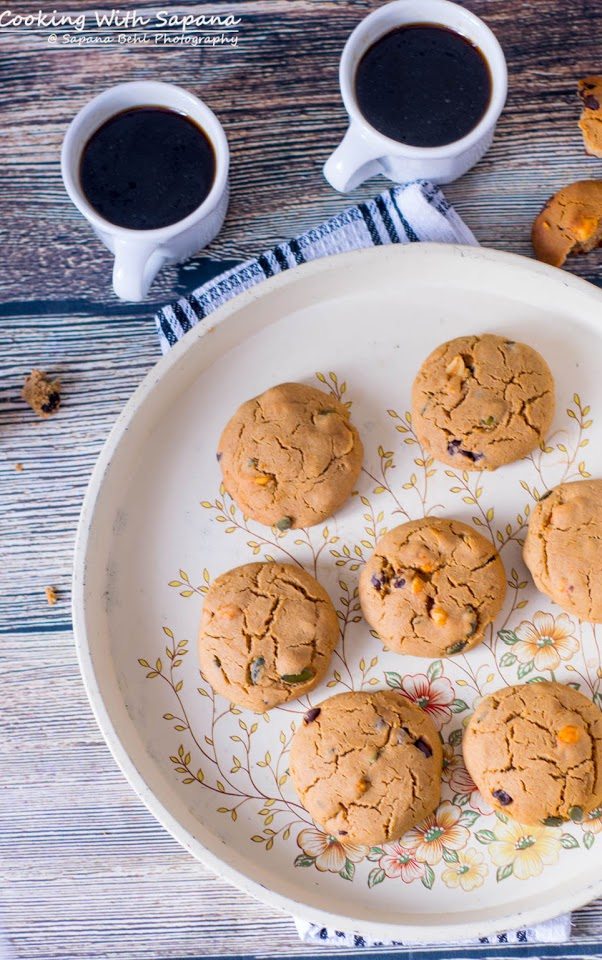 Blogging Marathon#68 Week 5 / Day 26
Theme– 5 Ingredients/5 Categories
Day 26 Ingredient– Pumpkin Seeds
Day 26 Category – Desserts
Dish-Buckwheat Pumpkin Seeds Chocolate Cookies
Source– Cookbook Grains as Mains
Ingredients:
1 1/2 cup buckwheat flour
3/4 cup brown sugar
1/2 cup pumpkin seeds
1/2 cup chocolate chips
1/4 cup roasted peanuts
1 teaspoon baking powder
1/2 cup milk
1 stick unsalted butter
Method:
In a mixing bowl sift flour and baking powder.I another bowl whisk together sugar and butter until creamy.
Add milk in the butter and whisk again until combined.
Now add the flour into the butter mixture.Combine gently and fold in pumpkin seeds, peanuts and chocolate chips.
Combine the ingredients to make a dough.Wrap it in cling film and place in refrigerator for 30 minutes.
Preheat oven to 375 degrees F and line a baking sheet with parchment paper.
Once chilled remove the dough from the refrigerator. Make small round balls of the dough and place them on the baking sheet.
Gently flatten the dough balls with hands and bake in preheated oven for 15 to 20 minutes or until brown.
Remove the baking sheet from oven and let it sit on the counter for 10 minutes.
Cool, the cookies on wire rack.
Store in air tight container.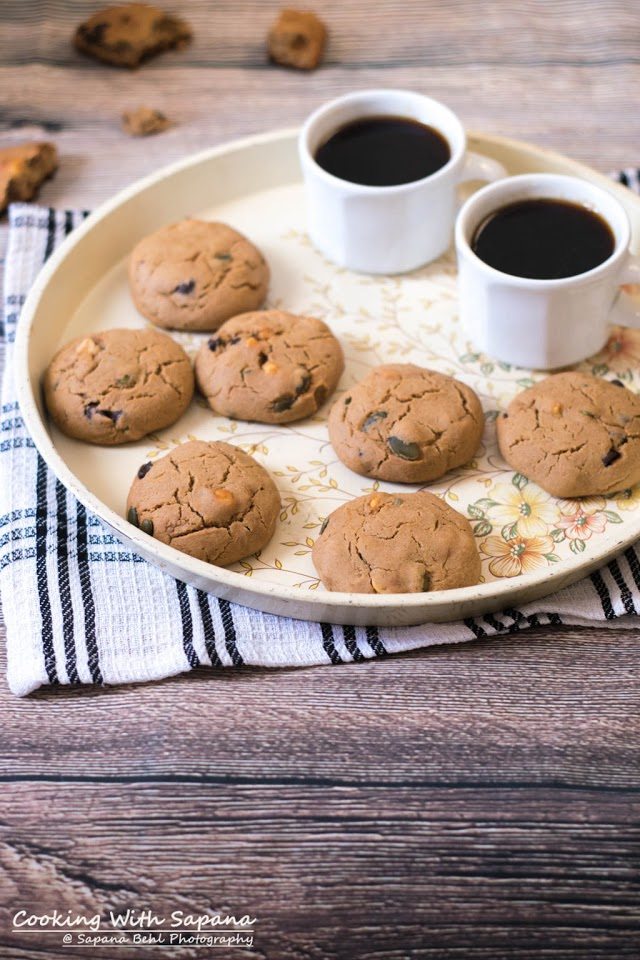 Serve and enjoy.
Serve- 16 cookies Baking Time- 17 minutes
Check out the Blogging
Marathon page for the other Blogging Marathoners doing BM# 68
Best regards,
Sapana Behl