Quick Layered Vegetable Biryani
Layered Vegetable Biryani
, a flavorful and delicious combination of rice and vegetables.I used store bought Biryani masala and blanched the vegetables before adding them in rice to make a quicker version of the classic Veg Biryani. It really helps you save time and you can impress your guest when in a jiffy.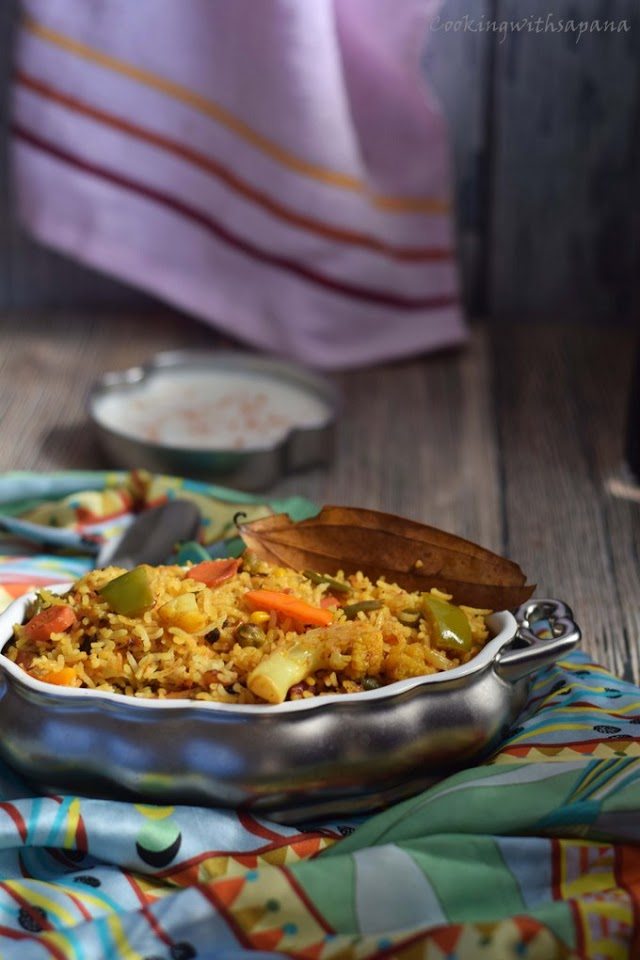 This week I will be posting three different kinds of rice recipes for my Blogging Marathon theme and the first day is Layered rice dishes.I have always loved rice based dishes and can have them anytime a day.Sometimes if I had leftover rice from night I can enjoy them for my breakfast as well.So when I see the theme "rice" I always pick it without thinking.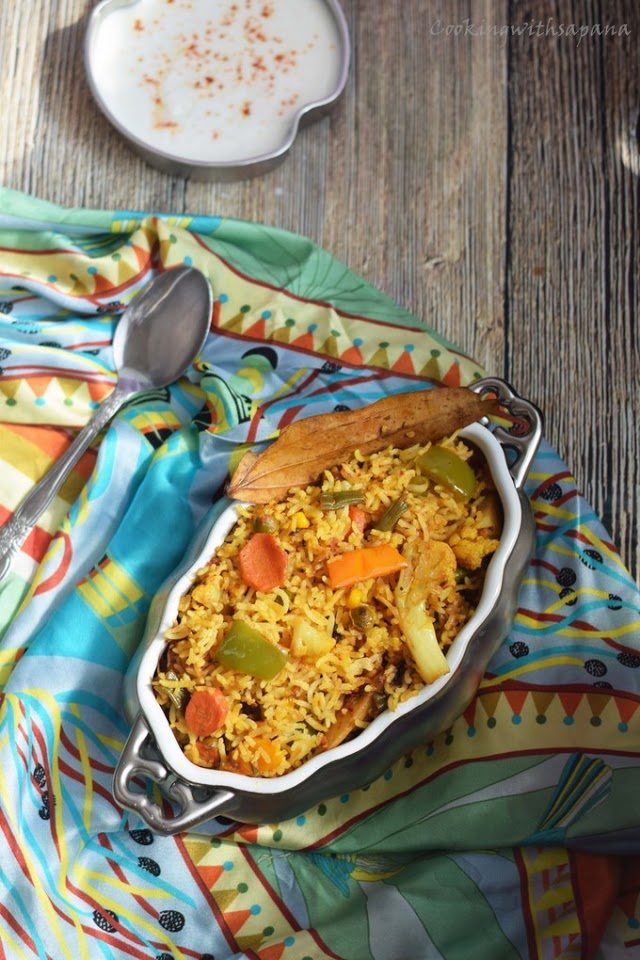 I have adapted the recipe from Rak's Kitchen and totally loved it.If you guys also love rice and are crazy for them like me then go ahead and do try making this quick and easy Biryani and make your everyday regular meal a little special.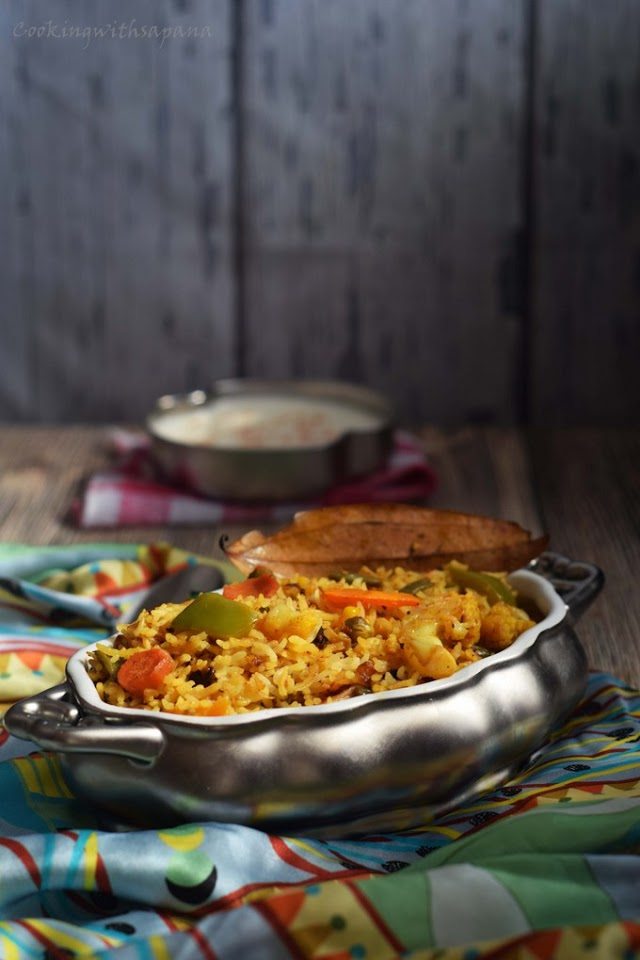 Blogging Marathon#65 Week 2
Theme– Rice Dishes
Dish-Layered Rice Biryani
Source-Here

Ingredients:
2 cups royal basmati rice
1 bay leaves
3-4 cloves
2-3 cardamoms
1 cinnamon stick
2 teaspoon oil
salt to taste
water as required
For Vegetables
2 cup mixed vegetables(carrot,capsicum,potato,beans,cauliflower,peas,tomato),blanched
2 onions,sliced
2 teaspoon ginger garlic paste
1/2 cup yogurt
2 teaspoon biryani masala
1 teaspoon turmeric powder
1 teaspoon red chilli powder
salt to taste
4 tablespoon oil
1/4 cup milk
few strands of saffron
ghee as desired
Method:
For rice
Heat oil in a pan and add cloves,cinnamon,cardamoms and bay leaves.Stir and add rice and salt.
Saute rice for a minute and add water.Cook until rice are done.Place the rice in a big tray or plate and stir with fork.
For Veggies
In another pan add oil.Fry the onions until golden and crispy.Remove half of the onions from oil and set aside.
In the remaining onions add vegetables.Add in biryani masala,turmeric,red chilli and salt.Mix well and add yogurt.Cook for a minute and remove from heat.
Now in another pan add a layer of vegetables.Top it with a layer of rice,some fried onions and saffron milk.Smear a little ghee.
Repeat alternate layers of veggies,rice,onions.Cook covered for 10 minutes on simmer.
Remove from heat and serve hot with raita.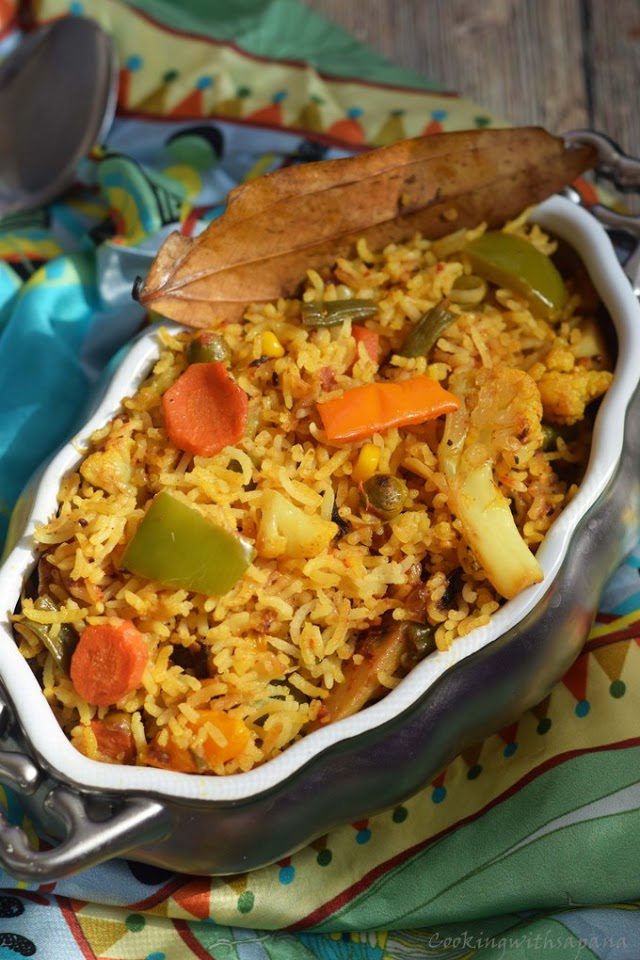 Enjoy!!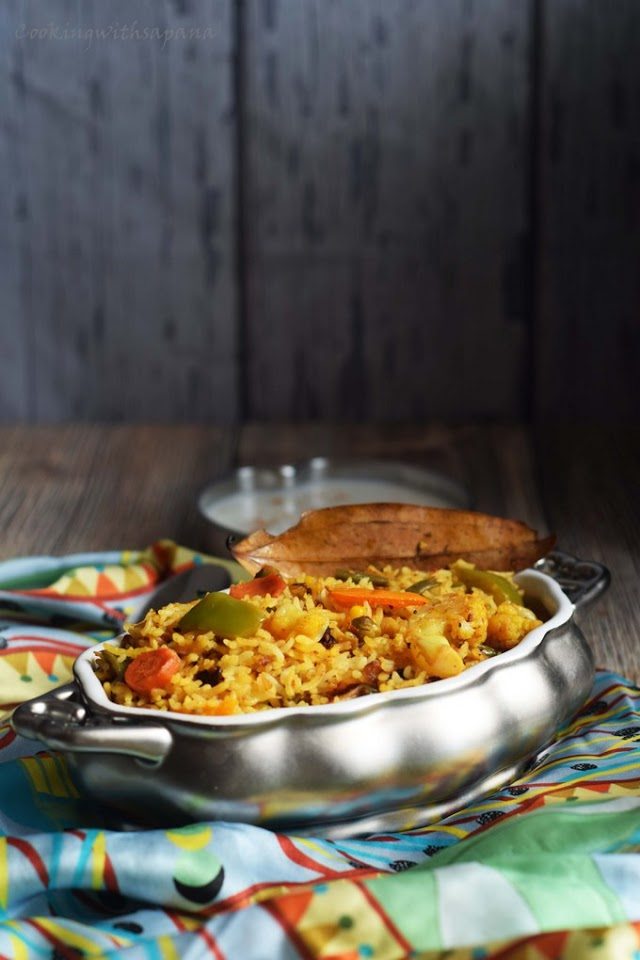 Serve-6 Cooking time-30 minutes


Best regards,
Sapana Behl