Lemon Iced Tea
Lemon Iced Tea
,what could be more refreshing and cool than a glass of chilled iced tea with lemon.Officially summers are yet not here ,the temperature is 90's F but still summer is yet to come.My sister is visiting us from India and from last week we are constantly visiting places ,beaches etc here in Florida.It feels great and beautiful to see such nice and serene places ,do fun and adventure activities but the scorching sun and heat makes us feel dehydrated and tired very soon.So in most of our trips I am always taking juices,lemonade and iced tea to make us feel refreshed and hydrated.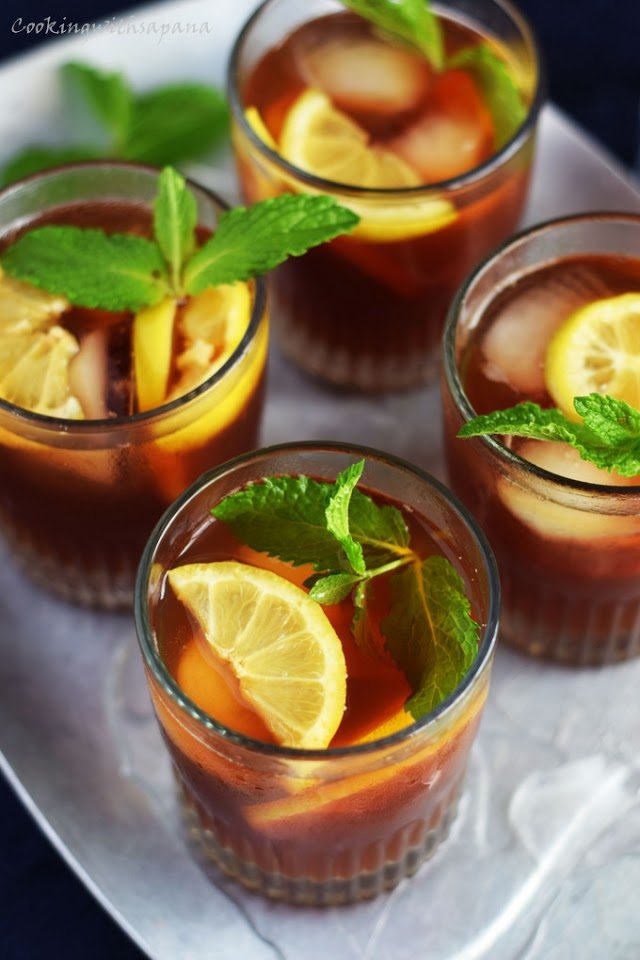 This iced tea is filled with goodness of lemon and mint and of course the taste of tea ,if you happen to be a tea lover or not you will definitely like this refreshing and cool iced tea.Go ahead give it a try and enjoy the summers.My daughter doesn't like tea but she totally love the Iced tea and demands frequently on some exceptionally hot days to make a batch for her.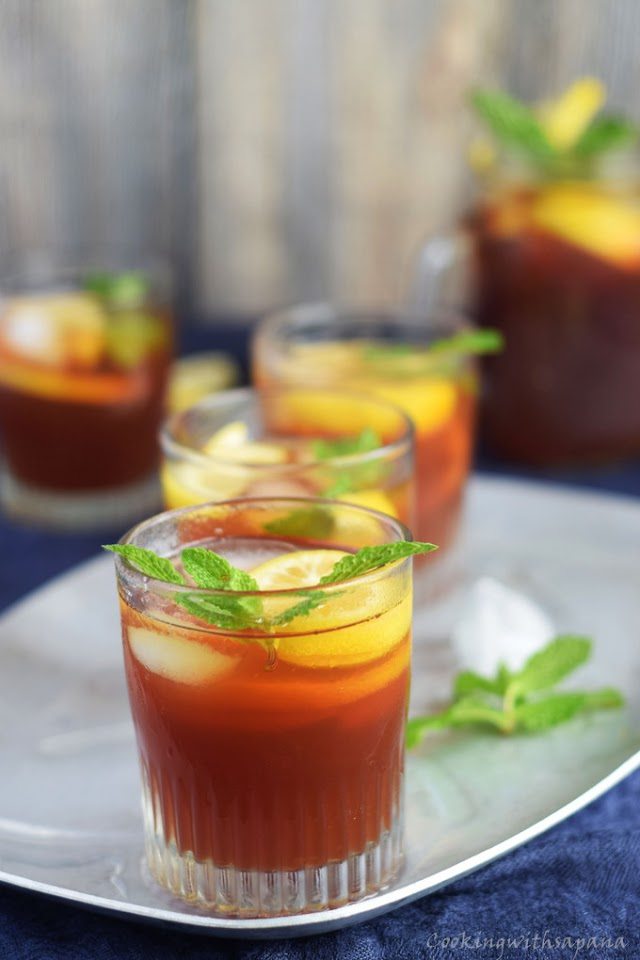 Blogging Marathon#64 Week 1
Theme– Kids Delight Summer Coolers
Dish-Lemon Iced Tea
Ingredients:
2 black tea bags or 2 teaspoon loose black tea
juice of two lemons
sugar or honey to taste
3 cups water
ice as required
mint leaves to garnish
lemon slices or cubes to garnish
Method:
In a pan add 2 cups of water and bring it to boil.Add the tea bags or loose tea.Cover and let it brew for few minutes.
In to a pitcher or jar add the brewed tea and 2 cups of water.
Place it in the refrigerator to cool.Mix lemon juice with honey or sugar and a 1/4 cup water and make a syrup.
Just before serving remove from refrigerator.Add the lemon syrup.
Add ice cubes,lemon slices and mint leaves in the serving glasses.Pour in the chilled tea.
Serve and enjoy.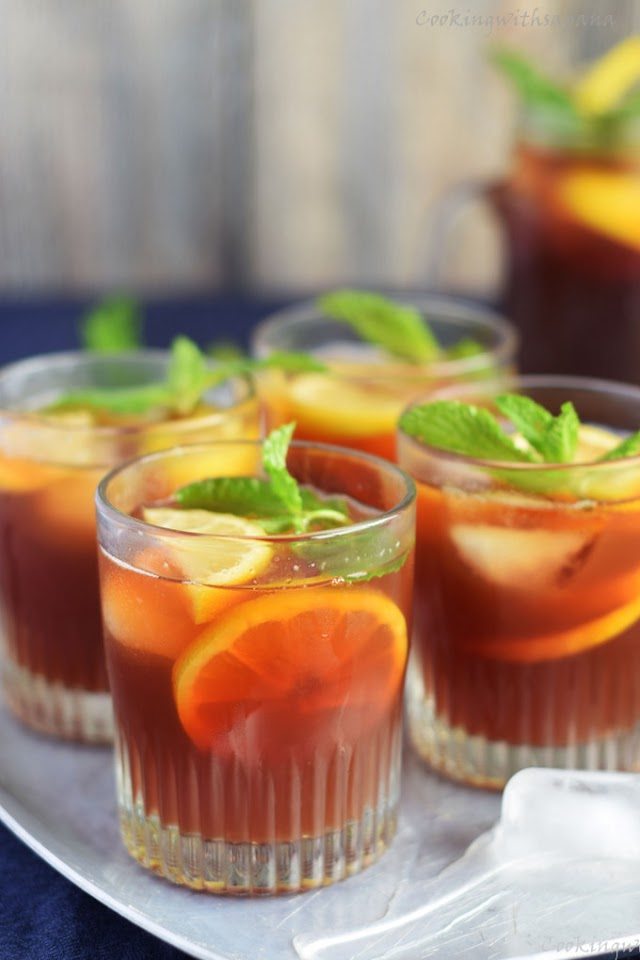 Enjoy!!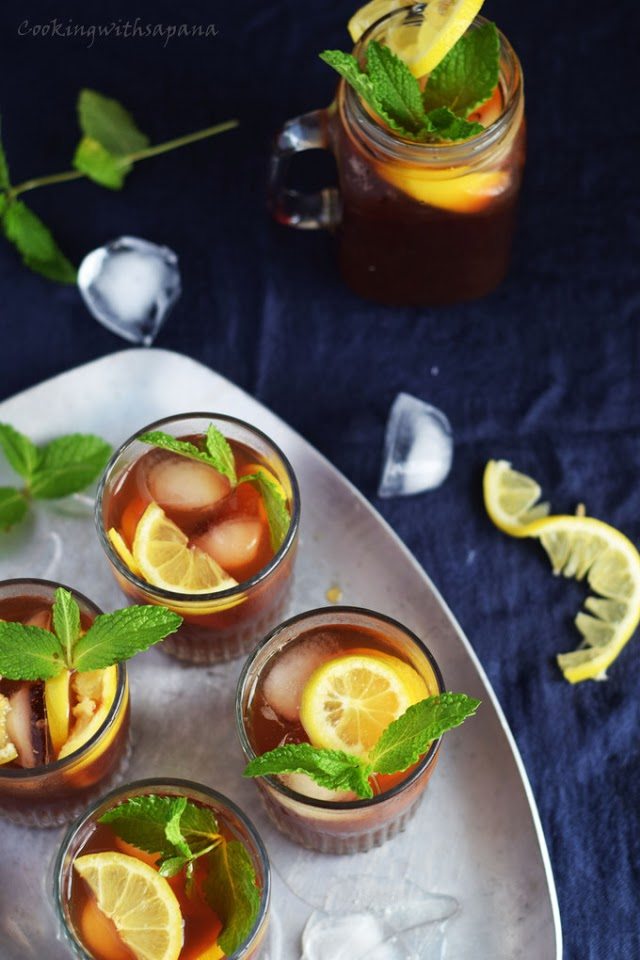 Serve-4 Prep time-15 minutes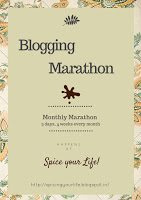 Check out the Blogging Marathon page for the other Blogging Marathoners doing this BM#64
Sending the Lemon Iced Tea to Kids Delight event themed "Summer Coolers" of Valli's happening at PJ's space.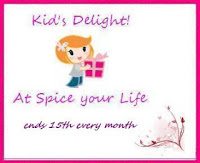 Best regards,
Sapana Behl