Detox Juice | Beet Carrot Apple Juice
Detox Beet, Apple and Carrot Juice
,for three days I will be posting detox diet.The word "detox" or detoxification is cleansed of the body by taking a particular diet ,fasting or eating less carbohydrates, fats etc..This juice is considered to be a wonderful and natural liver tonic. The carrots,beet and apple juices help in detoxification of harmful toxins present in the body.

Last few days my sister was with us and we were having lots of fun,eating food,watching late night movies,visiting places,etc…I had a tons of dishes in my mind that I wanted to make for her.She was worried about gaining weight after eating my dishes and desserts.In the last 5 days she refused to eat those dishes and asked me to help her reduce the weight that she gained during her stay.Then I started making the detox diet food for her and she was the only one at home who did the Detox diet.
Every day her breakfast was beet, carrot and apple juice , lunch was vegetable soup and dinner was a healthy and filling detox salad.I wasn't sure if she would follow the diet for so long, but to my surprise she did complete the diet and lost a few lbs of weight.She even noted the recipe and promised me that she would follow the diet every now and then to maintain proper weight and cleanse the body.
Blogging Marathon#64 Week 3
Theme– Detox Diet
Dish-Beet Carrot Apple Juice


Ingredients:
1 medium sized beetroot,peeled and chopped
2 medium sized carrots,peeled and chopped
1 apple,peeled and chopped
Method:
Pass the chopped ingredients through juicer.
Strain and pour in serving glasses.
Enjoy!!
Serve-2 Prep time-10 minutes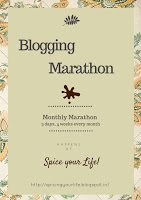 Check out the Blogging Marathon page for the other Blogging Marathoners doing this BM#64
Best regards,
Sapana Behl