Zucchini Fry and Bengali Thali
Zucchini Fry and Bengali Thali
,I can't believe this is the last post for Journey through Cuisines in A to Z Bengali Recipes series.Throughout the Bengali food cooking I wanted to do a Thali. First I thought of doing Thali for alphabet T but I already had tried the
Tomato chutney
so after a lot of thinking I decided to do the thali for the last post .I knew it from the starting that 'Z' has to be Zucchini recipe.
I loved each recipe in the series and some of them have become a family favorite as well.AS we were supposed to do only four posts in a day I will be sharing the remaining recipe (Mushroom Chorchori ) later in the coming days. I do not have much to talk or share about this post so you guys better hop over to the recipes.Hope you will enjoy the Bengali Thali and Zucchini Fry.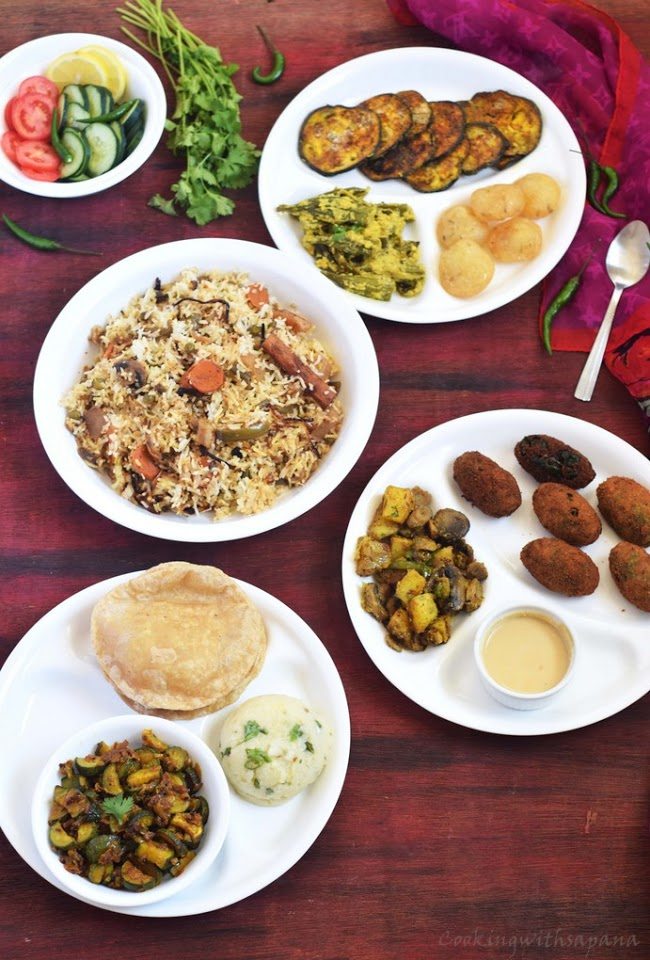 Blogging Marathon#63 Day 26
Cuisine-Bengali
Dish-Zucchini Fry and Bengali Thali
Doi Dharosh
Alu Bhaate
Kolkata Veg Biryani
Luchi (From Archives)
Misthi Doi (From Archives)
Spinach Chops (Recipe below)
Begun Bhaja (Recipe below)
RasBora (Recipe below)
Zucchini Fry (Recipe below)
Mushroom Chorchori
Salad
Zucchini Fry
Source-Here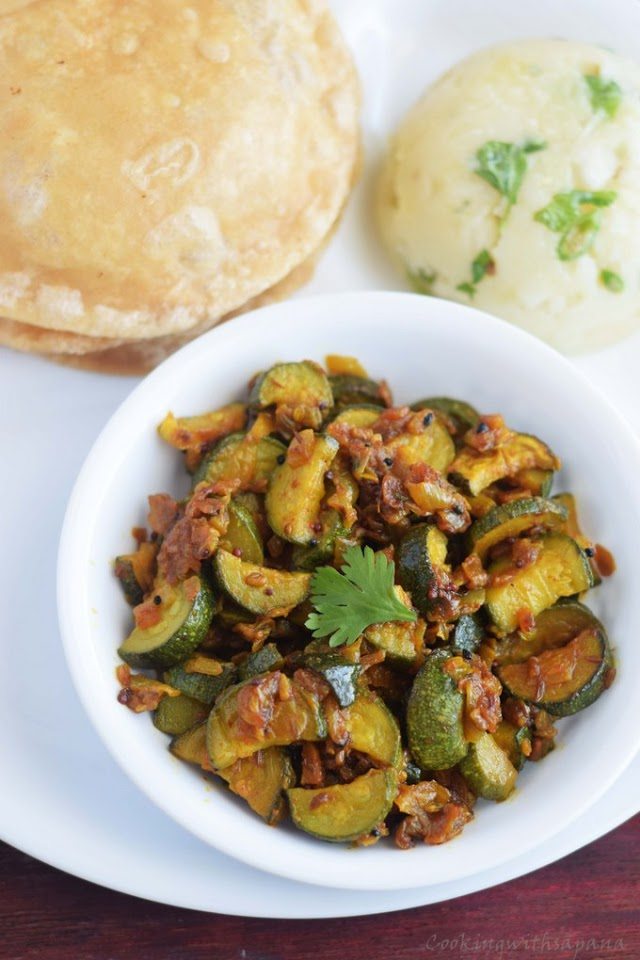 Ingredients:
2 zucchini,sliced
1 onion,chopped
2 green chillies,chopped
1 teaspoon paanch phoran
1/2 teaspoon turmeric powder
1 teaspoon red chilli powder
salt to taste
1 tablespoon mustard seeds
Method:
Heat oil in a pan and add paanch phoran,stir and add onions.
Add green chilies,stir turmeric ,red chilli and salt.
Stir and add zucchini.Cook covered until zucchini are soft.
Remove from heat and serve hot .
Serve-3 Cooking time-20 minutes
Begun Bhaja
Source-Here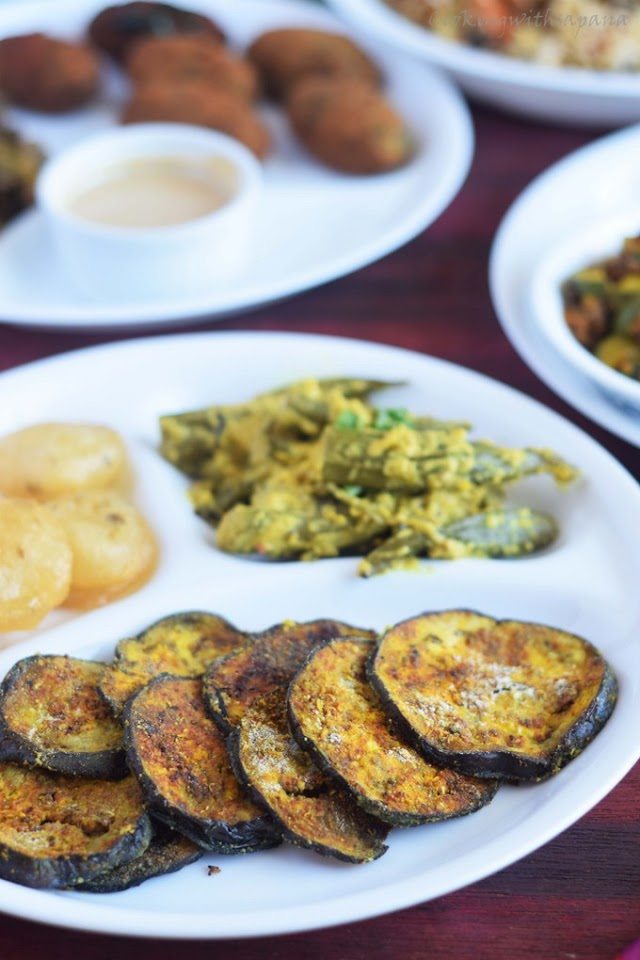 Ingredients:
1 big eggplant
1 teaspoon turmeric powder
salt to taste
1 teaspoon cumin powder
1 teaspoon garam masala
1 teaspoon Amchoor
1 teaspoon red chilli powder
salt to taste
2 tablespoon rice flour
2 tablespoon oil
Method:
Wash and cut eggplant in round slices.Sprinkle a pinch salt and turmeric powder.
Soak excess water on paper towel.
In a plate or bowl mix all the spice powders.
Heat oil in a pan.Coat each slice of eggplant with spices.Cover with rice flour and shallow fry in the pan.Flip and roast from both sides until crispy.
Repeat the same with all slices.
Serve hot.

Serve -3 Cooking time-20 minutes.
RosBora
Source-Here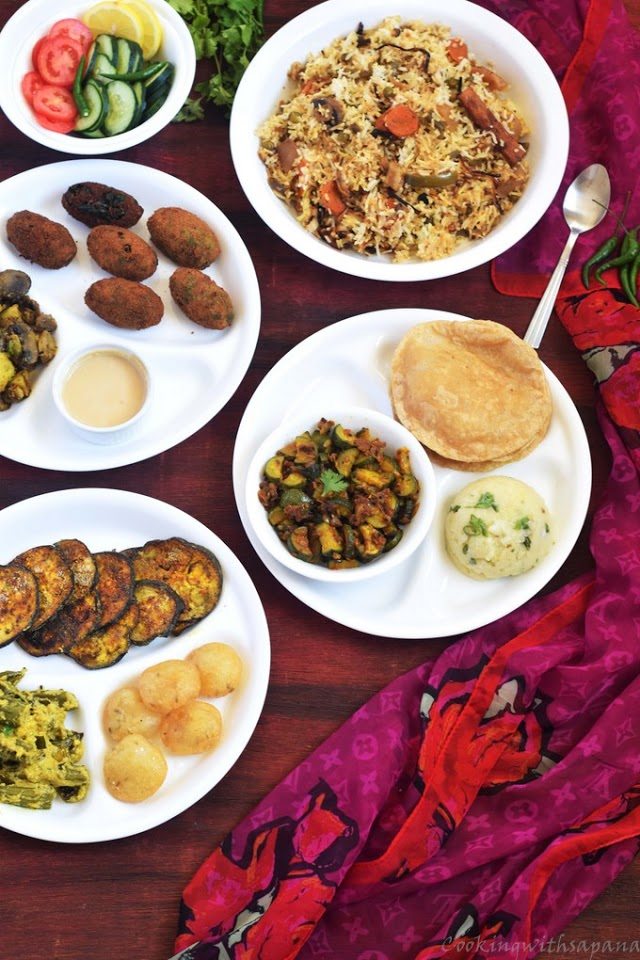 Ingredients:
1 cup urad dal/washed and split
a pinch soda
1 teaspoon fennel seeds
1 cup sugar
1/2 cup water
oil for frying
Method:
Make a one thread consistency sugar syrup by cooking sugar and water for 10 to 12 minutes.
Wash and soak dal in enough water overnight.
Make a paste using blender or food processor.
Add soda and fennel seeds and whisk to combine.
Heat oil in a pan and drop a tablespoon of batter at a time.
Fry the boras until golden from both sides.
Drain on paper towel.
Dip them in sugar syrup for 2-3 minutes.
Remove and serve.
Serve-4 Cooking time-30 minutes.
Spinach Chops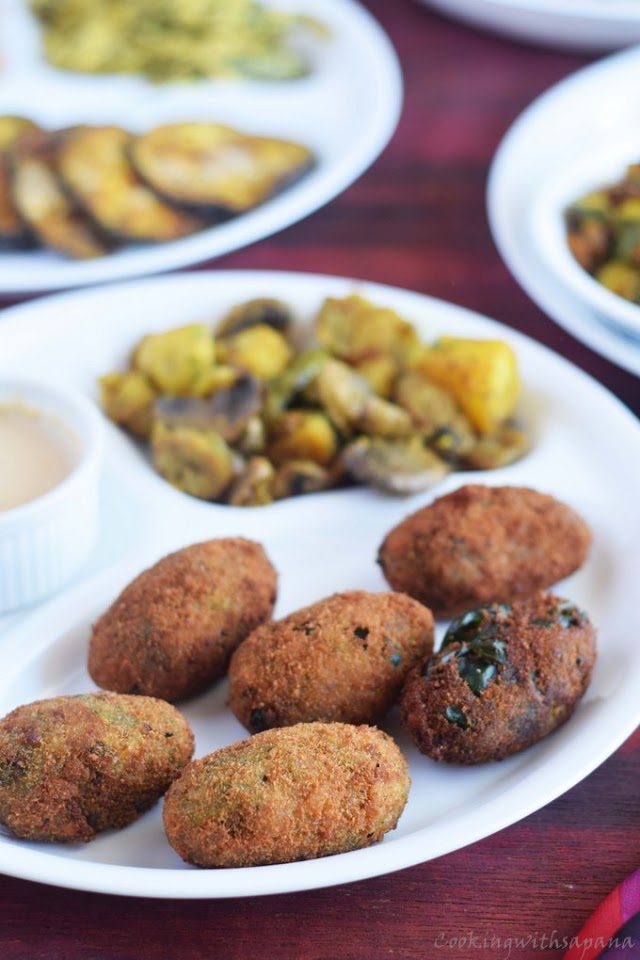 Ingredients:
2 potatoes,boiled and mashed
250 gms spinach leaves,chopped
2 green chilliees,chopped
1 teaspoon ginger,grated
salt to taste
1/2 teaspoon chilli powder
1 teaspoon sugar
1 teaspoon bhaja masala

Other ingredients:
1/2 cup besan/all purpose flour
1/4 cup water
1 cup bread crumbs
1/4 cup peanuts,roasted
oil for frying

Method:
Mix spinach leaves,potato,ginger and green chilli in a bowl.Add bhaja masala,salt,sugar and chilli powder.Add in roasted peanuts.
In a bowl add besan/all purpose flour and water.Whisk and make a paste.Place bread crumbs in a plate.
Now make small round balls from the spinach mixture.Shape them oval or oblong.Dip each chop in flour mixture and coat them in bread crumbs.
Heat oil in a wok or pan.Deep fry the chops until golden and crispy.Drain on paper towel.
Serve hot with chutney,ketchup or tea.
Serve-4 Cooking time-30 minutes
Enjoy the Bengali Thali.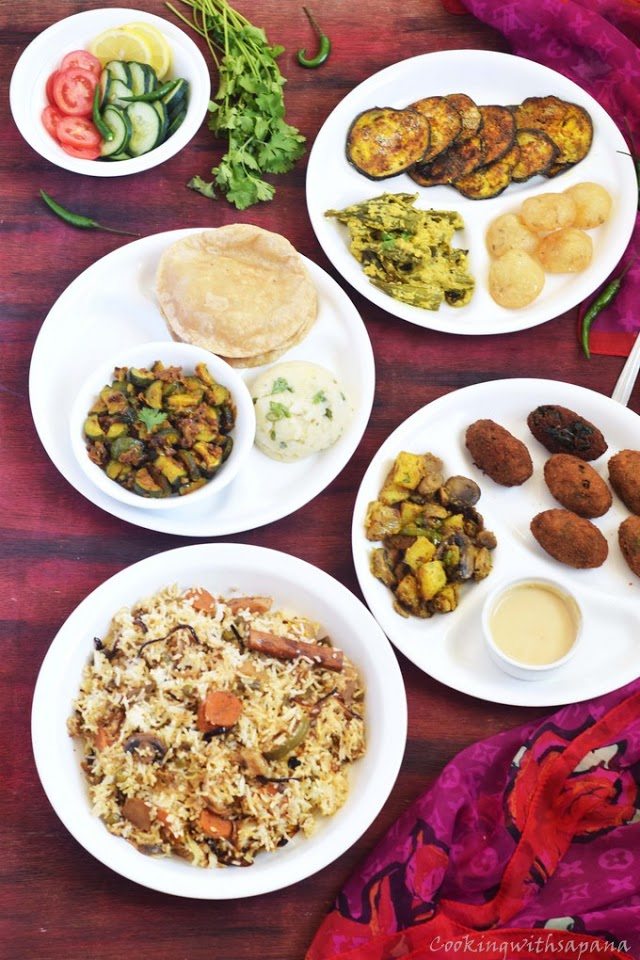 Stay tuned for a recap of the Journey through Cuisines, A to Z Bengali food series.
Doi Dharosh
Alu Bhaate
Kolkata Veg Biryani
Luchi (From Archives)
Misthi Doi (From Archives)
Spinach Chops (Recipe below)
Begun Bhaja (Recipe below)
RosBora (Recipe below)
Zucchini Fry (Recipe below)
Mushroom Chorchori
Salad
Check out the Blogging
Marathon page for the other Blogging Marathoners doing BM# 63
Sending this post to A to Z April 2016 Challenge
Best regards,
Sapana Behl