Vegetable Chops
Vegetable Chops
, crispy deep fried croquettes made of mixed vegetables and spices.I made the recipe from
Sandeepa's blog
used a variety of vegetables and totally love these chops.They made a perfect appetizer or tea time snack.When it comes to writing the intro for a post I am always lost.I am not at all good in all this writing stuff.For this post I was totally out of words and couldn't write more.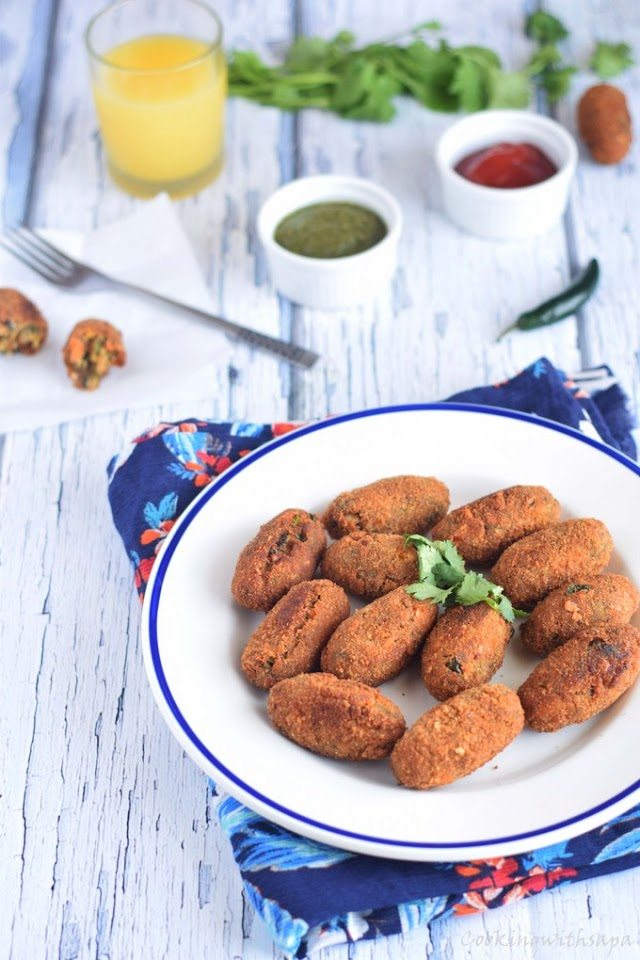 Chops or croquettes are Bengali all time favorite snacks and they love to make chops from all non veg and veg ingredients like Fish chops,Eggplant chops,Potato chops etc.We had a great time enjoying them for our evening snack.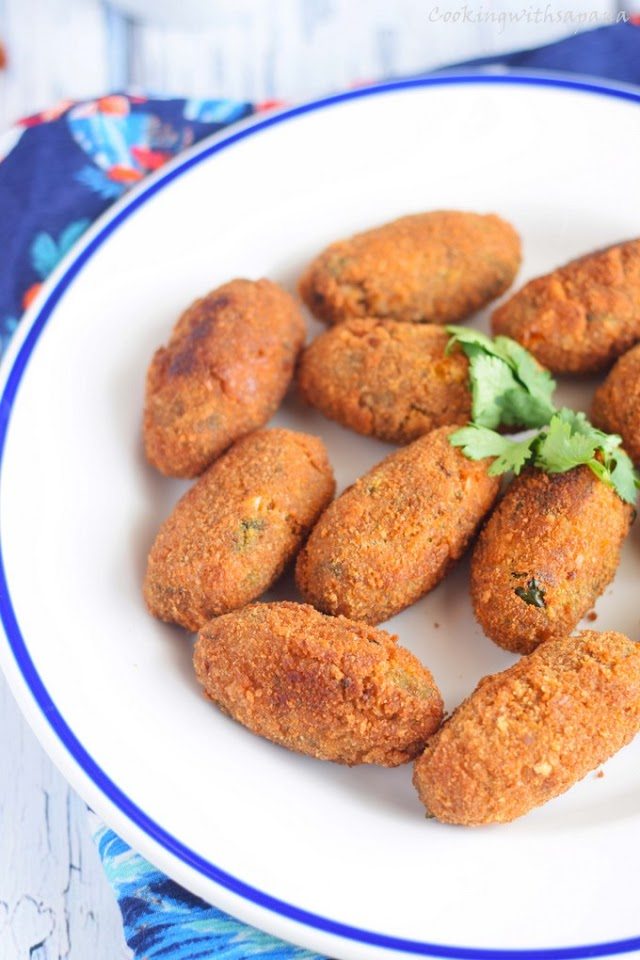 Blogging Marathon#63 Day 22
Cuisine-Bengali
Dish-Vegetable Chops
Source–Here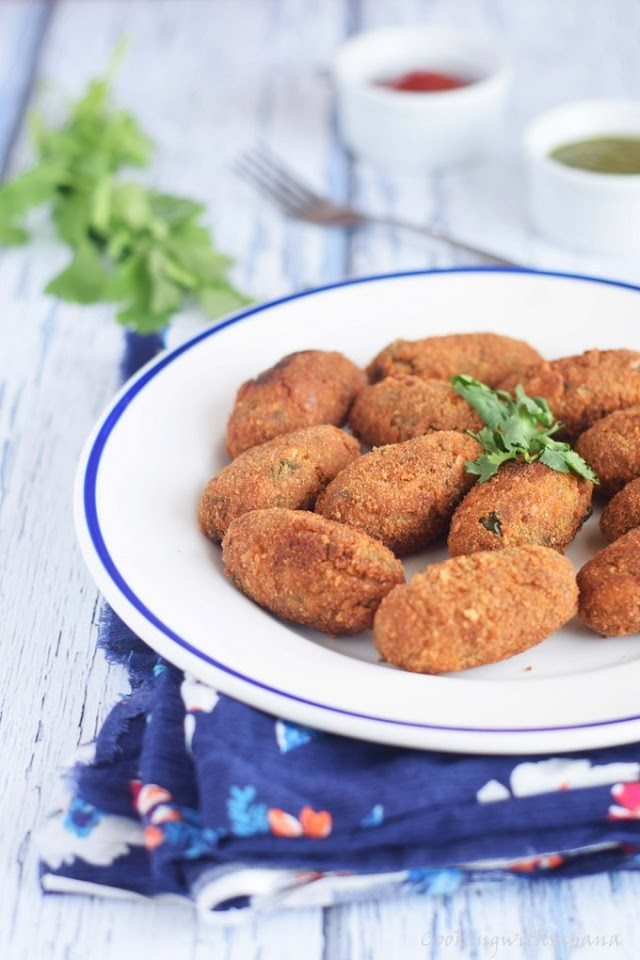 Ingredients:

For Bhaja Masala
2-3 cardamoms
2 bay leaves
4-5 cloves
1 cinnamon stick
3-4 red chilli
3-4 peppercorns
1 tablespoon coriander seeds
1 teaspoon cumin seeds
1 teaspoon fennel seeds
For chops
3 cups mixed vegetables,chopped(I used carrot,potato,beans,broccoli,peas,capsicum)
2 green chilliees,chopped
1 teaspoon ginger,grated
salt to taste
1 teaspoon chilli powder
1 teaspoon sugar
2 teaspoon bhaja masala
1 tablespoon oil
few coriander leaves,chopped
Other ingredients:
1/2 cup besan/all purpose flour
1/4 cup water
1 cup bread crumbs
1/4 cup peanuts,roasted
oil for frying
Method:
Dry roast the spices for bhaja masala. Cool and grind in coffee grinder to make a fine powder.
Store in air tight container.
In a pan add enough water and cook the vegetables.Drain the excess water and mash the veggies with vegetable masher.
Heat oil in a pan add ginger and green chilli. Saute and add mashed vegetables.Stir and add bhaja masala,salt,sugar and chilli powder.Add in roasted peanuts and chopped coriander leaves.
In a bowl add besan/all purpose flour and water.Whisk and make a paste.Place bread crumbs in a plate.
Now make small round balls from the vegetable mixture.Shape them oval or oblong.Dip each chop in flour mixture and coat them in bread crumbs.
Heat oil in a wok or pan.Deep fry the chops until golden and crispy.Drain on paper towel.
Serve hot with chutney,ketchup or tea.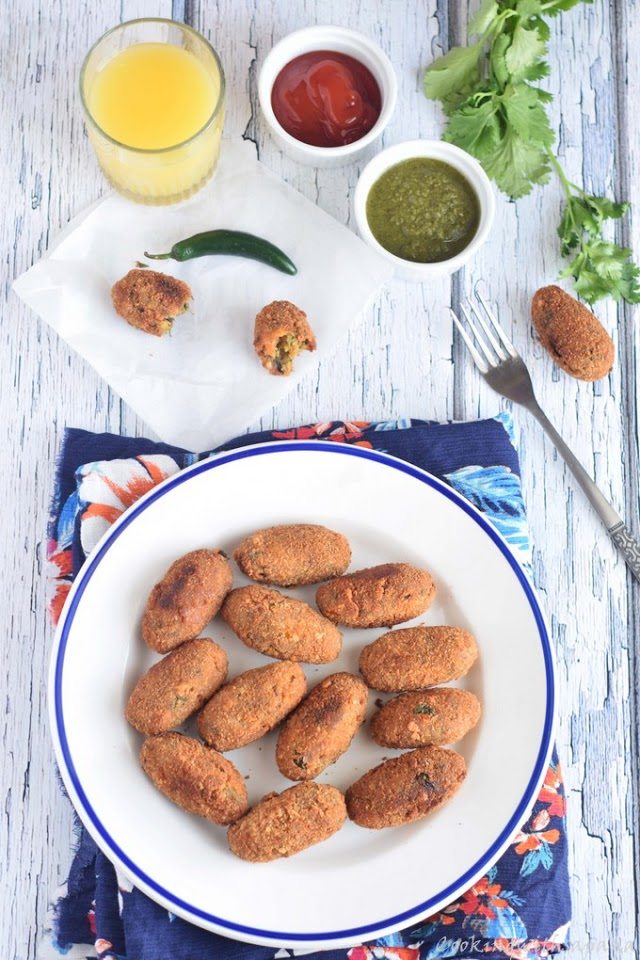 Enjoy!!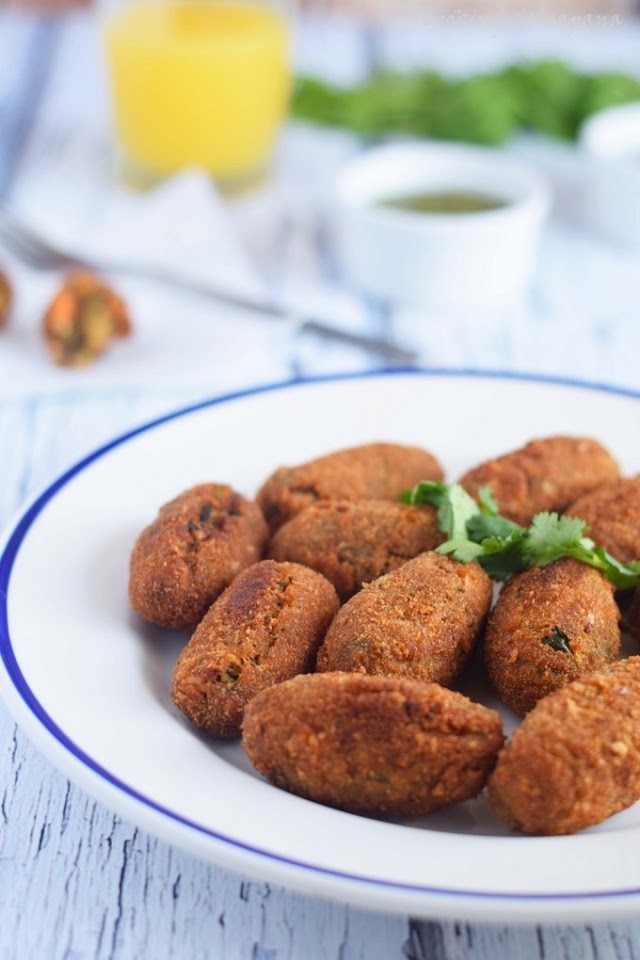 Serve -6 Cooking time-35 minutes
Check out the Blogging
Marathon page for the other Blogging Marathoners doing BM# 63
Sending this post to A to Z April 2016 Challenge
Best regards,
Sapana Behl