Ucche Kumror Chakka
Ucche Kumror Chakka
a combination of bitter gourd (ucche), pumpkin (kumror) cooked together with potatoes and black chickpeas to make a perfect balanced curry.Bengalis are fond of vegetables like gourd,roots,bitter gourd and leftovers from vegetables like peels and stems and bits that are normally discarded in other cuisines.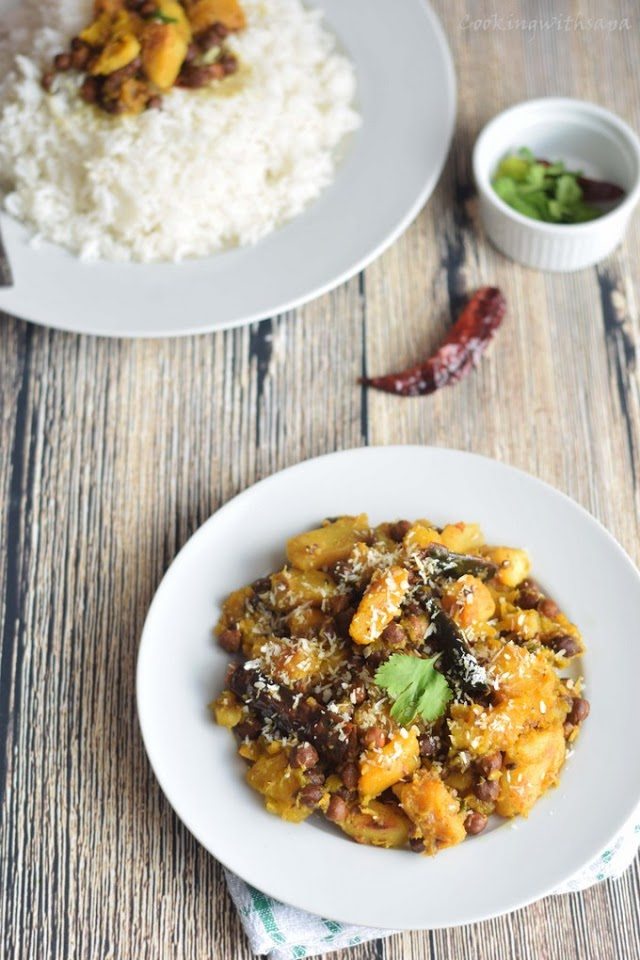 This was the second alphabet that made me nuts .I only found one name Ucche means bitter gourd or Karela word to justify the alphabetical theme.After looking up for a few recipes with uchhe ,I found this one interesting recipe .But then I wasn't sure if my family who hates bitter gourd would even try it.Then after a lot of thinking I mixed two recipes and made one combination.Addition of potatoes and black chickpeas made it more delicious and interesting.I used very small pieces of bitter gourd that too peeled so they won't recognize the presence of Bitter gourd in the curry.The best part was that the pumpkin balanced the bitterness of karela and non one ever asked if there is something bitter in the dish.
I modified the recipe to our taste and preference but I do not want to alter any particular dish so please don' mind and think how someone can change any authentic recipe and named it whatever.I just made the name to suit it for my A to Z cooking theme .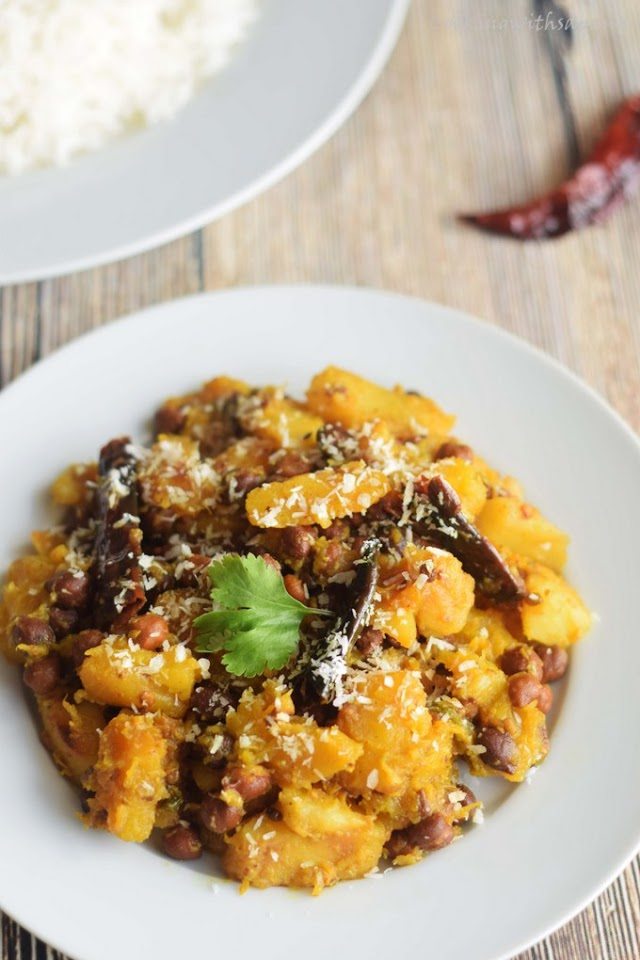 Blogging Marathon#63 Day 21
Cuisine-Bengali
Dish-Ucche Kurmor Chakka
Source–Here and Here
Ingredients:
1 cup black chickpea/boiled
1/2 cup bitter gourd,peeled and chopped
1 potato,cut in cubes
2 cups pumpkin,cut in cubes
2 green chillies,cut in slits
1 teaspoon ginger,grated
1 teaspoon fenugreek seeds
a pinch aseftida
1 teaspoon cumin seeds
1 teaspoon garam masala
1 teaspoon coriander powder
1 teaspoon turmeric powder
salt to taste
2 tablespoon oil
1/4 cup coconut,grated
2 dried red chillies
1 teaspoon ghee

Method:
Sprinkle turmeric and a little salt on bitter gourd and leave or 30 minutes.Squeeze excess water and set aside.
Heat oil in a pan and add fenugreek seeds,aseftida and dry red chillies.Stir and add potato cubes.Sprinkle half a teaspoon of turmeric powder.Cook covered until potatoes are a little soft.
Now add grated ginger,green chilli slit,coriander powder,turmeric powder,cumin powder and salt .Stir and add pumpkin cubes and bitter gourd pieces.Add a tablespoon water and cook covered until pumpkin are soft.
Open lid,stir and add cooked black chickpeas.Cook for 1 minute more.
Sprinkle grated coconut and garam masala.Pour ghee and serve hot with rice or luchi.
Enjoy!!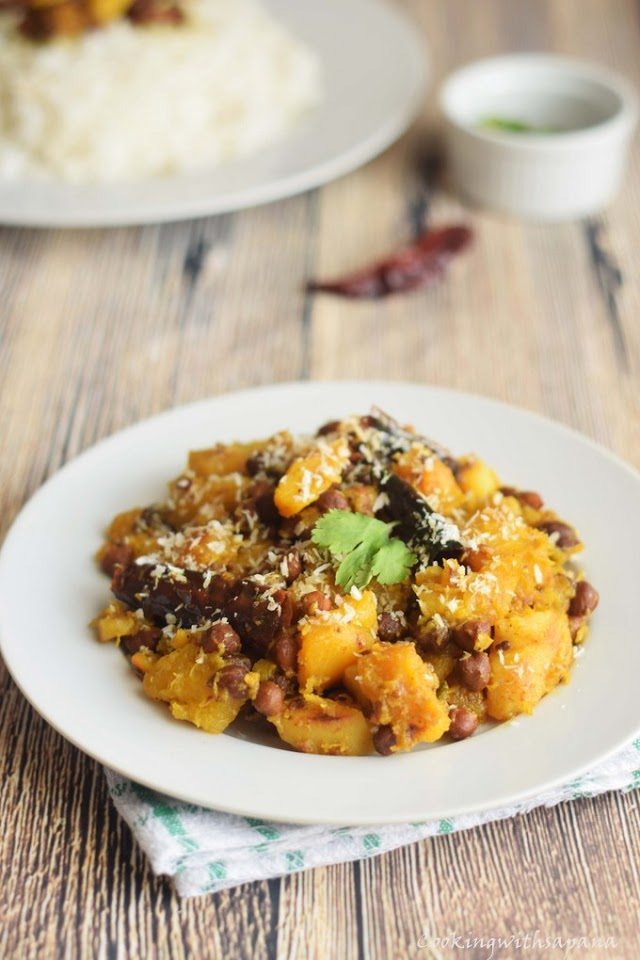 Serve-4 Cooking time-30 minutes
Check out the Blogging
Marathon page for the other Blogging Marathoners doing BM# 63
Sending this post to A to Z April 2016 Challenge
Best regards,
Sapana Behl