Suzir Payesh
Suzir Payesh
is milk and semolina based pudding is a popular Bengali desert that is often made during festivals.The name payesh is like the kheer of North India or Payasam of South India.
You all must be wondering if it is a kheer or payasam why it is not looking like.I mean yes of course it should be a little pouring consistency ,right??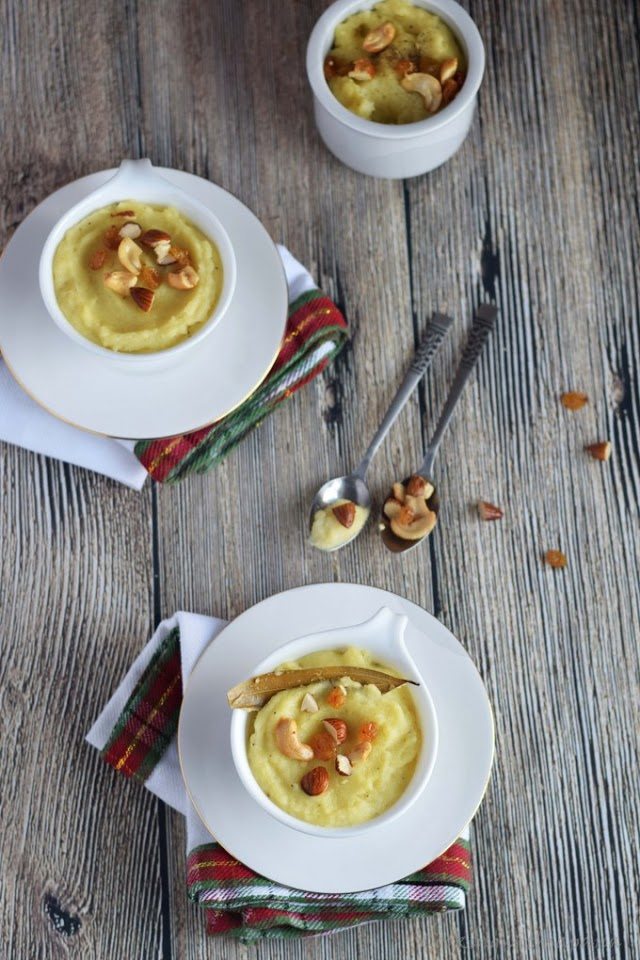 Well let me tell you what happened.It was a beautiful and pouring consistency payesh when I made it.As I started prepping to get the pictures upstairs.Yes my photo clicking room is upstairs,see how many rounds I have to do to get clicks and a most of the times few of the glass dishes have broken also because of this non stop running.This is one of the 100th reason of me being so skinny or as my BMI says under under weight.But we were talking about payesh so when I came back after making setup etc. the payesh was looking more thick like Halwa.All the milk has been absorbed in the payesh. For a moment I thought to add more water and cook it few minutes more but then the lazy bug inside me bite me and said hey don't you dare wait up.Just go ahead and click otherwise it will take more time.And guess what,I listened to the naughty bug and poured the payesh in the bowls and clicked the pictures.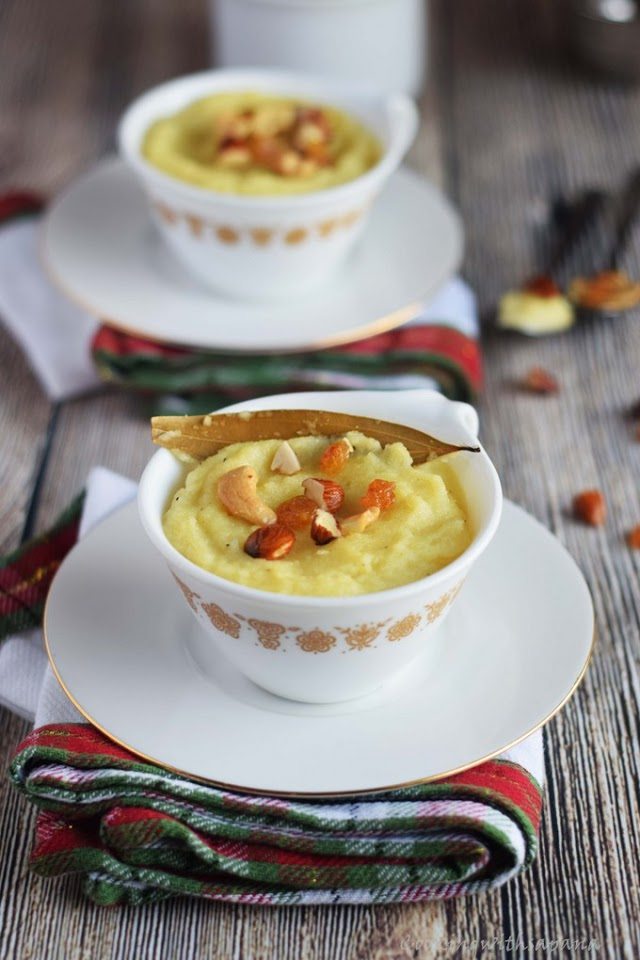 If you are going to make this kheer please don't wait up,click or eat it soon otherwise it will be thickened for sure.However the taste of this payesh was nothing like the suzi halwa as you might be thinking would have been by the looks.It tasted more like kheer and the main strong flavor was from the bay leave.This is a perfect and easy desert recipe to indulge on for those sweet cravings.It will melt in your mouth and you won't stop eating one bowl.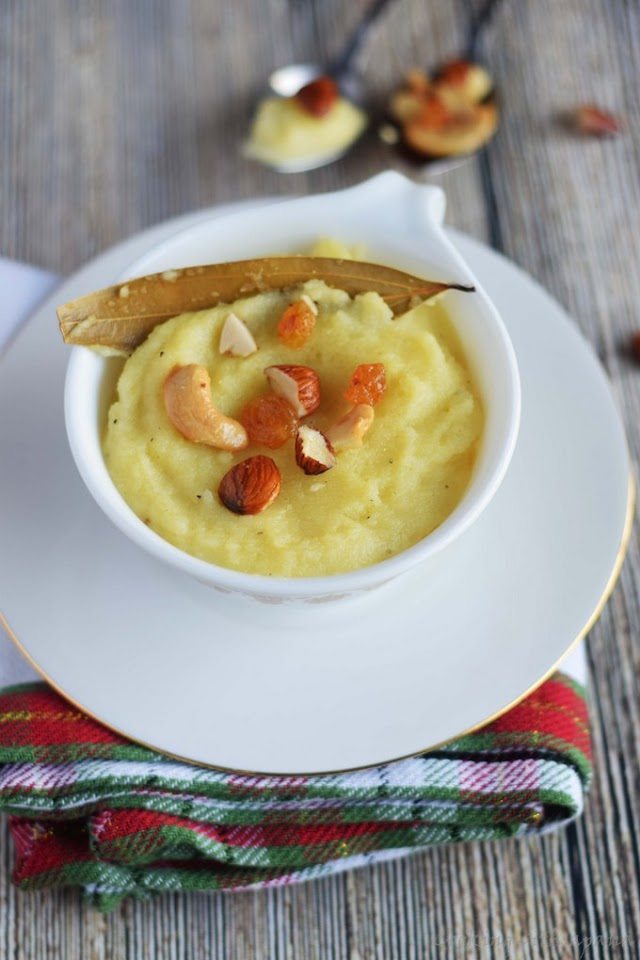 Blogging Marathon#63 Day 19
Cuisine-Bengali
Dish-Suzir Payesh
Source–Here
Ingredients:
3/4 cup fine semolina/suzi/rava
3 cups milk
1/4 cup ghee/clarified butter
1/2 cup sugar or to taste
1 bay leave
1 teaspoon cardamom powder
Nuts of choice 1/4 cup (I used almond,cashew and raisins)
Method:
In a pan or wok add ghee.Fry the nuts in it and drain them on paper towel.
Into the same ghee add bay leave and sifted semolina.Roast it on low medium heat for 2-3 minutes.Do not roast longer the color of semolina should be white.
Now add milk and sugar.Cook for few minutes more or until desired consistency.
Remove from heat and add cardamom powder and fried nuts.
Serve warm.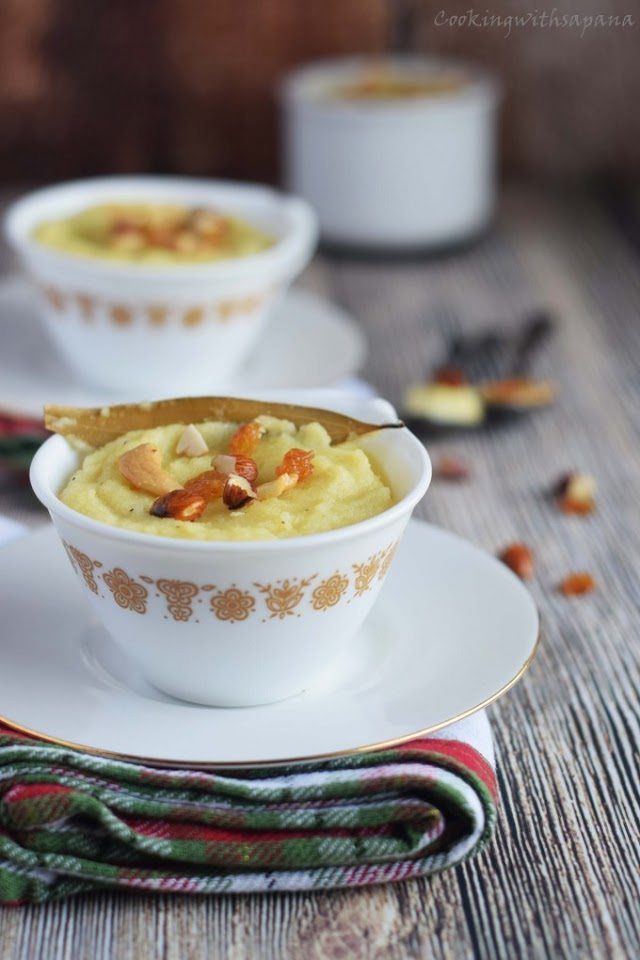 Enjoy.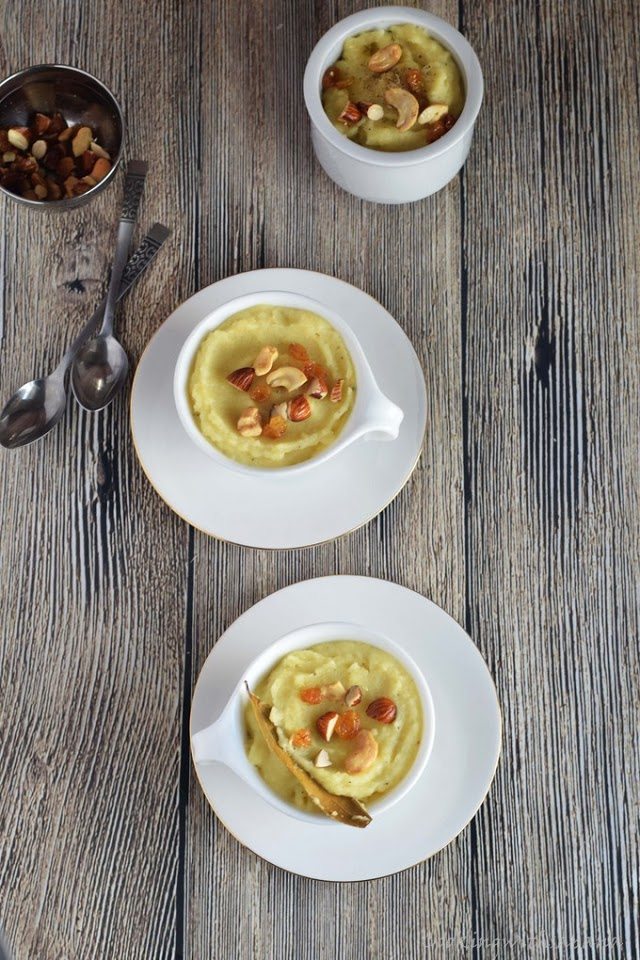 Serve-4 Cooking time-20 minutes
Check out the Blogging
Marathon page for the other Blogging Marathoners doing BM# 63
Sending this post to A to Z April 2016 Challenge
Best regards,
Sapana Behl