Qeema Koraishuti
Qeema Koraishuti
or Matar Keema is a healthy and tasty dish made with soya granules and peas.I was totally stuck with alphabet "Q" and did not have any idea what I would be cooking.On the internet, there was not a single Bengali recipe that starts with the letter or maybe there would be one and I did not searched thoroughly.But for me I was so lost ,my list was complete and the four letters that needed a plan were X,Y and of course Q.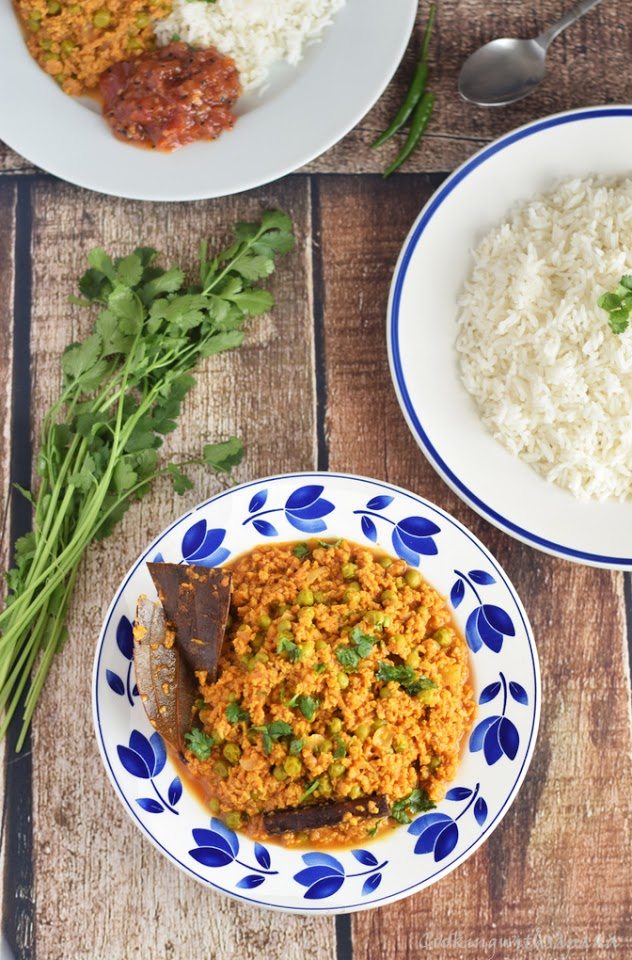 So one fine day,I started searching all the Bengali recipe blogs like Bong mom's ,Peek n cook ,Hamari Rasoi,e-curry and many more .I looked in the vegetarian label in each of the blogs.At least when I was literally about to give up with no luck and not a tiny bit of hope ,I came over keema koraishuti recipe on Sandeppa's blog.Then what a bulb starts lightening in my head and bingo I remember reading at the whatsapp group chat that how we can improvise with some alphabets special mention was with Keema or Qeema. Oh, such happiness and satisfaction was there on my face.Even though on her space it was made with non veg but I knew that I could use the veg version of the non veg Keema.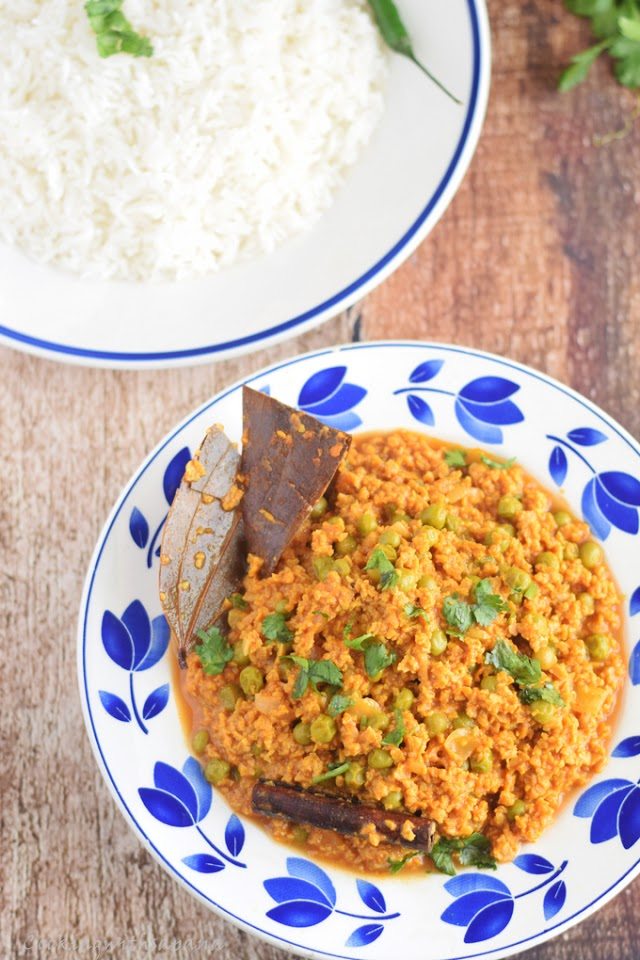 I replicate Sandeepa's recipe to the core,she has marinated the lamb in the recipe and so marination happened with soya granules too.I love making Matar soya curry at home and this was almost similar except the addition of whole spices and yogurt marination. However,we the girls liked the qeema Mr H doesn't like it as he mentioned the cinnamon flavor was too much dominating in the curry.I used one stick may be next time I will use only a tiny bit of the stick and he would like it too.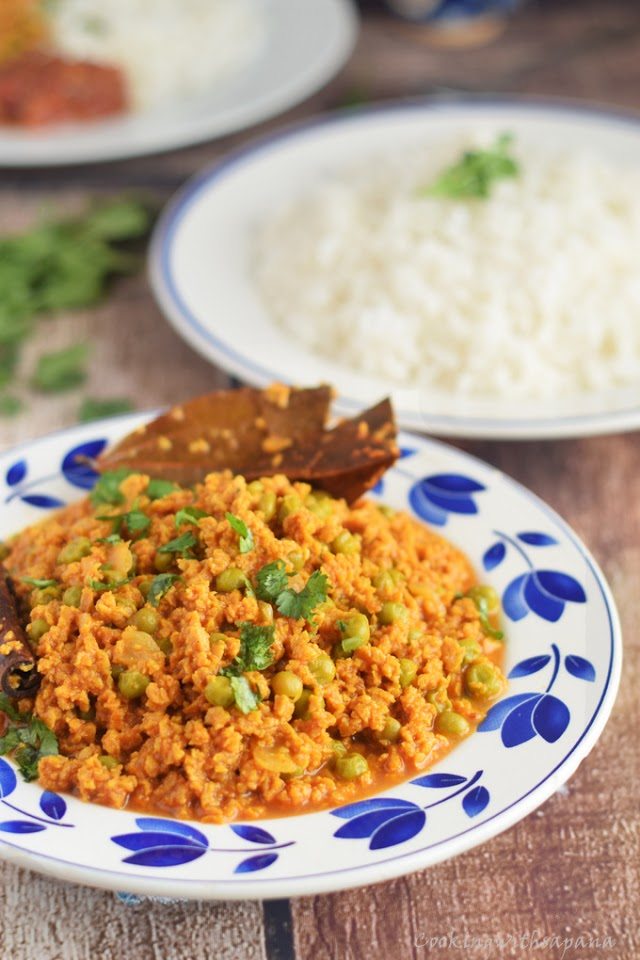 Blogging Marathon#63 Day 17
Cuisine-Bengali
Dish-Qeema Koraishuti
Source–Here
Ingredients:
1 cup soya granules
1 cup peas fresh/frozen
1 cup tomato puree
1 onion,chopped
2 green chilli,chopped
To marinade
1 cup yogurt
1 teaspoon ginger,grated
1 teaspoon garlic,minced
1 teaspoon coriander powder
1 teaspoon cumin powder
1 teaspoon red chilli powder
1/2 teaspoon turmeric powder
salt to taste
To temper
1 bay leave
2-3 cardamom
1 cinnamon stick
2 tablespoon mustard oil
few coriander leaves,chopped
1 teaspoon garam masala
water as required
Method:
Whisk yogurt and add all the ingredients to marinade in it.
Stir well to combine.Now add squeezed soya granules,mix and let it rest for 1 hour.
Heat oil in a pan.Add bay leave,cardamom and cinnamon.
Stir and add onions and green chilli. Cook till onions are light brown.
Now add tomato puree and peas.Cook covered for 5 minutes.
Open lid and add marinated soya granules and 1 cup water.
Cook covered for 15 to 20 minutes or until desired consistency.
Remove form heat and add coriander leaves and garam masala.
Serve hot with paratha or rice.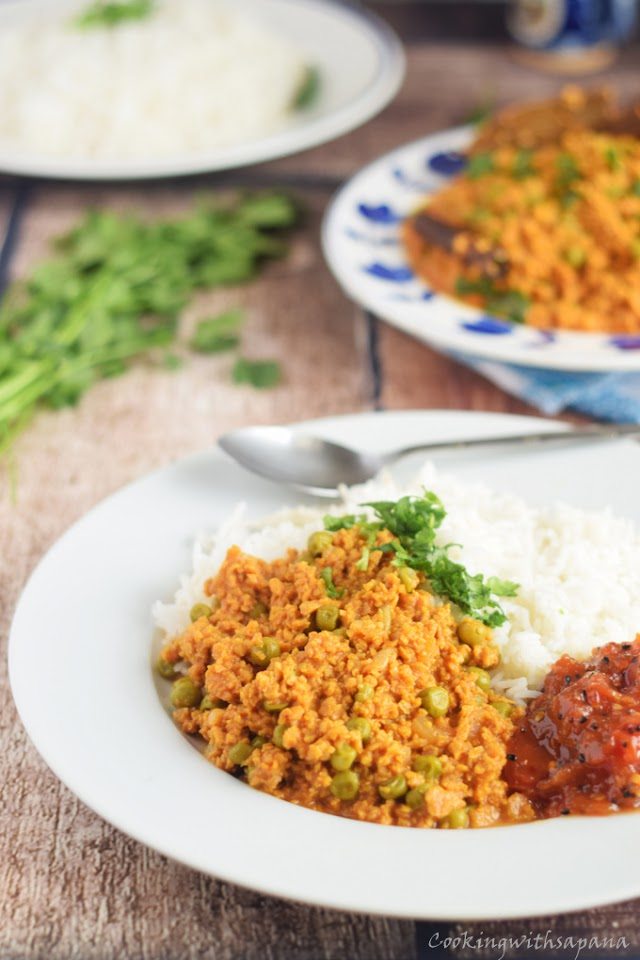 Enjoy!!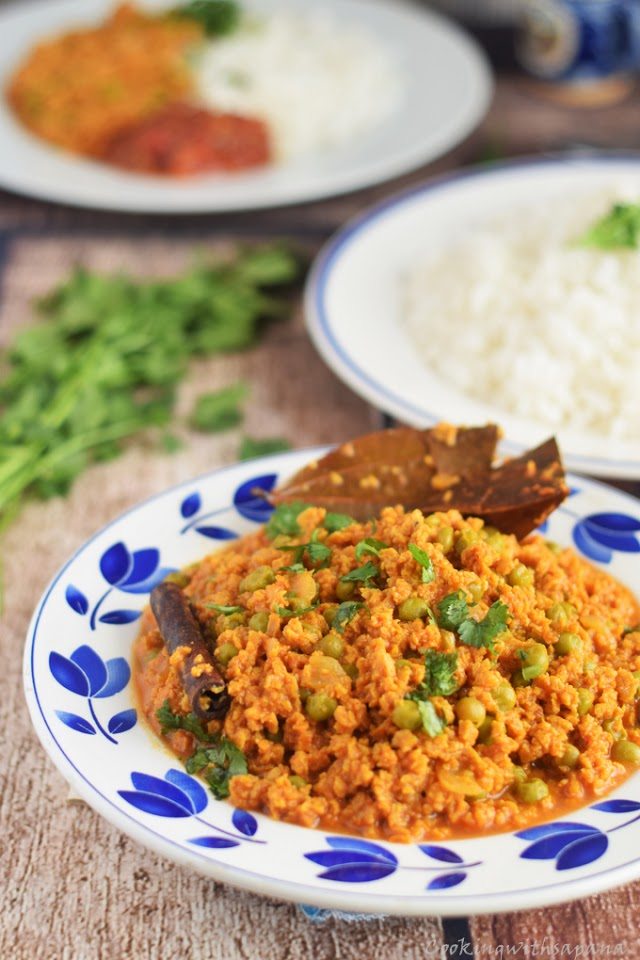 Serve-4 Cooking time-35 minutes
Check out the Blogging
Marathon page for the other Blogging Marathoners doing BM# 63
Sending this post to A to Z April 2016 Challenge
Best regards,
Sapana Behl